See Prince Archie's birth certificate! Everything you need to know about Prince Harry and Meghan Markle's son
The baby has met his great-grandparents, Queen Elizabeth and Prince Philip.
Baby Sussex, Archie Harrison Mountbatten-Windsor, is here!
Meghan, the Duchess of Sussex, gave birth to Archie, a healthy baby boy weighing 7 pounds, 3 ounces on May 6, according to Buckingham Palace.
"It's magic. It's pretty amazing," she said, standing alongside Harry in Windsor Castle as he held their son making his public debut. "I have the two best guys in the world, so I'm really happy."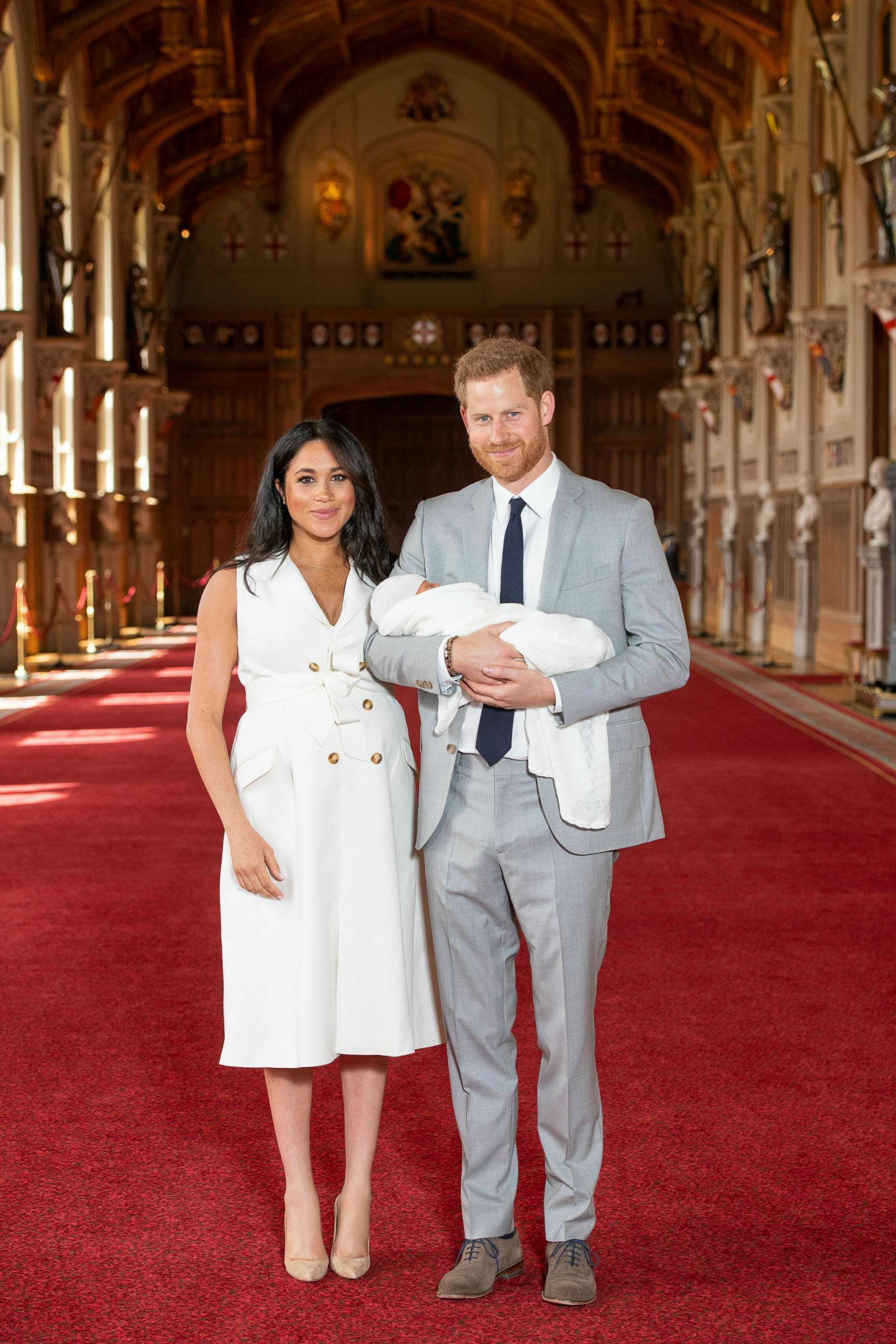 Here is everything we know so far about Harry and Meghan's royal newborn son.
When the baby was born
Duchess Meghan gave birth on Monday, May 6, at 5:26 a.m. local time, according to Buckingham Palace.
What the baby is named
Harry and Meghan took to Instagram to reveal the name of their son: Archie Harrison Mountbatten-Windsor.
They revealed Archie's name alongside a photo of the couple introducing their newborn to his great-grandparents, Queen Elizabeth II and Prince Philip. Also in the photo is Meghan's mother, Doria Ragland.
The baby will not carry a courtesy title "at this time," according to Buckingham Palace.
Archie's surname of Mountbatten-Windsor is a combination of Queen Elizabeth's surname of Windsor and Prince Philip's adopted surname of Mountbatten.
See Archie's birth certificate
A copy of the birth certificate for Archie Harrison Mountbatten-Windsor, was shared with the public on May 17. Portland Hospital in Westminster was listed as Archie' place of birth.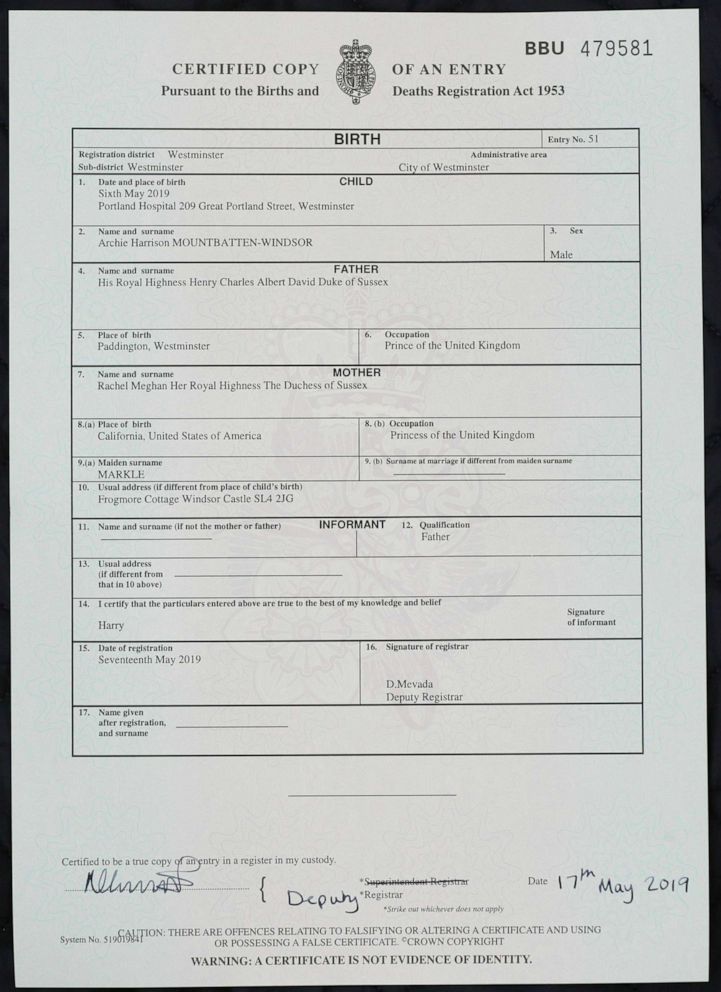 Some royal watchers on social media noted that Meghan's occupation was listed as "Princess of the United Kingdom."
Where the baby was born
The Duchess of Sussex gave birth at the Portland Hospital, a private hospital in London.
The palace said in a statement that Meghan went into labor "in the early hours of this morning" with Prince Harry by her side.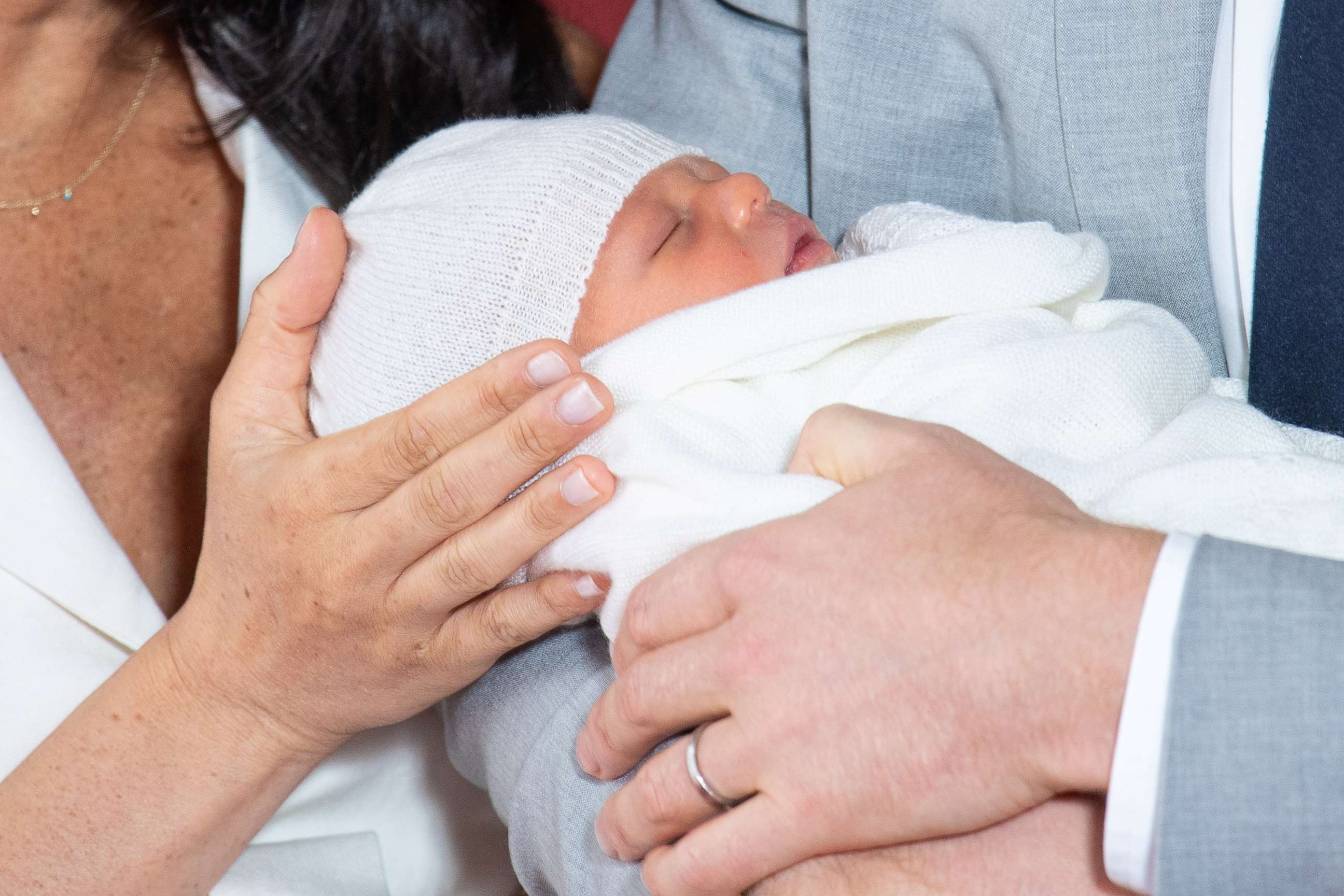 The birth announcement issued by Buckingham Palace indicated Meghan and Harry were at home at Frogmore Cottage along with Meghan's mom, Doria Ragland, just a few hours after the birth.
How the baby's birth was announced
Buckingham Palace alerted members of the media that Duchess Meghan was in labor and then that she had given birth.
Harry and Meghan's Instagram account also shared the news via a post announcing the couple had a baby boy.
Prince Harry also stepped out near Frogmore Cottage to personally share the news of his son's birth, calling the birth "amazing" and "absolutely incredible."
Later in the day, a framed notice of birth for Harry and Meghan's son went on display on a ceremonial easel at the gates of Buckingham Palace.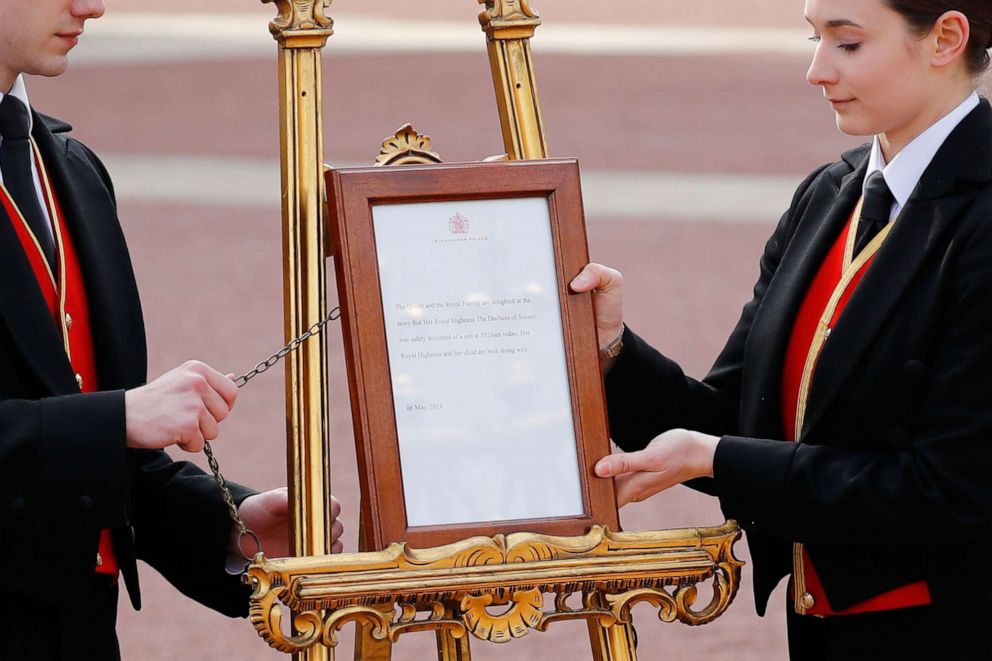 Who was present for the birth
Prince Harry was by Meghan's side for the birth of their first child, according to Buckingham Palace.
Meghan's mom is also with the family of three at Frogmore Cottage.
When the baby made his public debut
Baby Sussex was introduced to the world on Wednesday at Windsor Castle in a photo call with his parents, Harry and Meghan.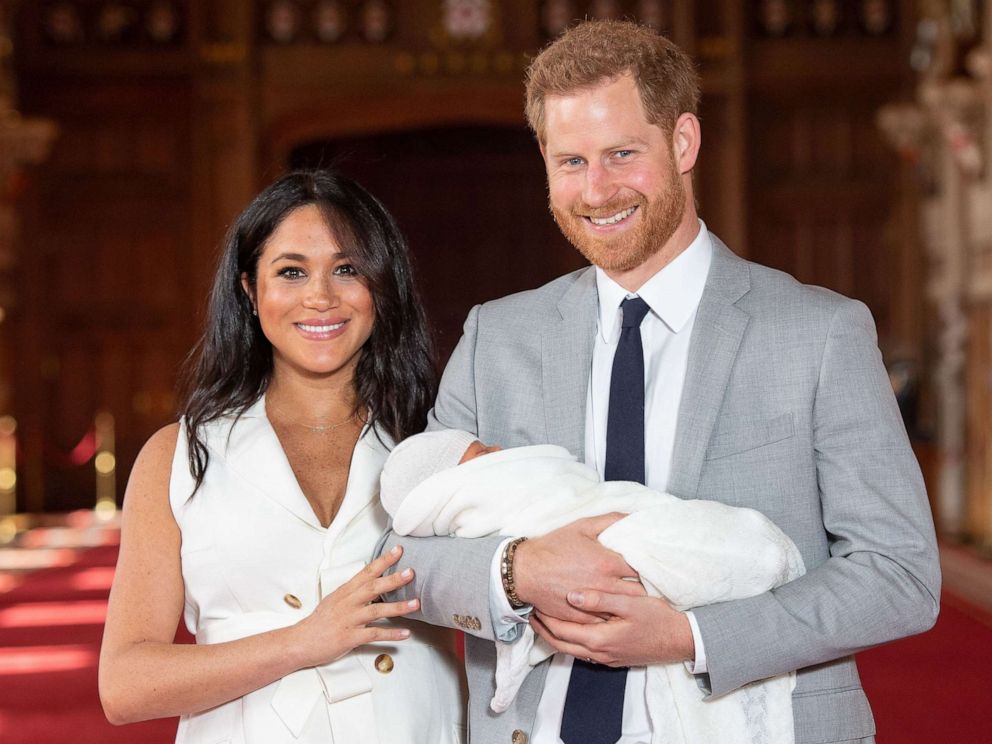 "Parenting is amazing," Harry said. "It's only been, what, two-and-a-half days, three days? But we're just so thrilled to have our own little bundle of joy here to spend some precious times with him as he slowly starts to grow up."
The royal baby wore a cashmere hat by G.H. Hurt & Son and was bundled in an ivory white Leaves and Flowers Baby Shawl by the same brand. Meghan wore a sleeveless trench dress by Grace Wales Bonner.
The interview with the family of three took place inside St. George's Hall at Windsor Castle, the same place Harry and Meghan held their wedding reception after their May 19 wedding.
Harry and Meghan's decision to skip the traditional photo op outside the hospital, like Princess Diana and Duchess Kate have done, drew backlash from some members of the British press when it was first announced last month.
"This is the shattering of a tradition that goes back for decades," one journalist told The New York Times last month. "There is a price to be paid for that, and that price is mockery."
On Wednesday, Meghan said they had a "special couple days" as a family of three.
"He's just been the dream, so it's been a special couple days," she said, later thanking the public for "all the well wishes and the kindness."
How the baby made history
Prince Harry and Meghan's son is the first American British biracial royal born in the United Kingdom.
Baby Sussex appears to be the first mixed race child born into the royal family, although some royal historians have pointed out that when Queen Charlotte married King George III in the 1700s, she was believed to have descended from the black branch of the Portuguese royal family. The couple had 15 children, according to the British royal family's website.
Meghan was born to a white father and a black mother and grew up as a biracial child in Los Angeles.
Harry and Meghan's child could hold dual American and British nationality, a first for a royal baby.
Meghan, a California native, is reportedly still waiting for her British citizenship application to be approved. Kensington Palace said in November that Meghan would retain her U.S. citizenship as she undergoes the process of becoming a British citizen, which can take several years.
"From what I understand, Harry and Meghan will have to acquire documentation for their child to prove U.S. citizenship and it's not clear if they will do that but of course the option is there," said ABC News royal contributor Victoria Murphy.
Where the baby falls in the line of succession
Harry and Meghan's son is seventh in line to the British throne, after its grandfather, Prince Charles, uncle, Prince William, three cousins, George, Charlotte and Louis and its father, Prince Harry.
What leave Meghan, Harry will take after the baby is born
The palace has not announced maternity and paternity leave plans for the Duke and Duchess of Sussex.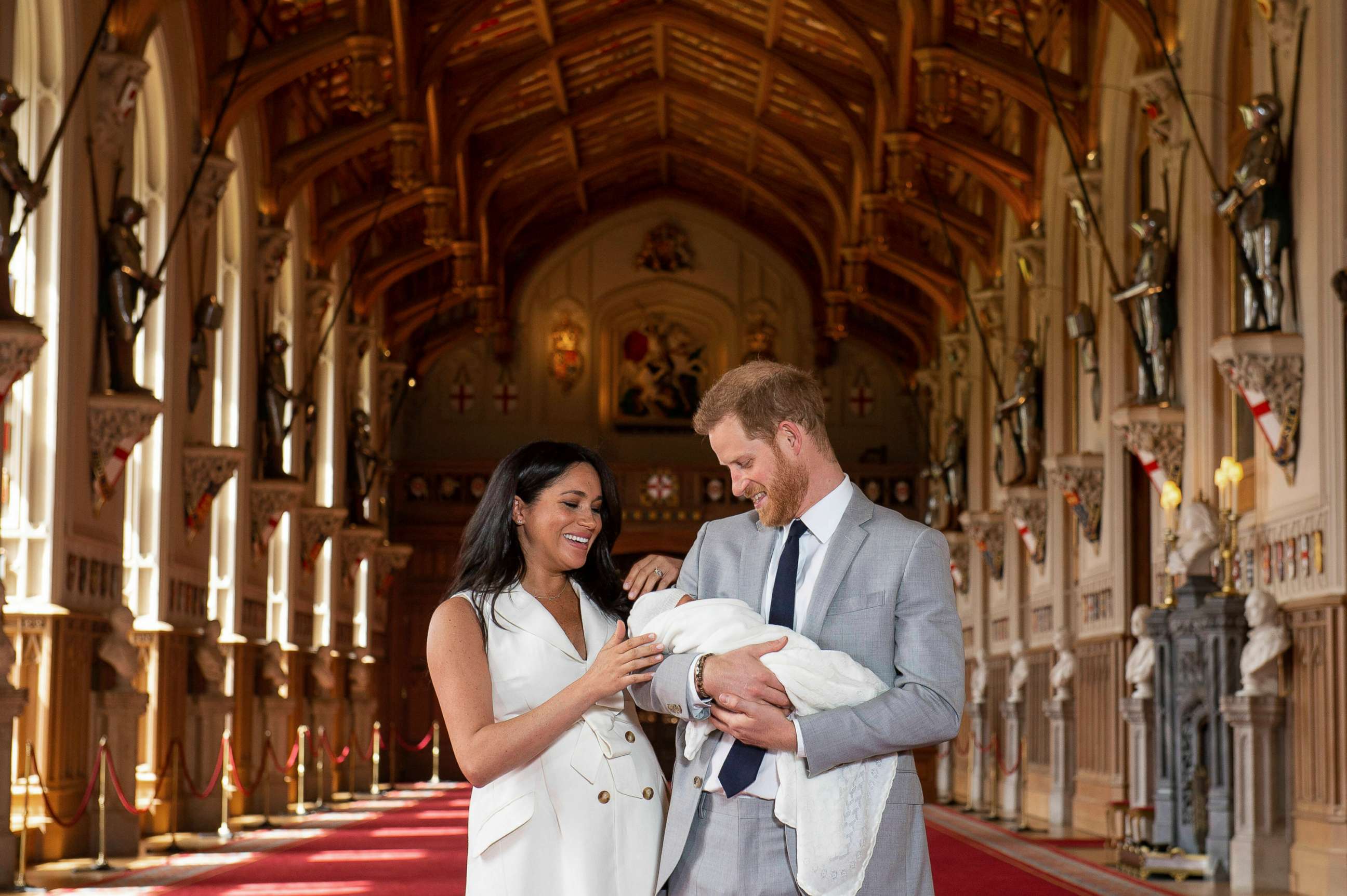 Being a member of the royal family is not a job that comes with established maternity and paternity guidelines. Both Prince William and Kate took some time off after the births of each of their three children.
It will be up to Meghan and Harry to decide the length of time they take off from public engagements.
Where the baby will live
Harry and Meghan will raise their baby at their newly-renovated home, Frogmore Cottage, an 18th century home on the grounds of Windsor Castle, about 30 miles from London.
Windsor is home to Windsor Castle, the largest occupied castle in the world and a special place for Harry's grandmother, Queen Elizabeth. Meghan and Harry's wedding last May took place at St. George's Chapel at Windsor Castle.
(MORE: Diana and Doria: How the 2 grandmothers are expected to influence the royal baby)
"Windsor is a very special place for Their Royal Highnesses and they are grateful that their official residence will be on the estate," Kensington Palace said in a statement announcing the move.
Who will support Meghan, Harry as new parents
Meghan's mother, Doria Ragland, who lives in Los Angeles, is now by her daughter's side at Frogmore Cottage after the birth of her first grandchild. It is unclear how long she plans to stay in Windsor with Harry and Meghan.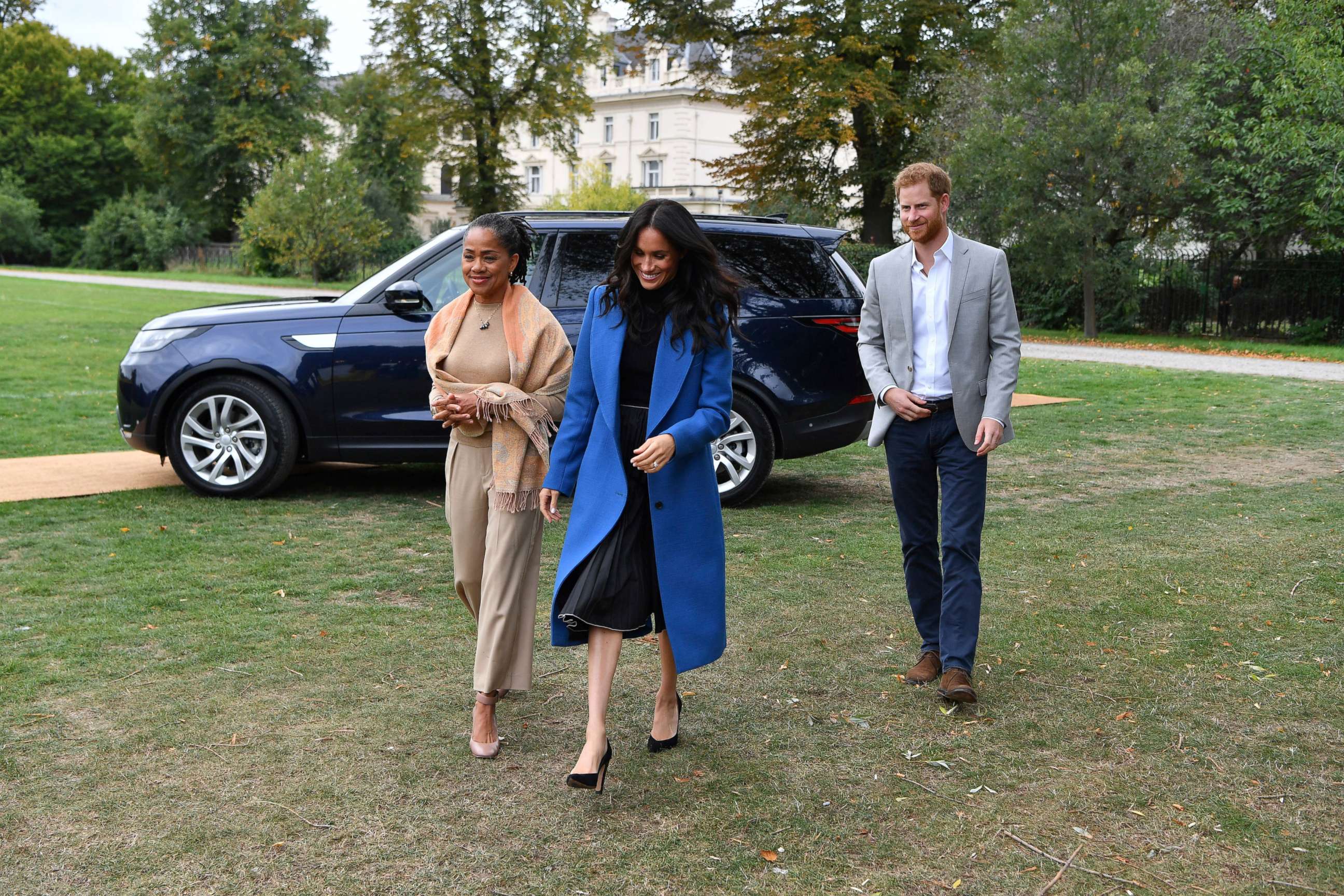 Closer to home, the couple will, of course, have Harry's family nearby in London.
Who the baby's playmates may be
Meghan and Harry's son will have built-in playmates with his cousins, Prince George, 4, Princess Charlotte, 3, and 1-year-old Prince Louis, who all live nearby in Kensington Palace.
There will also likely be family holidays all together at Balmoral, the Queen's estate in Scotland, and those famous royal Christmases at Sandringham House.