Are you ready for it?
Interested in
Taylor Swift?
Add Taylor Swift as an interest to stay up to date on the latest Taylor Swift news, video, and analysis from ABC News.
Taylor Swift continued to stoke rumors of a big reveal this week as she stepped out in a stunning sleeveless pastel pink J. Mendel dress at this year's TIME 100 Gala in New York City Tuesday night.
Swift, whose website has been counting down to April 26, has been mysteriously showing off the pastel look for weeks.
Is it confirmation of new music coming this Friday?
She first debuted the pastel aesthetic in March for the iHeartRadio Music Awards red carpet.
As more "4.26" clues continued to drop on Twitter Wednesday morning, let's take a step back and start with the obvious. Fans have been posting photos with Taylor Swift billboards from around the globe, showing the countdown to April 26.
Her clues, however, go way beyond what meets in the eye.
On New Years Day of this year, @TaylorNation13 replied to a fan on Twitter with 115 rainbow emojis captioned, "another 2019 big mood."
.... another 2019 big mood: 🌈🌈🌈🌈🌈🌈🌈🌈🌈🌈🌈🌈🌈🌈🌈🌈🌈🌈🌈🌈🌈🌈🌈🌈🌈🌈🌈🌈🌈🌈🌈🌈🌈🌈🌈🌈🌈🌈🌈🌈🌈🌈🌈🌈🌈🌈🌈🌈🌈🌈🌈🌈🌈🌈🌈🌈🌈🌈🌈🌈🌈🌈🌈🌈🌈🌈🌈🌈🌈🌈🌈🌈🌈🌈🌈🌈🌈🌈🌈🌈🌈🌈🌈🌈🌈🌈🌈🌈🌈🌈🌈🌈🌈🌈🌈🌈🌈🌈🌈🌈🌈🌈🌈🌈🌈🌈🌈🌈🌈🌈🌈🌈🌈🌈🌈 #repTourNewYearsDay

— Taylor Nation (@taylornation13) January 1, 2019
The significance? There are exactly 115 days between Jan. 1 and April 26.
Shake it off – there's more!
For Swifties, the Instagram post that made all the sparks fly was this one: A photo of seven palm trees, coupled with a caption of just seven palm tree emojis. Obviously hinting at Swift's seventh album.
Take a closer look though. There are also 61 stars in that same photo, which was posted on Feb. 24. How many days are there from Feb. 24 to April 26? Exactly 61 days.
And finally, let's go back to December…or October actually, during Swift's 2018 American Music Awards acceptance speech for winning Favorite Album for "Reputation."
Fans were triggered by her closing remarks.
"I always look at albums as chapters in my life," she said, adding, "I have to be really honest to you about something, I'm even more excited about the next chapter."
"Next chapter" is a lyric from "The Story of Us," which is the seventh track from her album "Speak Now," as in "TS7."
And how long is that song? 4 minutes and 26 seconds of course – 4/26!
Phew!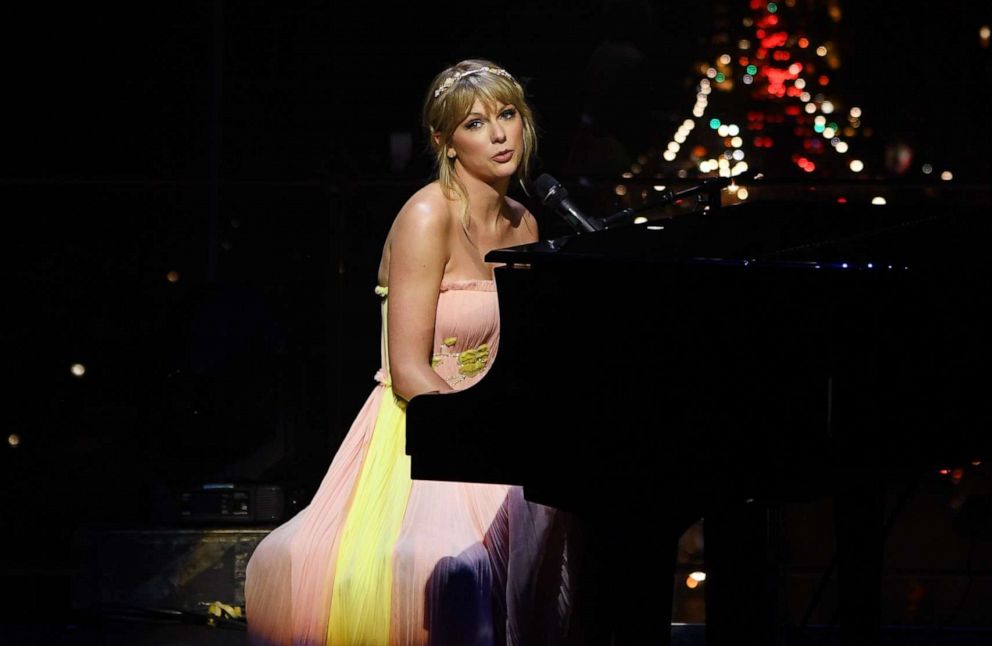 While speculation and theories continue to swirl, one thing is for certain: all clues point to April 26.
A big Taylor Swift reveal is coming this Friday.