For moms-to-be in Hurricane Florence's path, keeping calm in the storm carries new meaning
As storm hits, expectant moms prepare to give birth in uncertain circumstances.
As Hurricane Florence slams the Carolinas, some expectant mothers are preparing to give birth in uncertain circumstances.
One pregnant woman in South Carolina has a due date Saturday.
"There's so many variables at play that I can't even control," Kate, who declined to give her last name, told "Good Morning America" today. "As uncertain as a pregnancy is, when you pair it with a hurricane, it's exponentially uncertain. There's too many things to stress about, but there's nothing you can really do."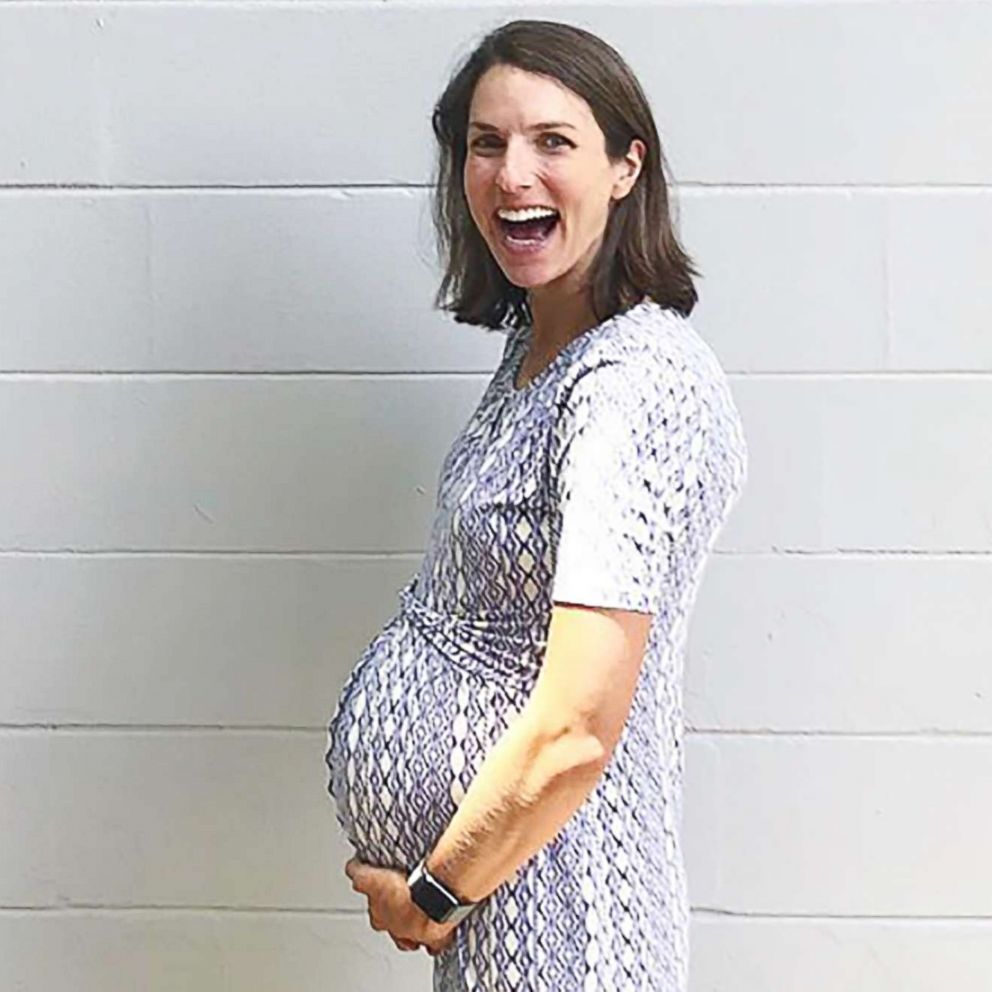 The mother of two plans to give birth at Mount Pleasant Hospital in Mount Pleasant, South Carolina, where there are strong wind gusts but little rain, she said. She and her family have boarded up their Charleston home and are staying with family two miles from the hospital.
"[The storm] is supposed to be the worst on my due date," Kate added. "We're hoping for the best and trusting in God that it will all work out."
She said her doctor told her Monday that she is two centimeters dilated, which means her body is preparing to give birth but is "nothing catastrophic."
"I did have some contractions last night which was a little unsettling," she said, adding that the baby's sex will be a surprise. "My family is all here and so supportive. My two brothers are here with massive pickup trucks and they have ensured me that they will get me to the hospital."
Like Kate, new parents Conner Faulk and Amber Simmons of Supply, North Carolina, also remained calm even when Salmon went into into early labor just as the storm hit their area Thursday night.
Faulk and Simmons proudly welcomed a son, Carson River, at 8:17 p.m. Thursday at a hospital in Bolivia, North Carolina.
"We were pretty nervous," Faulk told "GMA" on Friday morning. "Everybody kept telling us it was going to happen during the storm and we didn't want it to, but it did. We're glad we are in a safe place and everything's OK. They are looking out for us really well here."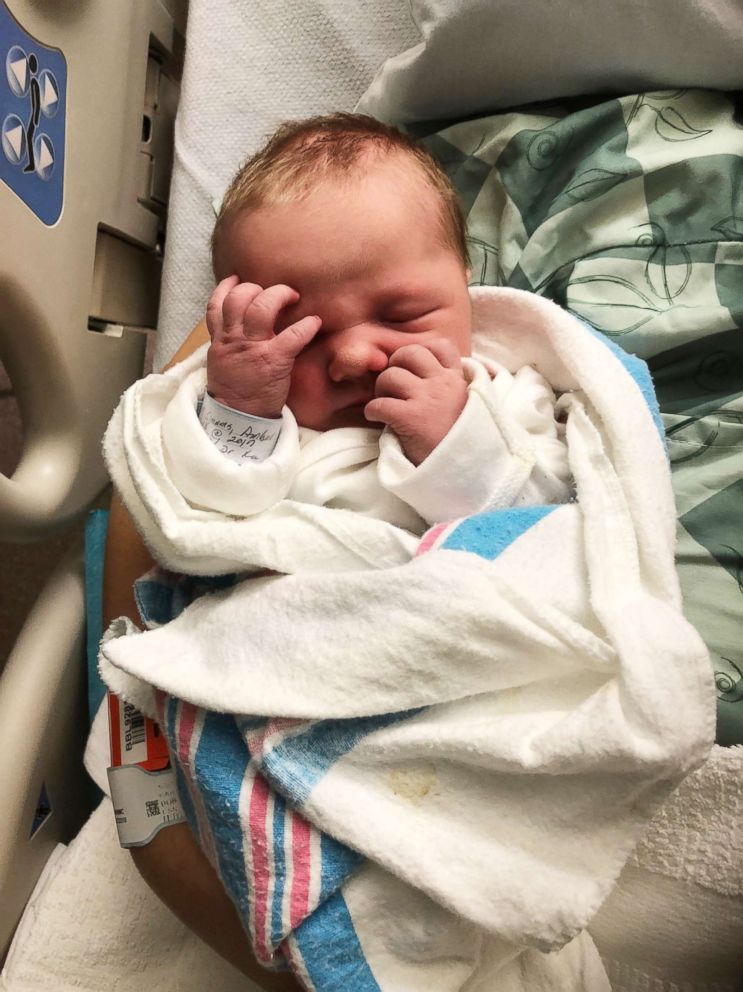 Simmons is one of two women to give birth at the Bolivia hospital, Novant Health Brunswick Medical Center, since the storm hit, said Shelbourn Stevens, president and chief operating officer of the medical center.
"We sent out messages via social media [informing] women who are 37 weeks or higher that it's best to seek shelter inland to be safe," Stevens told "GMA." "We are also going to be here" in case they need us.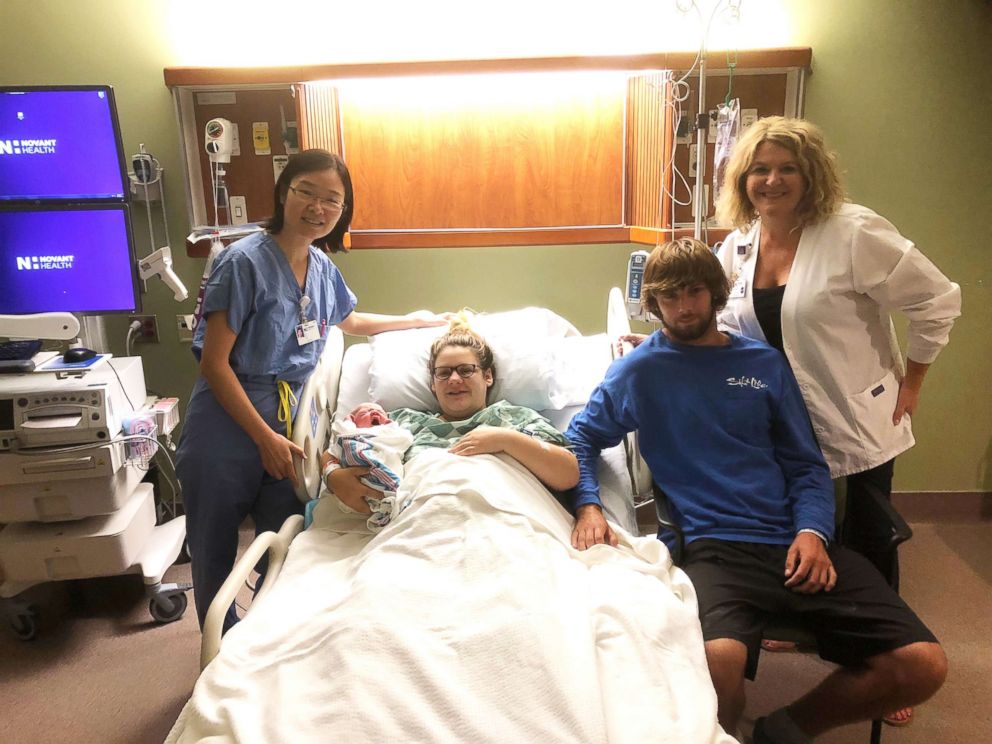 Marine Cpl. Nicholas Digregorio and his wife, Danielle, welcomed their newborn twin daughters, Sadie and Scarlett, 9:30 a.m. Thursday at Naval Hospital Jacksonville. The couple had just arrived to Florida after evacuating because of Florence.
The Digregorios, originally from St. Augustine, Florida, are stationed at Marine Corps Base Camp Lejeune in North Carolina.
"We were pretty nervous to leave North Carolina while expecting twins, but our doctor and our family felt like it was the right thing to do. We were confident we could make the drive, which is normally seven hours, but turned out to be a long 12 hours," the couple said in a statement. "We left Camp Lejeune at 1 p.m. Tuesday (at 37 weeks pregnant); got home to family in St. Augustine, Florida; and went into labor early Thursday morning. ... The nurses and doctors at Naval Hospital Jacksonville have been awesome, and everything worked out perfectly with the care here. Our little hurricane babies are safe."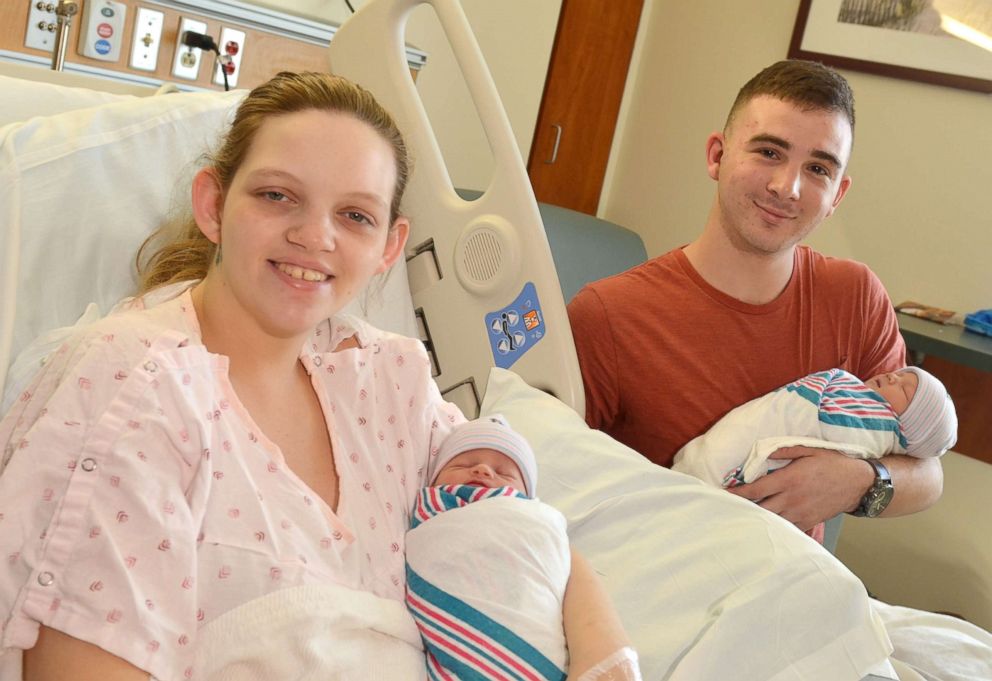 Pregnant women and newborns are "disproportionately affected" by natural disasters like Florence, said Dr. Jennifer Ashton, ABC News' chief health and medical correspondent.
"Obviously there are pregnant women in the area who may have been scheduled to have an elective C-section or elective induction, they are going into labor spontaneously. Those things don't stop when we have these kind of natural disasters," Ashton said. "Ideally, they've been in communication with their midwife or obstetrician days in advance."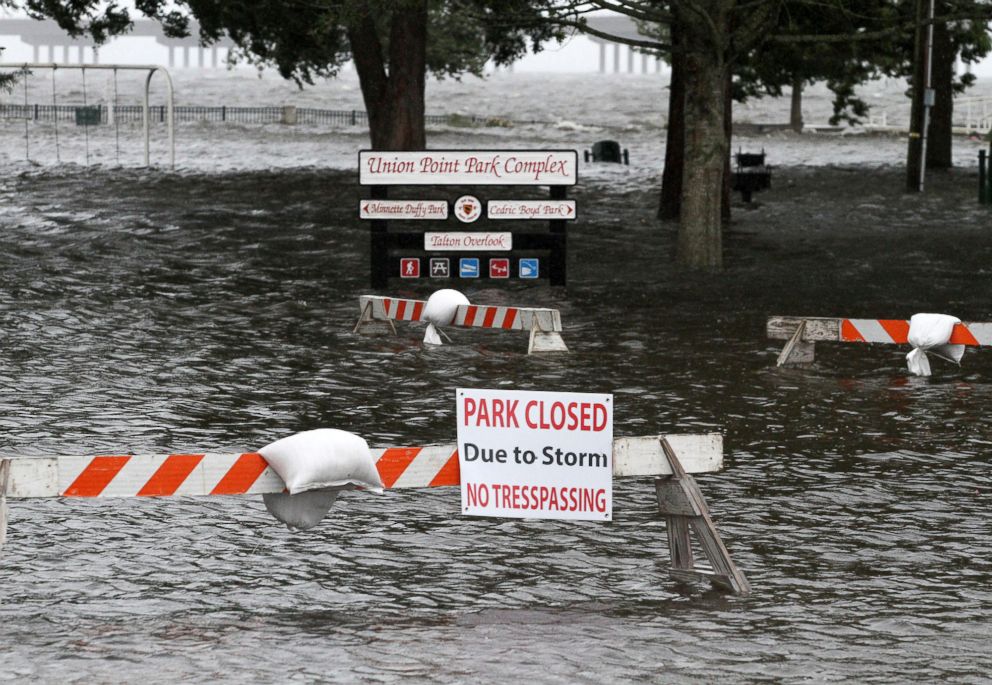 Ashton noted that the American College of Obstetricians and Gynecologists offers a disaster preparedness plan for women on its website.
"They have gone so far as to recommend emergency home-birth kits for pregnant women, which is a scary thing," Ashton said. "If that baby's coming, that baby's coming."