'It's like a bomb has gone off here': Stranded residents hunker down as Florence hammers NC
North Carolina officials are working to rescue residents who were stranded.
As Hurricane Florence hammers North Carolina's coastline with relentless rain and wind, first responders are scrambling to rescue residents who didn't heed evacuation orders and are now stranded in their homes, cars and even on rooftops amid rising floodwaters.
About 300 residents in the coastal town of New Bern had been rescued by early Saturday morning and were taken to shelters after the dangerous Category 1 hurricane moved ashore early Friday, according to New Bern's government. Another 100 were still awaiting rescue overnight Friday into Saturday with "three rescue teams who are working around the clock to get into communities to retrieve people."
"It's very unsafe. I immediately spoke with the police chief and we decided we need a 24-hour curfew," Mayor Dana Outlaw said in an interview Friday on "Good Morning America."
"It's just a very, very dangerous situation right now for New Bern," he added.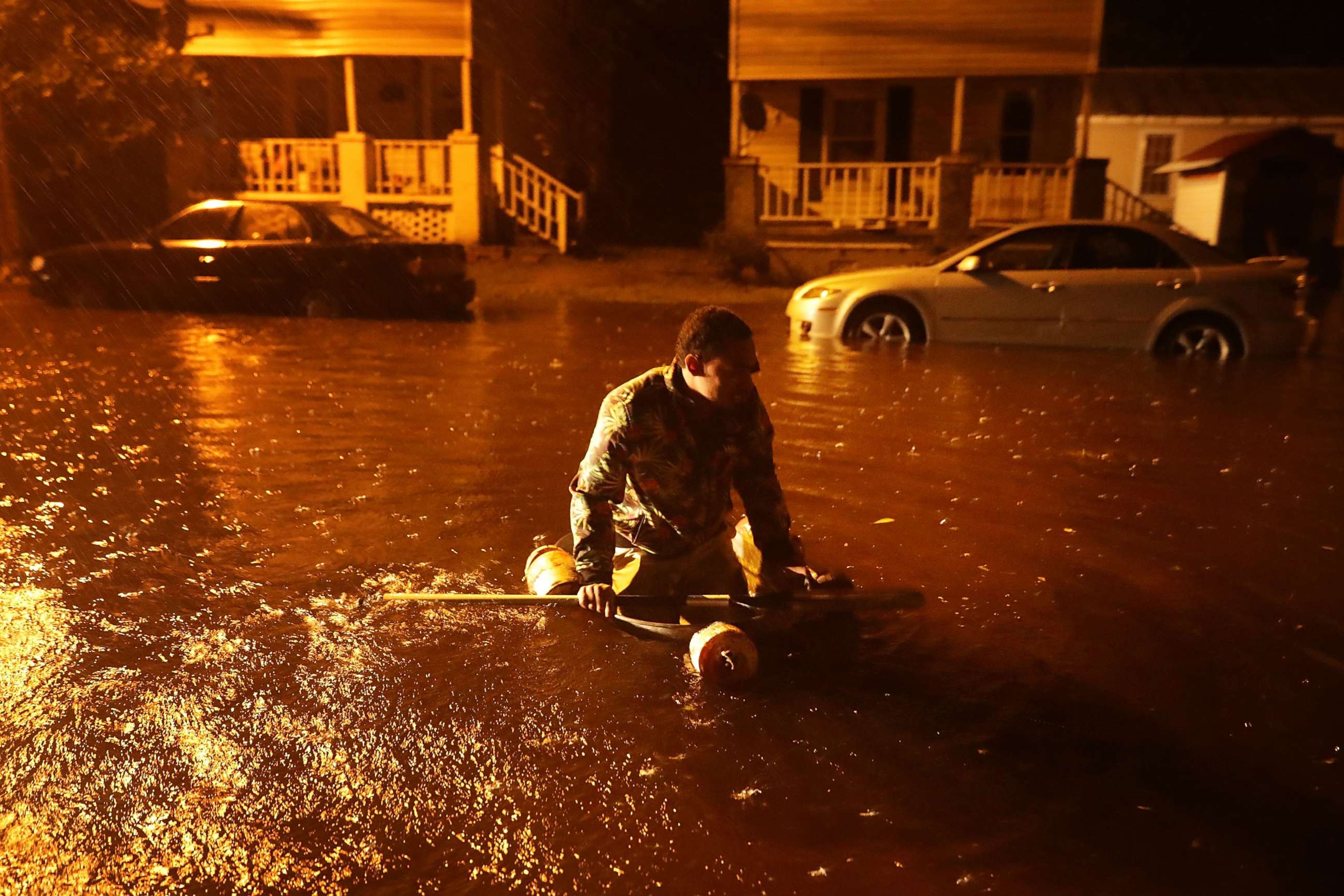 New Bern resident George Zaytoun chose to weather the storm after it was downgraded from a Category 4. Zaytoun, who builds custom homes, said he wanted to stay behind so he could help his neighbors after Florence.
"I think we kind of let our guards down," Zaytoun told "GMA" in a telephone interview Friday morning. "In hindsight, yes, I would have probably gotten out of here."
Zaytoun's home is located on higher ground and he installed a generator and stocked up on supplies in preparation. But he's currently surrounded by floodwater.
"It's like a bomb has gone off here," he said. "Everything around us is underwater."
The floodwater outside rose to nearly 15 feet overnight and has since receded to about 6 to 8 feet, he said. But the torrential rain is far from over and the tides are still coming in.
"I think we're not out of the woods by a long shot," Zaytoun said.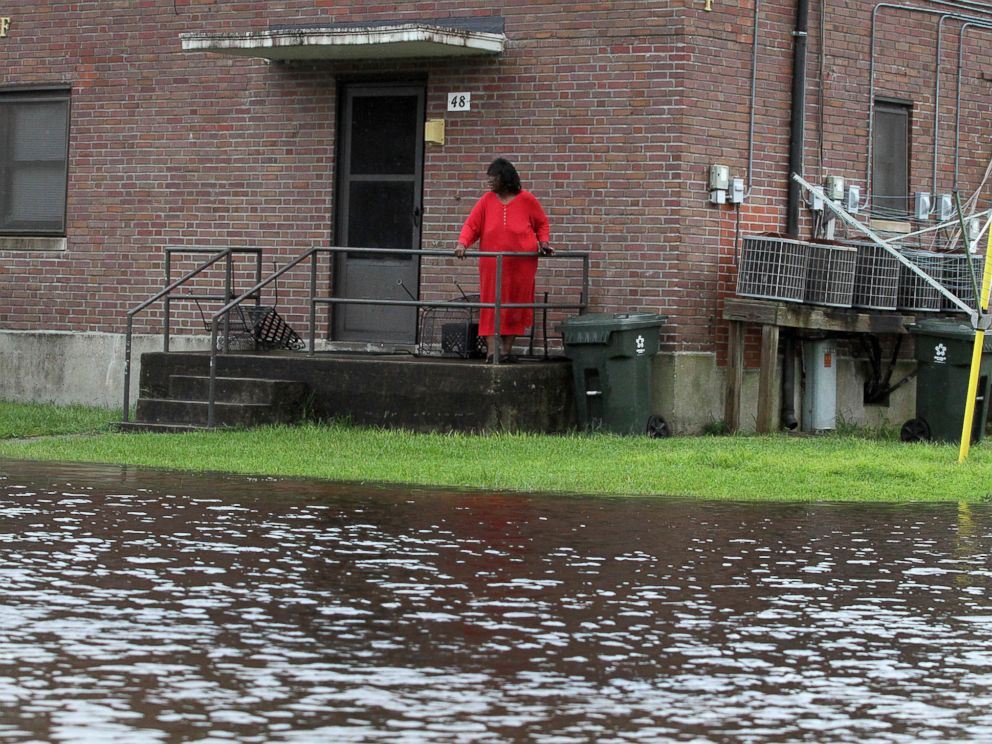 Another New Bern resident, Jay Schreiber, also decided to ride out the storm with his wife in their condo. They can see the nearby Trent River overflowing from the downpour, he said.
"Even if the storm were to stop right now, it would still take almost a week for all that water to drain out," Schreiber told "GMA" in a telephone interview Friday morning.
Schreiber, who works at the town post office, said their condo unit is on the second floor of a four-story building, so they can move up if the water continues to rise. They ultimately decided not to evacuate because they worried about not being able to get back, he said.
"We knew it would be bad," he said of the storm. "So it's a choice of ... do you leave and not be able to get back or if you try to come back, you get halfway and you're stuck again?"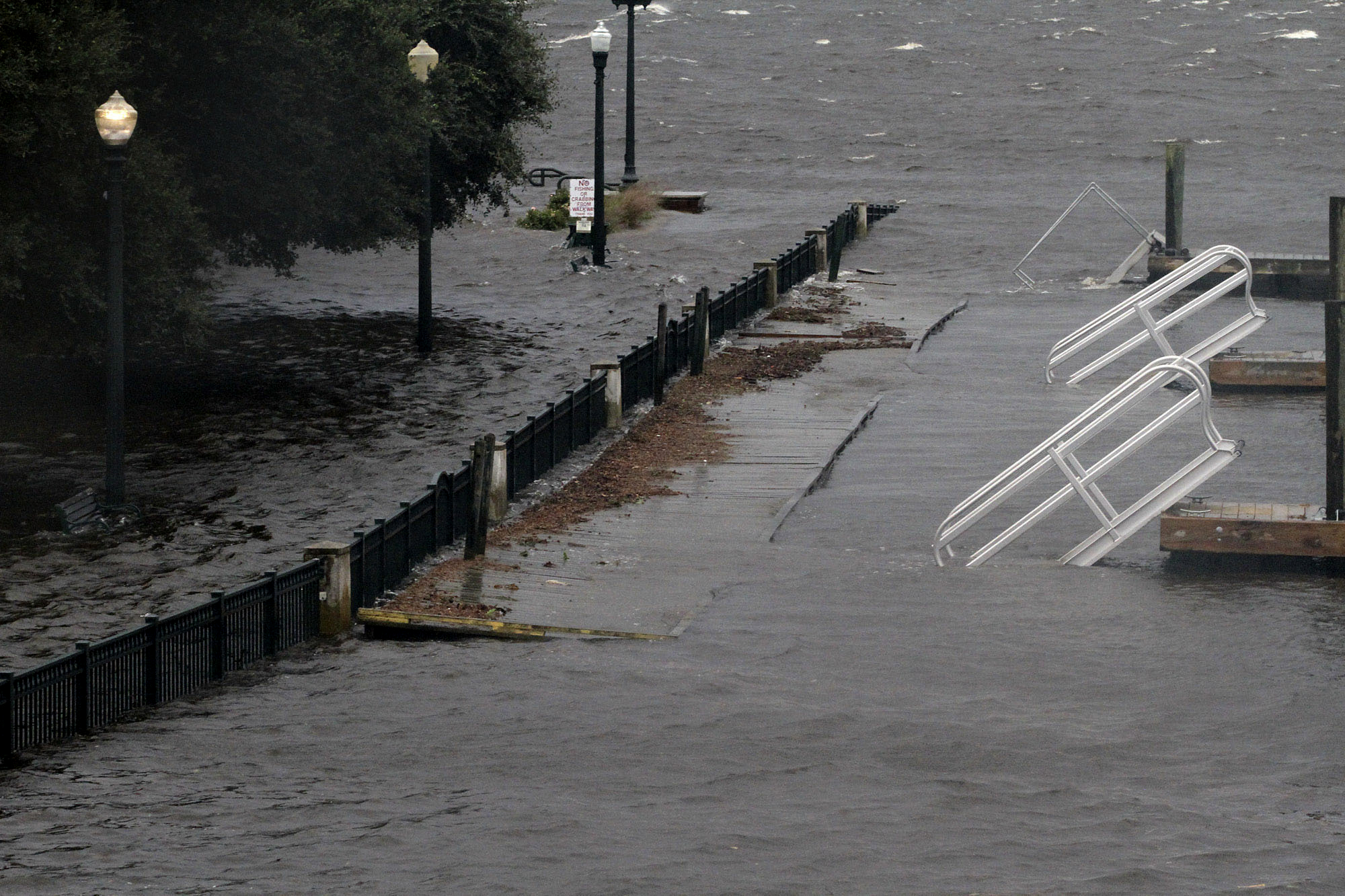 North Carolina Gov. Roy Cooper has declared a state of emergency due to Florence, which made landfall with 90 mph winds near Wrightsville Beach at 7:15 a.m. local time Friday. The storm is moving slowly -- just 5 mph -- in a southwest direction and is expected to reach South Carolina by early Saturday morning, according to the latest forecast from the National Weather Service.
The center of the storm was about 15 miles west-northwest of Myrtle Beach, South Carolina, as of 11 p.m.
Rainfall in the area is expected to reach 20 to 40 inches over the next several days. Although the storm will continue to weaken as it moves further inland, there is a high risk of flash flooding in the Carolinas through Saturday, and the flooding will likely strike Virginia by Sunday.
"Florence is an uninvited brute who doesn't want to leave," Cooper told "GMA" in an interview Friday morning. "This is a slow-moving storm."
Four deaths in North Carolina have been blamed on the storm. A mother and her baby were killed when a tree fell on their house in the port city of Wilmington. The father was transported to a local hospital with injuries, police said.
Pender County Emergency Management public information officer Tammy Proctor told ABC News that one storm-related death was reported in Pender County. No other details were provided.
Gov. Cooper said one person died in Lenoir County while plugging in a generator.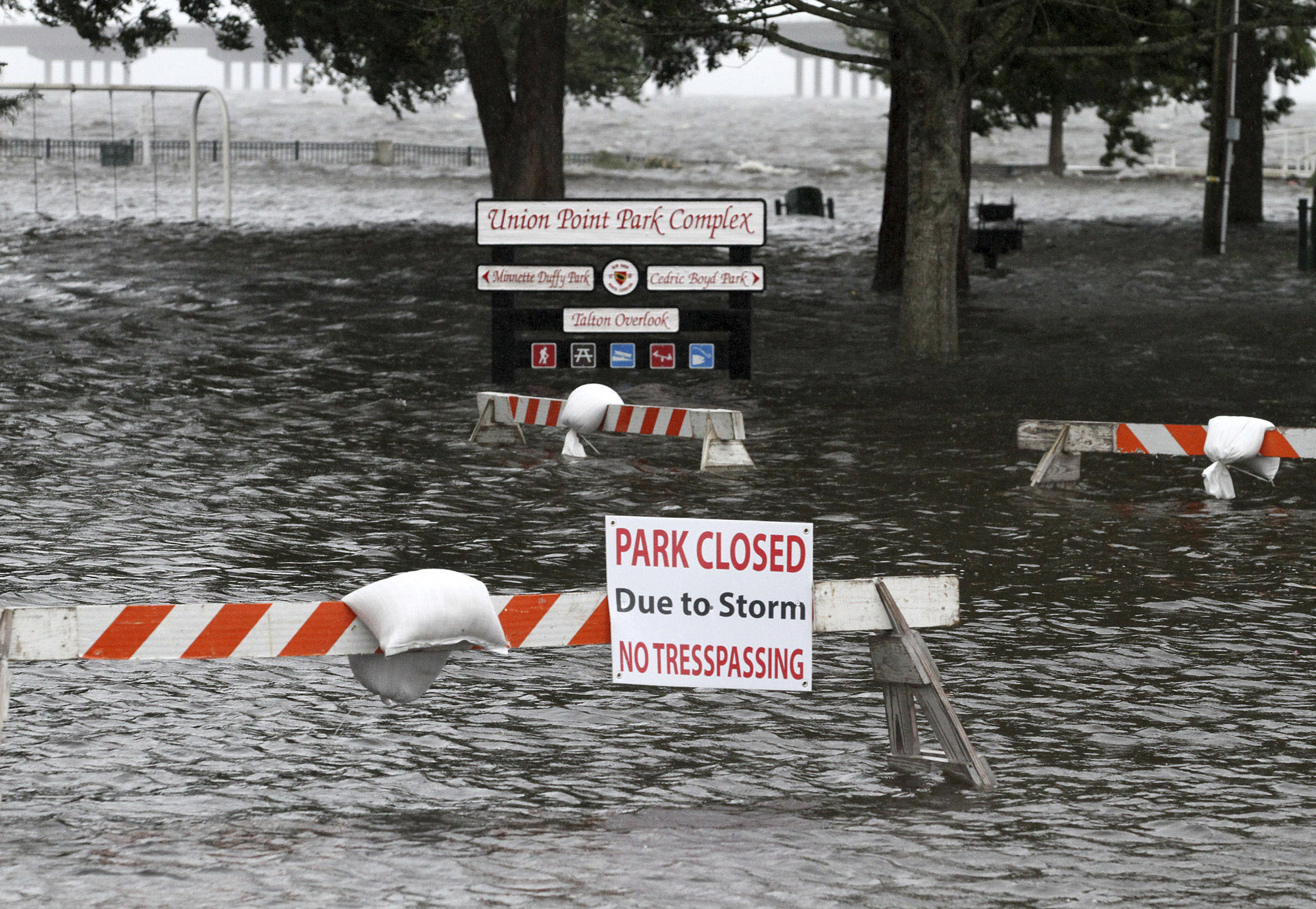 Gov. Cooper warned that first responders may not be able to reach everyone immediately due to the treacherous conditions.
"As soon as it is safe, first responders will make sure they go and rescue people who need to be saved from this storm," Cooper said on "GMA."
He urged trapped residents to "hunker down," "stay in your homes," "get to higher floors" and wait for first responders.
"Help will come to you if you can let us know where you are," he said, adding that "we would have rather everybody leave so that we wouldn't be faced with these situations."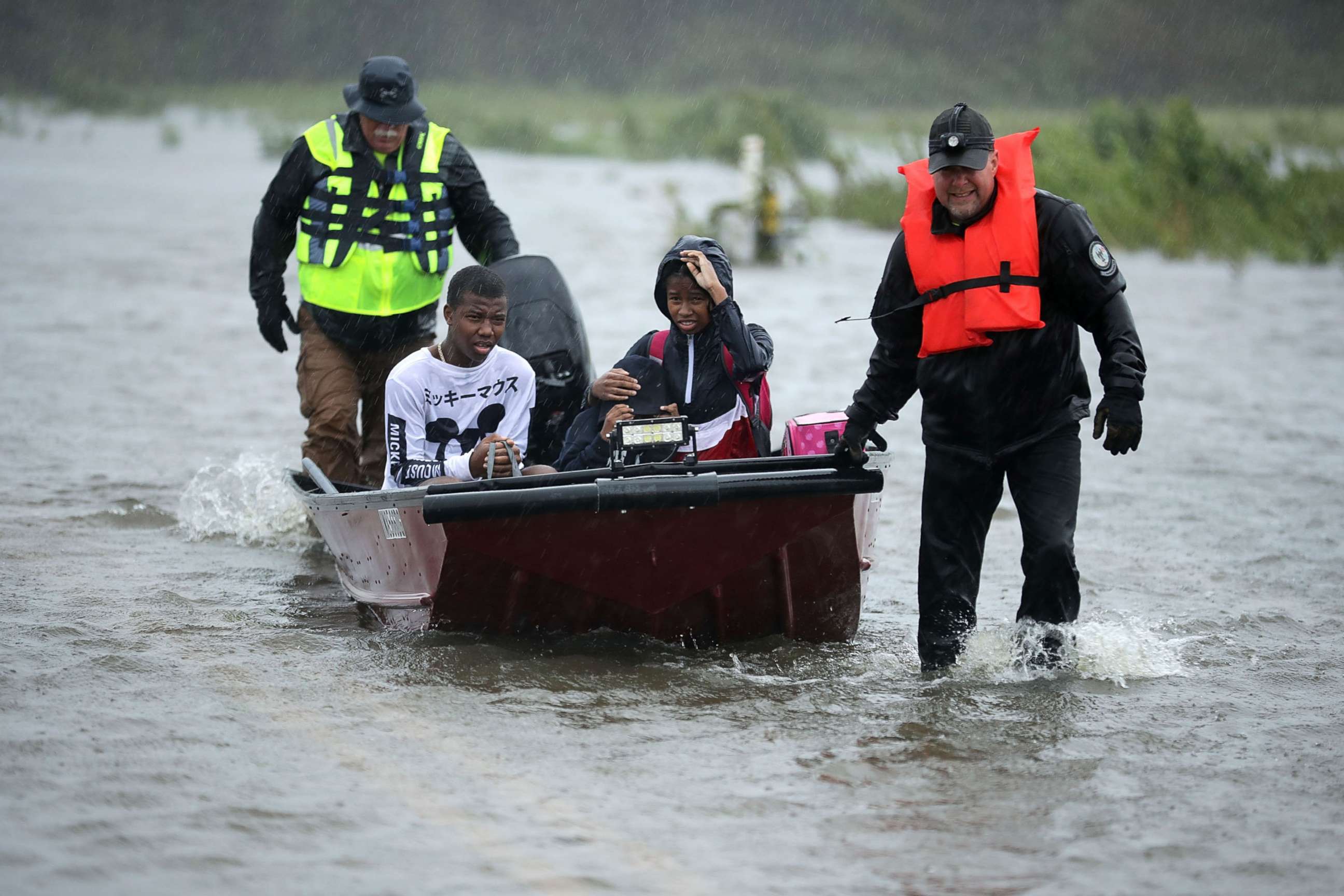 Craven County spokeswoman Amber Parker said the situation was truly dire in New Bern, which is southeast of Greenville. Some residents there are trapped on their roofs.
"I would say certain areas of New Bern are very desperate," Parker told ABC News in an interview Friday. "There are people that can be trapped in water, in vehicles, on roofs. That's just the situation for anyone."
Parker said private citizens have rescued some people but advised trapped residents to wait until weather conditions allowed first responders to reach them.
Cleanup begins in the areas damaged by Hurricane Florence
A volunteer pries wood flooring from the storm damaged home of Tonja Dais in Pollocksville, N.C., Sept. 28, 2018. Davis' home was flooded with several feet of water from Hurricane Florence.
Gray Whitley/Sun Journal via AP
The United Cajun Navy has sent hundreds of volunteers from at least nine different states to assist with rescue efforts. The volunteer group has made at least 57 rescue missions in New Bern, saving at least two to three people per mission.
In some cases, the volunteers had to use air mattresses to float people to safety because the storm's gusty winds were toppling rescue boats.
"A lot of people did not get out, tried to drive out and a lot got stuck in conditions on the roads, so a lot of people we were rescuing from the tops of their vehicles," Todd Terrell, founder of the Baton Rouge-based United Cajun Navy, said on "GMA."
Footage taken from the ground in New Bern on Friday afternoon showed flooded streets, downed trees, scattered debris and storefronts blown out. But the full extent of damage to the town was unknown at the time.
Col. Glenn McNeill, commander of the North Carolina State Highway Patrol, told reporters at a press conference Friday morning that roadway conditions are deteriorating as flooding gets worse. Overnight, the patrol responded to 108 calls for help and 30 collisions across the state, he said.
Meanwhile, North Carolina National Guard Major General Gregory Lusk said some 2,800 of his troops have been activated.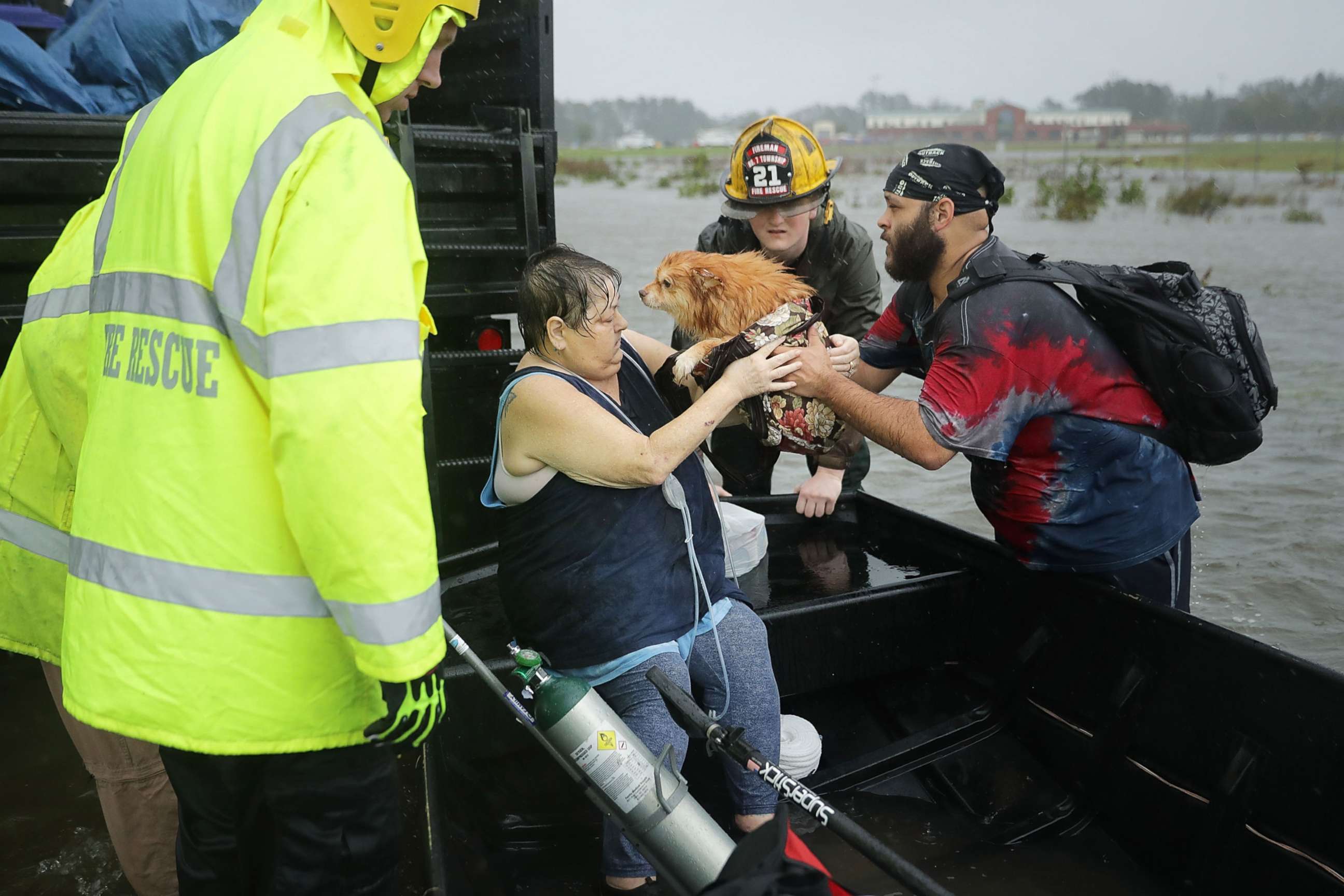 More than 615,000 customers were without power across the state on Friday afternoon, according to the North Carolina Department of Public Safety.
Gov. Cooper told reporters at a press conference Friday morning that utility crews "from all over the country" are standing by to restore power as soon as it's safe to do so.
There are also some 20,000 people in 157 shelters in North Carolina, plus many residents who are staying with family, friends and in hotels, according to the governor.
Cooper said many residents at risk of flooding were moved to higher ground prior to the storm's arrival, and officials will continue to share critical flood mapping information to pinpoint where the next evacuations may be needed.
"We are a hardy bunch, we are resilient, we can get through this," he told "GMA." "We're going to work hard to make sure people have the resources they need to get through the storm."
ABC News' Matt Foster, Joshua Hoyos, Dominick Proto and Stephanie Wash contributed to this report.