Chef Joe Isidori of of Arthur and Sons NY Italian joined "Good Morning America" this Fourth of July to whip up some tasty burgers and a street-style side dish.
Fourth of July Burgers
Yield: 8 Burgers
Ingredients
KBBQ Sauce
2 pints barbecue sauce of choice
6 tablespoons toasted sesame oil
6 tablespoons lime juice
1 cup gochujang
Special Sauce
2 pints mayonnaise
2 teaspoons Worcestershire sauce
2 teaspoons Sriracha sauce
2 teaspoons chipotle adobo
4 tablespoons relish
6 tablespoons ketchup
Salt and pepper
Brown Sugar Bacon
16 slices bacon
Brown sugar
Burger & Additional Toppings
Directions
Mix all ingredients for the KBBQ sauce together and reserve. Repeat for the special sauce and reserve.
Lay strips of bacon on a sheet pan lined with a pan liner (to avoid sticking) and sprinkle bacon with brown sugar. Cook in a 400 degree oven for 10-15 minutes until crispy.
Cook burgers on a grill over an open flame, basting continuously with KBBQ sauce.
Once the meat has reached the desired degree of doneness, top each patty with two slices of American cheese and melt.
Toast buns on grill.
Assemble the burgers: Swipe the buns with Special Sauce, top with 2 strips of brown sugar bacon, lettuce, tomato and grilled onions. Serve and enjoy!
Burgers Tips
• Make sure to use at least 80/20 beef, but 75/25 ground beef is even better due to its higher fat content. Remember, fat is king – the more fat, the more flavor!
• Always use ground chuck rather than sirloin because sirloin can be too lean.
• Grill over charcoal if you can because it yields a better flavor.
• Cheddar is not better, don't be fooled!: for every burger, use two pieces of American cheese rather than Cheddar because Cheddar doesn't melt well whereas American cheese give you the optimal melt.
"Mexico City" Grilled Street Corn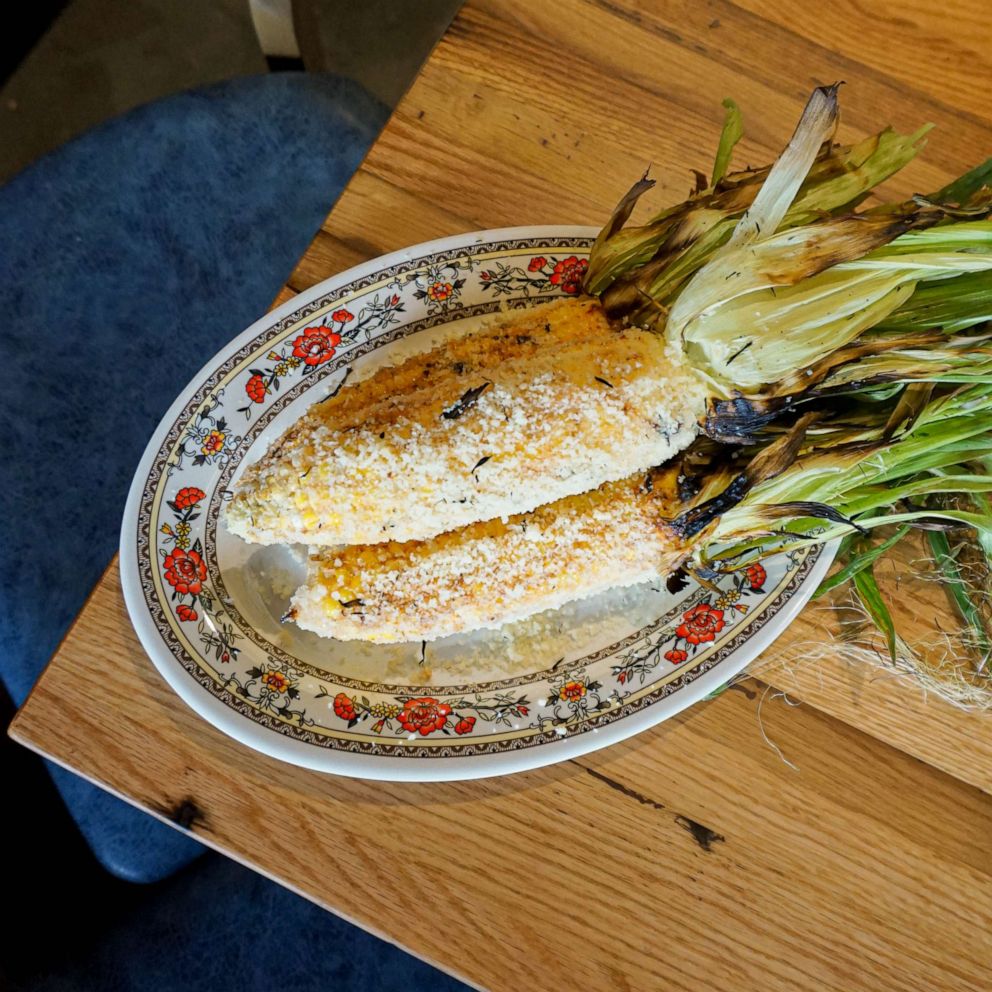 Yield: 1-2 servings
Ingredients
2 sweet corn cobs in husks
1/4 cup JOTORO chipotle mayonnaise (see note)
1/4 cup freshly crumbled cotija cheese
1/4 cup freshly shredded Parmesan cheese
1 lime, cut into wedges for serving
Garnishes
Tajin, Micro cilantro, Shaved radish
Directions
To make the chipotle mayonnaise: In a small bowl, combine 3/4 cup Kraft mayonnaise, 2 whole chipotle chilis in adobo sauce, 1/2 teaspoon Worcestershire sauce, 1/2 teaspoon freshly grated lime zest, and a generous spritz of fresh lime juice. Whisk everything together until smooth and creamy. Taste and adjust for seasonings as desired. Store covered in the refrigerator until ready to use.
Bring a pot of salted water to a boil. Blanch corn in the husks for 4 minutes. Remove from water and set aside. When cool enough to handle, pull husks back from corn, but leave them attached. Remove silk strands from the cobs. Rub corn with chipotle mayo. Heat a grill or broiler to high. Using tongs, carefully turn corn so that all sides are charred, about 5 to 10 minutes. Set aside and keep warm.
Combine the cheeses.
Brush additional chipotle mayo all over the warm corn. Sprinkle cheese blend on top to coat. Dust with a bit of Tajin, micro cilantro, and shaved radish for garnish.
Serve with lime wedges and any remaining chipotle mayo.
Corn Tips
• Always use fresh shucked corn, not frozen.
• Don't skimp on the Tajín (a dry seasoning blend made with mild chili peppers, lime, and sea salt)! In my opinion, when it comes to this dish, the spicier the better, and I use a free hand when shaking the chili lime salt on my corn.
• Use fresh, not bottled, lime on the corn. It makes a huge difference -- it's not tequila but trust me it has the same effect because the tanginess and zestiness of fresh lime completely changes the flavor profile of the corn
• If you can't find Cotija cheese, parmesan is a good substitute
• As with grilling the burgers, if you can, grill the corn over charcoal for better flavor