Ani and Ayan Sanyal wanted others to experience the chai they grew up enjoying. So the New York-based brothers opened Kolkata Chai Co. in Manhattan for people to taste chai flavors that are true to them.
"I love American coffee culture, I love American cafes and European cafes," Ayan Sanyal told "GMA." "I wanted to sort of combine the two and create a place where you can get really good chai, good coffee and also have a good conversation."
Growing up, both brothers felt chai was misrepresented in the States, as it was made and distributed by corporations or someone attempting their best version of it by using things such as whipped cream, pumpkin spice or syrup concentrations.
"Chai traditionally is not an overtly sweet, syrup-based concoction. It's really something that has a deep-flavor profile due to the spices and the combination of the milk, and all those things interacting together," Ani Sanyal said.
Masala chai is typically made using black tea, milk and spices such as cardamom, ginger, and sugar (which is optional), but it also varies from one household to another.
The Sanyals' parents migrated to the U.S. from Kolkata, India, in the '80s and are what they call "incessant chai drinkers." Tea time has always been a staple in their home and marked a special time to break away from their busy lives and do "adda" -- long, unending conversations usually over a cup of chai -- with extended family and friends.
For them, that evolved into exploring chai spots on the streets of Kolkata where the brothers began to learn and focus more on the flavor and taste behind a cup of chai.
In December 2018, Ayan Sanyal traveled to Kolkata to learn more about the chai culture there, often seeing elders start their day together with an early morning "nimbu chai" -- a lime chai he calls a "Bengali espresso."
He also traveled to Darjeeling, India, to learn more about loose-leaf teas.
"Visiting the tea gardens, seeing how tea is produced, the intense amounts of labor and work and artisanship that go into making a cup of tea really made me appreciate the product more, and also gave me a big sense of responsibility in terms of how to portray it and bring it back to New York City," he said.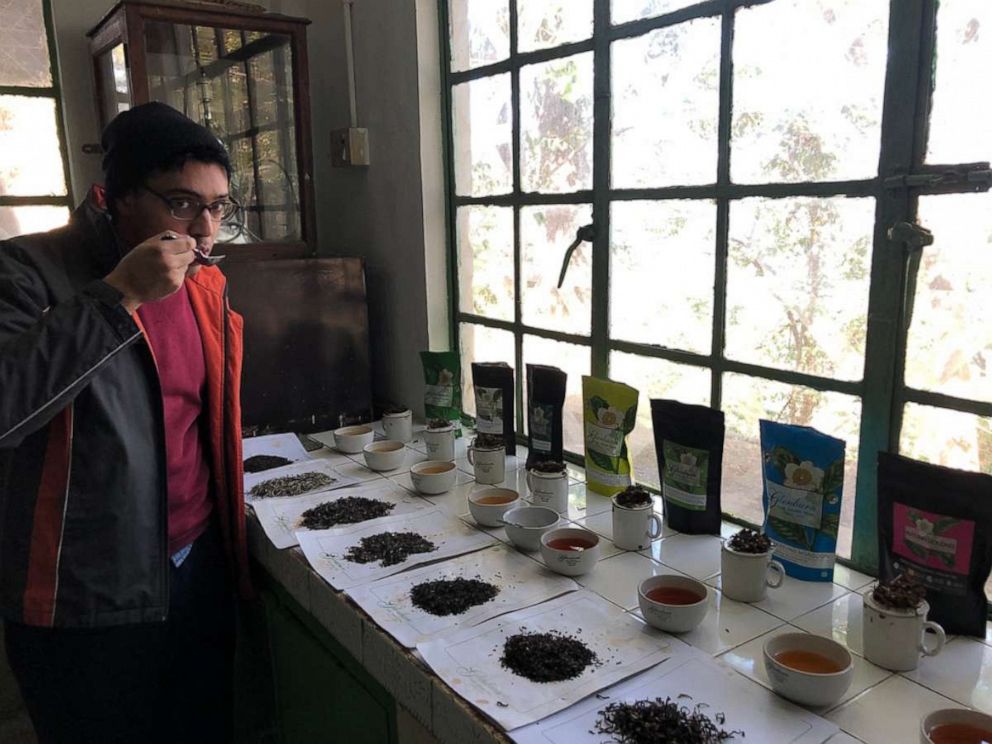 Everything on the menu at Kolkata Chai Co. -- including nimbu chai -- comes from what they learned and studied while in India and time spent with family, while combining those traditional flavors with modern twists such as oat milk and cold brew.
"Chai in India is made in these big pots. It's all brewed together and that's where you get that depth of flavor and so recreating that process in New York City was something that we spent a lot of time on," Ani Sanyal said.
Ayan Sanyal said he uses "goal markers" as his measurements, considering "South Asians don't measure anything!"
While chai can vary from one home to another, here is how you can make Kolkata Chai Co's masala chai at home:
Ingredients:
1 cups water
1 cups milk
2 teaspoons CTC (crush, tear, curl) black tea
1 2-inch piece ginger
2 cardamom pods
1/2 stick cinnamon
3 black peppercorns
3 cloves
Sugar (optional)
Method: