Hurricane Idalia tears through Crystal River, a safe haven for manatees
The Category 3 hurricane brought storm surge and floods to the Big Bend region.
On March 12, 1993, a superstorm dubbed the "Storm of the Century," slammed Florida's Gulf Coast and wiped out a critical ecosystem that was home to hundreds of manatees.
Just over 30 years later, on Wednesday, a second powerful storm, Hurricane Idalia, dragged salt water into the area's freshwater, potentially threatening the manatee population once again.
Hurricane Idalia was a Category 3 hurricane at the time it made landfall northwest of Crystal River, a low-lying coastal community about 80 miles north of Tampa.
In addition to the town of Crystal River, a popular tourist destination, the area is home to wildlife refuges and natural springs, including Crystal River itself, a waterway that is fed by more than 70 freshwater springs. Its average year-round temperature of 72 degrees Fahrenheit makes it a winter habitat for manatees, which require warm water to survive.
The storm surge brought on by Idalia's powerful winds led to severe flooding throughout the area, which experts worry could be a danger to manatees when those floodwaters recede.
"My greatest concern is manatees being trapped in areas that they normally would not be able to get into, but could get into because of the higher water, and then not being able to get out of that," Pat Rose, executive director of Save the Manatee, a nonprofit manatee conservation organization, told "Good Morning America." "Places like water control structures and golf course ponds that were near the water but not connected can now become places where manatees can become trapped."
He continued, "Unless they can be rescued and returned to a more open water habitat, that could become a real problem."
Rose said Idalia so far seems to have caused less environmental damage than Hurricane Ian, which last year led to the entrapment of multiple manatees when it slammed Southwest Florida.
The risk with Idalia, Rose noted, is that it struck less-populated areas of Northwest Florida, which he said may mean entrapped manatees go unnoticed and unreported to authorities.
Individuals in Florida who spot endangered or entrapped manatees are instructed to report them to the Florida Fish and Wildlife Conservation Commission by calling 1-888-404-FWCC (3922).
"If there aren't people around to find the manatees that might become trapped in those areas, then they're less likely to receive the help that they need," Rose said, adding that manatees can survive just hours in some cases. "We'd be concerned about it being too hot or them being exposed to direct sun, or if it was very shallow water, that could be a matter of hours before they would be in serious trouble."
On their own, manatees are naturally prone to survive natural disasters like hurricanes, according to Rose, who said they adapt by finding shelter in deeper water and protected coves. Flooding, which was so prevalent in Idalia, is where the danger comes in for the marine mammals, once those waters recede.
A spokesperson for the U.S. Fish and Wildlife Service told "GMA" that an average of around 50 manatees stay in the Crystal River area during the summer.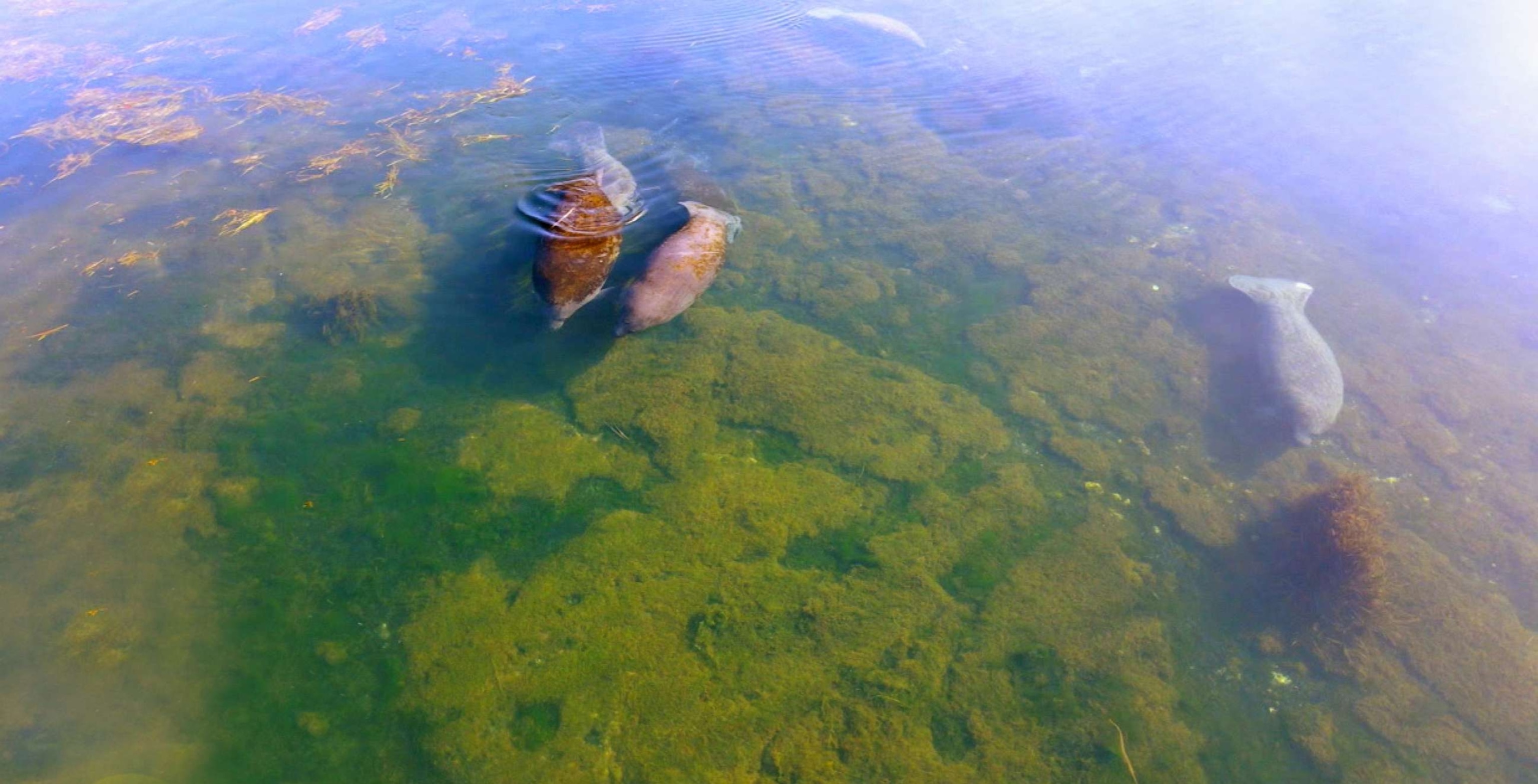 "The U.S. Fish and Wildlife Service won't know the impacts from Hurricane Idalia to manatees until the flood waters recede," the spokesperson said in a statement. "Manatees can become stranded in unusual places, including roadside ditches, where they normally would not be able to access."
The waters in and around Florida are home to around 8,000 manatees, according to the U.S. Marine Mammal Commission. In 2017, manatees were downgraded from an endangered species to a threatened species.
A spokesperson for Save Crystal River, a nonprofit organization, and Sea & Shoreline, the aquatic restoration company that oversaw the restoration of Crystal River, told "GMA" that it has not yet been able to confirm how local manatees fared in Idalia. The spokesperson said one manatee was spotted swimming by a local fast-food restaurant in Crystal River's flooded streets after the storm.
The restoration effort to bring Crystal River back to life was a three-decade effort that took more than $40 million in funding from the state, as well as private donations.
The effort included removing 400 million tons of debris and planting more than 450,000 clusters of eelgrass by hand to provide fuel for manatees and stabilize the shoreline to protect the area from future storms, like Idalia, the strongest hurricane to make landfall in this part of Florida's Big Bend region since hurricane records began in 1851.
Paul Cross is the director of operations at Plantation on Crystal River, an area that has been restored to accommodate the gentle giants off Florida's west coast.
Rose said he believes the restoration effort is likely to have worked as intended, allowing the ecosystem to survive the wrath of Idalia.
"The eelgrass there is a freshwater species, so it's actually much easier to grow and can recover faster than our sea grasses," Rose said. "If too much saltwater came up, it could impact it, but I think it's much too early to say that it would, and I don't believe it would."
While the Crystal River area is a particularly unique habitat for manatees, Rose also stressed that manatees further north in Georgia and South Carolina may also have been impacted by Idalia. After leaving Florida, the storm continued up the East Coast, causing flooding in both states.
In Georgia, people can call the Georgia Department of Natural Resources Wildlife Conservation Section coastal office at 1-800-2-SAVE-ME (1-800-272-8363) or 1-800-241-4113 to report a stranded manatee.
South Carolina residents should call the South Carolina Department of Natural Resources hotline at 1-800-922-5431 to report manatees in need of help, according to Rose.
ABC News' Ginger Zee and Sam Wnek contributed to this report.