The global coronavirus pandemic has put a pause on many big events and the annual Met Gala extravaganza is one of them.
While this year's annual event won't be happening in person on May 4, Vogue Magazine created a social media #MetGalaChallenge hashtag encouraging everyone to recreate their favorite red carpet looks from a past Met Gala at home.
"Pose" star Billy Porter introduced the challenge in a video posted on Instagram.
Porter and Vogue will choose the best looks to highlight and repost them on the @voguemagazine, @metmuseum and @metcostumeinstitute Instagram pages.
Actress Mindy Kaling showcased her own rendition of Jared Leto's unforgettable 2019 Gucci look where he carried a version of his head as an accessory.
"Recreating one of my favorite Met Gala looks ever with the help of a tarp, some Christmas lights and packing tape," she said. "I think Alessandro Michele would approve."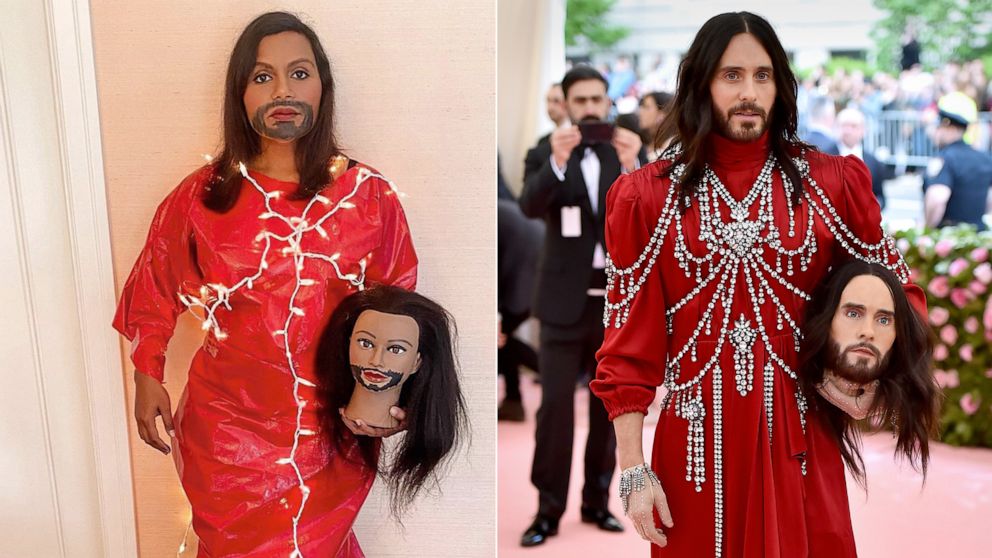 Kaling's post had 342,000 likes on Instagram. Actress Kerry Washington commented: "Laughing my head off."
American figure skater Adam Rippon joined in on the fun, showing off his recreation of Rihanna's jaw-dropping Guoi Pei haute couture dress worn on the 2015 Met Gala red carpet.
Several others have posted really creative head-turning remakes as well.
Check out three more elaborate ensembles from @shannon_the_sloth, @sanja_nestorovic_ and @bernadettebanner ahead.
In place of this year's postponed affair, there will be a live-streamed celebration of past Met Galas on Vogue's YouTube channel.
This virtual "A Moment With the Met" event will feature new videos from Cardi B., Naomi Campbell and Liv Tyler.
"It would be impossible to recreate the gala on Monday evening, though I have loved hearing how so many are marking the occasion in their own ways," Anna Wintour, EIC of Vogue, said in a statement. "So instead, I asked a few friends to join me for a simple moment — one that I hope will bring us all a bit of joy."
In addition to Vogue's donations to both the Costume Institute and "A Common Thread," viewers will also be asked to consider contributing to either organization.