A global pandemic of the novel coronavirus has now killed at least 12,893 people in the United States.
The U.S. has more cases than any other country, with over 398,000 people diagnosed with COVID-19, the disease caused by the new respiratory virus, according to data compiled by the Center for Systems Science and Engineering at Johns Hopkins University.
Worldwide, more than 1.42 million people have been diagnosed with COVID-19 and at least 82,074 of them have died since the virus emerged in China in December. The actual numbers are believed to be much higher due to testing shortages, many unreported cases and suspicions that some governments are hiding the scope of their nations' outbreaks.
Italy has the world's highest death toll -- over 17,100.
Today's biggest developments:
New York death toll sees largest single-day jump
UK prime minister is 'stable' in ICU
China reports no new deaths for 1st time since January
Here's how the news is developing. All times Eastern. Please refresh this page for updates.
10:01 p.m.: John Prine dies of coronavirus
Longtime singer-songwriter John Prine has died of coronavirus, his representative told ABC News.
"Widely lauded as one of the most influential songwriters of his generation, John's impact will continue to inspire musicians for years to come," the Recording Academy said in a statement. "We send our deepest condolences to his loved ones."
The 73-year-old had recently been checked into Vanderbilt University Medical Center in Nashville, Tennessee, suffering from COVID-19, his family said in late March.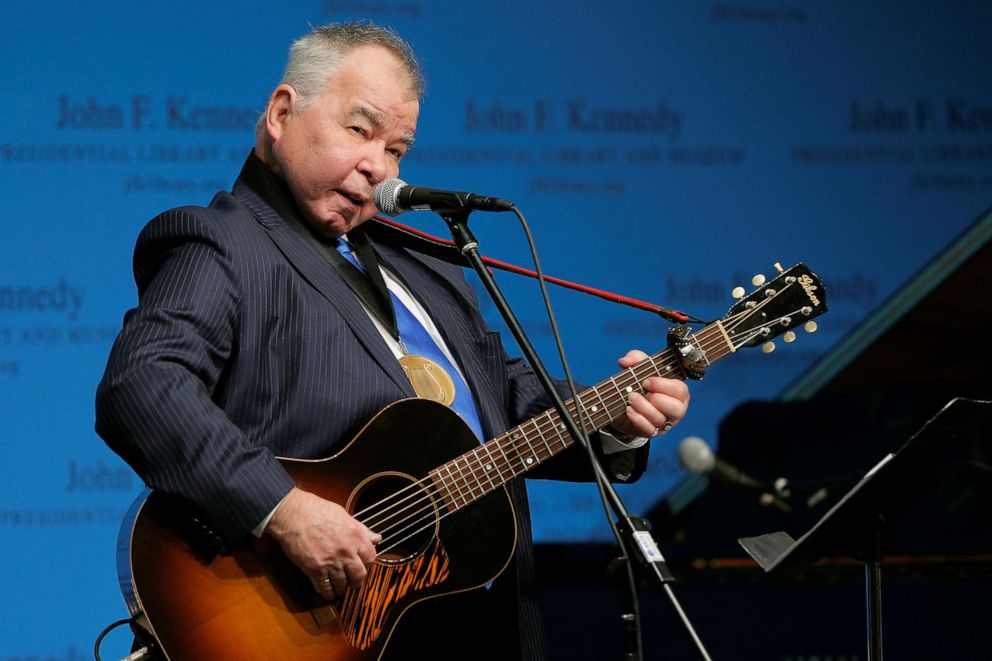 Prine was nominated for 11 Grammy Awards in his career and took home two trophies and he was just announced as a 2020 Recording Academy Lifetime Achievement Award recipient. He won awards for best contemporary folk album for "The Missing Years" in 1992 and another for "Fair & Square" in 2006.
He earned praise from a litany of legendary singers, including Bob Dylan and Johnny Cash, both of whom cited him as one of their favorite artists.
9:52 p.m.: San Diego moves to curb spread of virus among homeless
San Diego officials announced an ambitious plan to curb the spread of COVID-19 among its substantial homeless population.
Mayor Kevin Faulconer said the city is directing millions of dollars to a shelter-at-home operation that will turn the San Diego Convention Center into a temporary home for hundreds of people currently living in the streets.
San Diego has the fourth-highest homeless population in the country, behind New York City, Los Angeles and Seattle, according to the U.S. Department of Housing and Urban Development.
9:03 p.m.: LA to mandate face coverings for essential employees
Los Angeles Mayor Eric Garcetti announced the city is implementing a policy effective Friday requiring workers in grocery stores, drug stores, restaurants, hotels, taxi and ride-share companies and construction sites to wear nonmedical face coverings while at work. In addition, customers entering their businesses must also wear face coverings or they could be refused service.
There were 550 new confirmed cases in Los Angeles County in the past 24 hours -- a 9% increase from the day before - bringing the total to 6,936 confirmed cases.
The death toll rose to 169 overall with 22 reported in the last day, an increase of 15% from the prior day.
Garcetti also appointed a chief logistical officer who will be in charge of procuring PPE for medical staff and first responders.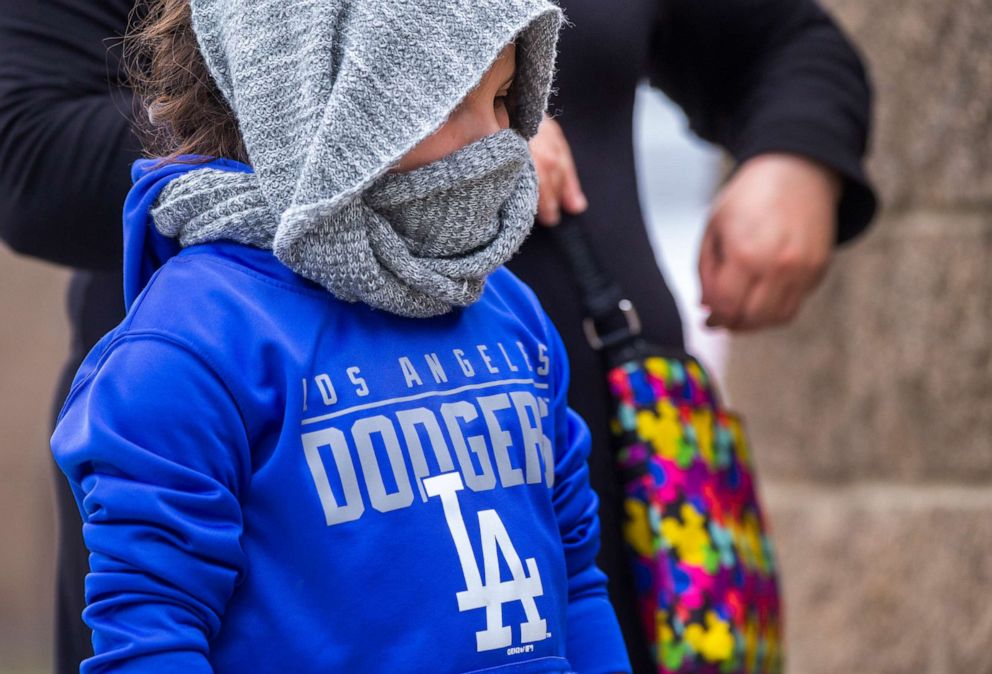 8:41 p.m.: Utah converting brushfire trucks into ambulances
Concerns over the rising number of coronavirus cases have led first responders in Utah to seek an usual solution.
Members of Utah's Unified Fire Authority have begun converting specialized trucks used for fighting brushfires into ambulances for responding to COVID-19 calls.
"What we have done is prepare them for medical response calls, which is something we have never used them for before," said UFA's Matthew McFarland.
The retrofitted vehicles are being stocked with ambulance equipment and supplies -- but they won't be used for transporting patients.
"It is not going to compromise your transport," McFarland said. "If they show up and immediately determine that someone needs transport ... we are going to have a transport rig there by the time their assessment is done."
Tune into ABC at 1 p.m. ET and ABC News Live at 4 p.m. ET every weekday for special coverage of the novel coronavirus with the full ABC News team, including the latest news, context and analysis.
7:27 p.m.: Florida sees spike in cases, deaths
Florida saw a jump in confirmed coronavirus cases and deaths over the last 24 hours, according to the state's health department.
About 1,118 people were diagnosed in the past day, with the total number of COVID-19 patients rising to 14,747, the health department said. There were 42 coronavirus-related fatalities in the last 24 hours, which represented a 16.5% jump in deaths, according to the health department data.
A total of 296 Florida residents have died from the disease, the health department said.
6:20 p.m.: Trump, Fauci acknowledge larger share of cases in minority communities
President Donald Trump and Dr. Anthony Fauci, director of the National Institute of Allergy and Infectious Diseases, acknowledged that data shows minorities have higher rates of coronavirus infections.
Fauci said higher rates of pre-existing conditions, such as diabetes, hypertension, obesity and asthma within black and minority communities were a factor, as well as their higher use of public transportation.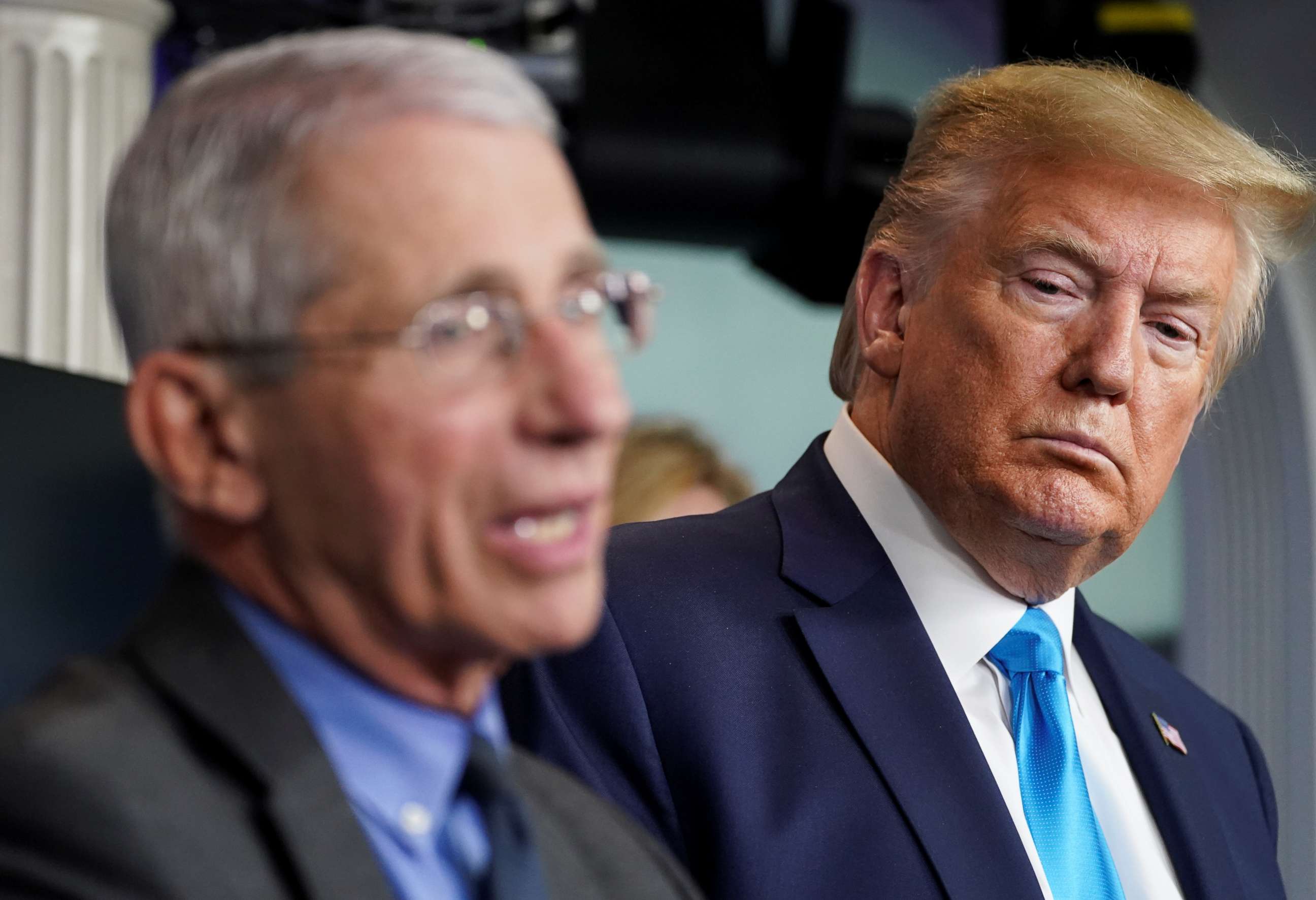 "We are very concerned about that. It is very sad. There is nothing we can do about it right now except to give them the best possible care to avoid complications," Fauci said.
Trump said the White House would release data on coronavirus cases by race shortly.
6:15 p.m.: NYPD announces 14th death
Nearly a fifth of New York Police Department members called out sick as the force lost another member to the coronavirus, police officials said.
The NYPD had 7,060 uniformed members, about 19% of the force, call in sick on Tuesday. The department said 2,006 uniformed members and 338 civilian members have tested positive for COVID-19.
Ava Walker, a communications technician and 20-year veteran of the force, died March 31. Walker is the 14th NYPD member lost to the virus.
6:00 p.m.: 110,000 ventilators to be shipped out by end of June: President
President Donald Trump said the federal government will be sending 110,000 ventilators to states over the next few months.
"We have 8,675 ventilators right now in stock ready to move," he said during this daily press briefing. "In addition to the 8,675 ventilators, we have 2,200 arriving on April 13. We have 5,500 arriving on May 4."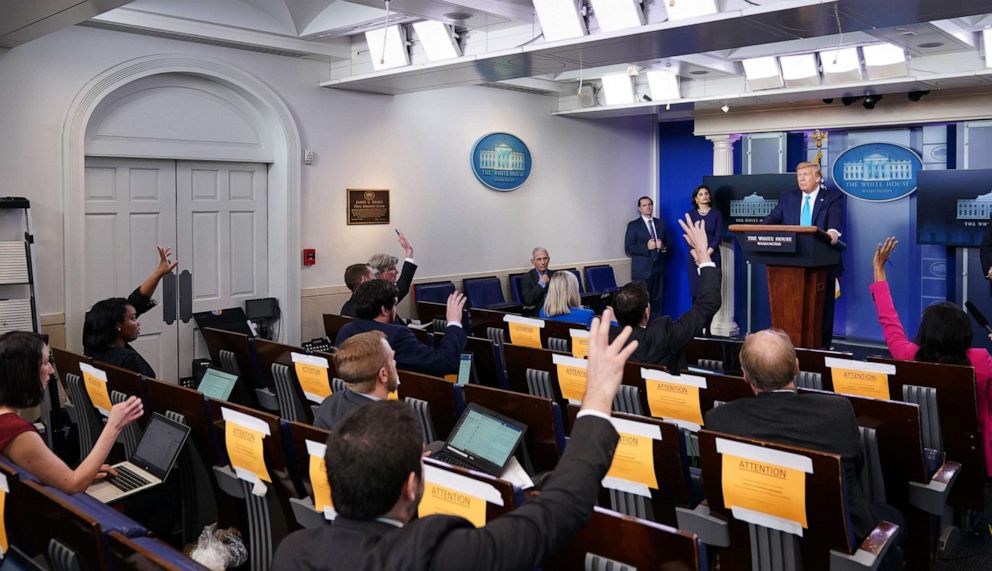 The remaining ventilators will be shipped out throughout May and June, according to the president.
Trump added that 1.87 million coronavirus tests have been conducted so far in the country.
4:45 p.m.: Detroit 'may be bending the curve' but 'storm's not over,' mayor warns
In Detroit -- where there are 5,501 cases of COVID-19 -- Mayor Mike Duggan said, "I think we may be bending the curve, but we're at a very dangerous time if we don't stick with what we're doing."
"The rate of doubling is slowing to every five or six days," Duggan explained. "This is the first glimmer of light we have seen in the data since this pandemic started. The storm's not over, but for the first time we can see we can beat this."
"However, if the weather warms up tomorrow and people go back outside and cluster in groups," the mayor warned, "this will very quickly rise back to doubling every three or four days. Except now we won't be doubling from 10 to 20 Detroiters -- we'll be doubling from 200 to 400 to 800."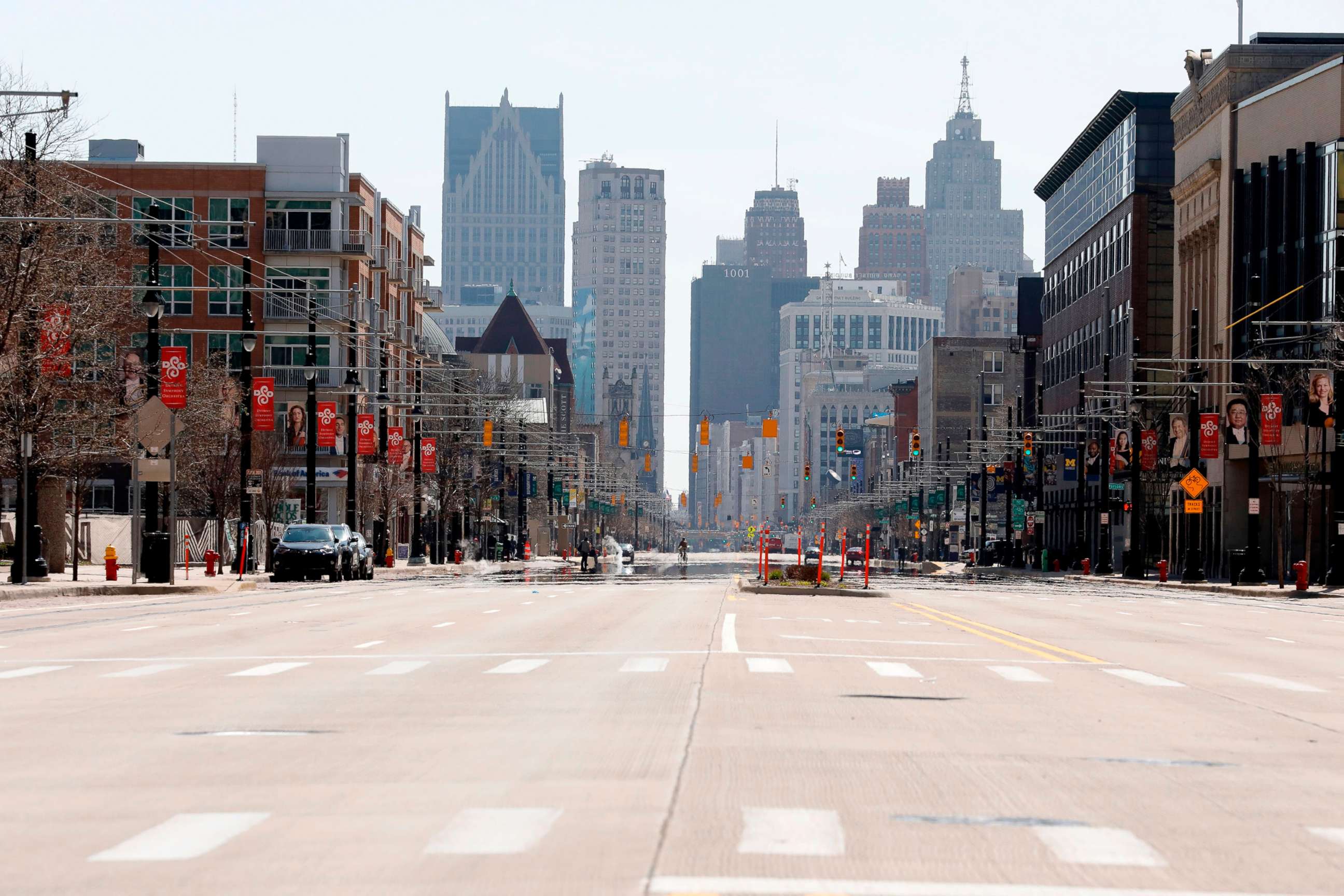 The death toll has reached 221 in Detroit. Twelve of those deaths were in nursing homes.
The mayor stressed the importance of addressing the "exacerbation" of the "racial health gap" during this pandemic.
"The fatality rate for African Americans is two or three times what it is for Caucasians with this virus. The racial health gap in this country is being exacerbated," he said. "We have to care for and protect our neighbors -- and that means wear your mask, don't go out if you don't have to and watch out for the other people in this community."
Detroit has launched a 15-minute testing site for the city's Department of Transportation employees. Duggan said 127 employees were tested Tuesday and 400 will be tested this week.
"Our drivers and mechanics will know if they have COVID-19," he said. "Those that are negative, we can get them back to work. Those who have family members at home who have compromised health, we have hotel rooms available so you don't have to worry about taking infection home."
4:20 p.m.: Early signs curve starting to flatten in Louisiana, governor says
In Louisiana, hard-hit by the pandemic, the death toll reached 582 Tuesday -- but there are early signs that the curves is starting to flatten, Gov. John Bel Edwards said.
The number of people on ventilators decreased from 552 on Monday to 519 on Tuesday, which the governor said he thinks "reflects improvements on the way we are dispensing medical care."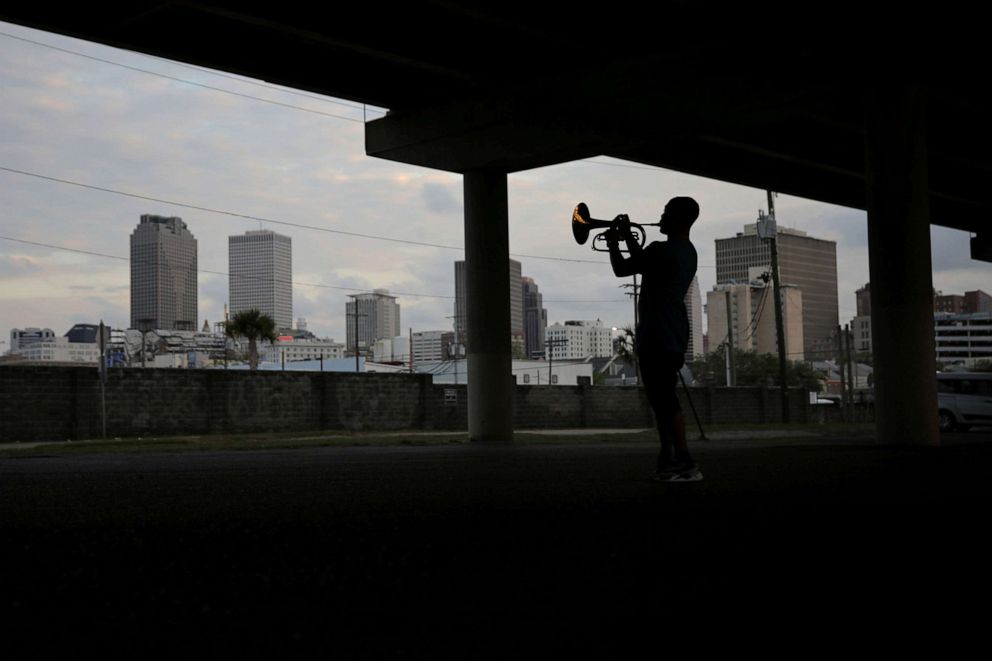 Over 16,000 people in the state have now been diagnosed with coronavirus. Louisiana is now first in the nation per capita for testing, the governor said.
Edwards said all parishes have received personal protective equipment and that Apple has sent Louisiana 400,000 masks.
The New Orleans area is not expected to run out of ventilators or hospital beds in the next two weeks, he said.
2:55 p.m.: France's COVID-19 death toll tops 10,000
With 1,417 new fatalities, France's COVID-19 death toll has now reached 10,328, Health Ministry Director Jerome Salomon said.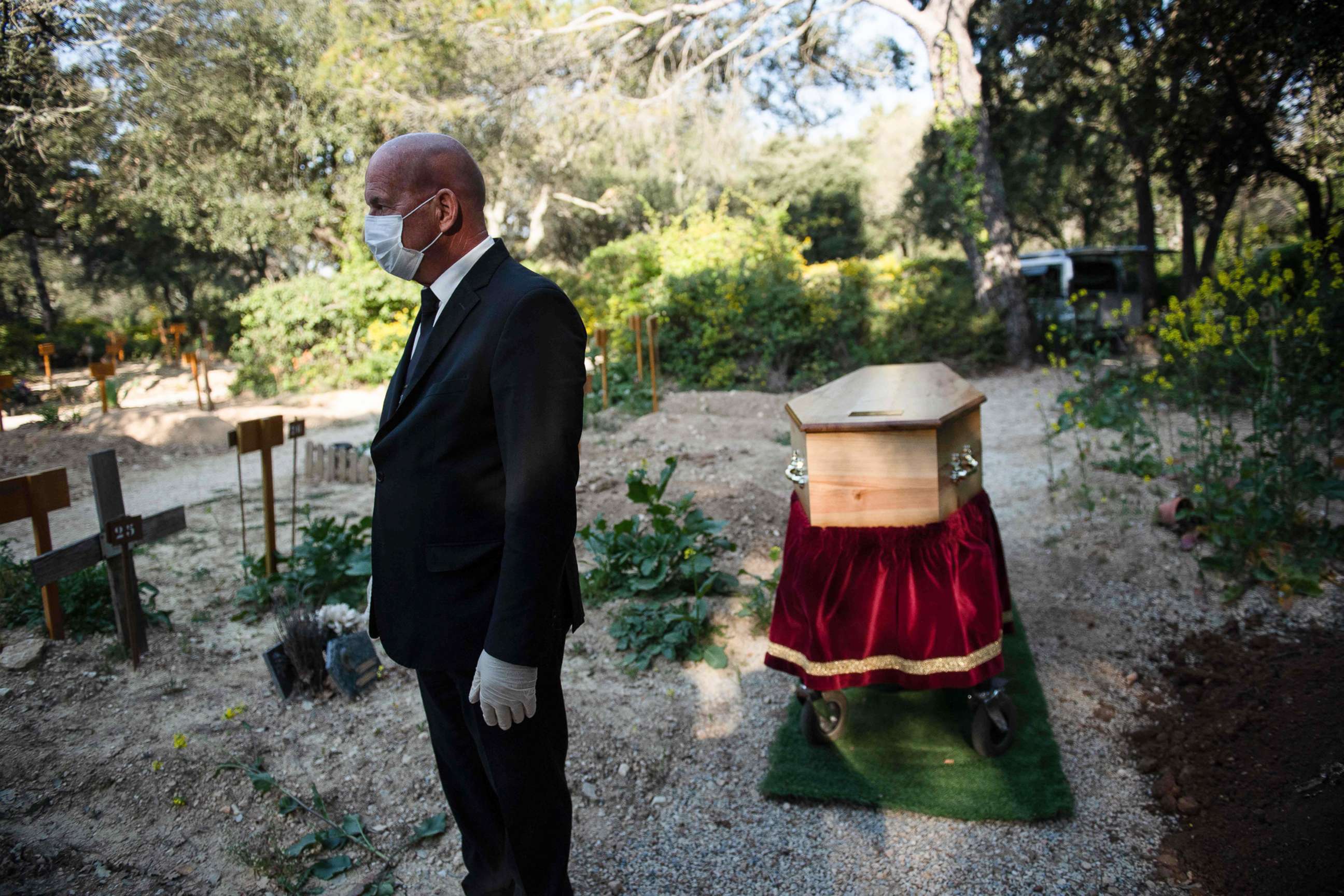 The daily death toll is appearing to spike because authorities are now recording fatalities that had occurred outside hospitals and previously were unknown. Out of the newly reported 1,417 deaths, 607 occurred in hospitals in the last day, while the other fatalities were previously unreported deaths outside hospitals.
Meanwhile, Paris is now banning residents from jogging and other outdoor exercise between 10 a.m. and 7 p.m. in an effort to improve social distancing.
Jogging will still be permitted at night.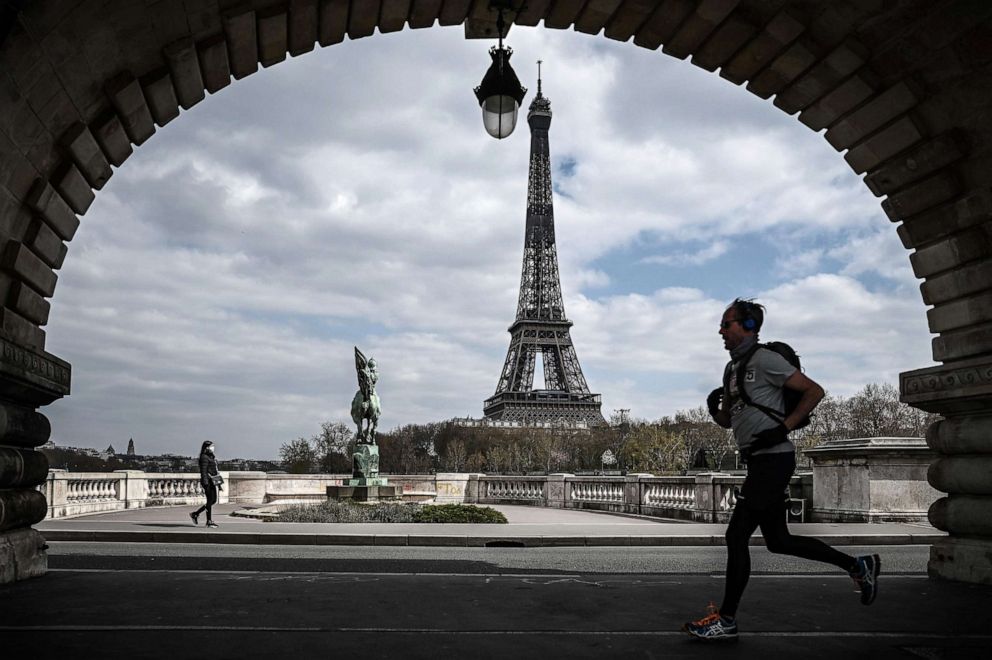 France's total number of diagnosed cases is now over 78,000.
1:20 p.m.: NJ state, county parks close as cases top 44,000
In New Jersey, 1,232 people have died from the coronavirus, a number Gov. Phil Murphy called "almost unfathomable."
The state has a total of 44,416 confirmed cases, Murphy said Tuesday.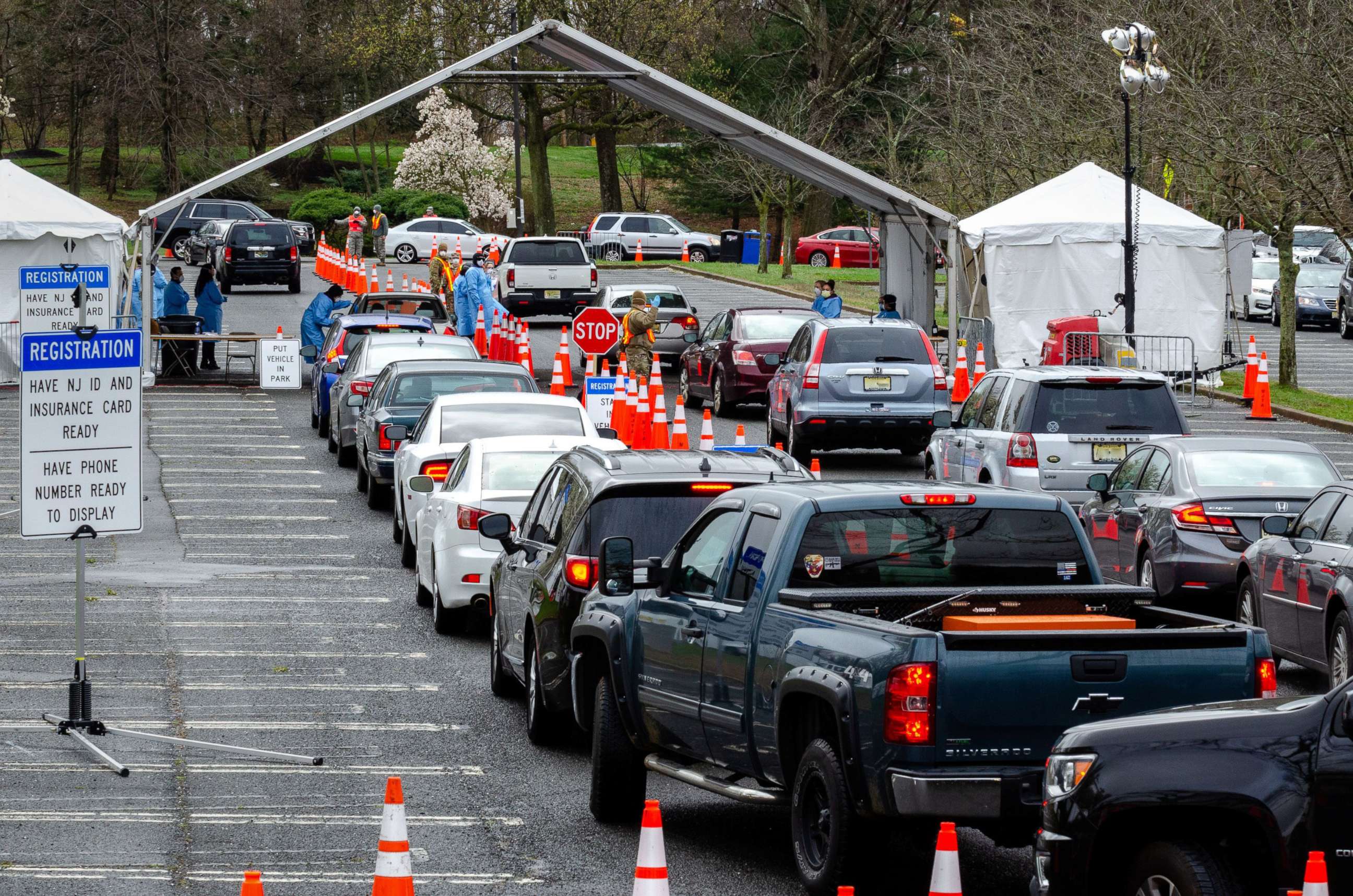 While there are signs the curve may be flattening, Murphy stressed, "We cannot be happy with only reaching a plateau. We need to keep strong ... to see that curve begin to fall and ultimately get to zero."
Murphy said he's closing all state and county parks in an effort to enforce social distancing.
"Don't think that I take this action lightly," he said. "We must not just flatten this curve, we must crush this curve."
12:32 p.m.: UK death toll climbs over 6,000; prime minister in 'good spirits'
United Kingdom's coronavirus death toll climbed to 6,159 as of Monday night, marking a massive daily leap.
As of Sunday night, the death toll was at 5,373, according to the Department of Health and Social Care.
Over 55,000 people in the U.K. have tested positive for coronavirus, including Prince Charles, heir to the British throne, as well as U.K. Prime Minister Boris Johnson.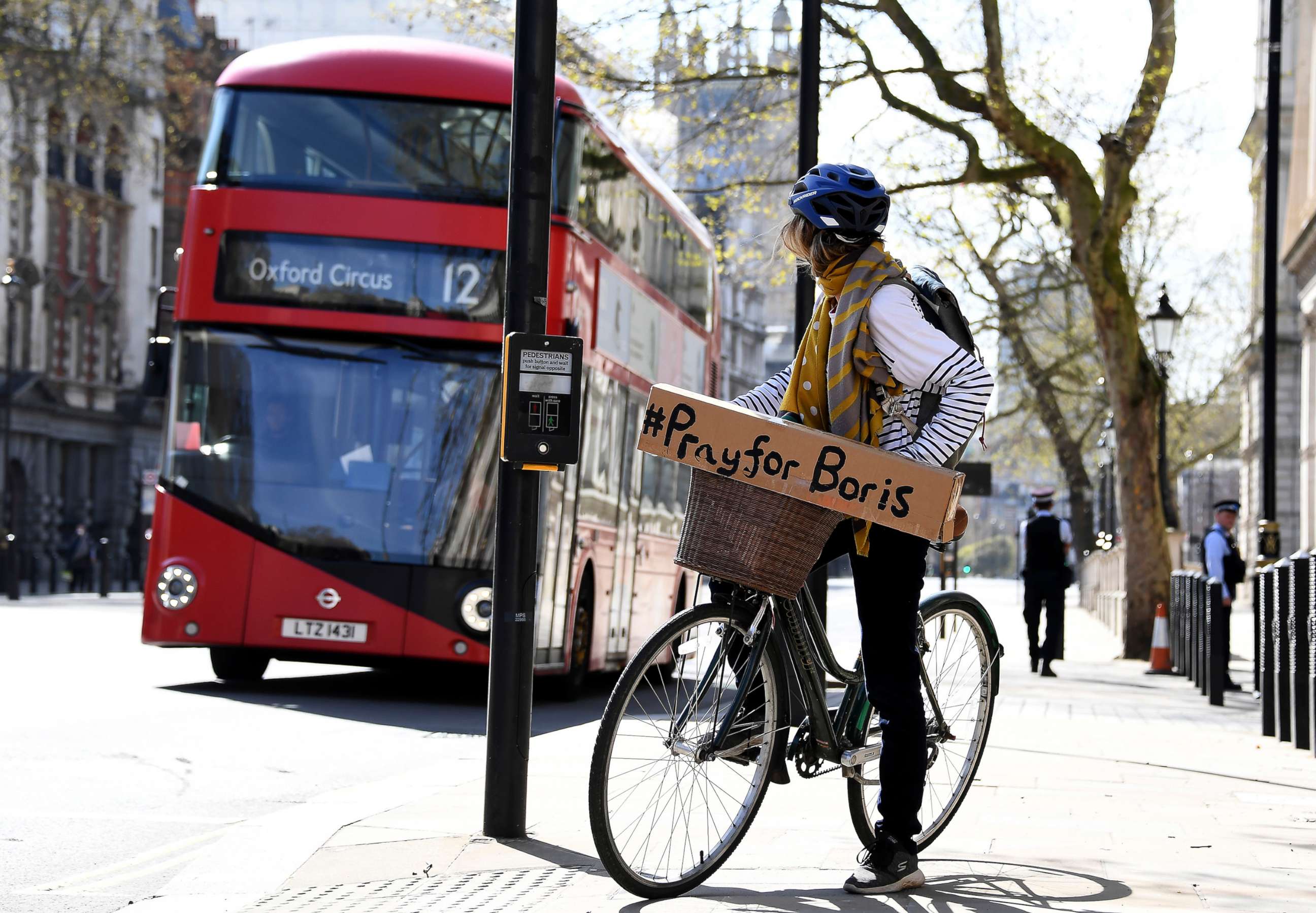 Johnson, 55, has been in an intensive care unit at a London hospital since Monday.
He was "stable" and in "good spirits" Tuesday evening local time, according to a statement from his official residence and office, 10 Downing Street.
Johnson was receiving "standard" oxygen treatment while in the ICU and was breathing without any other assistance, his office said Tuesday morning.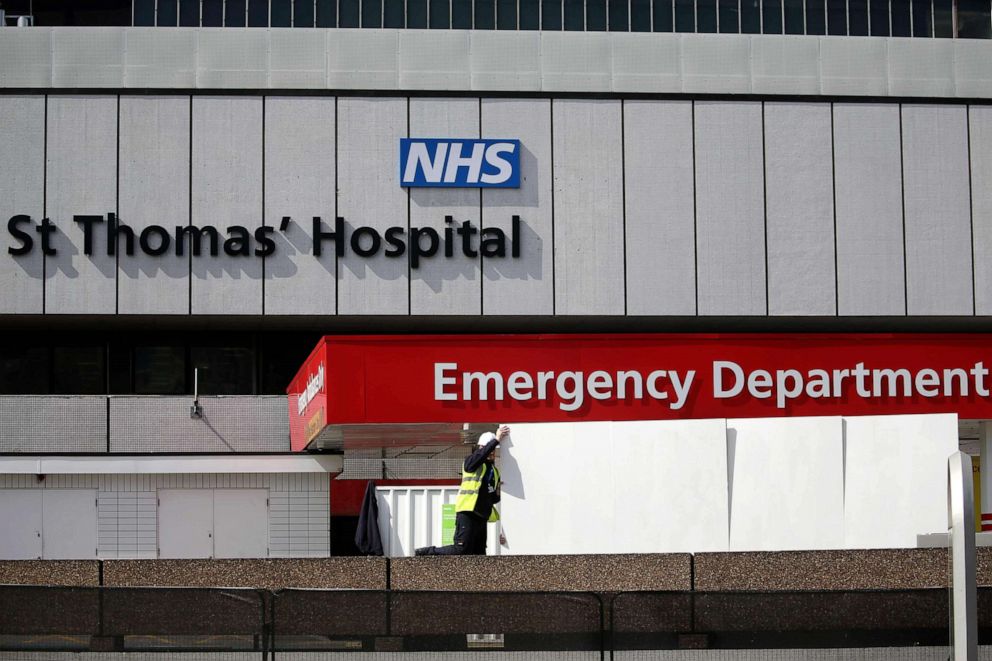 "He has not required mechanical ventilation or non-invasive respiratory support," Downing Street said.
The prime minister has been hospitalized since Sunday evening due to "persistent symptoms" of the coronavirus. He was transferred to the ICU Monday after his conditioned "worsened," according to Downing Street.
11:25 a.m.: New York death toll sees largest single-day jump
New York -- the state hit hardest by the pandemic -- saw its largest single-day death toll jump from Monday to Tuesday.
Gov. Andrew Cuomo says 731 people lost their lives in the state in the last 24 hours, bringing New York's total number of coronavirus fatalities to 5,489.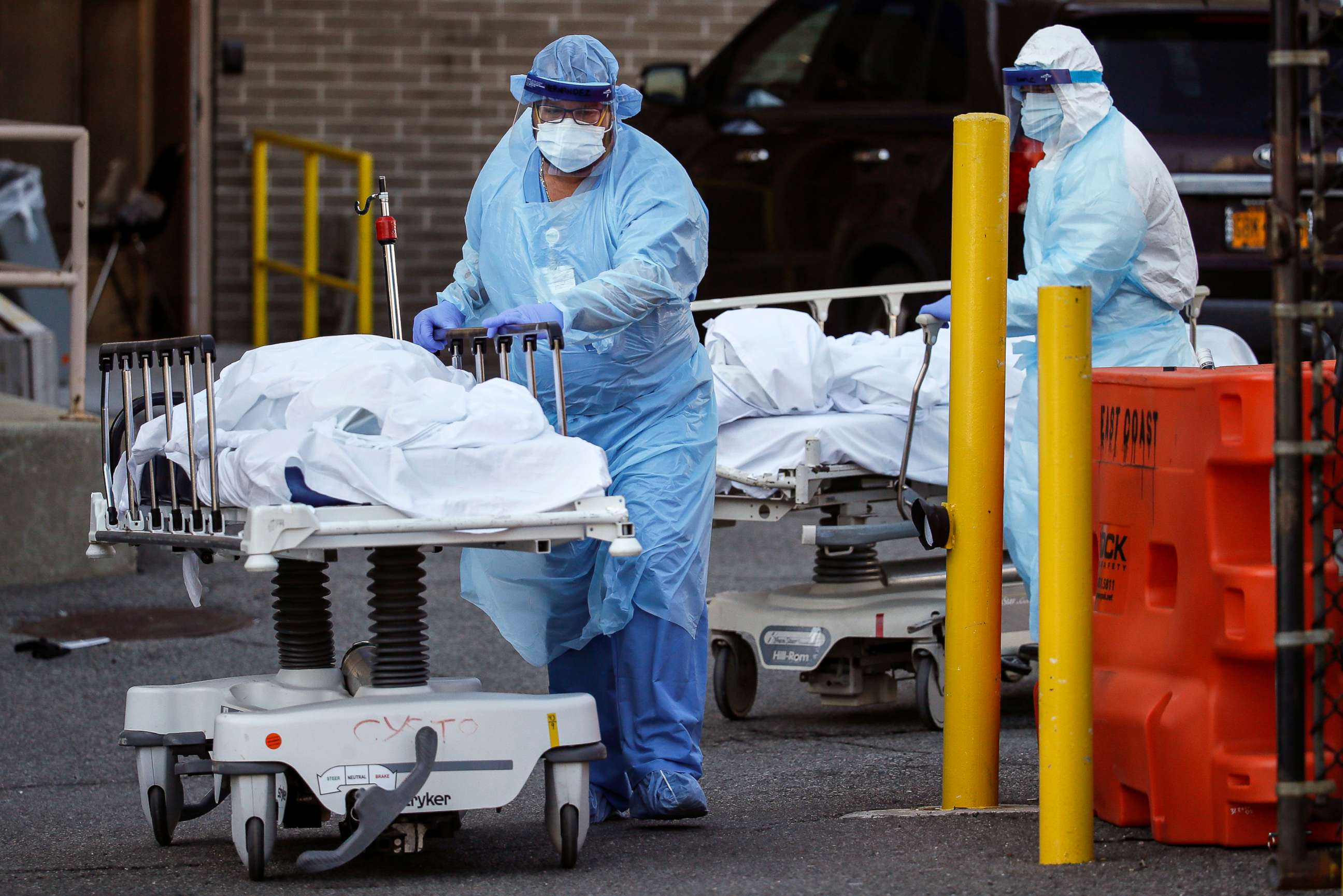 Over 138,000 people in the state have been diagnosed with COVID-19.
However, the three-day hospitalization rate in New York is moving down, a sign the state is reaching a plateau.
"It still depends on what we do," Cuomo warned Tuesday. "This is not an act of God ... it's an act of what society actually does."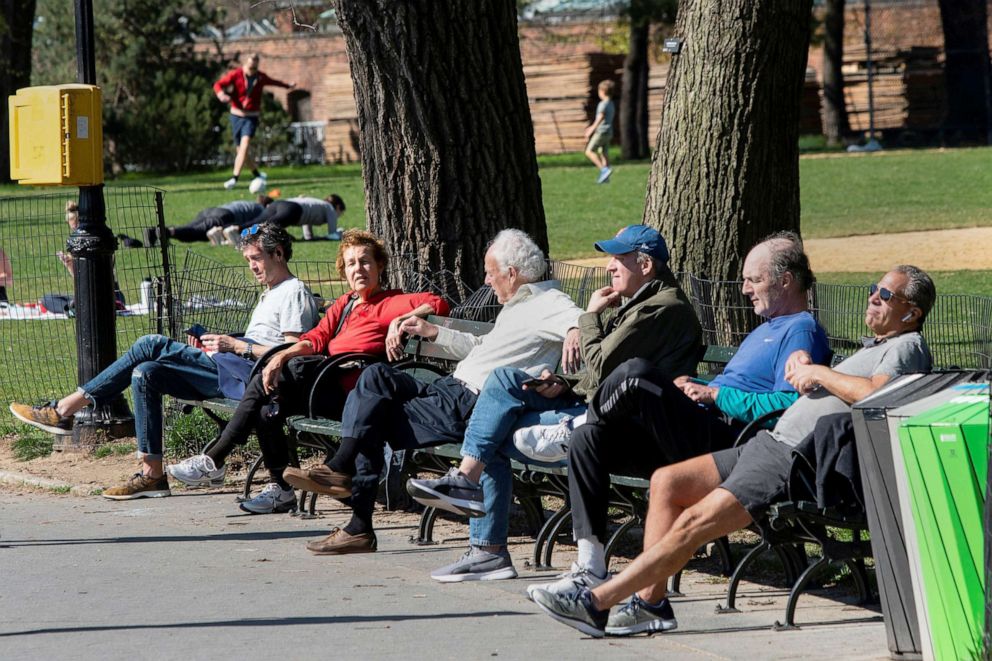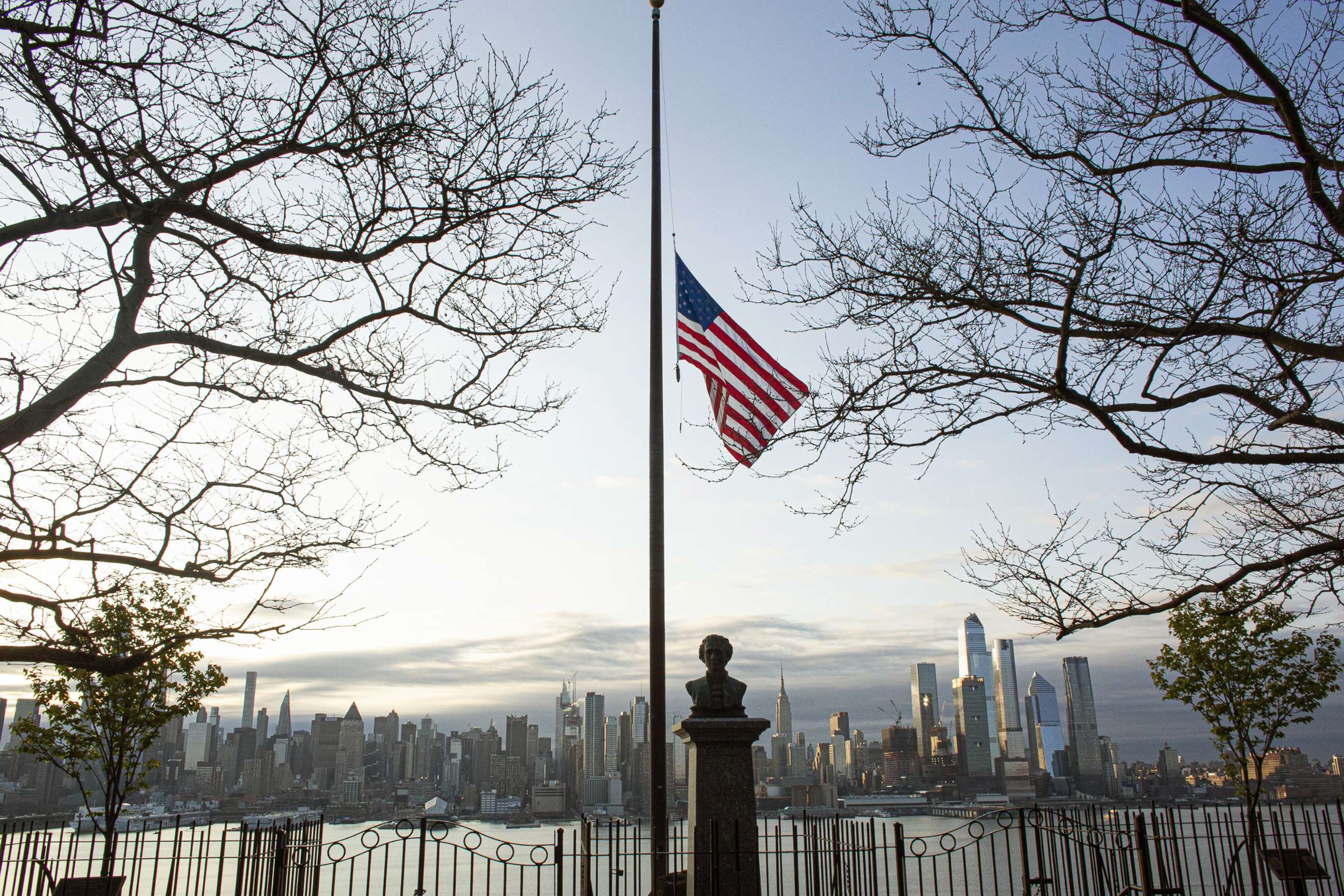 Cuomo compared the coronavirus pandemic to the 1918 flu pandemic which he said peaked in New York for six months, killing about 30,000 people in the state.
"They didn't react the way we did and they didn't know what we know today," he said.
10:15 a.m.: Nation's largest Gothic cathedral to be converted to hospital
The nation's largest Gothic cathedral, the Cathedral of St. John the Divine, is being converted this Holy Week into a temporary field hospital.
The Cathedral of St. John the Divine is in New York City -- the U.S. city hit hardest by the pandemic.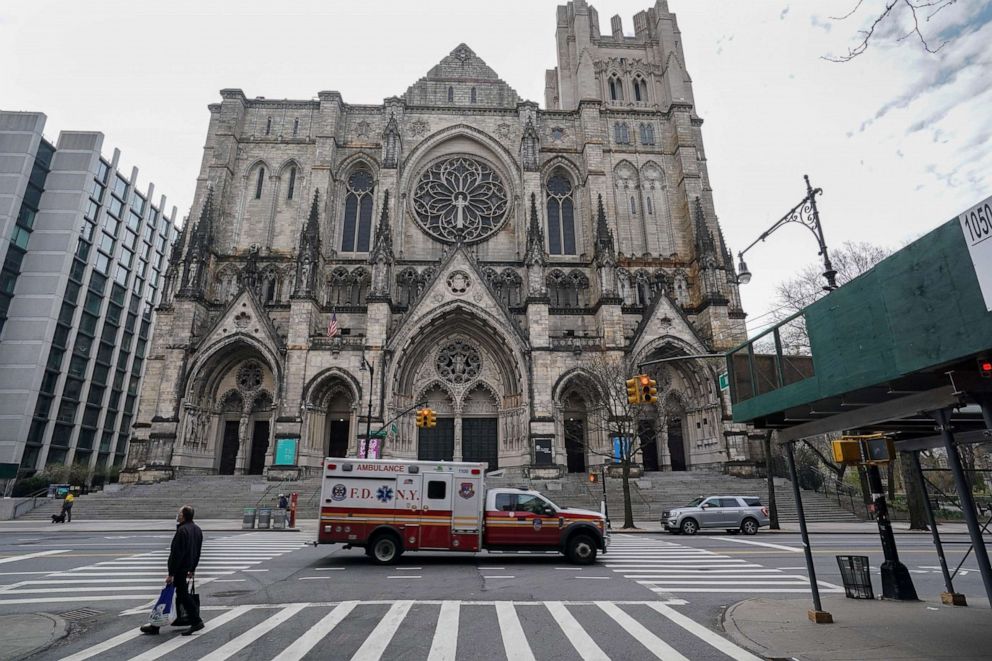 Beds and medical supplies are in the process of being moved into the Cathedral in an effort to lessen the pressure on New York City's overburdened health care system.
The Right Reverend Clifton Daniel III, dean of the Cathedral, said, "The Cathedral of St. John the Divine is stepping up now, as we always have, to help support our diverse and beloved community and the community of doctors, nurses, and volunteers risking their health and well-being in the service of the people of New York City in our hour of need."
9:47 a.m.: TSA screenings reach 'lowest since the days after Sept. 11'
U.S. plane travel has plunged to "the lowest since the days after Sept. 11," a TSA spokesperson told ABC News.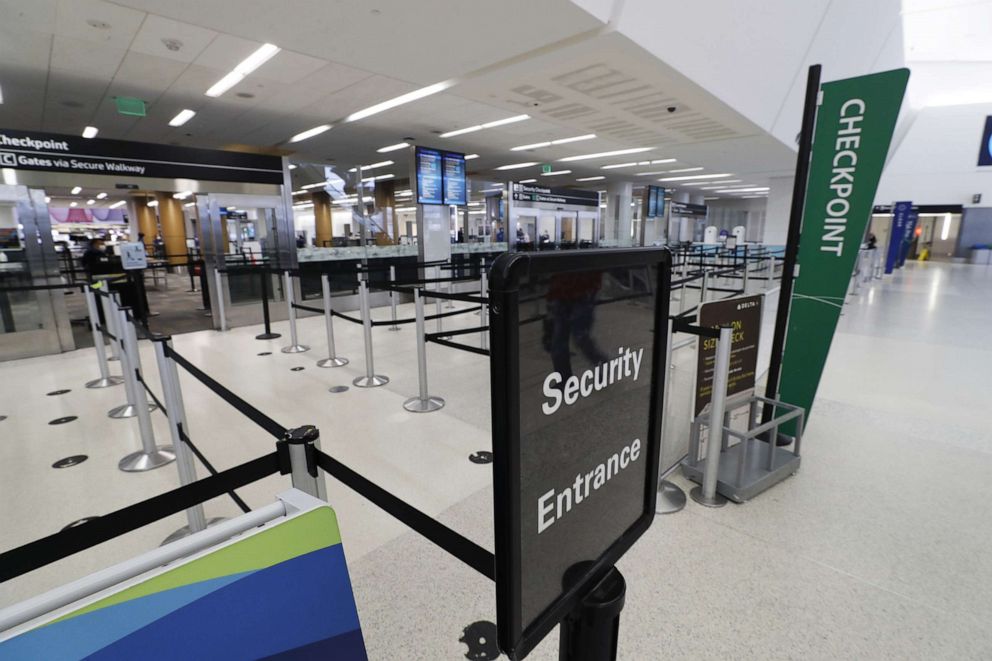 TSA screenings reached another record low Monday with only 108,310 travelers passing through checkpoints nationwide.
On the same weekday last year, TSA screened 2,384,091 passengers.
What to know about coronavirus:
7:30 a.m.: 'There is a light at the end of this tunnel,' US surgeon general says
While still maintaining that this will be a difficult week for Americans amid the coronavirus pandemic, U.S. Surgeon General Jerome Adams said Tuesday that he feels "a lot more optimistic" as he reassured citizens "there is a light at the end of this tunnel."
"I absolutely believe this is going to be an incredibly sad and an incredibly hard week for our country, but we've had tough times in this country before and we always come out stronger," Adams told ABC News chief anchor George Stephanopoulos in an interview on "Good Morning America."
"The good news is that when you look at Italy, when you look at Spain, when you look at Washington and California, and even New York and New Jersey, they have truly started to flatten their curves," he added. "They've seen cases level off and start to come down, and that's what I want people to understand -- that it's going to be a hard and tough week, but the American people have the power to change the trajectory of this epidemic if we come together like we have after past tragedies in this country."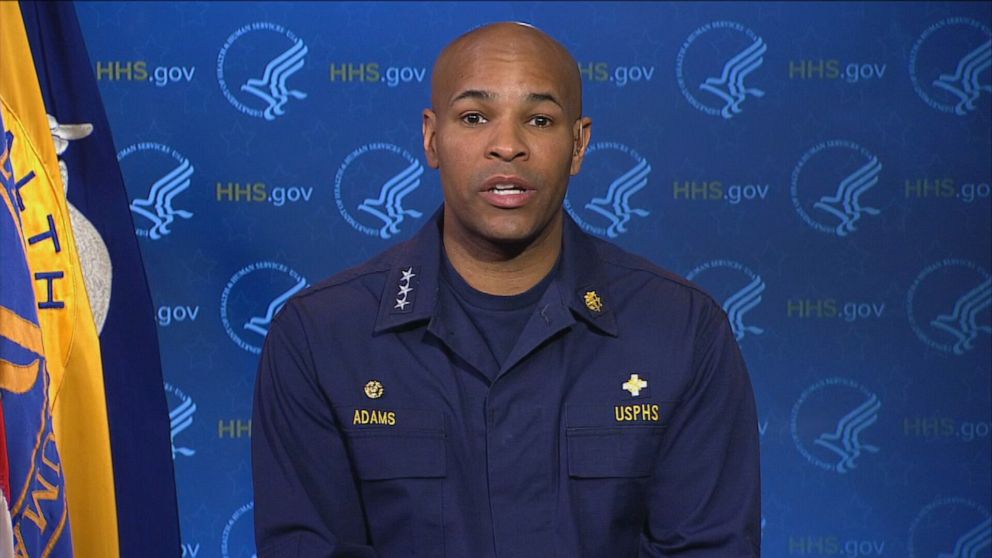 Adams said the latest data shows U.S. states like Washington and California have successfully flattened the curves of their outbreaks "because they were aggressively mitigating from the start."
"The most important thing for the American people now is to really focus on these 30-days-to-slow-the-spread guidelines because we have proof that they work," he said. "But we need you all to cooperate, we need you to continue doing your part -- and most people actually are. Over 90% of the country is actually doing the right thing right now."
As of Tuesday morning, eight U.S. states have still not issued or announced stay-at-home orders. Adams said the federal government doesn't really have "a good mechanism" to enforce stay-at-home orders as much as state authorities do.
"We're working with governors, talking with them every single day, working with states to give them the information they need to make the right choices," he said. "And that's really what this comes down to, it's got to happen at the community level."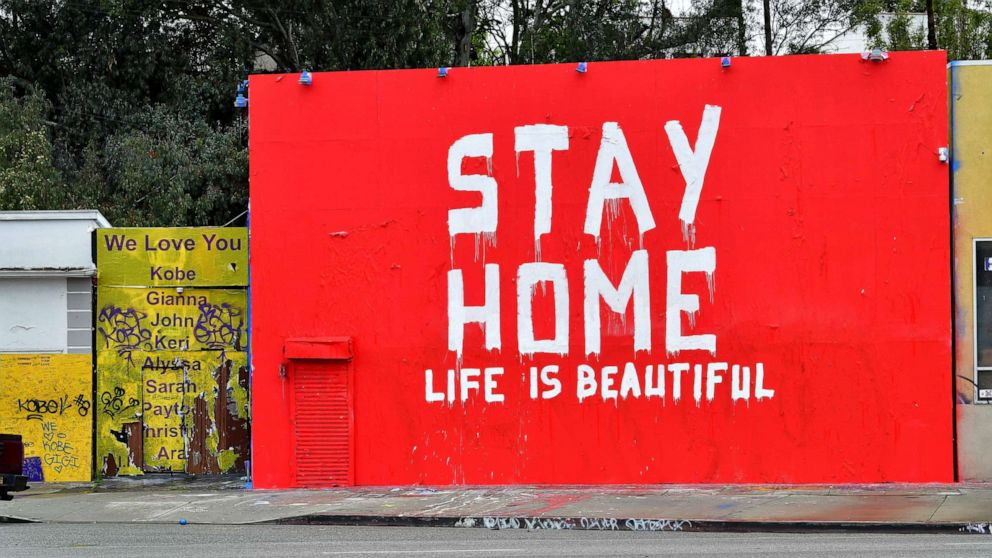 Whenever the country does start to reopen, Adams said it'll still be a "different normal" than what Americans are used to. There will be a greater sense of normalcy once testing becomes more widely available, a vaccine and therapeutics are approved, and there's a strong public health infrastructure in place, he said.
"But I want the American people to know that there is a light at the end of this tunnel," Adams added, "and we feel confident that if we keep doing the right thing for the rest of this month, that we can start to slowly reopen in some places."
7:09 a.m.: France has not yet peaked, health minister warns
The number of patients hospitalized in intensive care for the novel coronavirus in France has been steadily decreasing for the past five days. But French Health Minister Olivier Veran warned Tuesday that the country has not yet reached the peak of its outbreak.
"We are still in a worsening phase of the pandemic," Véran told French broadcaster BFM TV, adding that the nationwide lockdown would last as long as necessary.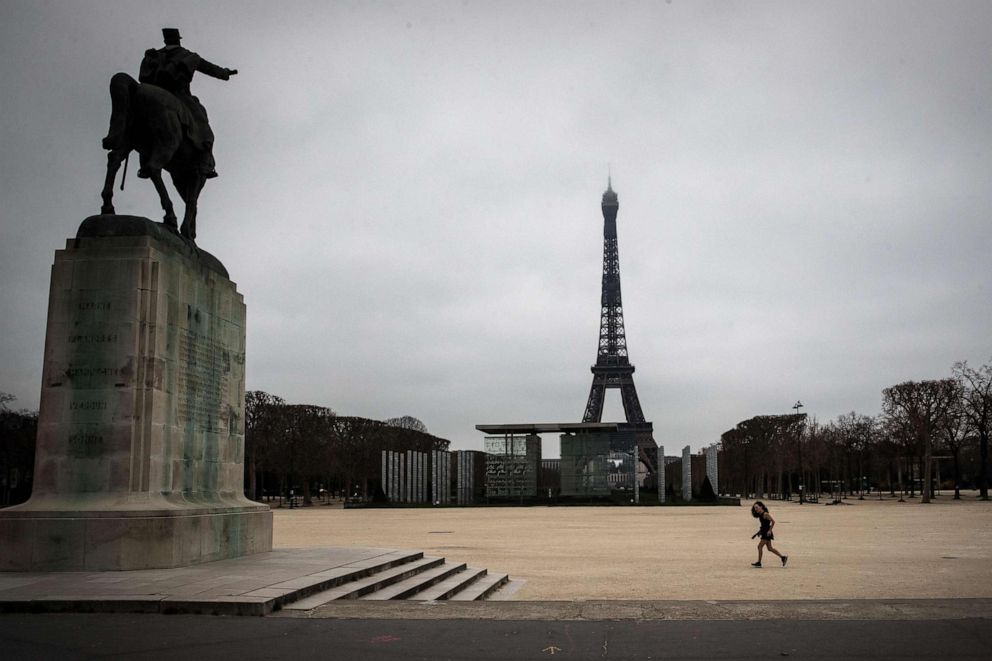 Almost 99,000 people across France have been diagnosed with COVID-19 and nearly 9,000 of them have died, according to a count kept by Johns Hopkins University.
Close to 30,000 patients infected with the novel coronavirus are currently hospitalized, according to the French Health Ministry.
6:25 a.m.: Positive cases top 10,000 in Africa
At least 10,075 people across Africa have tested positive for the novel coronavirus, according to figures released Tuesday by the Africa Centers for Disease Control and Prevention.
So far, 487 people diagnosed with COVID-19 have died.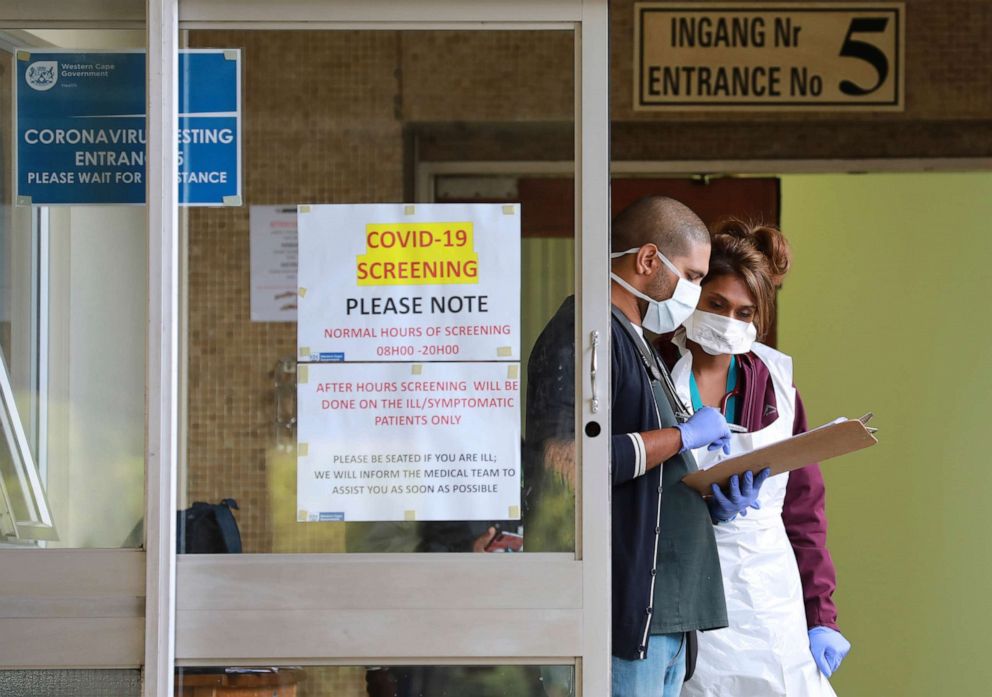 The Northern Africa region has, by far, the largest cluster of cases on the continent, with 4,485 confirmed infections. However, with 1686 positive cases, South Africa now has the highest national total, surpassing that of both Algeria and Egypt, according to the Africa CDC.
5:05 a.m.: Japan declares state of emergency for 7 prefectures
Japan on Tuesday declared a monthlong state of emergency for Tokyo and six other prefectures to stem the spread of the novel coronavirus.
Japanese Prime Minister Shinzo Abe announced the order in a brief televised statement, saying the country's outbreak was threatening to gravely impact people's lives and the economy.
The declaration, effective through May 6, empowers governors of the prefectures of Tokyo, Kanagawa, Saitama, Chiba, Osaka, Hyogo and Fukuoka to take more preventative measures, such as requesting citizens to stay home, calling for businesses to close as well as shuttering schools and other public facilities. Supermarkets and other essential businesses are allowed to remain open.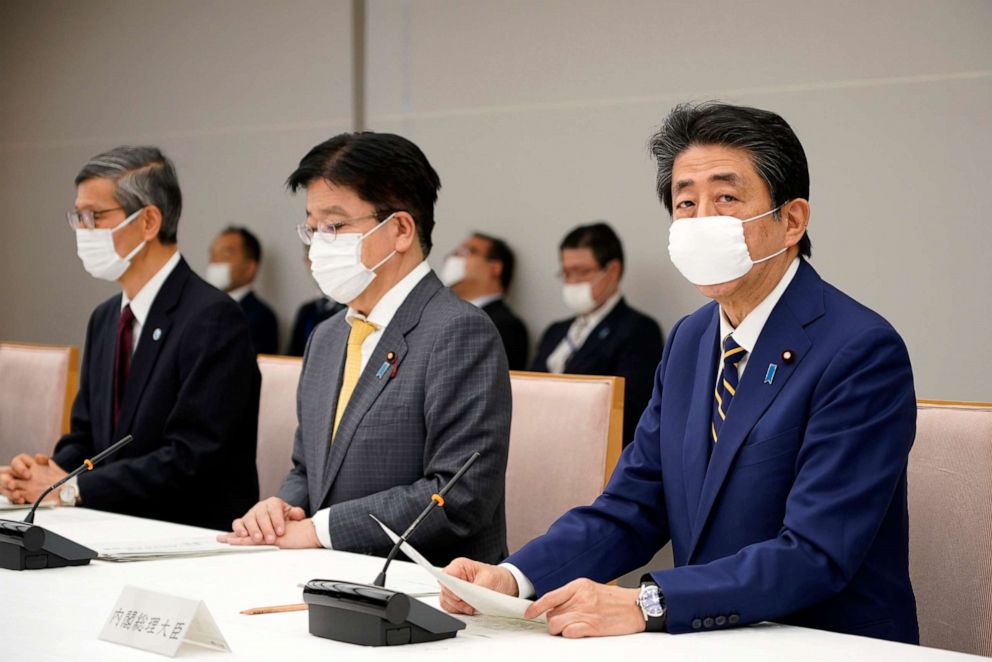 However, the declaration is not expected to lead to drastic urban lockdowns like the ones seen in Europe as Japan's post-World War II constitution limits the central government's powers.
At least 3,906 people in Japan have been diagnosed with COVID-19 and 92 of them have died, according to a count kept by Johns Hopkins University. The Japanese government has admitted that infection routes cannot be traced in an increasing number of cases.
3:30 a.m.: China reports no new deaths for 1st time since January
China on Tuesday reported zero new deaths from the novel coronavirus over the past 24 hours.
China's National Health Commission recorded 32 new cases of confirmed infections across the mainland, all of which were imported from abroad, as well as 30 new asymptomatic cases. However, it's the first time the country has reported no new deaths since the commission began publishing daily figures in late January.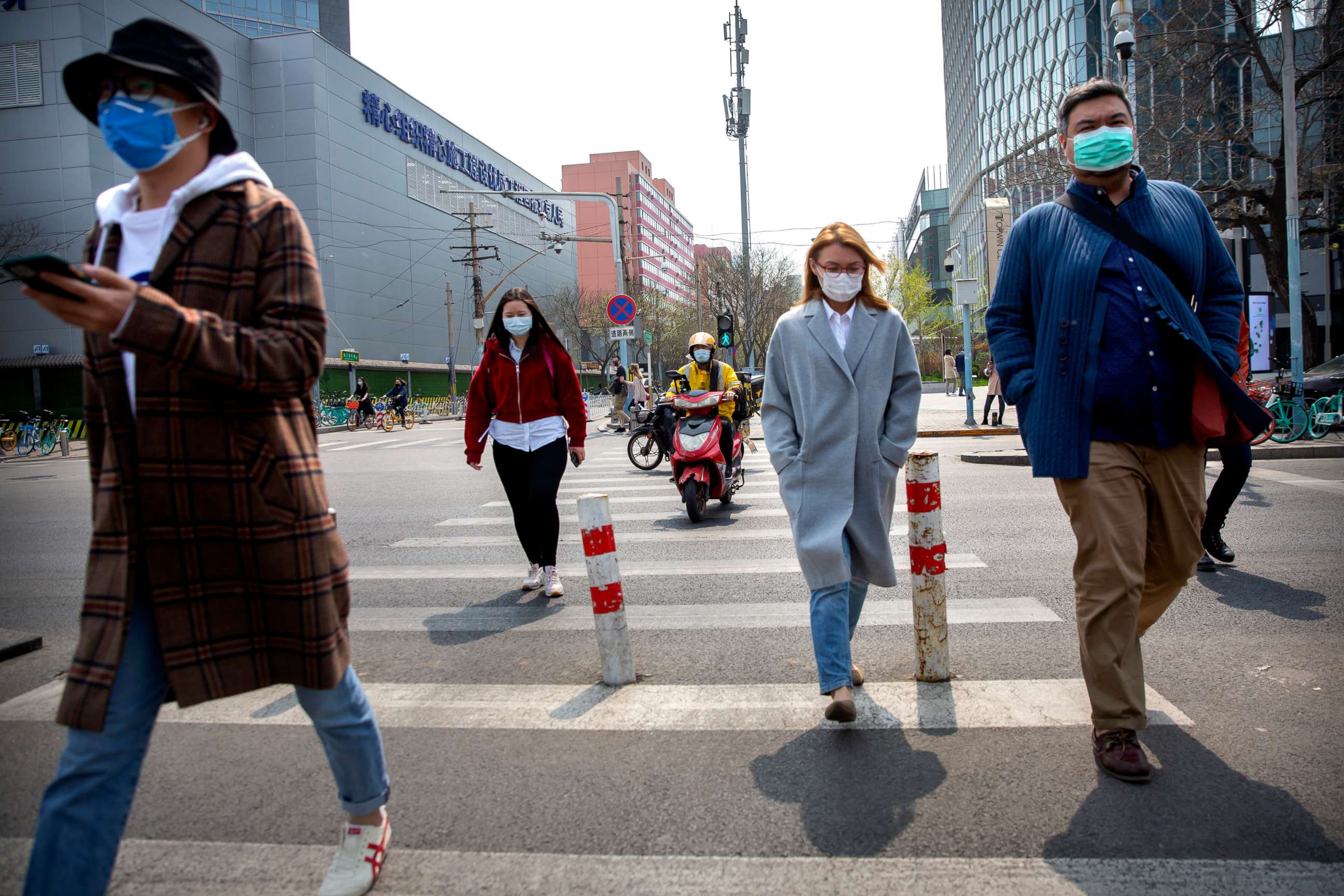 Meanwhile, Hong Kong has seen its number of confirmed infections more than double in recent weeks. The Chinese special administrative region on Tuesday reported 1,331 new cases in the past 24 hours, according to the National Health Commission.
The very first cases of COVID-19 were detected in the Chinese city of Wuhan in December before the disease spread around the globe.
Since then, a total of 81,740 people on the Chinese mainland have been diagnosed with the disease and 3,331 of them have died, according to the National Health Commission.
ABC News' Ibtissem Guenfoud, Mina Kaji, Aaron Katersky, Rachel Katz, Kirit Radia, Christine Theodorou and Anthony Trotter contributed to this report.
This report was featured in the Wednesday, April 8, 2020 episode of "Start Here," ABC News' daily news podcast.
"Start Here" offers a straightforward look at the day's top stories in 20 minutes. Listen for free every weekday on Apple Podcasts, Google Podcasts, Spotify, the ABC News app or wherever you get your podcasts.