The United States' coronavirus response is failing and needs to get back on track, according to the nation's doctors.
This month, the U.S. hit an abysmal 4.4 million infections and 150,000 deaths from the virus. Cases, fatalities and hospitalizations continue to rise.
"Instead of a truly comprehensive approach and a more coordinated national response, there has been a patchwork system where it's every state for itself, every lab for itself when it comes to testing supplies, and every community, including the most vulnerable, on its own," Dr. David Skorton, a cardiologist and president of the Association of American Medical Colleges, told ABC News.
"America needs to change course, and quickly, to save lives," Skorton said.
To that end, doctors, scientists and medical educators from the AAMC put together a roadmap for resetting the United States' response to the pandemic, based on scientific evidence.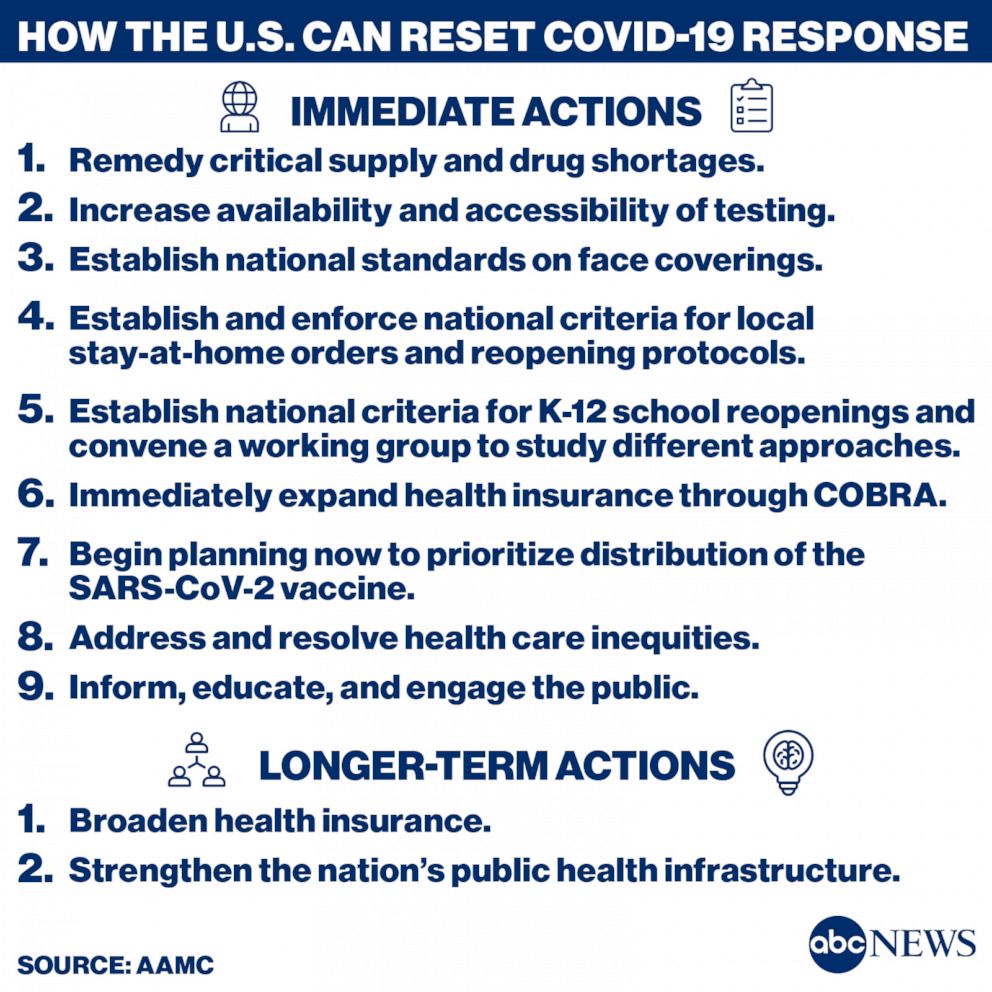 The AAMC's roadmap includes immediate actions the government can take, such as increasing production of key supplies, like personal protective equipment for doctors, through the Defense Production Act and creating national standards for face coverings.
Ramping up testing is also key, according to the AAMC. Based on current U.S. positivity rates, our national goal should be to conduct 2.3 million COVID-19 tests each day.
Longer-term recommendations include working more seriously to close the black-white health care gap; investing in the Centers for Disease Control and Prevention and local health departments, which have been stripped of funding for year; and reconsidering the American health care system, which relies heavily on employer-based health care plans.
"Stopping the pandemic is everyone's responsibility -- our elected officials, health professionals, public health experts, the private and public sectors, academic medical centers, communities, families, and each of us as individuals," Skorton said.
"To succeed, we must act together and now."
What to know about the coronavirus:
Tune into ABC at 1 p.m. ET and ABC News Live at 4 p.m. ET every weekday for special coverage of the novel coronavirus with the full ABC News team, including the latest news, context and analysis.