During the early days of the COVID-19 pandemic, one of the most misunderstood complications children were experiencing was MIS-C.
MIS-C, or multisystem inflammatory syndrome in children, is a condition in which different body parts can become inflamed -- such as the heart, lungs, brain and kidneys -- and is often seen in children after they are diagnosed with COVID-19, according to the Centers for Disease Control and Prevention.
Over the course of the pandemic, there have been 9,499 reported cases of MIS-C and 79 deaths, CDC data shows. Cases especially skyrocketed during the first year of the pandemic.
Since then, however, MIS-C cases have dropped dramatically and have almost disappeared entirely. Experts told ABC News they are not sure why this is but there are probably multiple reasons, including more children being immune to COVID-19, as well as newer variants causing less severe complications.
"It is definitely a medical mystery," Dr. Elizabeth Schlaudecker, medical director of Cincinnati Children's division of infectious diseases, told ABC News. "We haven't figured it out yet. We're still working on it."
What is MIS-C and how is it treated?
MIS-C is an inflammatory condition that is caused by infection with SARS-CoV-2, the virus that causes COVID-19. It typically occurs between two to six weeks after infection and presents a combination of symptoms, including inflammation of various parts of the body along with gastrointestinal symptoms, rash and fever.
Doctors are unclear about what causes some children to develop MIS-C but believe it may involve a genetic predisposition for inflammation in response to respiratory diseases.
Most children with MIS-C end up hospitalized and, if they are sick enough, can spend time in intensive care units.
"It's reassuring that for the most part kids do much, much better than adults when it comes to SARS-CoV-2 infection," Dr. Samuel Dominguez, associate professor of pediatrics at Children's Hospital Colorado, told ABC News. "But there are a subset of kids who can have serious disease related to SARS-CoV-2, and probably the most severe for that is MIS-C."
"These kids are gonna be very sick. Half of the kids that we saw ended up in our ICU and so I think that's an important point that MIS-C definitely is not a benign disease," Dr. Dominguez added.
There are several treatments for MIS-C including anti-inflammatory medications, as well as intravenous immunoglobulin, a therapy made up of antibodies to help fight infections and reduce inflammation.
Why MIS-C cases have gone up and down
During the first two years of the pandemic, doctors said cases of MIS-C were rising rapidly around the country. During the week of Jan. 21, 2021, there were 261 diagnosed MIS-C cases, CDC data shows.
As of the week ending Feb. 15, 2023 – the latest period for which data is available – there were just ten cases across the U.S.
"We had a protocol and an algorithm that we followed at our hospital, like many other hospitals, and if there was concern that a patient had MIS-C, back in the early days from 2020 through 2021, we would get a phone call on our infectious disease service," said Dr. Schlaudecker.
"And we were receiving many phone calls a week evaluating children's MIS-C and treating children for MIS-C," Dr. Schlaudecker continued. "And now, it's almost unheard of. I can't remember the last time we got a call with any concerns for of MIS-C. So, that's really good news."
Experts told ABC News that a combination of immunity from infection and vaccination has probably lowered the MIS-C risk among children.
"The majority of children at this point in the United States have some immunity to COVID-19," Dr. Schlaudecker said. "Many have been infected and others have been vaccinated, and some have been infected and vaccinated and are therefore immune. So, I'm imagining that that has something to do with it."
CDC data shows an estimated 91.9% of Americans between ages 6 months and 17 years have antibodies due to previous COVID-19 infection. From infection and vaccination, the percentage increases to 96.3%.
As of May 10, 61.8% of those aged 12 to 17 have completed a primary series of vaccinations in addition to 32.9% of those aged five to 11, 6.1% of those aged 2 to 4, and 4.7% of those under age 2, according to CDC data. No age group has surpassed 10% vaccinated when it comes to completing an updated bivalent booster.
Additionally, experts said the COVID-19 variants currently circulating in the U.S. may be causing less severe disease than the variants that were more prevalent in the earlier months of the pandemic.
"The delta variant surged in the summer of 2021 and continued into the early fall of 2021, [and] clearly contributed to more MIS-C cases than we saw with any other variants," Dr. James Versalovic, pathologist-in-chief and chair of Texas Children's Hospital's department of pathology, told ABC News. "Many of us are convinced that there's something regarding the immunogenicity, or the way the human immune system responded to different variants, that put more children at risk for MIS-C with the delta variant than we saw before the delta variant and since the delta variant waned in late 2021."
He added that even though the omicron variant led to the biggest surge of cases seen in the United States since the pandemic began, it didn't translate into more MIS-C cases.
"At our peak at this hospital we were seeing up to two to three cases per day in 2021 with delta and MIS-C," Dr. Versalovic said. "With omicron, it was really never more than one case per day and often times it will be several days between a single case of MIS-C."
"What we've seen is, as the omicron subvariants have shifted, we've even seen cases drop even further and now, it may be three or four months between cases, and we've seen little to no MIS-C in 2023," he continued.
Vaccination is the best form of protection
However, the doctors who spoke with ABC News warned that just because MIS-C cases have dropped noticeably doesn't mean that the threat is gone. Another highly infectious subvariant could lead to a surge in cases.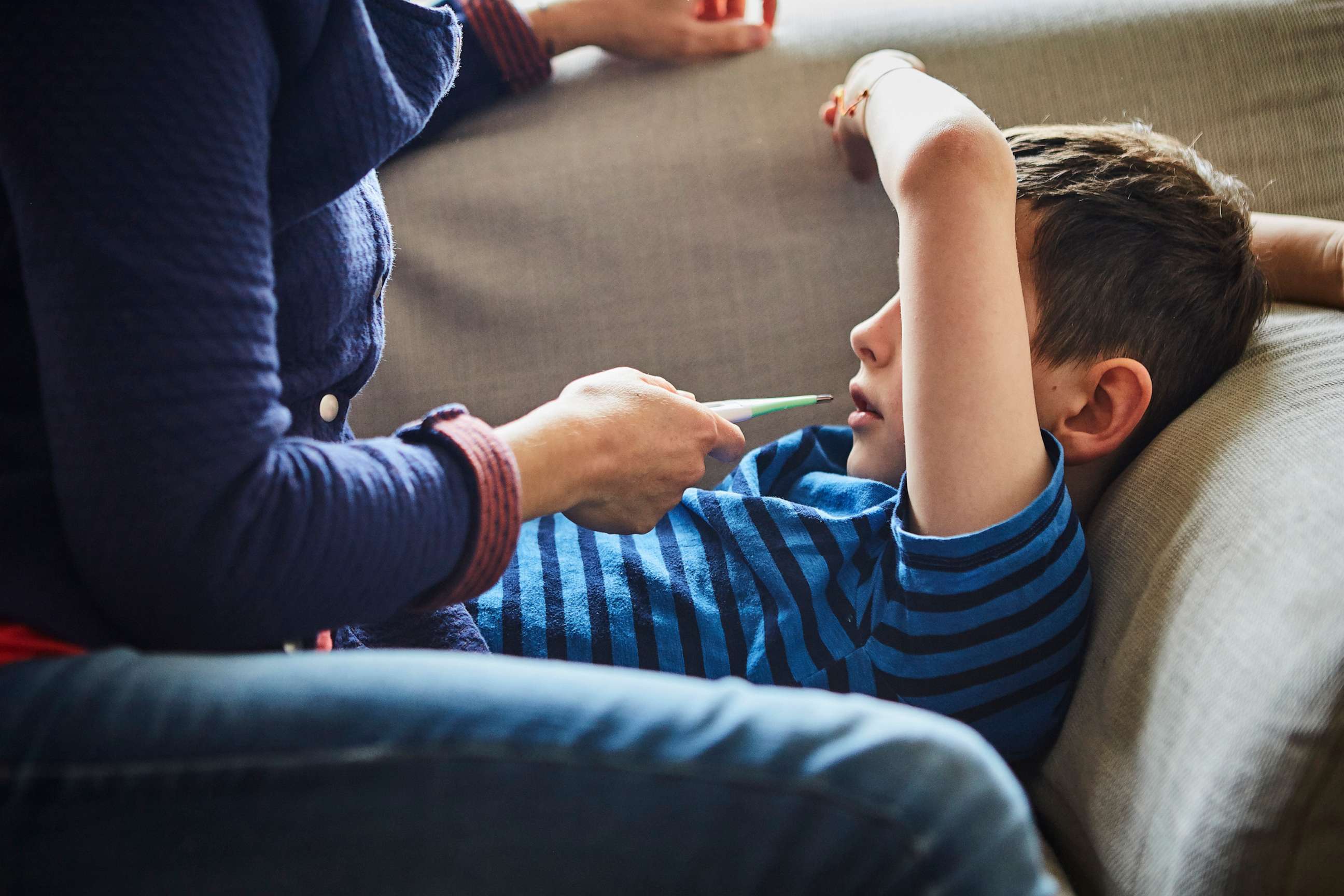 "Parents need to continue to remain vigilant…and we continue to strongly recommend bivalent COVID vaccine for children six months of age and above," Dr. Versalovic said.
He also recommended that parents consider other interventions, including masking in places such as airplanes, to lower the risk of COVID-19.
Ultimately, it's also important to recognize the signs of MIS-C and to seek medical care if necessary.
"If kids have prolonged fever, or with sort of any of these other symptoms – severe abdominal pain, red eyes, rash, red lips – those would be indications to seek medical attention to try to find out what's going on," Dr. Dominguez said.