LONDON and BRAZIL -- Former Brazilian President Jair Bolsonaro has been admitted to a hospital in Orlando, Florida, for abdominal pain, according to the presidential office. News of Bolsonaro's hospitalization comes hours after President Joe Biden condemned the "outrageous" storming of three major Brazilian government buildings by supporters of Bolsonaro on Sunday.
A heavy police presence remained in Brazil on Monday after chaotic scenes reminiscent of the Jan. 6 insurrection.
Bolsonaro has had strong episodes of abdominal pain, including occlusion, since he was stabbed during a campaign event in 2018. He is undergoing medical exams at AdventHealth Orlando and might be spending the night. Bolsonaro traveled to the U.S. days before the end of 2022 and missed his successor's inauguration.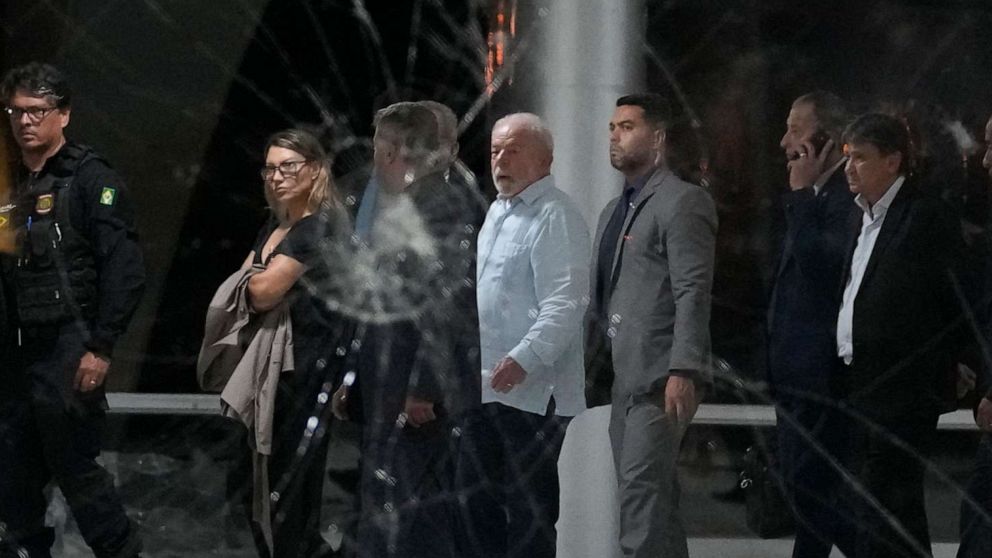 Brazil's new president, the left-wing Luiz Inácio Lula da Silva, known widely as "Lula," confirmed that three buildings had been damaged in the attack. He was in Sao Paulo at the time, but traveled to Brasilia on Sunday evening to survey the damage.
"The coup plotters who promoted the destruction of public property in Brasilia are being identified and will be punished," he tweeted. "Tomorrow we resume work at the Planalto Palace. Democracy always. Goodnight."
Lula previously served as president of Brazil from 2003 to 2011. He was jailed on corruption charges in 2019, but his convictions were later nullified and he successfully defeated Bolsonaro in elections in 2022. Lula is holding a virtual crisis meeting on Monday with all governors of the country to discuss the reinforcement of security nationwide, especially at official buildings.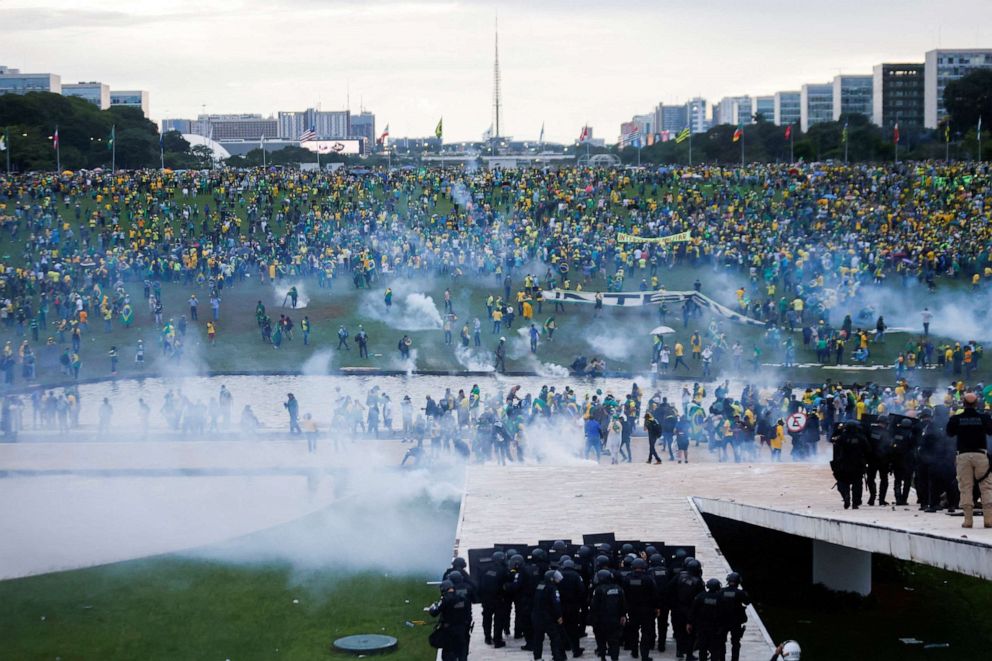 Bolsonaro, a far-right politician, has often been compared to former President Donald Trump, and has falsely claimed Lula won in a "stolen election" -- even going as far as to advocate for a military coup.
The chaos began when at least 100 buses full of supporters of Bolsonaro arrived for a planned protest in Brazil's capital. An estimated 4,000 protesters gathered, before several hundred broke through police barriers to enter the Chamber of Deputies and the Senate. Then, they were able to storm the Planalto Palace -- one of the official palaces of the presidency. None of the buildings were in use at the time.
Brazilian security forces used tear gas in an attempt to disperse the crowd. Armed officers were also seen confronting supporters of the ex-president on the roof of the Senate building.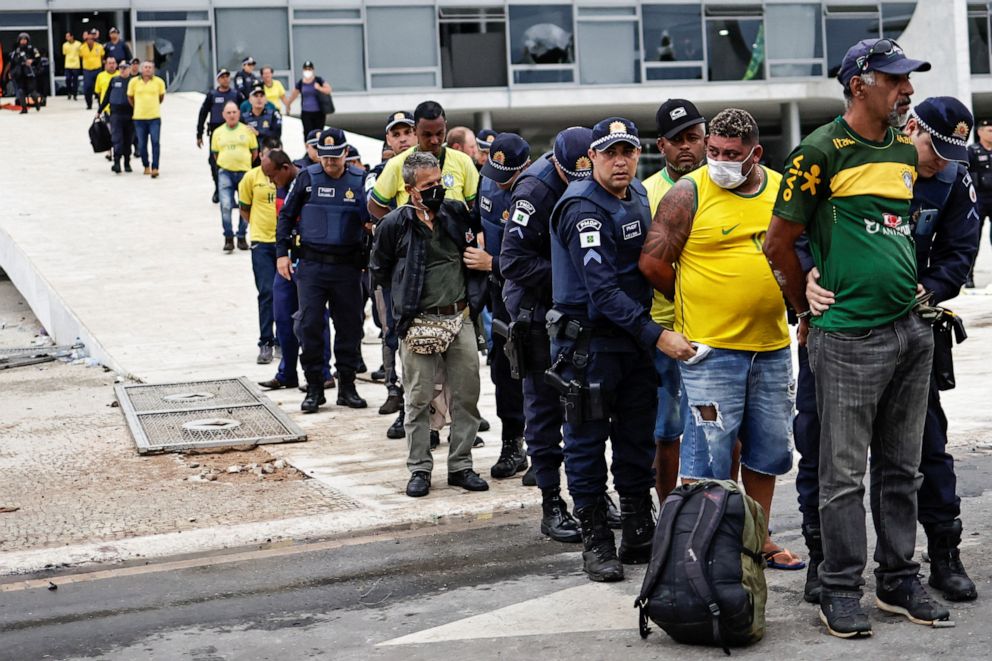 At least 400 were arrested for their involvement in the attack on Sunday, according to military police, and they will face charges of rebellion. A further 1,200 protesters, camped out in Brazil, were arrested near the army headquarters. It is not clear how many have been released so far.
The Ministry of Justice has set up an email address to receive information about the "terrorist" attack, in addition to the ongoing investigation.
Bolsonaro was in Orlando, Florida, at the time of the attack, and said that he condemned the violence but denied Lula's accusation that he was responsible.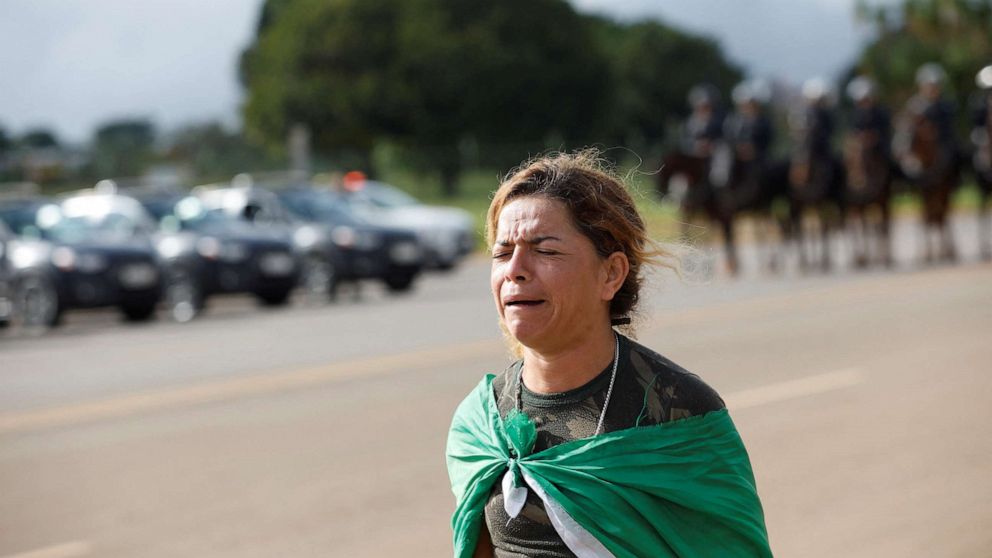 Biden condemned the attack on Sunday, describing it as "outrageous."
White House national security adviser Jake Sullivan tweeted his own condemnation: "The United States condemns any effort to undermine democracy in Brazil. President Biden is following the situation closely and our support for Brazil's democratic institutions is unwavering. Brazil's democracy will not be shaken by violence."