RHODES -- Tucked away on a cobblestone street in the medieval old town of the island of Rhodes, Greece is the workshop and store of jewelry-maker Nikos Vassilaras. Stepping inside his studio is akin to walking back in time —- myriad metal tools hang on the wall as he sits at his workbench, patiently engraving.
Vassilaras is one of few traditional jewelers left on the island, which is one of Greece's most popular tourism destinations. Yet the influx of international tourists -— around 2.1 million a year, according to 2017 statistics -- has not led to better business for the jewelry maker, as tourists opt to spend less on handcrafted products. Yet despite low sales, he is one of few people who keep the island's tradition of handcrafted jewelry alive.
The 72-year-old native can trace his family's work in the industry as far back as 1780. "Over the years, from our family, there were about 10 jewelers on the island" he explains.
"Some of them were specialized in silversmithing and covering icons with silver in the church, or doing different handmade items with filigree and with jewels," he explains.
At age nine, he began to spend summers in his father's workshop, he told ABC News.
"My father was developing the jewelry of Rhodes, which was popular before the Second World War," he said. "They did a lot on silver with gold –- it's a trademark of local designs."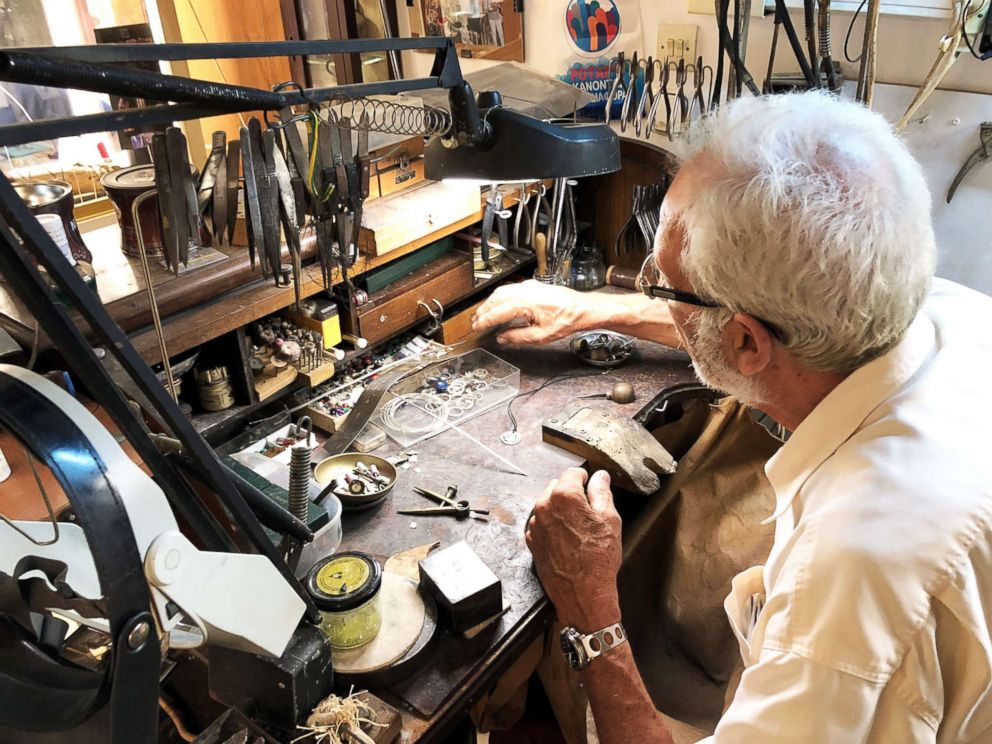 Traditional motifs on the island's handcrafted jewelry are inspired by ancient ceramics and often feature the traditional symbols of Rhodes: a deer and a rose. They are reminiscent of the era of ancient Greece when Rhodes flourished. It was once the site of one of the seven ancient wonders of the world, the Colossus of Rhodes: a 150-foot-tall statue of the Greek God Helios, dating back to 280 B.C.
"My father gave me tools and started teaching me goldsmithing" explained Vassilaras. "He also gave me the opportunity to have lessons with a painter to learn how to draw."
Eventually, his father paid for his studies in the German school of Pforzheim, the world's most prestigious institution for learning the craft. It was there that his jewelry began to take on a more whimsical, contemporary style -- at times resembling the work of American sculptor Alexander Calder or Bauhaus painter Wassily Kandinsky.
This break from traditional jewelry-making caused a rift with his father, prompting Vassilaras to strike out on his own. He opened a shop in the old Town in 1970.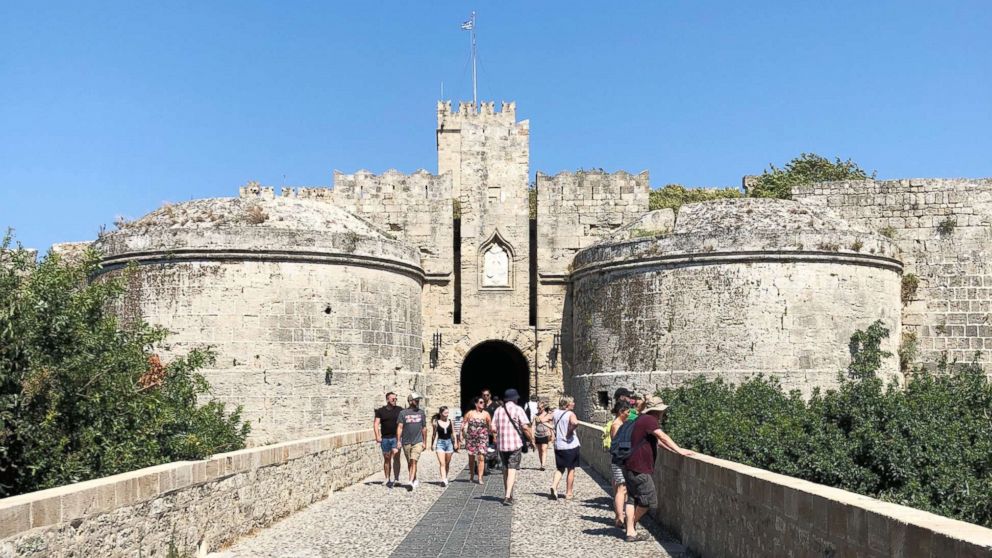 Vassilaras has appeared in exhibitions in Athens and Germany, yet even for an accomplished jewelry maker, these are hard times.
Greece is Europe's fastest growing tourism destination, and Rhodes' Old Town -- with its Byzantine and medieval architecture -- is a UNESCO World Heritage Site. Despite being one of the country's hot spots, business has been lagging in recent years, Vassilaras said.
Before the introduction of the Euro in 2002, business was booming, he said. "We had very good years before because gold was cheaper —- and everything was cheaper for the tourists and customers. We were selling a lot, and Rhodes had a lot of jewelers," he explained.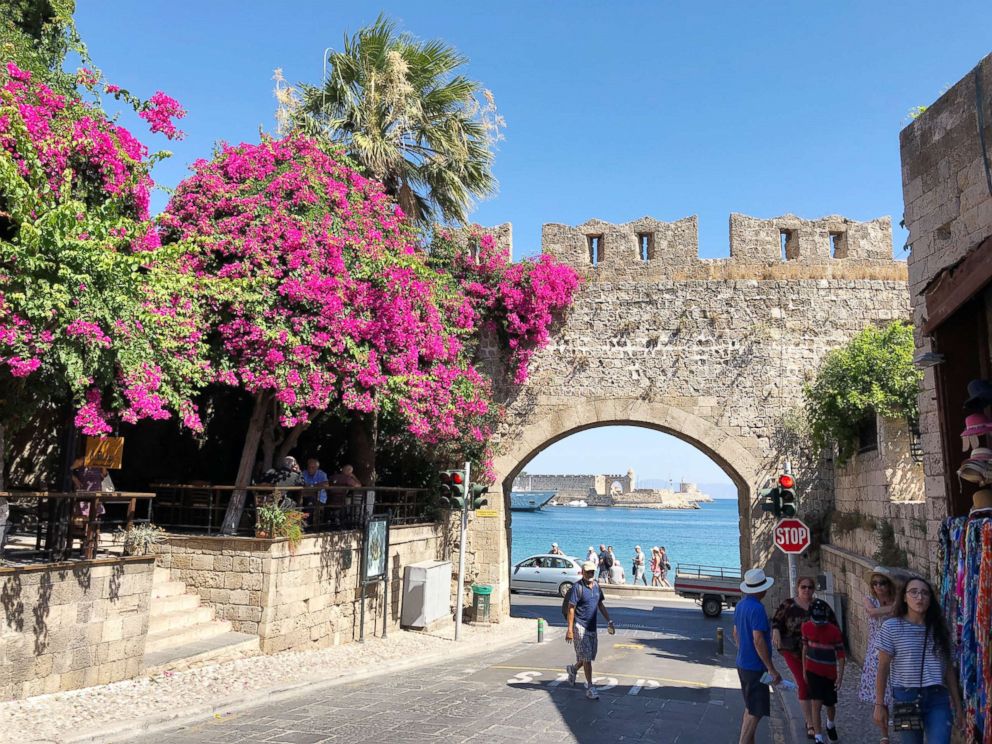 Renovated by fascists
The island's transformation into a luxury tourism hot spot began in the 1920s, when Italian fascist dictator Benito Mussolini, who occupied the island until losing the Battle of Rhodes in 1943, ordered extensive restorations of the island's historic structures, priming them for tourism in the coming decades. The industry boomed during the post-war period as luxury hotels sprung up all over the island, frequented by European elite.
Yet, as time marched on, the tourism market changed. Package holidays became the norm, and all-inclusive resorts quickly began to dot the landscape. Luxury goods were slowly replaced with tourist tchotchkes such as the t-shits and key chains that one sees today on Socrates street, the main thoroughfare of the Old Town.
"The last four years, the system of all-inclusive hotels has expanded," says Vassilaras. "All those hotels you see around the island, big hotels with 1,500 beds are filled by offering all-inclusive offers. Many of the resorts have everything a tourist would need, including stores and markets," he added.
As a result, few are willing to support the local economy by purchasing hand-crafted items, particularly those that are handmade and therefore, pricier.
"At the moment, I'm very disappointed. The season in 2018 has been very low" he explained.
The goldsmith subsidizes his workshop and store by renting out an apartment he purchased in the Old Town. "It's ridiculous" he says with a laugh "but what else can you do?"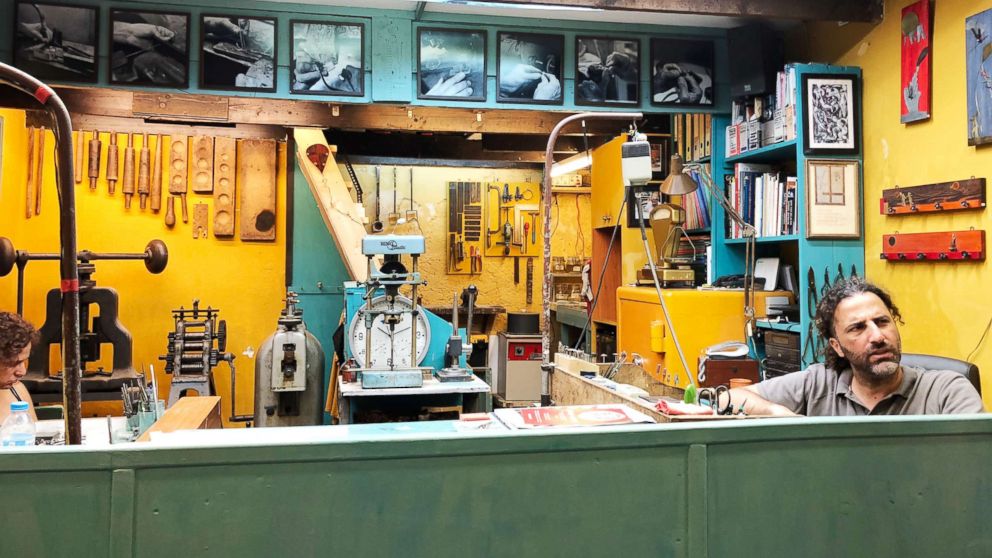 Supporting tradition
While Vassilaras encouraged his children to pursue other lines of work, potentially leading to the end of his family's long history in the craft –- there are some from the younger generation in Rhodes who keep tradition alive.
Lefteris Skarpetis is 43 years-old and has a shop in the center of the Old Town. He too, trained with his father who was a goldsmith and fell into the industry.
"I learned this art slowly during my childhood without the goal of becoming a goldsmith," he said. "Later, I realized I liked it very much and wanted to work in it."
He agrees that traditional ways of making jewelry are dying out due to taxes in recent years that have made purchasing gold more expensive —- and also due to the proliferation of products available to tourists in Greece, which he describes are "the same almost everywhere."
But to Skarpetis, continuing with the craft is a matter of keeping Greek traditions alive.
"Tradition is our history, and it's important to know where we are coming from so we could find out where we want to go."