MOSCOW -- A group of people on Tuesday dragged an entire bathtub full of coins to a shopping mall in Moscow to buy an iPhone XS.
A video posted on Instagram early Wednesday showed the young men filling the bathtub before loading it into a Jeep and driving it to the Yevropeisky mall in central Moscow.
The group was able to get the tub to the store, an official Apple re-seller, only after a brief altercation with security guards, according to the video that was posted by blogger Svyatoslav Kovalenko.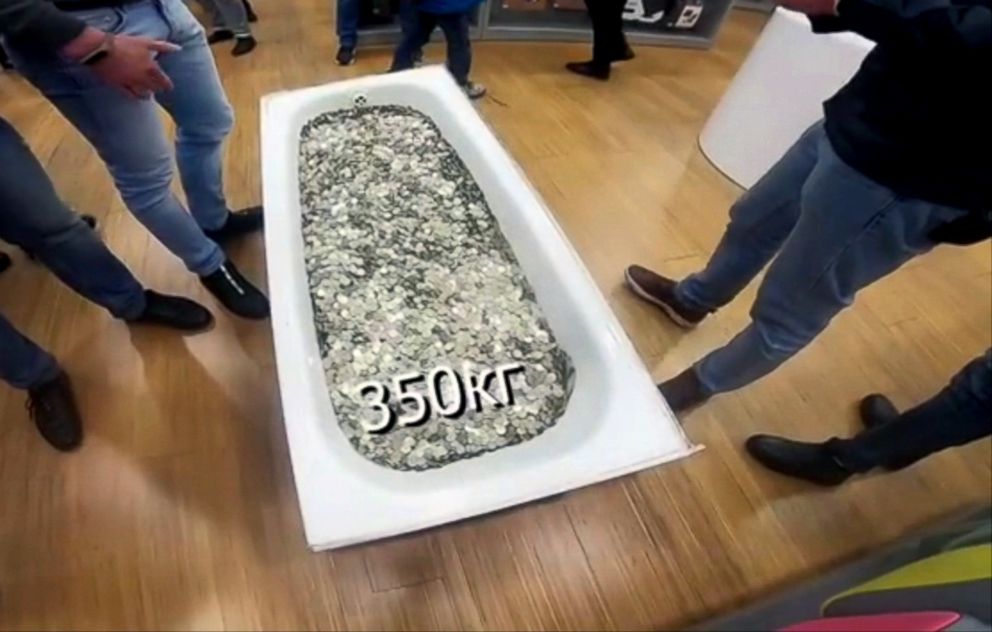 The tub, filled to the top with thousands of ruble coins, weighed 350 kilograms or 770 pounds, according to Kovalenko, who in his post, dubbed the tub, "The legendary bath of change."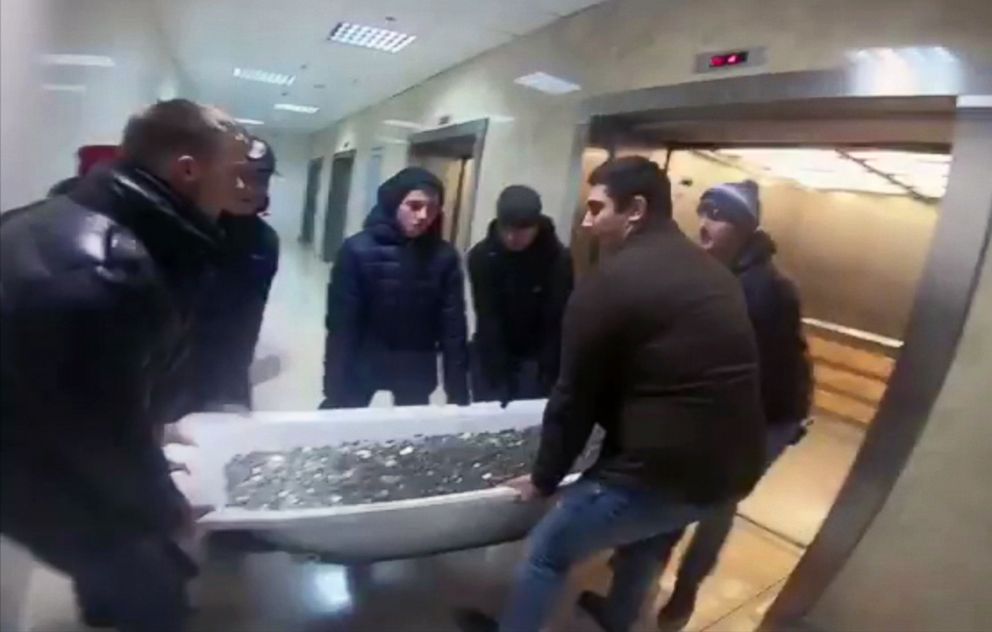 A public relations representative for the store posted a photograph on Facebook showing staff counting out the coins from the metal bathtub. The Apple spokeswoman, Lyudmila Semushina, wrote that it had contained 100,000 coins, enough to buy a new iPhone XS, which retails between $1,050 to $1,500 in Russia.
"What is it to be #clientorientated? It's when a customer decides to do some hype and brings in a bathtub of change to buy an iPhone and the seller calmly and patiently sits down to count out the bath," Semushina wrote, noting it had taken two hours to finish the counting.
Kovalenko, who appears in the video holding the new phone, told ABC News that it was in fact all a stunt intended to change people's attitudes toward small change. Stores in Russia frequently lack change or small denomination bills and sometimes will refuse to serve customers if they don't have exact cash. Kovalenko said his video was meant to highlight that.
"We decided to do a very global experiment and show who refuses to accept change," Kovalenko said in a voice message. "The more people who watch the video, the more people will understand that change, whether it's a kopek, whether's it 10 kopeks, it is also currency," he said, referring to a Russian coin worth less than a cent.
The local English-language daily, The Moscow Times reported that there has been a recent run of stunts by Russians buying new iPhones with colossal heaps of change.
A video posted on YouTube in September that garnered almost 2 million views showed a man buying an iPhone X using an estimated 100 kilograms or 220 pounds of coins.
In another video posted last month, which attracted almost 4 million views, a prankster brought in a bucket apparently filled with small change to buy an iPhone XS. To the staff's relief, the bucket had a false bottom. The man ended up paying by credit card and giving away his new phone to a little girl.
Kovalenko said he had come with the idea before seeing the others and defended the originality of his version.
"No one has ever changed 100,000 rubles into 1 ruble coins. And no one ever brought them in a bath," he said.