Mayon volcano eruption wreaking havoc on Philippine island could last for months
More than 15,000 people have moved into emergency shelters since last week.
Tens of thousands of villagers in the Philippines are facing long-term displacement as the Mayon volcano continues to erupt -- and is expected to do so for months.
The volcano, the most active on the archipelago, is wreaking havoc on the island of Luzon. In the past 24 hours, Mount Mayon, located on the northeastern Albay province, has recorded seven volcanic earthquakes and 309 rockfall events, according to a bulletin from the Philippine Institute of Volcanology and Seismology released Monday morning.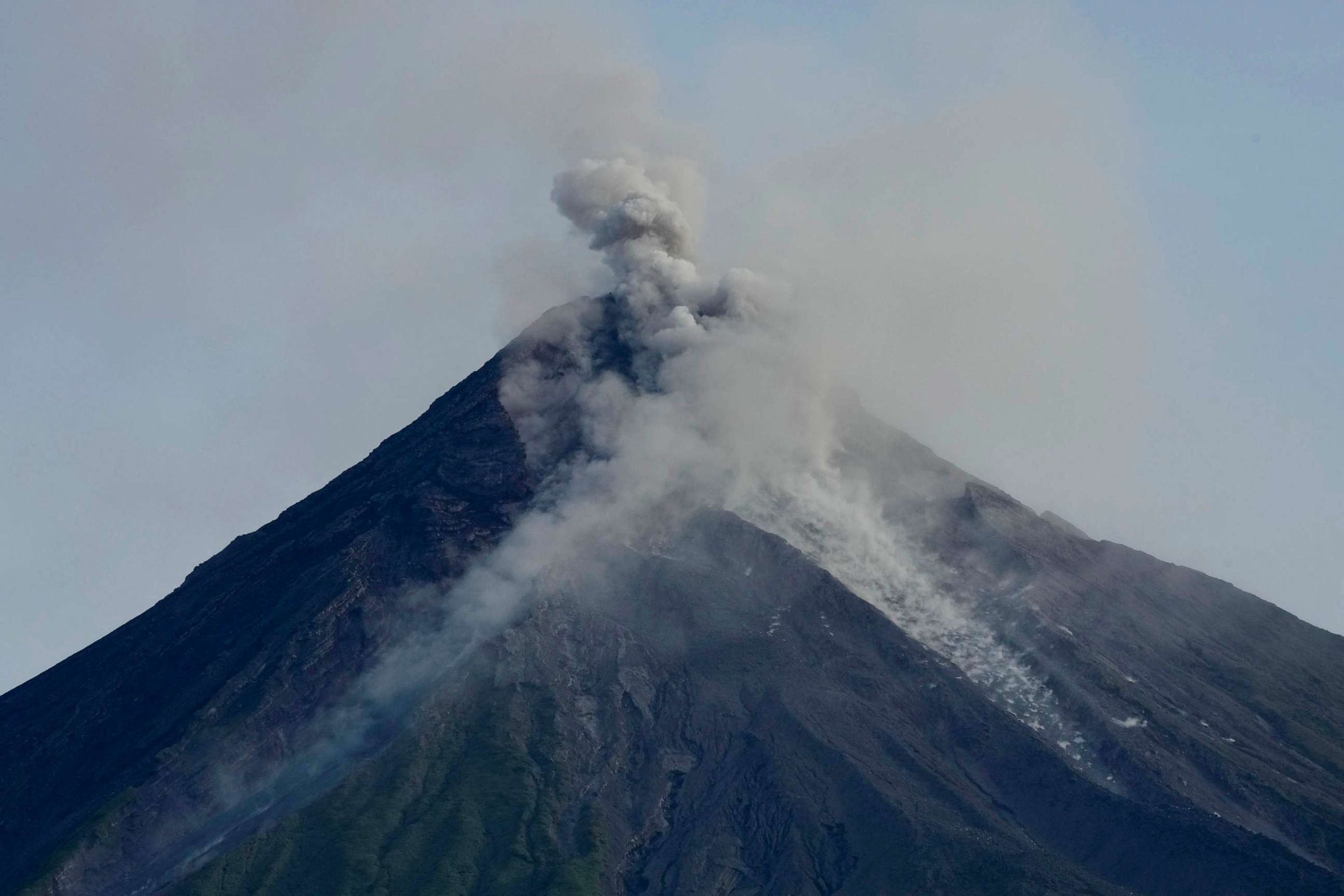 Mayon is sending ash and continuous plumes of sulfur dioxide emissions into the air, and lava is slowly pouring out of the summit crater, reaching more than half a mile away, officials said. The volcano began to expel lava on Sunday night, and it is estimated that 149 tonnes of sulfur dioxide were emitted on that day alone, researchers said.
A Level 3 alert remained for the Mayon volcano on Monday, signifying a relatively high level of unrest, with magma at the crater and hazardous eruption possible within days. Based on the current wind pattern, ash fall events may most likely occur on the south side of the volcano.
Anyone living within the 6-kilometer permanent danger zone -- about a 3.7-mile radius away from the volcano summit -- has been ordered to evacuate due to the dangers of lava flows, rockfalls and other volcanic hazards. Albay Gov. Edcel Greco Lagman extended the danger zone by another kilometer, asking residents on the outskirts of that radius to be ready to move at any time.
More than 15,000 people have moved to emergency shelters since last week, and authorities and villagers began moving large numbers of cows and water buffalo away from the evacuation zone on Sunday, The Associated Press reported.
However, thousands of people are still in the danger zone, AP reported, citing local officials.
Residents should also be practicing vigilance against pyroclastic density currents, hot flows of ash and debris that can travel at speeds of hundreds of meters per second, and sediment-laden streamflows, volcano experts said.
Officials raised the alert level for Mayon, a popular tourist destination, on Thursday and issued a state of emergency the next day.
The eruptions could last for months, officials announced on Wednesday.
Of the country's 24 active volcanoes, Mayon sees the most activity. In 2018, a series of violent eruptions displaced thousands of villagers. When the volcano erupted in 1814, it killed more than 1,000 people, burying entire villages, the AP reported.
If the alert is raised to Level 4, the number of those fleeing their homes could skyrocket to 33,000, Lagman said.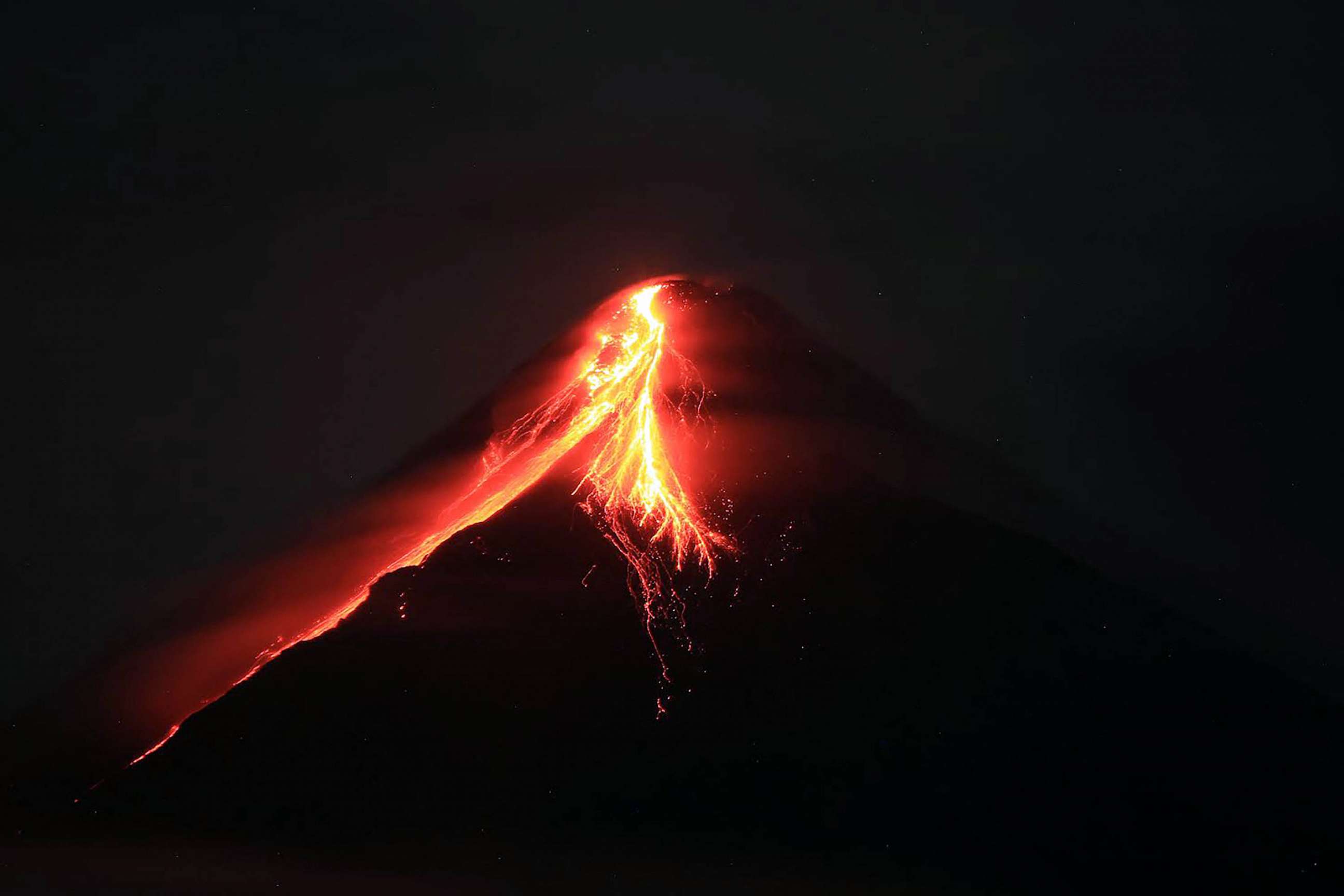 Teresito Bacolcol, director of the Philippine Institute of Volcanology and Seismology, described Mayon's activity so far as "a very gentle eruption."
"Hopefully, it will stay that way," Bacolcol said.