CHIANG RAI, Thailand -- The 12 boys and their soccer coach who remain trapped inside a partly flooded cave in northern Thailand appeared healthy and upbeat in new video released Wednesday morning.
The footage, taken by the Royal Thai Navy on Tuesday and posted to Facebook, shows the boys and their coach wrapped in foil blankets and sitting clustered together in the dark cave, alongside divers and medics who have been looking after the group since locating them. A flashlight illuminates the boys' thin but smiling faces as they take turns talking on camera, each introducing themselves, saying they're in good health and showing signs of gratitude.
Meanwhile, rescuers are frantically trying to come up with a plan to extract the boys from the depths of the cave as safely, and quickly, as possible.
The teammates, between the ages of 11 and 16, hiked into Tham Luang Nang Non, Thailand's longest cave, with their 25-year-old soccer coach after practice on June 23. It's believed that the coach often brought his team to the popular tourist site in mountainous Chiang Rai province for fun excursions.
But as the group ventured deeper into the complex, the sky opened up and it began to rain, flooding the cave and cutting off their exit route. The group forged ahead before finding a raised, dry chamber where they were stranded in total darkness.
Thai officials launched a massive search and rescue operation involving more than 1,000 people, including specialists drafted in from various nations such as Australia, China, Japan, the United Kingdom and the United States. The search and rescue teams tried anything they could to locate the boys and their coach -- deploying ultrasonic sensors into the cave, drilling through the rock and dropping survival packages down holes they found above ground in hopes the shafts connect to the cave network below.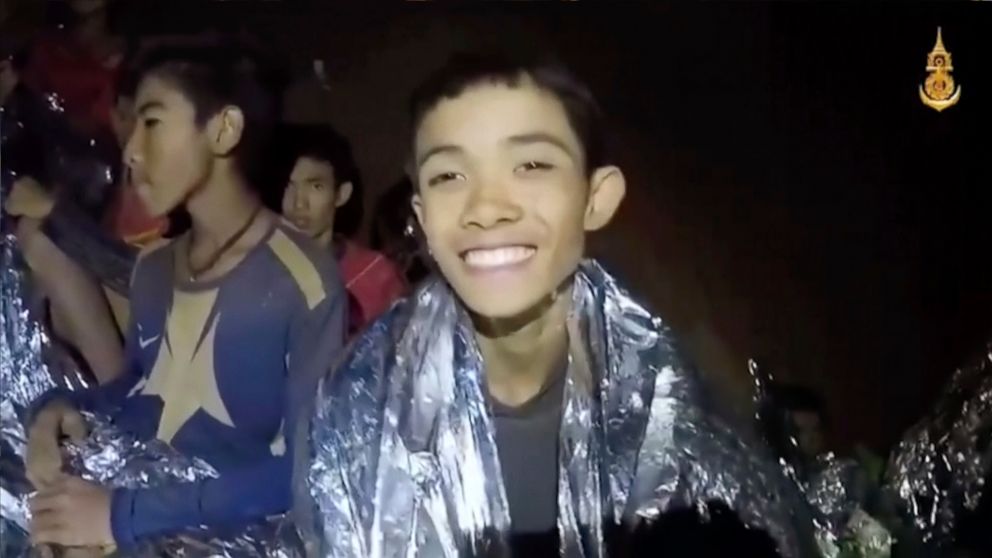 After more than a week, two British cave divers found all 13 alive in an area of the cave that's about three miles from the main entrance. But the trek there was treacherous and took about six hours on Monday.
The divers, John Volanthen and Richard Stanton, had to navigate through a labyrinth of caverns and tunnels, both dry and flooded, with some barely wide enough for their diving equipment.
"They are cave divers with experience of diving in very flooded caves all over the world and some rescue operations as well," Bill Whitehouse, the vice chairman of the British Cave Rescue Council, told ABC News of Volanthen and Stanton. "They had skills to go in through the flooded passages and lay a guideline for others to follow and clear obstructions to allow people to get through. So, they were the pathfinders."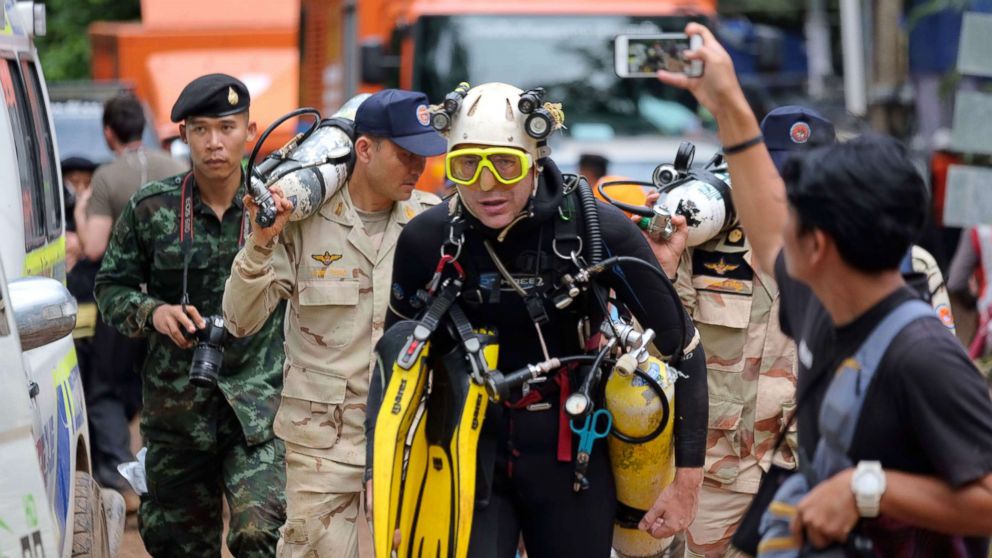 Volanthen and Stanton, who are members of the British Cave Council, described to colleagues the challenging hazards within the cave, including poor visibility, powerful currents in the floodwaters, extremely narrow passageways and one flooded area they said was about 5,000 feet long, half of which had no airspace to emerge if something when awry underwater.
"It's not like open water diving where you can just surface if something goes wrong," Whitehouse said. "If you have gone 200 meters down a flooded cave passing, if anything wrong you have to come out that 200 meters before you can put your head up above water."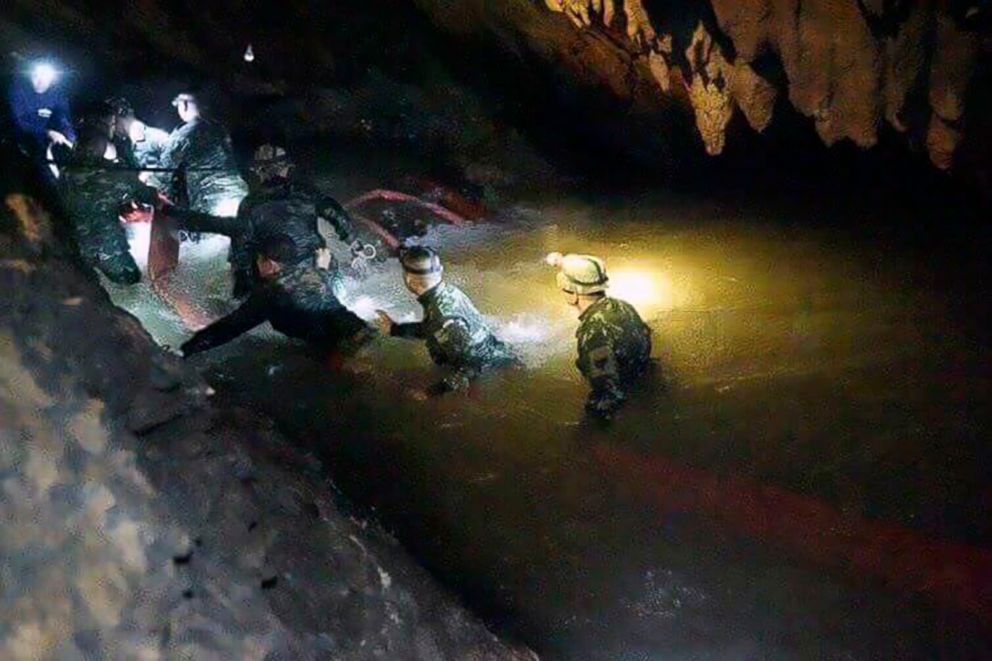 While they were in relatively good shape, some of the boys complained of being weak from stress and lack of food while others suffered from minor injuries, such as scrapes and cuts. They have received high-protein drinks and medical assessments by the group of seven Royal Thai Navy members, a medical doctor and nurse who are staying with them.
"All 13 people are well," Royal Thai Navy commander Rear Adm. Arpakorn Yookongkaew told reporters Tuesday. "We have given the boys food, starting with easily digested and high-powered food with enough minerals."
Thai officials are also working to run a fiber optic phone line into the cave so the boys can speak with their families waiting anxiously outside.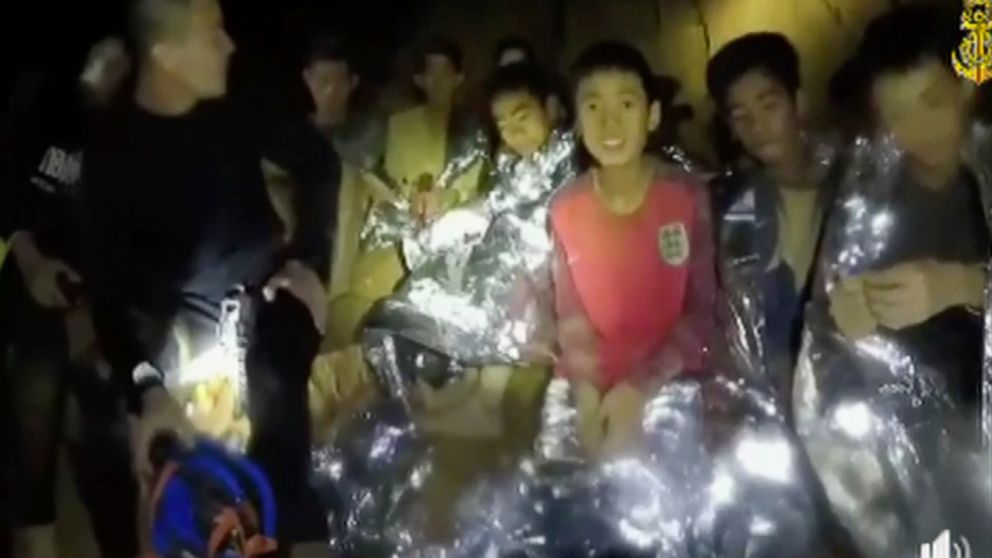 It's unclear exactly how and when rescuers will extract the group, and Thai officials have cautioned that it could take "weeks or months."
Crews have been scouring the region's rugged jungle-covered terrain in hopes of finding a safer way to enter the cave complex underground. They've also attempted to pump water from the flooded areas of the cave, but persistent downpours have hampered their efforts as Thailand enters its rainy season.
Thai officials said the boys have been wearing diving masks and practicing breathing, in case heavy rains forecast for this weekend force the group to swim and dive out the same way rescuers entered.
"We need to be careful not to rush; as long as they are safe and strong, then they are in good hands," Thai Prime Minister Prayuth Chan Ocha told reporters Tuesday. "We can now reach and communicate with them so they are in our sights."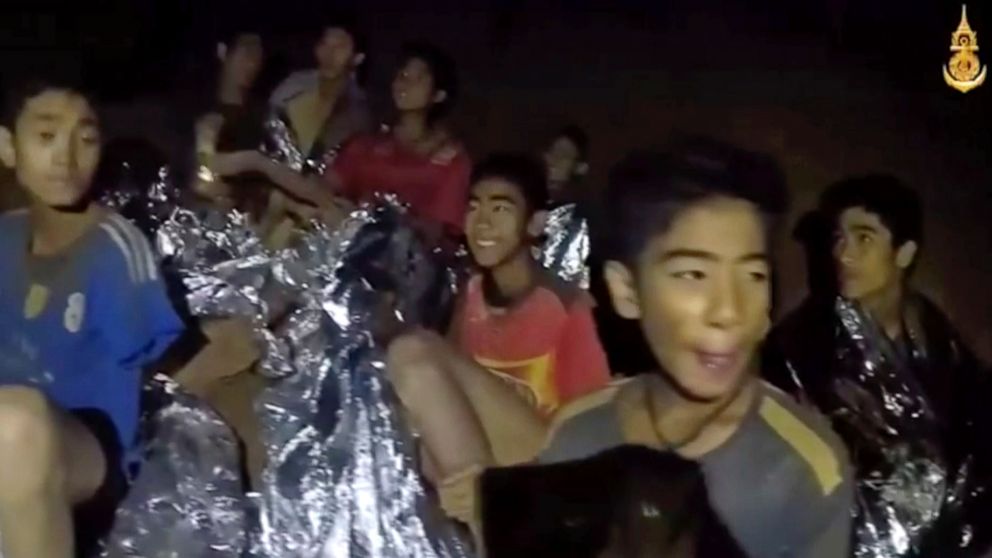 American citizen Brandon Fox told ABC News he knows one of the boys from working with his family through a Thai Christian foundation in Mae Sae, the northernmost district of Chiang Rai province. Fox, who is originally from Michigan and has lived in Thailand for the past eight years, described the boy as smart and a skilled soccer player.
"He's a very, very special kid," Fox told ABC News in an interview Wednesday. "I think he has a bright future."
Throughout this ordeal, Fox has been helping the boy's family however he can, such as driving them to and from the cave and bringing them food.
"I live here so I try to be as Thai as possible. And the Thai way is you're hospitable, you serve, you help in whatever way you can," said Fox, who lives with his wife and children in Chiang Rai.
Fox recalled the moment he met up with the boy's family on Monday night, shortly after they had learned their son was found alive.
"I'll never forget seeing the dad and just this huge embrace," he told ABC News. "Those hugs that evening were some of the best hugs I'll ever remember."
The family has remained hopeful and "confident" all along that their son would be OK, Fox said.
"I would tell everybody," he said, "if you want to have hope, talk to the family."
ABC News' Dada Jovanovic contributed to this report.