Oscar Pistorius' emotional meltdown in court today - along with his crying and vomiting earlier in the trial - will likely have no effect on the judge's verdict, but could help Pistorius at his sentencing if he is found guilty, South African law experts said today.
Interested in
?
Add as an interest to stay up to date on the latest news, video, and analysis from ABC News.
Pistorius has been emotional throughout the trial, but today he brought testimony to a halt with a display of anguish as he explained how he shot his lover Reeva Steenkamp and then bashed through a locked bathroom door to find her body. Pistorius' account and his tears left many in the courtroom also crying.
With Pistorius crying loudly, his body racked with sobs, Judge Thokozile Masipa adjourned the court to give the Blade Runner time to compose himself. She then ended testimony for the day.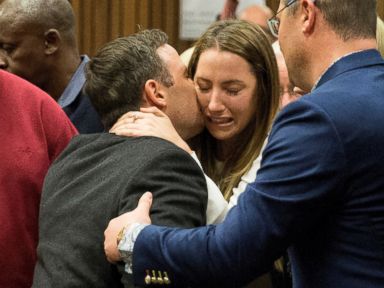 Pistorius, 27, could be sentenced to at least 25 years in prison if he is convicted of premeditated murder in Steenkamp's death. He claims he mistook his girlfriend for a burglar.
When testifying on Monday, Pistorius began his defense with a teary apology to Steenkamp's family, and his testimony has been punctuated with sobs. During the prosecution's case, Pistorius actually got sick twice, vomiting into a bucket provided to him during grisly portions of the case.
Masipa, assisted by two assessors, will render the verdict because the South African legal system does not use juries, but lawyers do not expect her to be swayed by Pistorius' outpouring of grief.
"Demeanour should not influence a judge, but it is one of several factors taken into account when a credibility finding is made," attorney Gerhard Wagenaar told ABC News. "If he is found guilty, what we are seeing now will be taken into account to determine whether he has shown remorse - one of the factors taken into account when an appropriate sentence is considered."
Wagenaar's colleagues agreed that the emotional displays will only become relevant once the case moves on to sentencing proceedings if Pistorius is found guilty.
"His behavior in court should have no bearing on the judge's verdict. Only the evidence before court should influence her decision," criminal lawyer Anton Smith said. "Bear in mind, she will have to give detailed reasons for her findings."
Legal expert Delia De Vries said that by verdict time the raw emotion seen today will have faded.
"The only impact his tears and apology to the Steenkamps would have had from a legal perspective is that he showed remorse before the verdict, which would make a big difference when it comes to sentencing proceedings. It will have no bearing on the facts before the court," De Vries said. "Remember, this case is likely to go on appeal and paper cannot convey tears and emotion."