—LONDON -- Vice President Mike Pence wrapped his trip to Israel with a visit to Jerusalem's Western Wall -- one of Judaism's holiest sites -- after meeting with Israeli President Reuven Rivlin.
It is a move that will further anger Palestinians already enraged by the U.S. administration's recognition of the contested city of Jerusalem as the capital of Israel.
The ancient site is the holiest place where Jews can pray. It is located in the Old City, an area that falls within East Jerusalem, which was captured by Israel in 1967 and formally annexed in 1980.It is considered to be occupied Palestinian territory by most of the international community but Israel disputes this.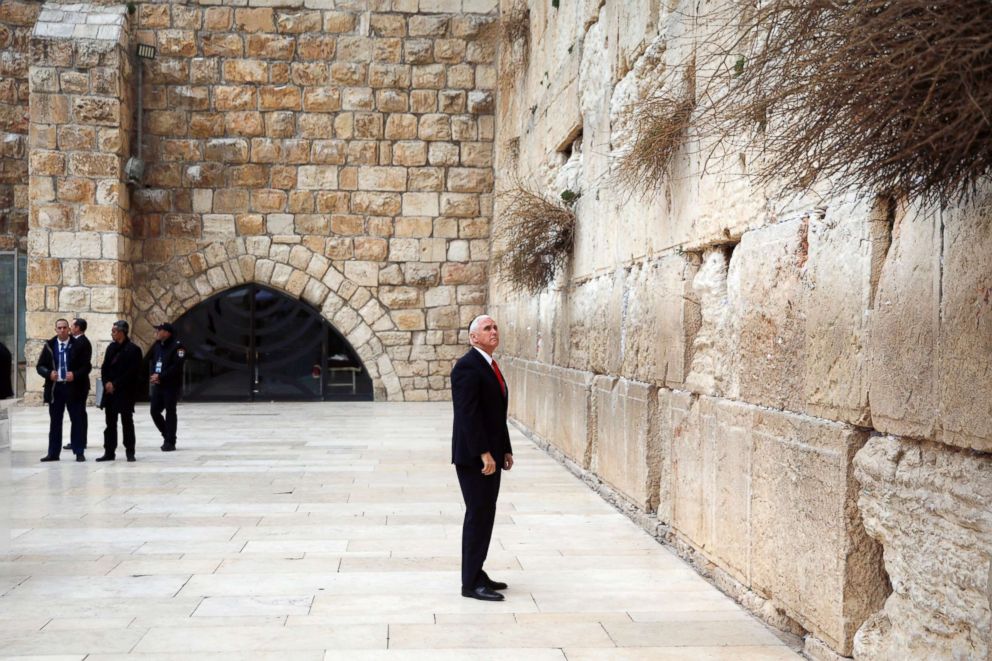 After meeting Rivlin, Pence laid a wreath at the Yad Vashem Holocaust memorial, before visiting the Western Wall, where he prayed with his wife, Karen Pence.
Pence's first trip to the Middle East as vice president has not been without bumps. On Monday there was chaos when, a minute into his speech at the Knesset, Arab-Israeli parliamentarians were thrown out by ushers for protesting with signs, which is prohibited in the assembly chamber.
In his speech, Vice President Pence reiterated the administration's recognition of Jerusalem's new status, referring to it as "the capital of the State of Israel."
Pence, an evangelical Christian, made biblical references in his speech to invoke ties between the Abrahamic faiths and to enforce Israel's religious claims to the Holy Land.
He added that President Donald Trump has instructed the State Department to begin initial preparations to relocate the U.S. embassy from Tel Aviv to Jerusalem, saying it would open by the end of next year.
He also called on the Palestinians to return to the negotiating table, warning that peace would only be achieved through dialogue.
But Pence's call is falling on deaf ears. Palestinian Authority President Mahmoud Abbas was in Jordan over the weekend at the same time as the vice president but did not meet with him. On Monday, Abbas was in Brussels to appeal to Europe for support for a Palestinian state within the 1967 lines. Meeting with the European Union's top diplomat Federica Mogherini, he said that such a recognition would not be an impediment to peace -- to which Mogherini stressed that the EU's position has not changed.
The EU supports a two-state solution, with Jerusalem as a shared capital.
Meanwhile, on Tuesday, Abbas' ruling Fatah Party has called for a general strike of all Palestinians to protest Pence's visit as well as the U.S. recognition of Jerusalem.