— -- Seven people were killed and dozens more injured in a "brutal terrorist attack" in London Saturday night after assailants used a vehicle to plow into pedestrians on London Bridge and attacked others with knives in nearby Borough Market, officials said.
Three suspects were shot and killed in the wake of the carnage and all were wearing fake suicide belts, police said. A total of 50 rounds were fired, and one bystander was hit by bullets, police said.
"There is far too much tolerance of extremism in our country," U.K. Prime Minister Theresa May said at a press conference Sunday morning, calling the carnage a "brutal terrorist attack."
The attack comes in the wake of a suicide bombing outside an Ariana Grande concert in Manchester on May 22 that killed 22. It also comes after another vehicle ramming attack in March on Westminster Bridge that left four dead including the suspect.
On Sunday, 36 victims remained in the hospital, 21 of them in critical condition, police said. Some of those injured are foreign nationals, according to authorities.
And on Sunday night, the French embassy in London said "We are very sad to report the death of one French citizen in the London attack," adding that seven more "compatriots" were in the hospital, four of whom were in serious condition, and one person was missing.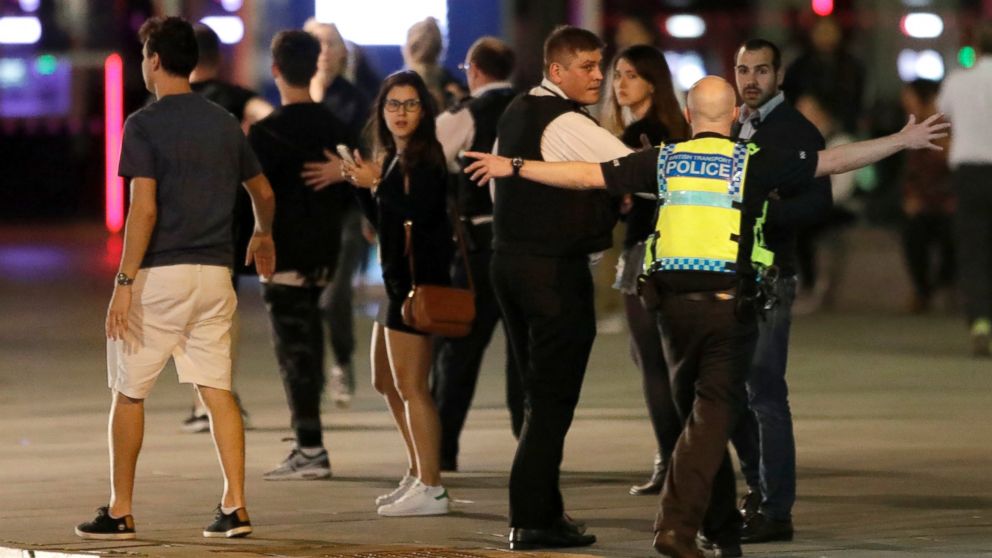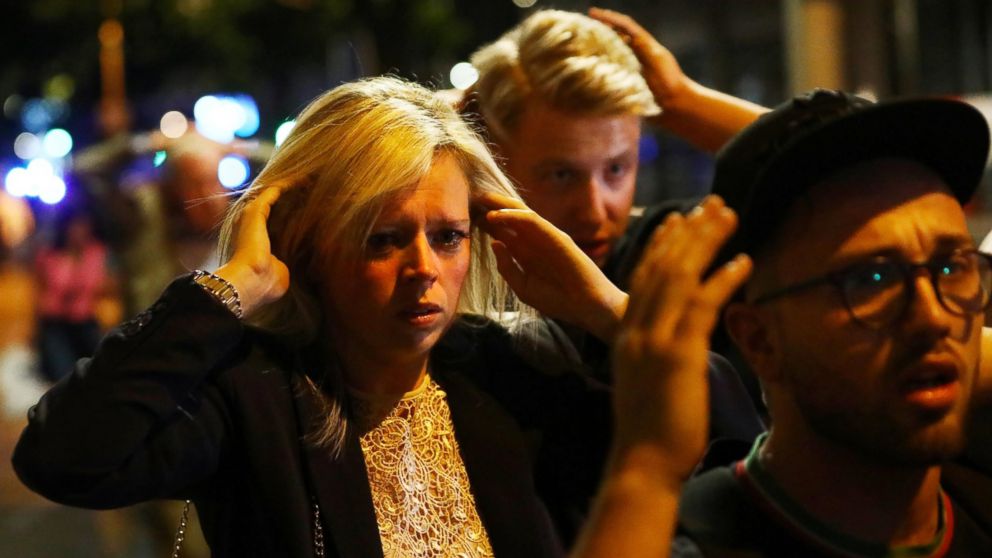 London mayor Sadiq Khan said the number of casualties could have been higher had EMS workers not been so quick to respond. "The emergency services reacted heroically and brilliantly last night," Khan said. "Not only did they tackle the terrorist, but they helped the injured."
"This was a deliberate and cowardly attack on innocent Londoners and visitors to our city enjoying their Saturday night," he added. "I condemn it in the strongest possible terms. There is no justification whatsoever for such barbaric acts."
London Metropolitan Police also announced Sunday that a dozen arrests had been made in connection with the attack.
"Officers from the Met's Counter Terrorism Command have this morning, Sunday 4 June, arrested 12 people in Barking, east London, in connection with last night's incidents in London Bridge and the Borough Market area," read a statement. "Searches of a number of addresses in Barking are continuing."
Among the injured were a British Transport Police officer and an off-duty Metropolitan Police officer. "Both remain in hospital with serious injuries but neither are believed to be in a life-threatening condition," police said in a statement.
The British Transport Police officer who was injured was "able to recount how he faced the attackers with only his baton" despite being "seriously unwell," said Chief Constable Paul Crowther.
"For an officer who only joined us less than two years ago, the bravery he showed was outstanding and makes me extremely proud," Crowther said.
London Metropolitan Commissioner Cressida Dick said Sunday that police believe they had killed all of the attackers and that they "believed" that the incident was under control. Still a large police cordon remained in place in the area, south of the Thames, on Sunday.
May took direct aim at Islamic extremism in recent terror attacks.
"While the attacks are not connected, they are connected in one important sense: they are bound together by the single evil ideology that is Islamic extremism. Defeating this ideology is one of the great challenges of our time," she said.
May also cited the Internet as a breeding ground for extremism, saying: "We cannot allow this ideology the safe space that allows it to breed."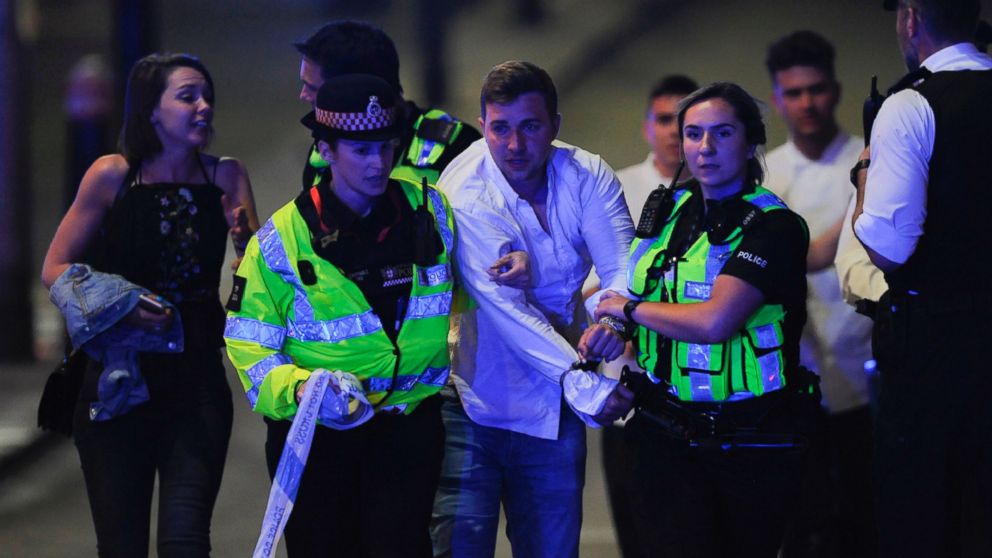 Police said they responded to reports of a vehicle striking pedestrians on London Bridge around 10:08 p.m. local time.
"The vehicle continued to drive from London Bridge to Borough Market," Metropolitan Police Assistant Commissioner Mark Rowley said. "The suspects then left the vehicle and a number of people were stabbed."
Armed officers confronted the three male suspects, who were shot and killed by authorities in Borough Market, Rowley said. It was eight minutes, from the moment police were notified about the attack to when the three men were killed, Rowley said.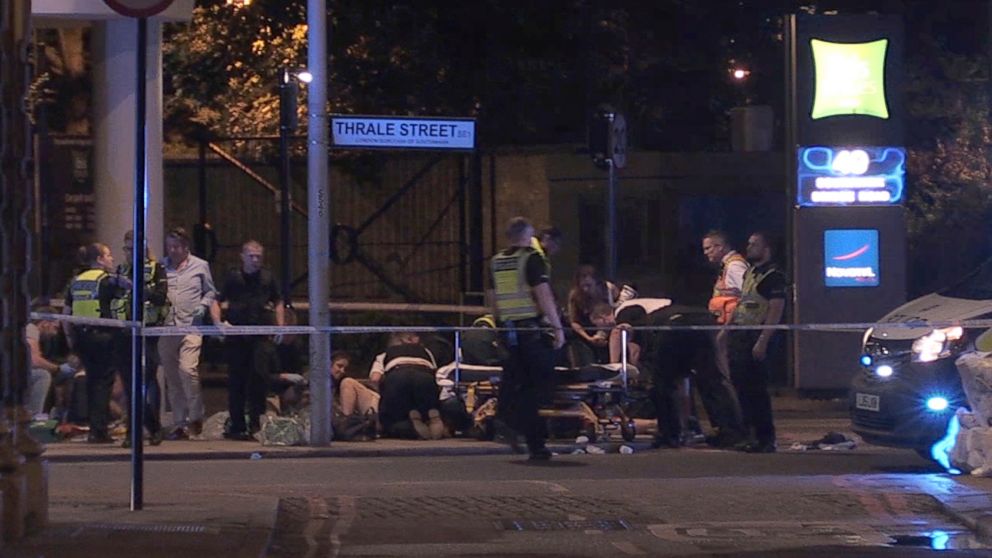 BBC reporter Holly Jones, who was on London Bridge at the time of that incident, told the network that several people were hurt after a white van swerved and hit a crowd of people while it was crossing London Bridge.
"A white van driver came speeding -- probably about 50 mph -- veered off the road into the crowds of people who were walking along the pavement," she told BBC News. "He swerved right round me and then hit about five or six people. He hit about two people in front of me and then three behind. I'd say there are about four severely injured people. They all have paramedics assisting them at the moment."
One man told The Associated Press he was finishing dinner in Borough Market when a woman "came running in and said there was a person out there wielding some kind of knife ... The manager of the restaurant herded everybody together and took us upstairs to the staff quarters and we sat there for an hour and a half during which time we heard three separate volleys of gunfire, quite well-timed apart. They weren't very quick. There was one series, then another, then another."
Later the man said they were told to leave the restaurant. "We had to run out with our hands on our heads and just keep running," he told the AP.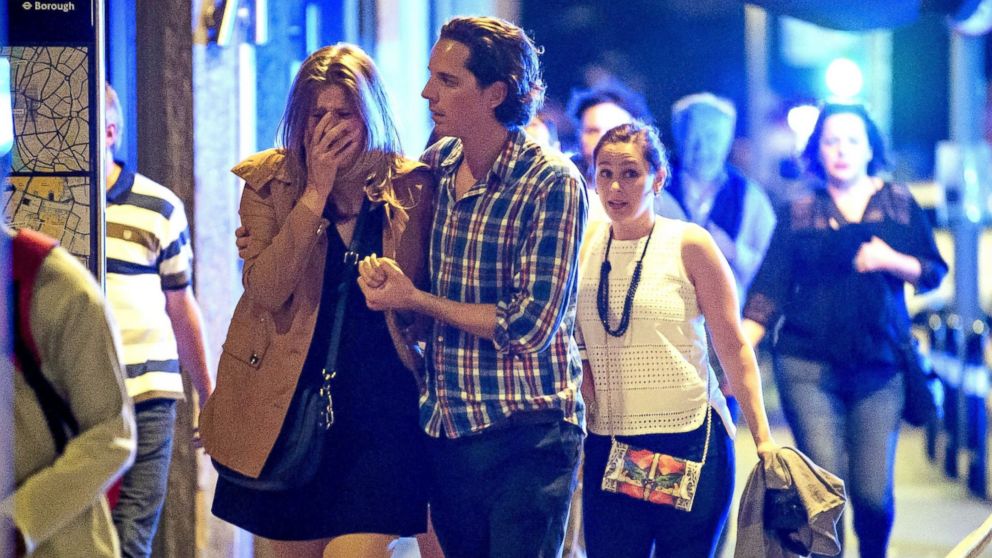 While a complete list of the nationalities of the victims and injured has not yet been provided, French President Emmanuel Macron said French citizens are among the wounded.
At her press conference, May said British law enforcement agencies had "disrupted five credible threats since the Westminster attack in March." May also said that Saturday's attack was not connected to recent terror incidents, which include attacks at Westminster and Manchester Arena.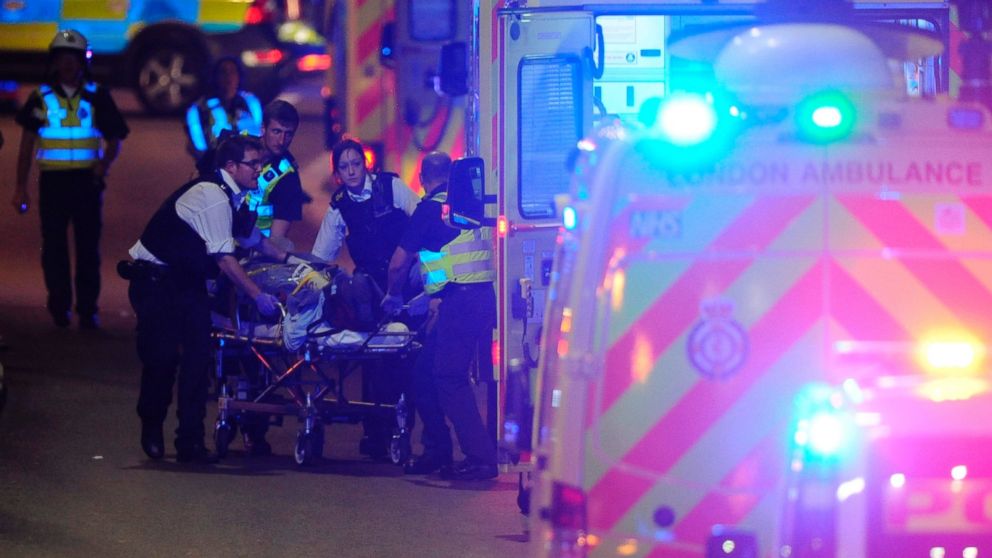 London Bridge is normally crowded on Saturday nights, and Borough Market is a popular area packed with bars and restaurants a short distance from the bridge.
The U.K. threat level, which had been raised to the highest level of "critical" after the Manchester attack, has since been reduced to the level of "severe," where it remains after Saturday night's London attack. "Severe" means the threat of an attack is highly likely, Khan said.
"We should all be vigilant, but also be calm," Khan said. Londoners and visitors will see an increased police presence today and the next few days and that will include increased uniform officers, increased armed officers and increased plain clothes officers, he said.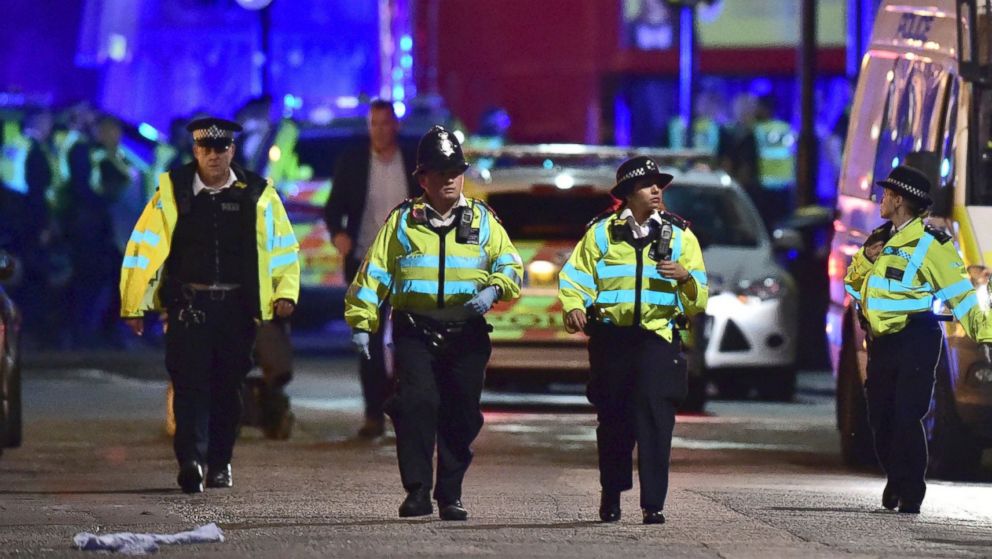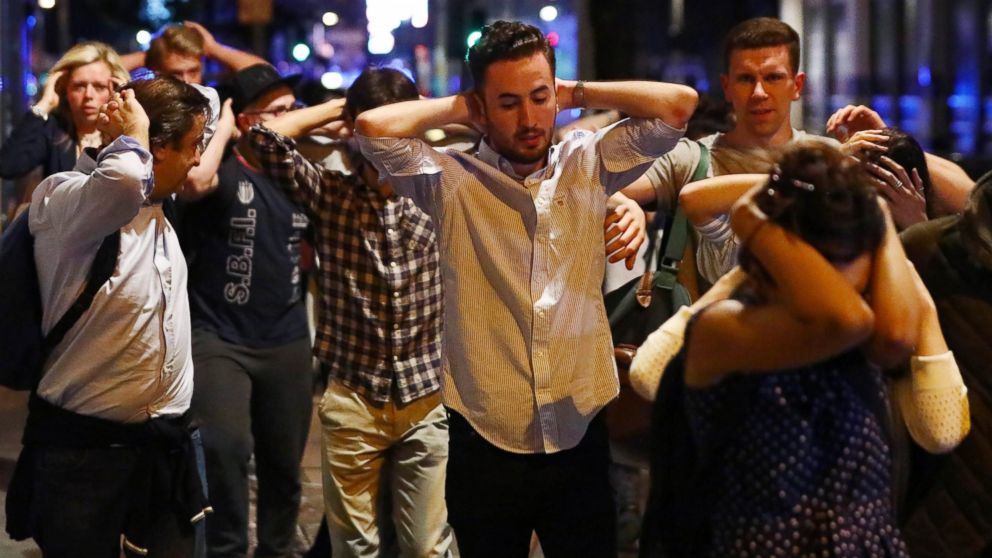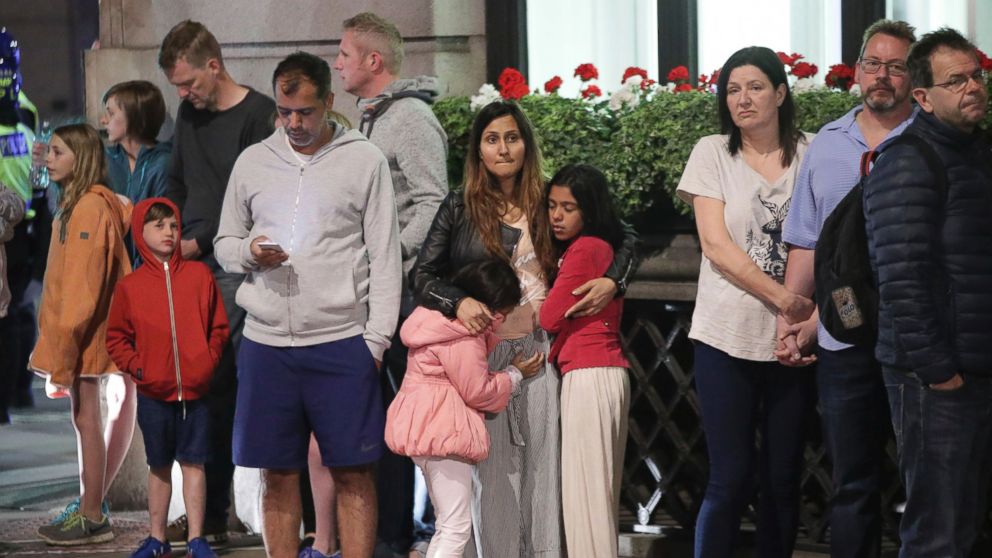 The attack drew swift condemnation from around the world.
President Donald Trump was briefed on the situation and spoke with Prime Minister May to offer his condolences. The White House said Trump "praised the heroic response of police and other first responders and offered the full support of the United States Government in investigating and bringing those responsible for these heinous acts to justice."
The U.S. State Department condemned the incidents, saying in a statement, "The United States stands ready to provide any assistance authorities in the United Kingdom may request. Our hearts are with the families and loved ones of the victims. We wish a full and quick recovery to those injured in the attacks."
The attack comes just days ahead of Britain's general election on Thursday. Both May's Conservative party and Jeremy Corbyn's Labour Party said Sunday morning that they are suspending campaigning. But Paul Nuttal, leader of the UK Independence Party, tweeted, "I am refusing to suspend the UKIP campaign because disrupting our democracy is what extremists want."
Also Saturday night, police reported a stabbing incident in London's Vauxhall neighborhood, but police have since said that it is not connected to the incidents on London Bridge and at Borough Market.
ABC News' Matt Foster, Devin Villacis and Brendan Rand contributed to this report.