Tens of thousands dead in 1st year of Russia-Ukraine war, but true toll remains elusive
More than 8,000 civilians have been killed, U.N. officials said.
LONDON -- Ukrainian President Volodymyr Zelenskyy said during his Jan. 5 nighttime address from Kyiv that he would speak directly to the Russian people.
The war in Ukraine had been deadlier than Russian citizens were being told and Moscow officials "certainly do not value life and definitely do not seek peace," he told them. He warned them off their latest offensive.
"What will this bring?" he said. "Just another increase in the death toll."
Moscow officials in September had said 6,000 Russian troops had been killed. But the true figure was closer to 110,000, Zelenskyy said in his address. The Russian toll has since risen to 145,850, Ukraine's military said on Thursday.
As Russia's war in Ukraine begins its second year, a full accounting of its casualties remains elusive. Ukraine's figures for Russian deaths are higher than independent observers' tallies. The same is true for Russia's figures for Ukrainian military deaths. And figures from third parties often include some information from the countries directly involved in the fighting.
"The propaganda and secrecy on both sides is pretty extensive," Cynthia V. Hooper, a professor of Russian and Eastern European Studies at Holy Cross, told ABC News. She later added, "Obviously each side wants to publicly minimize its losses and undermine its rival."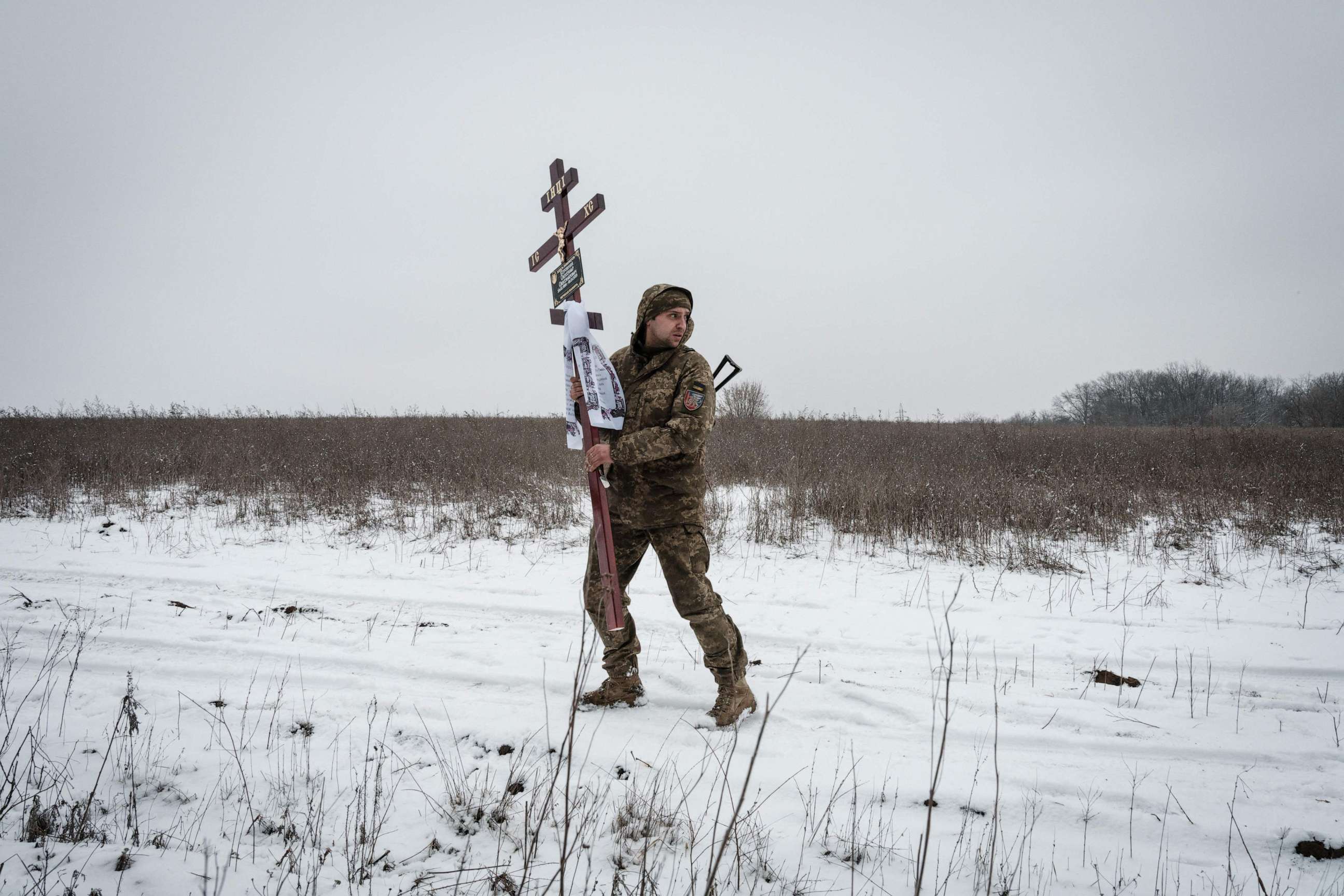 Ukrainian officials, including Zelenskyy, have taken to social media to share regular updates, which have "allowed soldiers and others to really use social media in a way to appeal to allies -- to try to get new allies on their side," said Heidi Tworek, director of the Centre for the Study of Democratic Institutions at The University of British Columbia. Those updates include daily tallies of the Russian strikes and death toll.
"Ukraine has been doubling down on portraying itself as a democracy," she said, "where media freedom and media support is an important part of what's happening."
Russian TV has become its "own phenomenon" since the invasion began, Hooper said, adding that Russia leaders have become "very skilled at blending fact and fiction to create a 'through the looking glass' inverted picture of the war where Russians are victims and valiant saviors and Ukrainians are the bad guys."
Russian TV reported that as many as 157,000 Ukrainian troops have died, Hooper said. Mykhailo Podolyak, an adviser to Zelenskyy, said in December that the toll had instead been between 10,000 and 13,000.
What is clear is that there have been tens of thousands of total casualties in the last year. Among the dead are volunteer Ukrainian fighters defending their homeland, Russian prisoners seeking freedom in exchange for fighting and civilians in cities and towns throughout Ukraine.
As Russian troops retreated from Bucha last April, Ukrainians discovered horrific evidence the invading forces had tortured and killed civilians. Ukrainians and international observers said they've seen the same in other Ukrainian cities in the last year.
Russian forces have hit Ukraine with more than than 5,000 missile strikes, 3,500 air attacks and 1,100 drone attacks in the last year, Ukrainian military officials said on Thursday. Many of those missiles have landed in residential areas in cities around Ukraine, including Kyiv, the capital. In Dnipro in January, missiles destroyed an apartment building, killing dozens.
At least 8,006 civilians, including hundreds of children, have been killed, United Nations officials said on Tuesday. Those numbers are almost certainly undercounting the dead, U.N. officials said.
Russian casualties have largely been confined to soldiers, because most of the fighting has taken place on the battlefield in Ukraine.
As many as 60,000 Russian soldiers have died, the U.K. Ministry of Defense said earlier this month. And as fighting flared in Eastern Ukraine this month, Russian forces lost an average of more than 800 fighters per day, marking an escalation to "its highest rate of casualties since the first week of the invasion of Ukraine," ministry officials said.
"By modern standards, these figures represent a high ration of personnel killed compared to those wounded," the U.K.'s military officials said. "This is almost certainly due to extremely rudimentary medical provision across much of the force."
U.S. officials said one of Russia's strengths has been its ability to "pour" troops into the conflict. More than 300,000 Russians were called to duty in September in a a partial mobilization, the first in Russia since World War II.
"Those people are ill-trained and ill-equipped, and because of that, we see them incurring a lot of casualties," Defense Secretary Lloyd J. Austin III said in a speech in Brussels this month. "That's their strength: They have a lot of people."
As losses on the battlefield continued, Putin this week made a series of speeches that framed the war as an "existential fight with an aggressive West," said Jaroslava Barbieri, a researcher studying Russia's involvement in post-Soviet conflicts at the U.K.'s University of Birmingham.
In a speech in Moscow on Thursday, Putin said, "Millions of people are following their hearts as they help our frontline soldiers, and this unbreakable unity is the key to our victory."
Questions have been raised about how much Putin knows about what's happening on the ground, but it's clear that he "is desperate to uphold this delusional parallel reality" which he uses to "preserve national unity and continue the fight, no matter what," Barbieri said.
She added, "In short, Putin is stuck and is trying to buy time for a war he cannot manage to win and cannot afford to lose."
ABC News' Joe Simonetti, James Longman, Oleksiy Pshemyskiy, Yulia Drozd, Aaron Katersky, Morgan Winsor and Tom Soufi Burridge contributed to this story.