As tens of thousands of invading Russian troops and tanks thundered across his nation's border in February 2022, Ukrainian President Volodymyr Zelenskyy received an offer from the United States to evacuate him and his family out of the country.
But in the biggest moment of his yet budding political life, with a world superpower bearing down with brutal force, Zelenskyy rejected the offer to escape, replying, "The fight is here; I need ammunition, not a ride."
A year later, he and his country are still standing strong, forcefully pushing back against Russian President Vladimir Putin's aggressive campaign to pummel Ukraine into submission.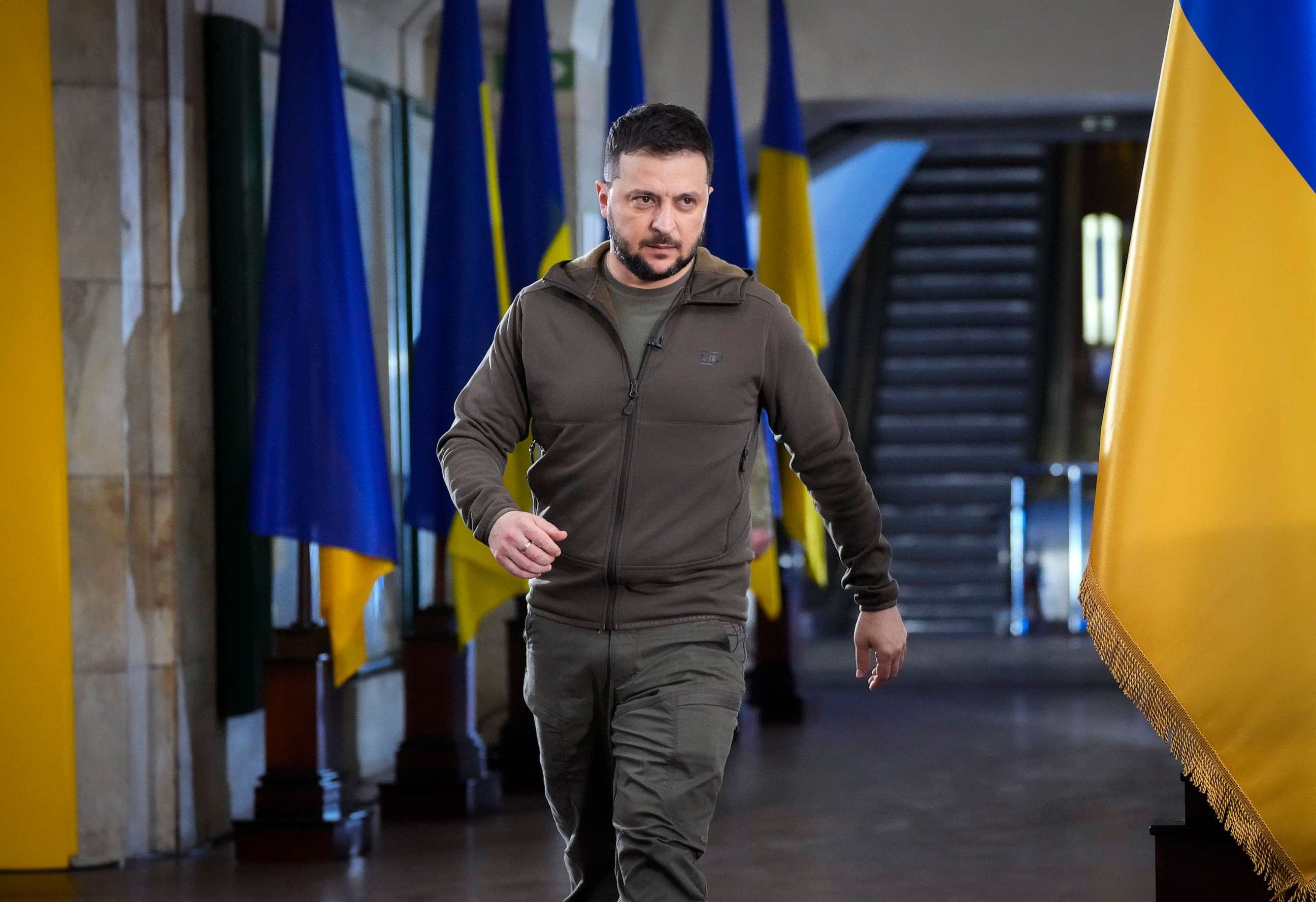 Zelenskyy set the defiant tone for his country just hours after the war started. He shed his suits and ties for military fatigues and combat boots, and boldly posted a selfie video message to the frightened citizens of his nation. Standing on a street outside his office in the capital city of Kyiv, members of his cabinet and military advisors at his side, the then-44-year-old Zelenskyy stared into the camera and announced he and his leadership team were staying put.
"We are all here defending our independence and we are defending our country and we will keep doing that," he said.
It was a dramatic rallying cry that echoed around the world and began the transformation of Zelenskyy into a wartime hero with some admirers even comparing him to Great Britain's Winston Churchill standing up to Nazi Germany during World War II.
At the time of the Feb. 24 invasion few world leaders and military historians gave Ukraine much of a chance against Russia's overwhelming ability to strike from the ground and air. However, as missiles decimated Ukrainian cities, destroying residential buildings, hospitals and schools, Ukraine's ragtag forces -- armed with Soviet-era tanks, guns and aircraft -- defied the odds and mobilized a stiff resistance, sending the Kremlin a resounding early message that it was in for more of a slugfest than a swift takeover.
Unlikely war hero
A former comedian best known for his TV show in which he portrayed a high-school history teacher who is unexpectedly elected president of Ukraine, Zelenskyy was voted the country's real president in 2019, running as an anti-establishment candidate. Initially, he was widely viewed by critics and the media as a weak leader, unable to crack down on government corruption even in his own administration despite his campaign promises to do so.
Three years into his presidency, a poll taken by the Kyiv International Institute of Sociology found 62% of Ukrainians didn't want him to seek reelection.
In 2014, Russia easily annexed Ukraine's strategic Crimea peninsula and the Donbas region in the eastern part of the country. As the Kremlin began its threats to invade its neighbor again in late 2021, the odds were heavily in favor of Putin's forces mowing down any resistance from Ukraine's military.
As Russia's threats grew louder, another poll by the Kyiv International Institute of Sociology found 53% of Ukrainians believed Zelenskyy wouldn't be able to defend the county against a full-scale invasion.
But as the war unfolded, Zelenskyy quickly proved the polls and his critics wrong.
By refusing to flee Ukraine when the going got tough, Zelenskyy used social media and daily addresses to rally his troops, citizens and world leaders to help Ukraine in its fight.
In March 2022, Zelenskyy gave a livestream address to the U.S. Congress, stressing the importance of uniting the free world against Russian aggression, saying, "I call on you to do more."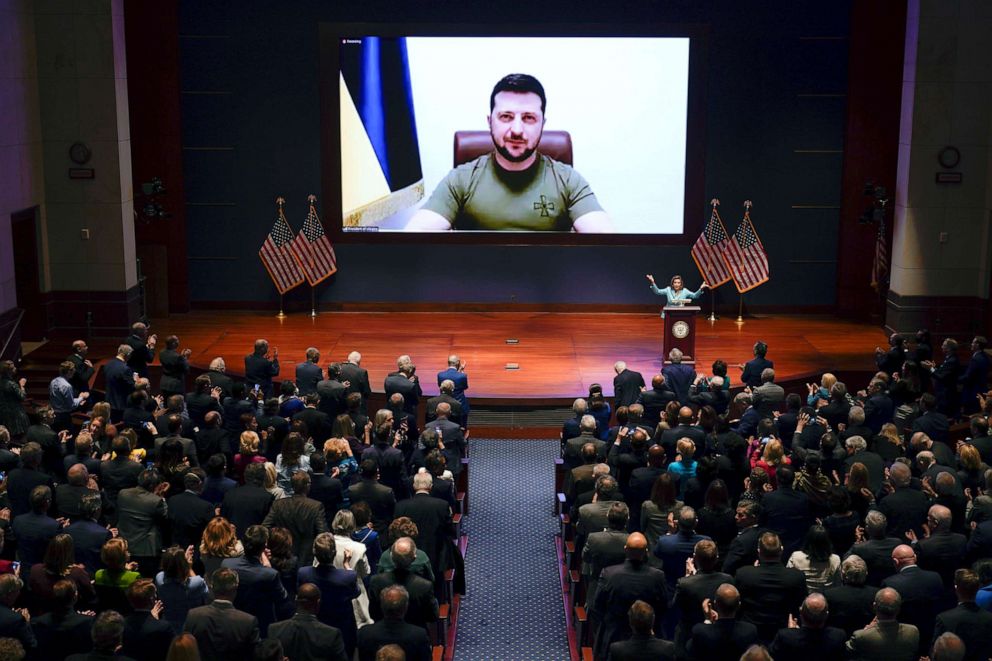 "Remember Pearl Harbor? ... Remember September 11?" Zelenskyy asked. "Our country experiences the same every day right now."
An early supporter of Ukraine, the United States has sent the country more than $50 billion in military and humanitarian assistance. At least 46 other countries, including members of NATO, have contributed another $66 billion in humanitarian and military aid to Ukraine, including air defense systems, grenade launchers, mortar rounds, missiles and state-of-art tanks.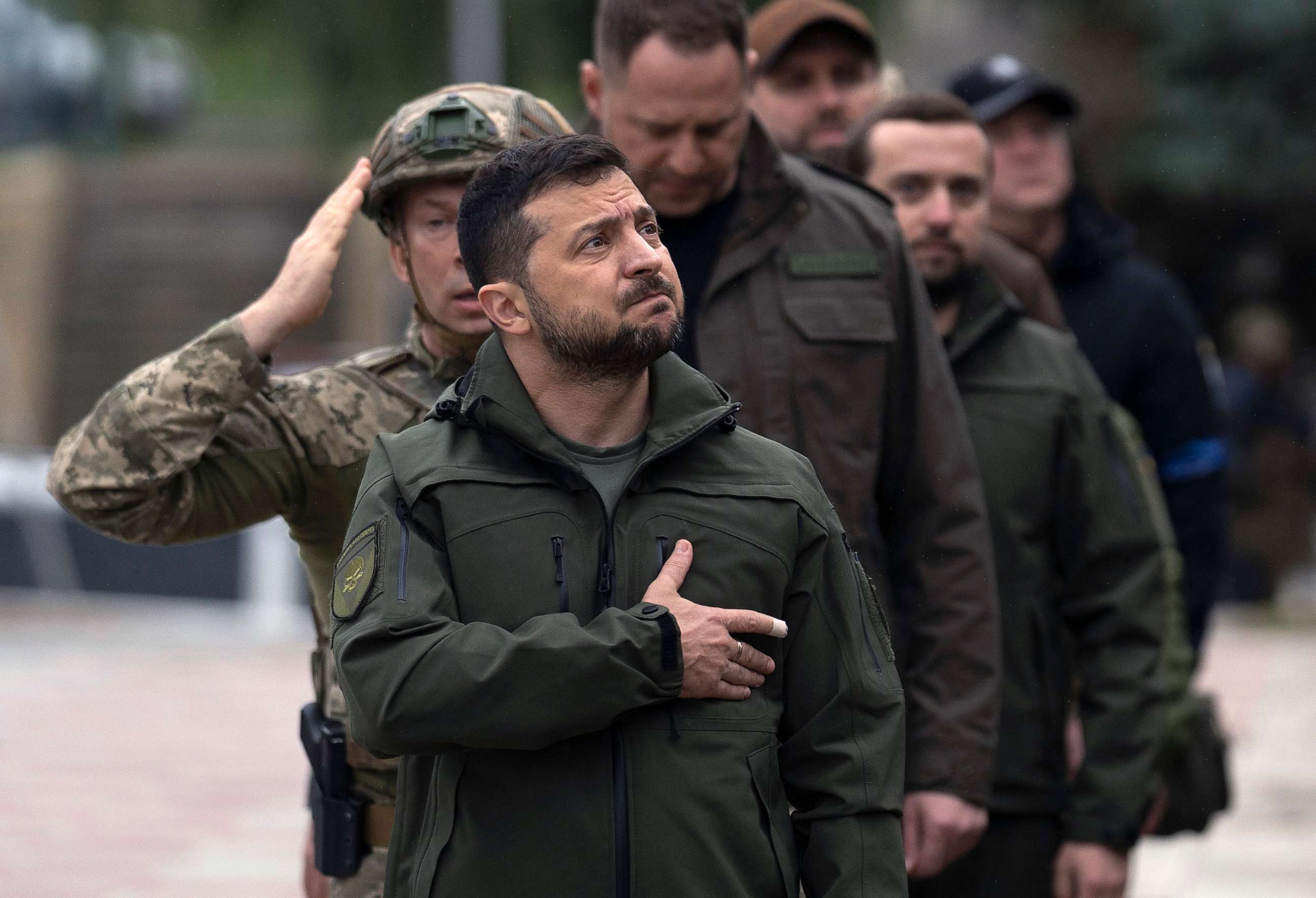 As a result, Ukrainian troops have pushed back against their Russian foes, even prompting them to retreat from several major battles. In September, Zelensky announced that Ukrainian troops had liberated more than 2,300 square miles of the country from the Russians.
"Certainly, since the beginning of Russia's invasion into Ukraine, we've seen the Ukrainians demonstrate a remarkable adaptability and their ability to use their warfighting capabilities to great effect," U.S. Air Force Brig. Gen. Pat Ryder said during a Pentagon news conference in September.
Ryder added, "I think if anyone was surprised, just based on the reports that we've seen in terms of the Russian military's response, it was probably the Russians."
Man of the people
While Ukrainians have shown resilience, the carnage the country has witnessed has been immense. The U.N. High Commission for Human Rights has verified as of Feb. 12 a total of 7,199 civilian deaths attributed to the war, with more the 400 children among the dead.
Many of the communication skills Zelenskyy uses to rally national and global support are the same that made him a successful comedian. He frequently travels to devastated villages to mourn the dead and to meet with survivors, stressing their common fight.
In December, Zelenskyy traveled outside Ukraine for the first time since the war began, flying to Washington and becoming the first foreign leader since Churchill to give a wartime address to Congress. During his speech, Zelenskyy thanked members of Congress for their support and said, "Your money is not charity. It is an investment in global security and democracy."
This week, President Biden traveled to Ukraine and visited with Zelenskyy, reinforcing the support of the United States in Ukraine's fight. He also announced $500 million in additional military aid.
"One year ago, the world was bracing for the fall of Kyiv," Biden said in a speech Tuesday in Warsaw, Poland. "Well, I have just come from a visit to Kyiv, and I can report that Kyiv stands strong. Kyiv stands proud. It stands tall. And most importantly, it stands free."