— -- President Trump's message in a guestbook at Israel's main Holocaust memorial and museum has drawn some ridicule for its failure to demonstrate sensitivity to the atrocities remembered at the site.
"It is a great honor to be here with all of my friends — so amazing + will never forget!" Trump wrote during his visit to Yad Vashem in Jerusalem today.
Israeli media gave contrasting characterizations of his guestbook note. The Jerusalem Post said he signed "in enthusiastic fashion," while left-leaning newspaper Haaretz said he described the visit "as only he can."
Raoul Wootliff, a reporter for the Times of Israel, posted on Twitter, "He forgot: 'See you next summer.'"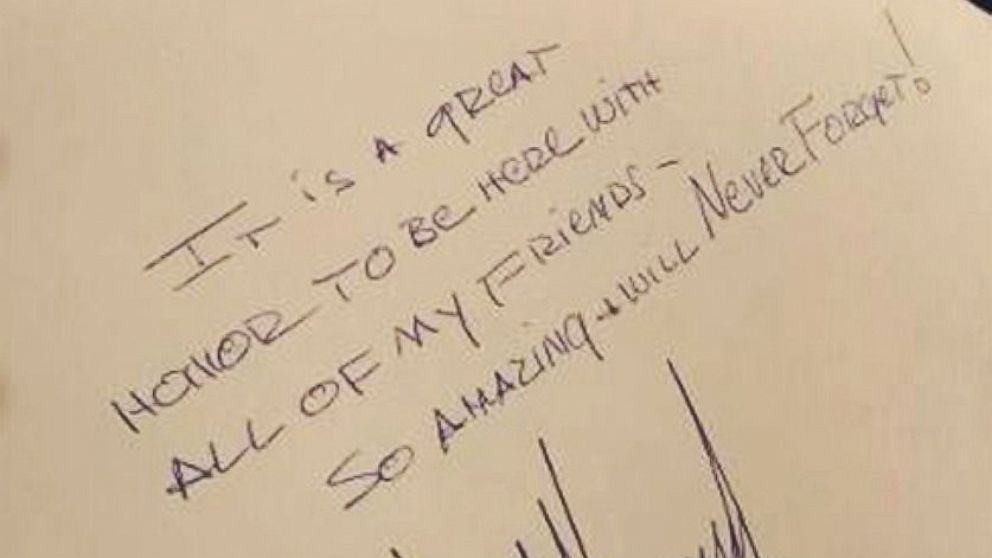 Avner Shalev, the chairman of Yad Vashem, told ABC News that he did not think Trump's message in the guestbook was insensitive, which he signed after making remarks there that Shalev called "very meaningful."
"He touched all the essential elements that should be touched," including remembering the victims as human beings and the importance of not just standing by in the face of evil, Shalev said.
Trump's shaking hands with a Holocaust survivor during the visit was also particular powerful, Shalev said.
When then–presidential candidate Barack Obama visited Yad Vashem in 2008, he wrote a significantly longer message in the guestbook.
"I am grateful to Yad Vashem and all of those responsible for this remarkable institution," he wrote. "At a time of great peril and promise, war and strife, we are blessed to have such a powerful reminder of man's potential for great evil, but also our capacity to rise up from tragedy and remake our world. Let our children come here, and know this history, so that they can add their voices to proclaim 'never again.' And may we remember those who perished, not only as victims, but also as individuals who helped and loved and dreamed like us, and who have become symbols of the human spirit."
Trump was in Jerusalem as part of his first international trip as president, which has also taken him to Saudi Arabia and the West Bank.
President Trump's first foreign trip
President Donald Trump began his first foreign trip with a stop in Saudi Arabia, a long-time ally in the Arab world. Trump walks with Saudi King Salman down the red carpet during a welcoming ceremony at the Royal Terminal of King Khalid International Airport, May 20, 2017, in Riyadh.

undefined