A San Francisco couple, who welcomed their first child last Saturday at home, decided to tweet the unlikely story because they "thought it was such an awesome story."
It's now captured the attention of hundreds of people on the social network, who can't believe what happened when Marco Rogers and Aniyia Williams gave birth to their daughter, Noemi, at home unexpectedly.
She was born in our house. In our bed. Just me and @operaqueenie. With my father in law also there in the house. No, this was NOT planned.

— Marco Rogers (@polotek) January 8, 2016
Eventually the system broke down. "Look, unless I say otherwise, they are ALL strong contractions."

— Marco Rogers (@polotek) January 8, 2016
Rogers, 34, tweeted that his wife really wanted a natural birth and had even read up on hypnobirthing, which teaches pregnant women methods of meditation and relaxation during childbirth. Still, after one really strong contraction they knew they should head to the hospital.
"After the contractions got stronger and closer together, we called the hospital twice and they told us to wait," Rogers recalled to ABC News. "Apparently, they weren't close enough yet."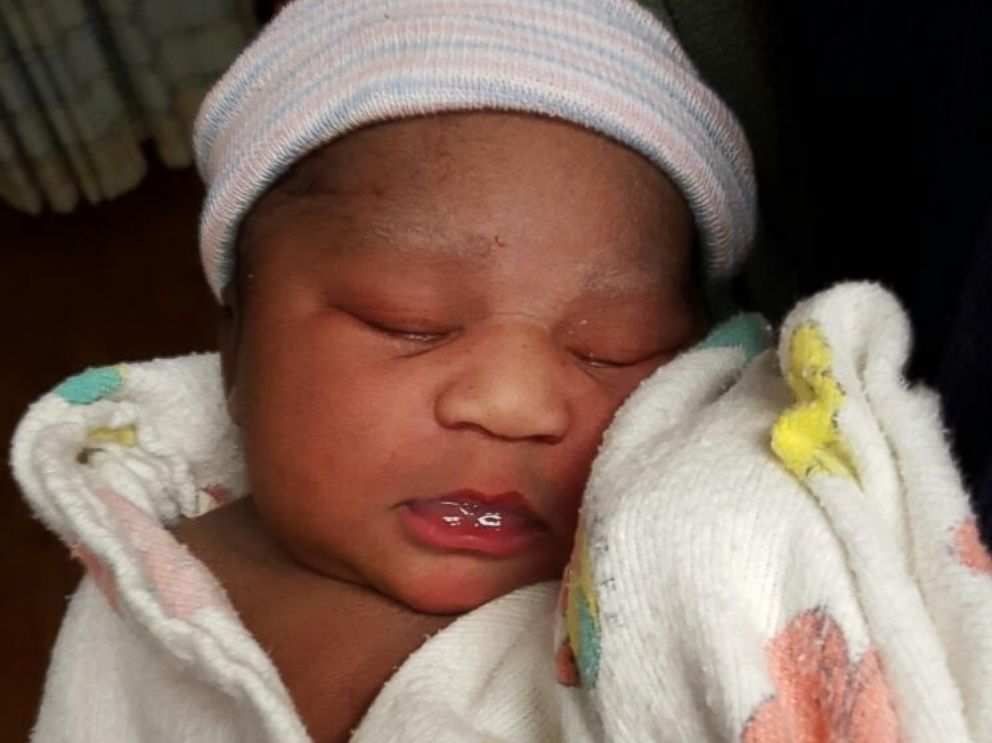 But after Williams, 30, took a bath, a technique recommended by the hospital to soothe her labor pains, her water broke and baby Noemi's head began to crown while they were headed to the garage -- in an effort to reach their car and head to the hospital.
"We live 20 minutes from the hospital," Williams said. "I could feel a bulge between my legs and said, 'We're not going to make it.'"
So the couple headed back upstairs to deliver their baby at home in their bedroom, while William's father, who had flown in for the birth of his grandchild, called 911.
I get on the bed on my hands & knees and :::push contraction::: I go ALL IN on pushing and feel the baby's head fully pop out.

— Aniyia (@operaqueenie) January 8, 2016
He's telling me to keep pushing but the contraction is gone and I cant push hard enough without it. CANT YOU JUST PULL HER OUT?!

— Aniyia (@operaqueenie) January 8, 2016
Then it became a moot point. A fresh contraction starts. Wailing. Pushing. And Noemi Rose Rogers pops right out into my hands.

— Marco Rogers (@polotek) January 8, 2016
Williams told ABC News that after her water broke, her baby girl was born only 15 minutes later.
Moments after baby Noemi was born, first responders arrived at their home and "asked questions," Rogers said.
"They slowly realized it was over. There was nothing for them to do really. But they did help me clamp off and cut the umbilical cord," he added. "They only had a scalpel so I needed something hard to cut the cord on ... they grabbed the 'What to Expect When You're Expecting' book and said, 'Use this!'"
Rogers said once they made it to the hospital by ambulance doctors and nurses "flipped out. They were like, 'That never happens -- a home birth with no complications. It's just very rare occurance. It swept through the hospital. We were semi-famous."
The pair said they definitely plan to tell their daughter -- when she's old enough to understand -- the frantic way she was born.
"I'm looking forward to it," Rogers told ABC News. "I'll think of it as her birthday story. Every year on her birthday she'll hear it. And when she gets older, she'll be super annoyed because she's heard it a billion times."
To read the full story of Noemi's birth tweet by tweet visit Twitter Moments.