Two weeks after President Trump said journalists should be "free from the fear of being violently attacked while doing their jobs," he was back to verbally attacking the press on the international stage.
"Good morning, everybody. Good morning to the media -- the legitimate media and the fake-news media," Trump said as he opened a bilateral breakfast meeting Wednesday with the secretary general of NATO. "Good morning to them. A lot of good people here. Surprising."
And on Friday, he was at it again, this time standing alongside British Prime Minister Theresa May and calling a story in which he criticized her "fake news." The story was accompanied online with some of the audio recording of his comments about May.
He also refused to take a question from a CNN reporter.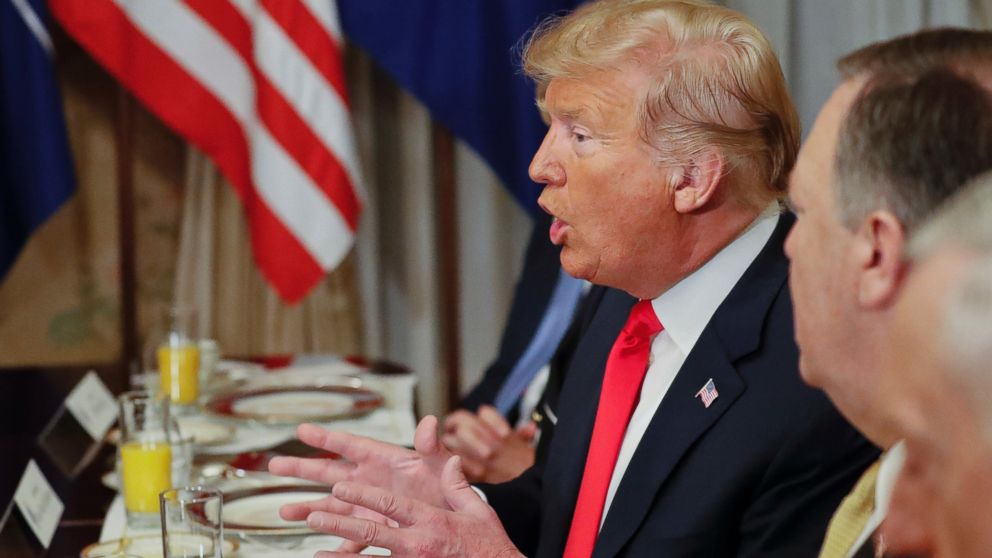 The fact that the whole world was watching in Brussels and London was significant because Trump's refrains of "fake news" are increasingly finding sympathy from other world leaders seeking to curtail freedom of speech, according to Tim Franklin, the senior associate dean at the Medill School of Journalism.
"The fake news mantra has been weaponized against the entire news media industry," Franklin told ABC News. "He's normalizing that narrative against the media internationally."
Among the world leaders attending the NATO summit this week was President Recep Tayyip Erdogan of Turkey, who has been accused of jailing journalists and leading a crackdown on opposition voices while in office. The Committee to Protect Journalists named Turkey "the world's worst jailer" of journalists two years in a row. According to the nonprofit, 73 journalists were behind bars there in 2017.
Also in attendance was Polish President Andrzej Duda, who has frequently praised Trump for fighting "fake news" and has also tried to crack down on journalists in his own country.
Duda also pledged to help Trump "fight fake news" after the two met last year.
A report published in the Index on Censorship earlier this year found that more than 20 political leaders worldwide -- from authoritarian to democratic regimes -- have used the term "fake news" to "accuse reporters of spreading lies to discredit journalism they do not like."
Trump's comments in Brussels reinforce that message, Franklin said.
"He's essentially providing verbal fodder for folks like Erdogan in Turkey and other oppressive leaders to crack down on the media," he added.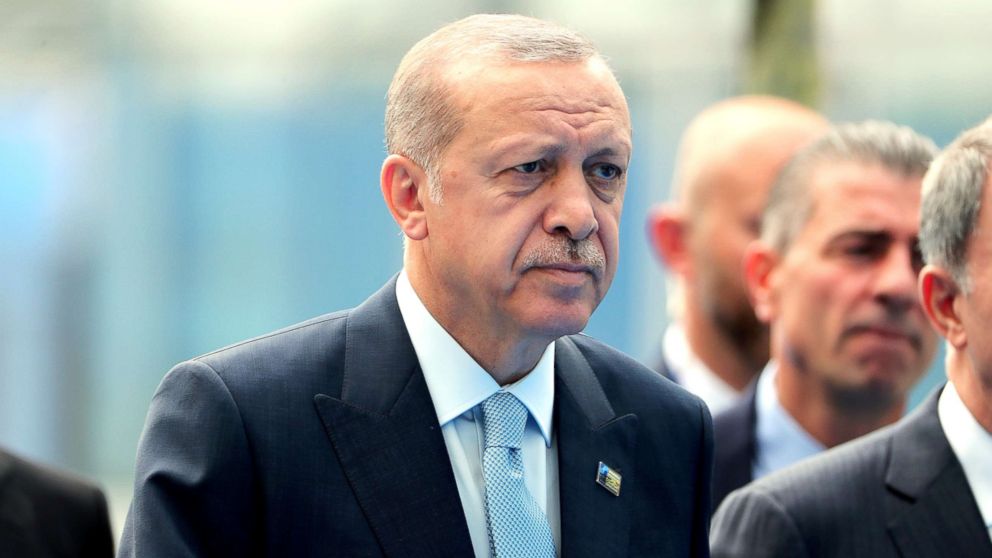 The very nature of the U.S.'s identity as a country that enshrines a free press amplifies such attacks even more, according to Gene Policinski, the chief operating officer of the Freedom Forum Institute and of the Institute's First Amendment Center.
"The U.S., by virtue of being a beacon of press freedom, it's all the more stunning and maybe empowering for despots when we lose that light or when someone tries to dim that light," Policinski told ABC News. "Anytime that you are a leader and you falter, it's more noticeable. And so I think when the president attacks journalists or promulgates this 'fake news,' it empowers other more dictatorial leaders to maybe go even further than anything that would be contemplated here."
'We won't forget being called an enemy of the people'
Trump's comments about the "fake-news media" in Europe also come a little more than two weeks after a shooting in the Maryland newsroom of the Capital Gazette that killed five people on June 28. The alleged shooter, Jarrod Ramos, 38, had previously filed -- and lost -- a defamation lawsuit against the paper and made threatening comments to its staff online.
There is no indication that the attack was motivated by politics. Ramos has been charged with five counts of first-degree murder in the incident.
A day after the shooting, Trump addressed the tragedy before a tax event.
"Journalists, like all Americans, should be free from the fear of being violently attacked while doing their jobs," Trump said. "To the families of the victims, there were no words to express our sorrow for your loss. Horrible, horrible event. Horrible thing happened."
But days before the Capital Gazette shooting, Trump had taken to Twitter once again to denounce "the enemy of the people Fake News."
Many criticized his use of that language -- "enemy of the people" -- as creating an environment where attacks on journalists could be seen as legitimate.
In a letter published days after the shooting, the staff of the Capital Gazette referenced Trump's words as well.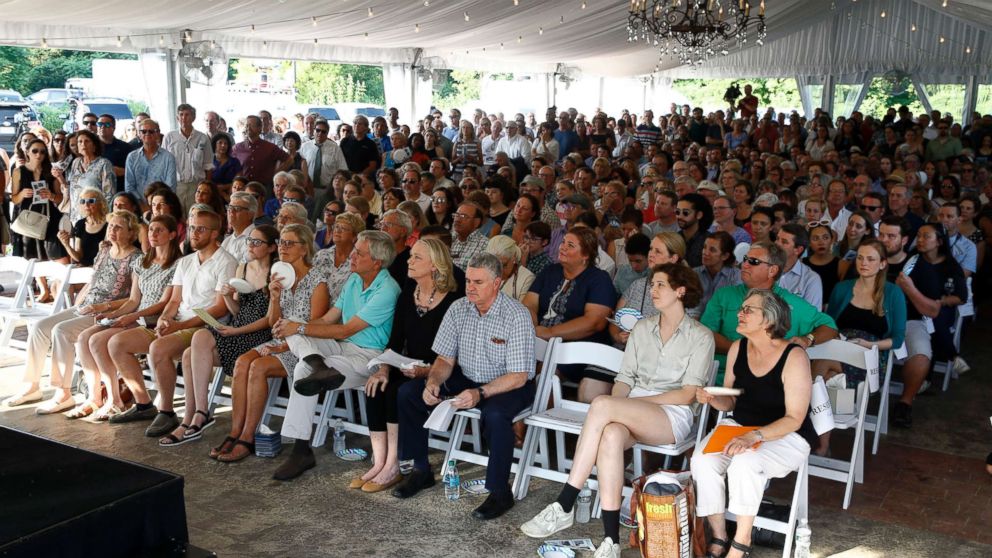 "We will never forget Rob Hiaasen, Gerald Fischman, Wendi Winters, John McNamara or Rebecca Smith, our five co-workers who were gunned down in a senseless attack," the letter read. "Here's what else we won't forget: Death threats and emails from people we don't know celebrating our loss, or the people who called for one of our reporters to get fired because she got angry and cursed on national television after witnessing her friends getting shot. We won't forget being called an enemy of the people. No, we won't forget that. Because exposing evil, shining light on wrongs and fighting injustice is what we do."
ABC News reached out to the White House seeking comment but did not immediately hear back.
Policinski said he is not surprised Trump has resumed his verbal attacks on the press following the shooting.
"I would have been stunned to see even a tragedy like the Annapolis shootings really move the White House and move Trump away from this easy motivation to his base to dislike the press and to call it fake news," Policinski said. "The term fake news has become so politicized that it's lost all meaning. It's basically become 'news that I don't like.'"
The 'drip-drip-drip' of Trump's attacks
Beyond calling the media an "enemy of the people" and "fake news," he has also called various news organizations and individual journalists liars, "sleazes," "third-rate" and "our country's biggest enemy." Trump's willingness to go after journalists publicly and by name is something new, according to Policinski.
"The direct and personal nature of it, where we see these personal attacks on journalists who cover the White House, I think you have to go back to the Nixon era for that. But even Nixon's attacks were more often in private. He might attack a news organization in public, but individuals were singled out for his 'enemies list' in private," Policinski said. "Now, that may have been more nefarious than doing it in public, but it's a very different nature of criticism now," Policinski said. "I'm not as worried about any individual statement as I am about the drip-drip-drip nature of it, the constancy of it."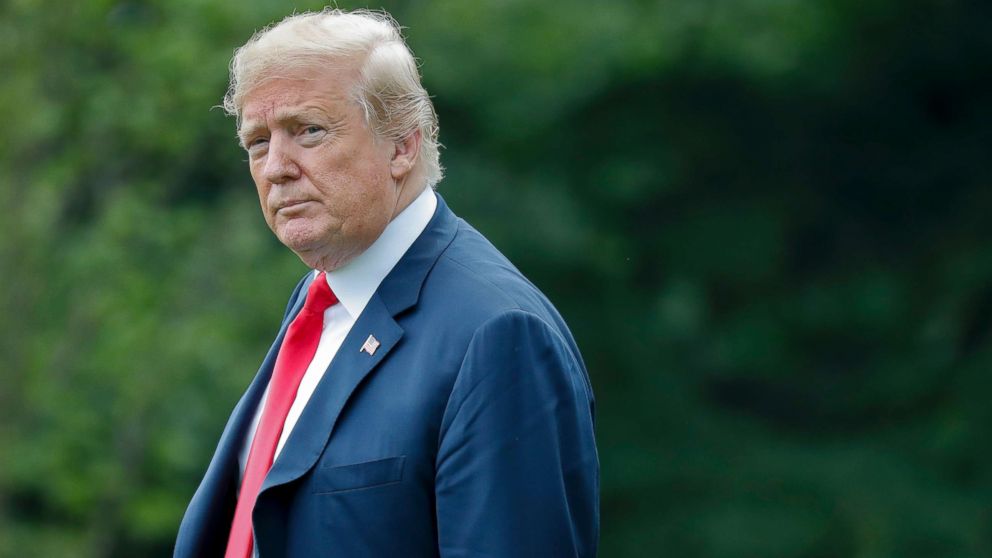 The frequency of Trump's public attacks on the news media also carries the risk that people will become desensitized to them, according to Pete Vernon, a staff writer at the Columbia Journalism Review.
"One on hand, journalists can't respond to each slight like it's a five-alarm fire. The next Trump tweet criticizing the press is already old news," Vernon told ABC News via email. "We're also trained not to view ourselves as part of the story, and that impulse competes with a natural inclination to defend our trade.
"On the other hand, Trump has the biggest megaphone in the country, and his consistent attacks have a pernicious impact on the way his supporters -- and even some who don't agree with him -- view the press," he added. "If you work the refs long enough, at least a portion of the public is going to believe that your arguments have some merit."
In December 2015, while speaking at a rally in Grand Rapids, Michigan, Trump told a crowd he was against killing journalists, a comment made in reference to Russian President Vladimir Putin.
"I would never kill them, but I do hate them. And some of them are such lying, disgusting people. It's true," Trump told the crowd.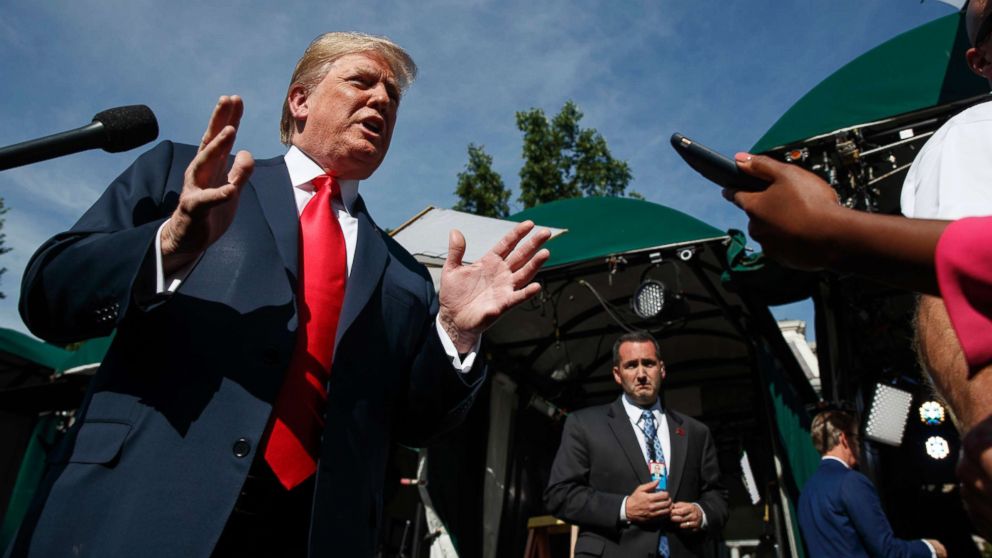 Reporters at Trump events on the campaign trail and while he has been in office have been heckled by the president and his supporters, and Trump's former campaign manager, Corey Lewandowski, was accused of physically assaulting a reporter in 2016. During the campaign, Lewandowski was charged with battery for grabbing former Breitbart reporter Michelle Fields.
The case was eventually dropped.
Vernon said that no other president has been as "open and consistent" in their attacks on the press as Trump.
The Obama administration, for its part, prosecuted whistle-blowers and leakers for talking to journalists. The Obama-led Justice Department and F.B.I. also accessed some reporters' email and phone records, and issued subpoenas to force reporters to reveal sources.
Still, Vernon says Trump has "taken things to a whole new level."
"For long stretches of his campaign and presidency, it has seemed that the only coherent message from the Trump camp has been an anti-journalism approach," he said. "It plays well with his base, and it provides a ready-made excuse for any negative information that comes to light about his actions. If the press is out to get him, why should anyone trust what they hear from CNN or The Washington Post?"
Last year, Trump tweeted a video of his face superimposed on the body of wrestler who was body-slamming a person with the CNN logo on its face.
'
CNN is just one of many outlets that Trump has taken to regularly calling the "enemy" this year in his tweets.
"The FAKE NEWS media (failing @nytimes, @NBCNews, @ABC, @CBS, @CNN) is not my enemy, it is the enemy of the American People!" Trump tweeted in February.
The 'domino effect' of fake news
But while Trump regularly targets major national news outlets for his criticisms, his comments have much more far-reaching effects, Franklin said.
"It's not just journalists in Washington who are seeing the end products of those attacks. It's local journalists in the heartland who also now are increasingly facing trust issues with their readership or viewership as a result of these attacks," Franklin said. "The domino effect of that criticism is now reaching down into the depths of local newsrooms. Politicians in local areas are using 'fake news' as a weapon against journalists."
Policinski agreed, saying the debate over press freedom often only focuses on the "tiny slice" of journalists covering the White House and Washington.
"The whole debate over the role of the press right now is so focused on such a tiny percentage of what journalists do. Day in and day out, most of us rely on journalists to tell us the stuff of our lives," Policinski said. "I hope that coming out of Annapolis, people wake up to the fact that these people were covering school-board meetings or the events of a community."
That type of local reporting, Franklin said, is at the heart of what journalism is, and why he says it must be protected.
"In a self-governed democracy, journalism is the oxygen. Citizens need accurate, reliable, trustworthy information to make decisions about their everyday lives and about their local governments, wherever they are in the world," Franklin said. "Those criticisms, unfortunately, have an impact -- a real impact."