Some men seem to have style in their DNA: Johnny Depp, George Clooney, Brad Pitt.
But for more ordinary mortals, figuring out how to look sharp can seem even more elusive than nabbing a date with a leading lady.
Enter the Trunk Club, a new Chicago-based service that's part Fifth Avenue, part Silicon Valley, and aims to take the guesswork, the legwork and the aggravation out of shopping for professional men.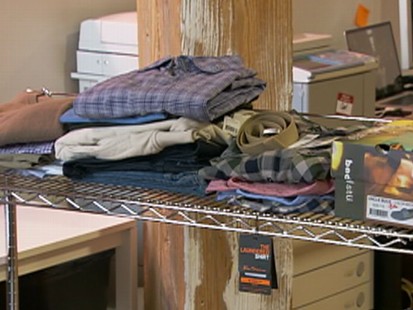 The Web-based service, which calls itself a "designer clothing outfitter," takes a man's measure over the internet, sends him skads of clothes via FedEx, and offers guys the complimentary two-cents of a personal stylist, over Skype.
"Walking into a large and overwhelming shopping environment just is not that fun for guys," said Brian Spaly, CEO of Trunk Club. "Women are more programmed to browse and enjoy sort of that aspect of sort of walking around and the art of shopping, and they're better at it than we are."
Dan Spradling a 25-year-old who works in finance, moved from small town Michigan to New York City for a new job, he quickly realized he'd have to up his sartorial game. Spradling, who regularly rocked cargo shorts when he wasn't at work, and considered himself well-dressed if his shorts were hole-free, signed up for the service.
"They don't let you into clubs in sweatpants and flip flops,'' said Spradling. "So unfortunately, I did have to get some clothes and real shoes." Trunk Club members join on the web and explain their needs. Then FedEx delivers a box of hand-picked items.
While Trunk Club Lead Stylist Michael Barkin watched via Skype, Spradling recently modeled his first batch of clothes.
As Spradling tried on a green plaid Ben Sherman shirt, Barkin told him, "I'm basically going to walk you through each different piece and how to wear it and what it'll coordinate with."
Barkin: Is it restrictive?
Spradling: The button is pulling a little at the top.
Barkin: Maybe we'll try another size?
Spradling: It's not my fault I was born with gorilla proportions.
Besides the too-tight top, most of the other items were a hit, including some much-needed new shorts. Spradling's online fitting took 30 minutes.
No driving. No lines. And no endless on-line browsing.
"This is more clothes than I've tried on in a year," said Spradling. "I'm glad I can do it in front of an audience."
Consultations and shipping are free, and customers can return what they don't want without paying for shipping.
Clothes Without Shopping: New Service Gives Men More Choices
"With Trunk Club they didn't necessarily change my style, but they introduced me to a lot of new brands,'' said Spradling.
Spaly said sports shirts are a top selling item.
He founded Trunk Club last year, his second e-fashion start–up. As a graduate of Stanford's Business school, he created what would become Bonobos, a line of colorful lightweight men's pants available online. Seeing a gap in the men's clothing market, Spaly went on to become one of the founders and CEO of Trunk Club.
On average, Trunk Club members keep about half of what they are sent, spending between $500 - $1000 on their first purchase, said Spaly, who sees many customers ordering about once a season.
The company, which is based in Chicago, has members all over the country and does in-house fittings at their trendy loft space for locals and any businessmen who want to schedule an appointment while passing through.
Trunk Club is not for the bargain hunter. Brand-name jeans cost between $140 and $200 dollars. Many shirts are priced similarly, equivalent to department store prices for the labels.
For some men, Trunk Club doesn't just take the store out of shopping, they like the feeling of having a personal stylist who can answer the question of what to wear.
Most men are "comfortable in sweats and a t-shirt on the weekend," said Spaly. "I think they're comfortable in a grey suit, white shirt, red tie, if they're going to an interview. I think it's all the stuff in the middle that's harder."
He and his stylists can tell a man how to transform a shirt from outdoor casual to restaurant ready (just tuck it in!). And they can help a guy get out of a rut and try new looks – like V-necks, to off-set a round face and give the illusion of a longer torso.
While most men will never have the Hollywood clout of Clooney or Pitt, or the access to the high-power stylists, there is some hope for the little guy.