Fifteen months after a deadly collision that killed 10 U.S. sailors, the Navy destroyer USS John McCain is floating again, leaving its dry dock and mooring pier side in Yokosuka, Japan on Tuesday.
On August 21, 2017, 10 sailors were killed when the destroyer collided with an oil tanker as it entered the busy waterway into the port of Singapore, leaving a gaping hole in the port side of the ship. The incident occurred two months after seven sailors were killed when the destroyer USS Fitzgerald collided with a container ship off the coast of Japan.
The McCain has been undergoing repairs for nearly a year with final repairs expected to be completed in late 2019, the Navy's 7th Fleet said in a press release on Tuesday. But the ship's move from dry dock to water was marked as a "major milestone" in the ongoing effort to repair and restore the destroyer.
"I'm proud of and thankful for every person who has worked together to move USS John S. McCain another step closer to both normalcy and sailing again with U.S. 7th Fleet," said Cmdr. Micah Murphy, the ship's commanding officer. "There is still a lot of work to be done, but I remain impressed by the incredible teamwork, determination and flexibility shown daily by this crew as well as the SRF Project Team to return a better, more lethal warship to the fleet."
In May, the former commanding officer of the McCain pleaded guilty to a charge of dereliction of duty for his role in last year's deadly collision. Cmdr. Alfredo J. Sanchez was sentenced to a letter of reprimand and a $6,000 fine. As part of his plea deal agreement, he will be required to retire from the Navy.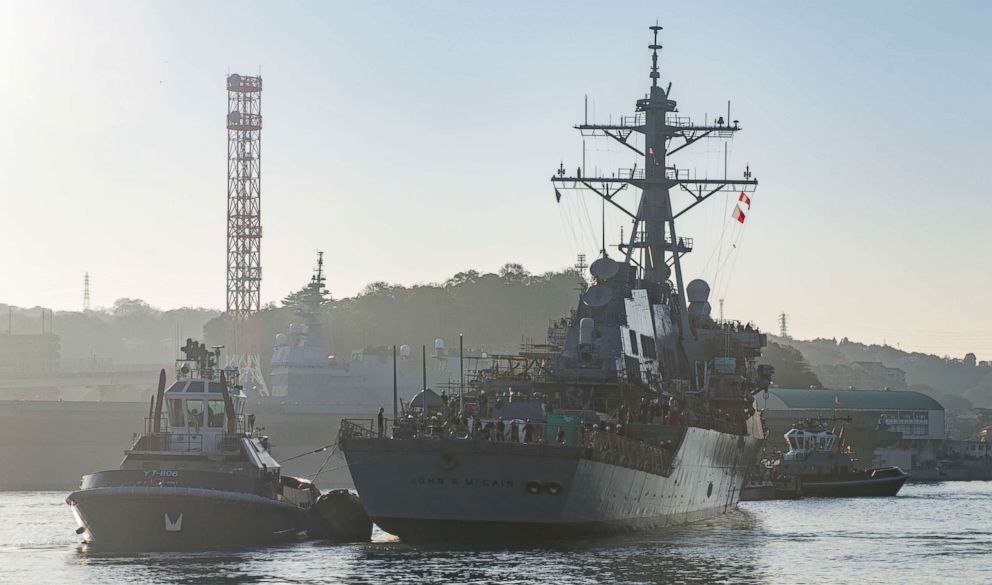 During repairs over the last year, the McCain received a fully restored hull, new port thrust shaft, and newly constructed berthing spaces, 7th Fleet said.
"The ongoing availability also includes completing maintenance work that had previously been deferred, which reflects the Navy's commitment to ensuring that required maintenance on ships is no longer deferred," the statement said.
"The Navy's enterprise leadership continues to make improvements with routine, close oversight provided by the Fleet Commanders and the Navy staff to generate ready ships and aircraft on-time and on-plan," the statement added.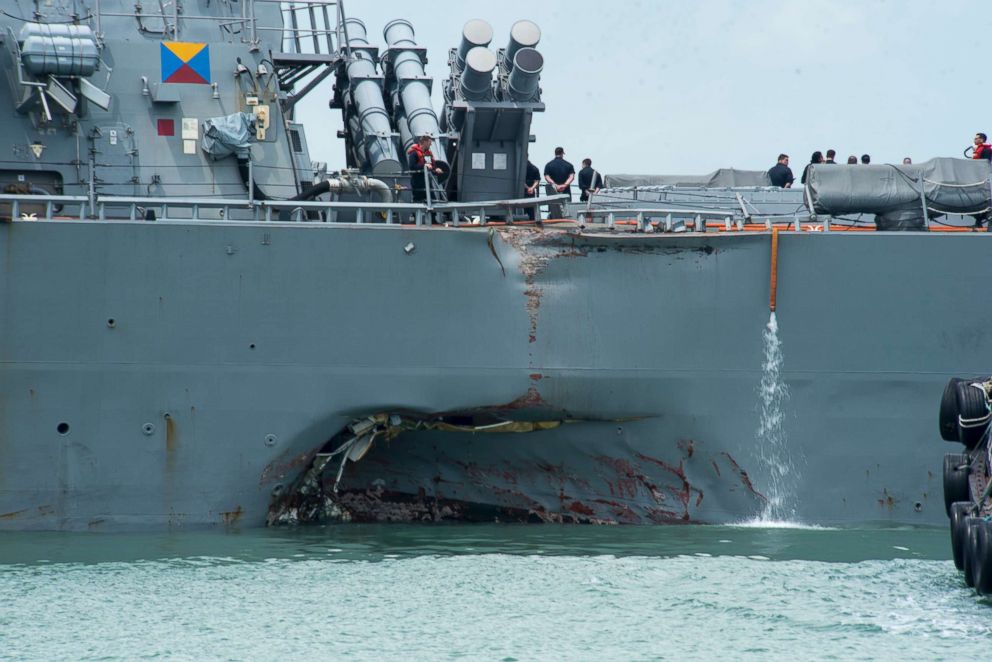 A Navy investigation launched after the collision found that the McCain's former commanding officer did not follow the recommendations of his command team to have the ship's most experienced bridge team on duty as destroyer entered the busy waterway into Singapore. Investigators also found that Sanchez and the bridge team lacked a familiarity with some of the helm consoles that led to a perceived lack of steering.
"The collisions were avoidable," said Adm. John Richardson, the chief of naval operations, in the executive summary to the investigation.
"Both of these accidents were preventable and the respective investigations found multiple failures by watchstanders that contributed to the incidents," he added in a statement accompanying the report's release last November. "We must do better."
Killed in the collision were Electronics Technician 3rd Class Kenneth Aaron Smith; Electronics Technician 1st Class Charles Nathan Findley;Interior Communications Electrician 1st Class Abraham Lopez; Technician 2nd Class Kevin Sayer Bushell; Electronics Technician 2nd Class Jacob Daniel Drake; Electronic Systems Technician 2nd Class Timothy Thomas Eckels Jr.; Information Systems Technician 2nd Class Corey George Ingram; Electronics Technician 3rd Class Dustin Louis Doyon; Electronics Technician 3rd Class John Henry Hoagland III and Interior Communications Electrician 3rd Class Logan Stephen Palmer, 23.
ABC News' Luis Martinez contributed to this report.