Voters across the country are showing extraordinary determination to make their voices heard in this crucial midterm election cycle -- including a Georgia woman who waited in line for nearly five hours to vote on Tuesday.
"I didn't want anything to stop me from voting unless someone physically removed me," Ontaria Woods told ABC News.
Woods, 25, of Snellville, Georgia, said she planned to wake up at 7 a.m. to vote at Annistown Elementary School, go to the gym and then head to work.
She was supposed to be at her desk at 10 a.m., but she didn't get there until around 1 p.m.
"The voter suppression issue has been real," Woods said, mentioning gubernatorial candidate Brian Kemp, who currently serves as Georgia's secretary of state and is at the center of voter suppression allegations.
"I got there at 7 a.m., right when the polls opened. At 7:05, 7:06 I noticed they haven't started the process," Woods said.
She wasn't able to vote for another 4 hours and 45 minutes.
"At 7:45 a.m. one of the officials said they were having issues with the express poll machine," she said.
Joe Sorenson, director of communications of Gwinnett County, said Woods' voting location, Annistown Elementary School, was not supplied with power cords for these machines -- so they eventually lost power and paper ballots were used instead until power cords were provided later.
It was 11 a.m. before Woods said people were finally able to vote. It was another 45 minutes before she cast her ballot.
Bus rider
Another voter is going viral for tweeting her experience voting after her absentee ballot didn't arrive.
Emi Anne Miller, 22, says she took an overnight bus from Washington, D.C., to Durham, North Carolina, to vote, then fly back in time to be at her job at the Youth Caucus of America by 11 a.m. Tuesday.
Just before midnight, she got on a bus and at 5 a.m. she made it to Durham. Three hours later she was in line to vote, and at 9 a.m. she tweeted that she was at the airport on her way back to D.C.
She made it to work around 1 p.m. Tuesday.
Vacation interrupted
Lauren Bassart, 36, and her husband Kenin Bassart are two more voters who went above and beyond to serve their civic duty -- they cut their vacation short to drive from Colorado to Texas when they realized their absentee ballot wouldn't arrive in time.
Bassart, who emigrated from Trinidad and Tobago when she was 10, told ABC News that voting is so important to her because she spent 12 years working on getting her citizenship: "It is a civic right that I fought very hard for my entire life and I believe in exercising that right."
"Using our right as citizens to vote assures that it will continue to be a fantastic land filled with people that believe in humanity and progress," she said.
Though the couple scheduled their vacation at a friends' house in Walsenburg, Colorado, around receiving their absentee ballots, things did not go as planned.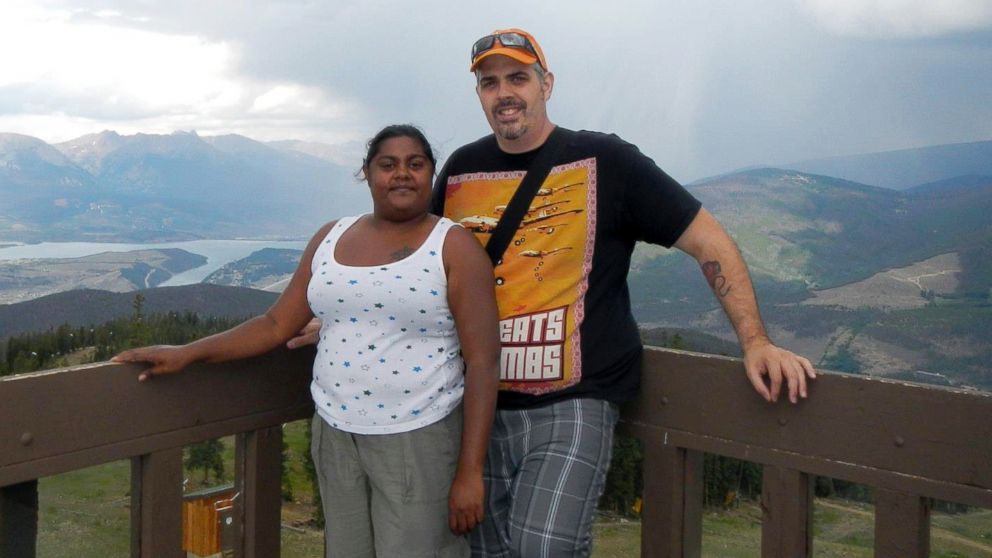 "The absentee ballots wouldn't have made it in time. We had a lot of discussion over a lot of weeks about making the drive back to Texas to vote," she said.
It was a difficult decision because the couple had to consider taking three days off work to make the trek. Ultimately, one of the biggest motivators Bassart identified was her identity "as an immigrant, as an immigrant in Texas ... with immigrants being deported. That really did not sit well with me."
"We decided we needed to do the right ... thing for our country, for ourselves," she said.
The couple woke up at 3 a.m. last Tuesday and made the 15-hour drive to Austin, Texas. She said they cast their ballots just before their early voting polling station closed, spent the night in Austin and drove back to Colorado over the next two days to continue their vacation.
"Having to make a three-day round trip to vote was a pain in the butt but it was the right thing to do!" Bassart said.
Still waiting
Another voter in California was still waiting on line to vote as of 7:56 p.m. local time. Vishal Kaura, 36, said he came from work and waited about an hour on line but saw "some people have left."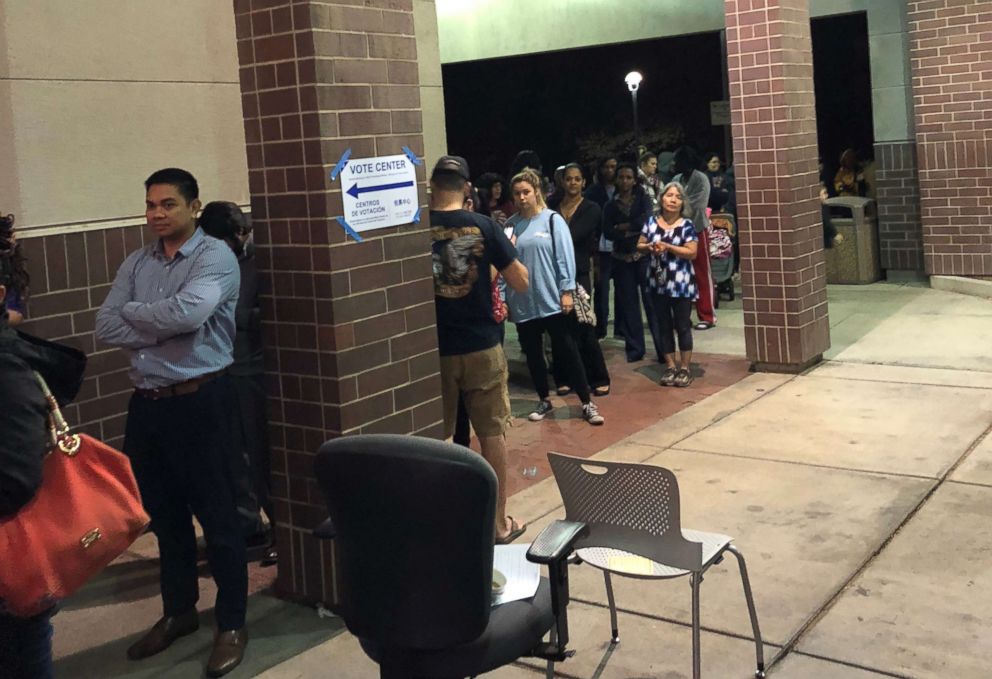 "I have to vote. I can't tell my friends to vote, if I don't," Kaura told ABC News. He said the mood among voters on line at the Elk Grove polling location was "pretty calm, but anxious" while waiting.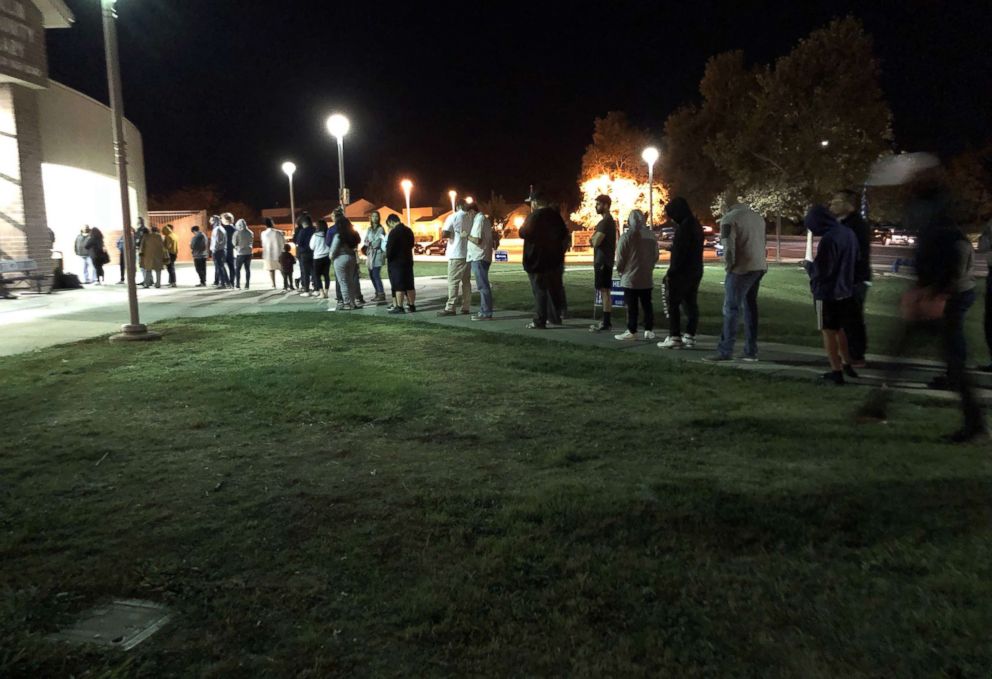 "I think they're tired of waiting, plus it's cold and the line is outside," Kaura said. Though he said there was "no stagnation" on line, an attendant offered ballots for voters to complete at home and drop off later -- and he saw several take them up on the offer.