It's becoming increasingly clear that both Washington and statehouses throughout the U.S. could be in for major changes.
No one race can tell the tale of this year's elections, but some common themes have emerged, including the backlash against President Donald Trump, the "pink wave" of female candidates running for office, a upswing in youth activism and engagement on key issues that could swing the balance of power, and an influx of veterans attempting to parlay their military experience into legislative roles.
Here's a look at some of the midterms' key races:
Arizona Senate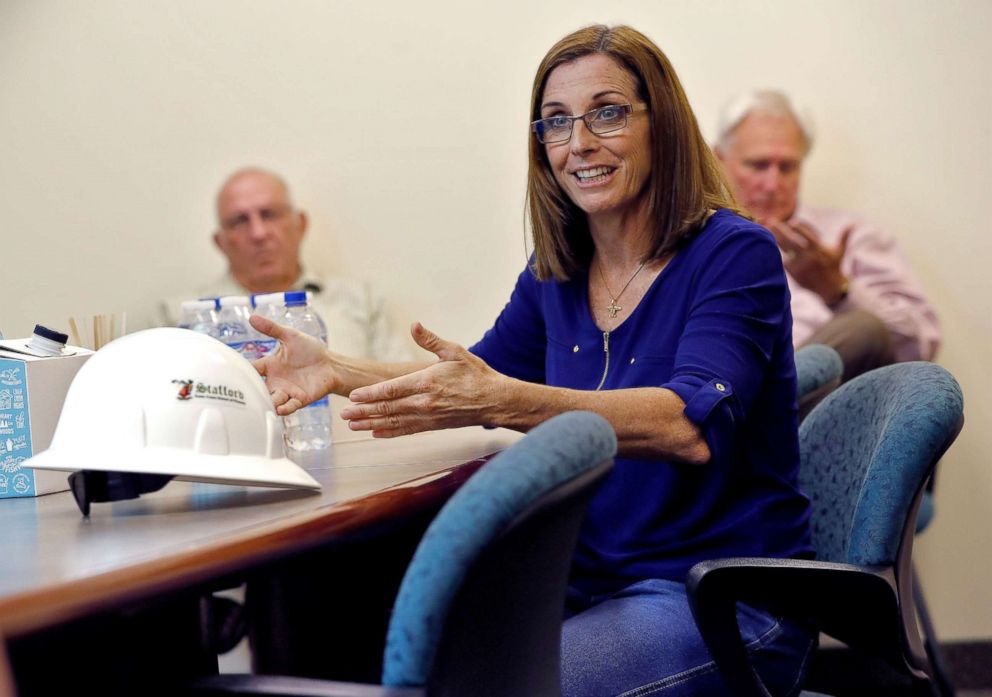 Republican candidate

Rep. Martha McSally: Current congresswoman from Arizona's 2nd District; former Air Force fighter pilot






Democratic candidate

Rep. Kyrsten Sinema: Current congresswoman from Arizona's 9th District




All eyes have been on the changing political landscape in Arizona with the death of Sen. John McCain and the proposed appointment of former Sen. Jon Kyl to fill the spot, but that isn't the seat that has been drawing out a competitive race this election season.

Sen. Jeff Flake's decision not to seek re-election opened up the seat -- and Republican field –- allowing the warring factions of the party to vie for the spot.

The Republican primary was not only a competition of differing ideas on the border wall and immigration but also showed the competition between the candidates as they tout their respective ties to Trump. Rep. Martha McSally emerged victorious, trouncing her competitors Kelli Ward and former Sheriff Joe Arpaio.

They all boasted of their various ties to Trump in an effort to woo supporters -- with Ward pointing back to a tweet Trump posted about her before the others were in the race, and Arpaio referencing his campaigning for and pardon from the president in the past -- but it was McSally who eventually earned Trump's endorsement after she was declared the winner in the primary on Aug. 28.

Now either McSally or Democratic nominee Rep. Kyrsten Sinema are set to make history in the state when they win the general election, with one of them becoming the first female senator to represent the Copper state. - ABC News' MEGHAN KENEALLY reports

Why it matters: Flake was a thorn in Trump's side, but he delivered on key voters. A Sinema victory would be further proof of Democratic gains in the diversifying Grand Canyon State.
Indiana Senate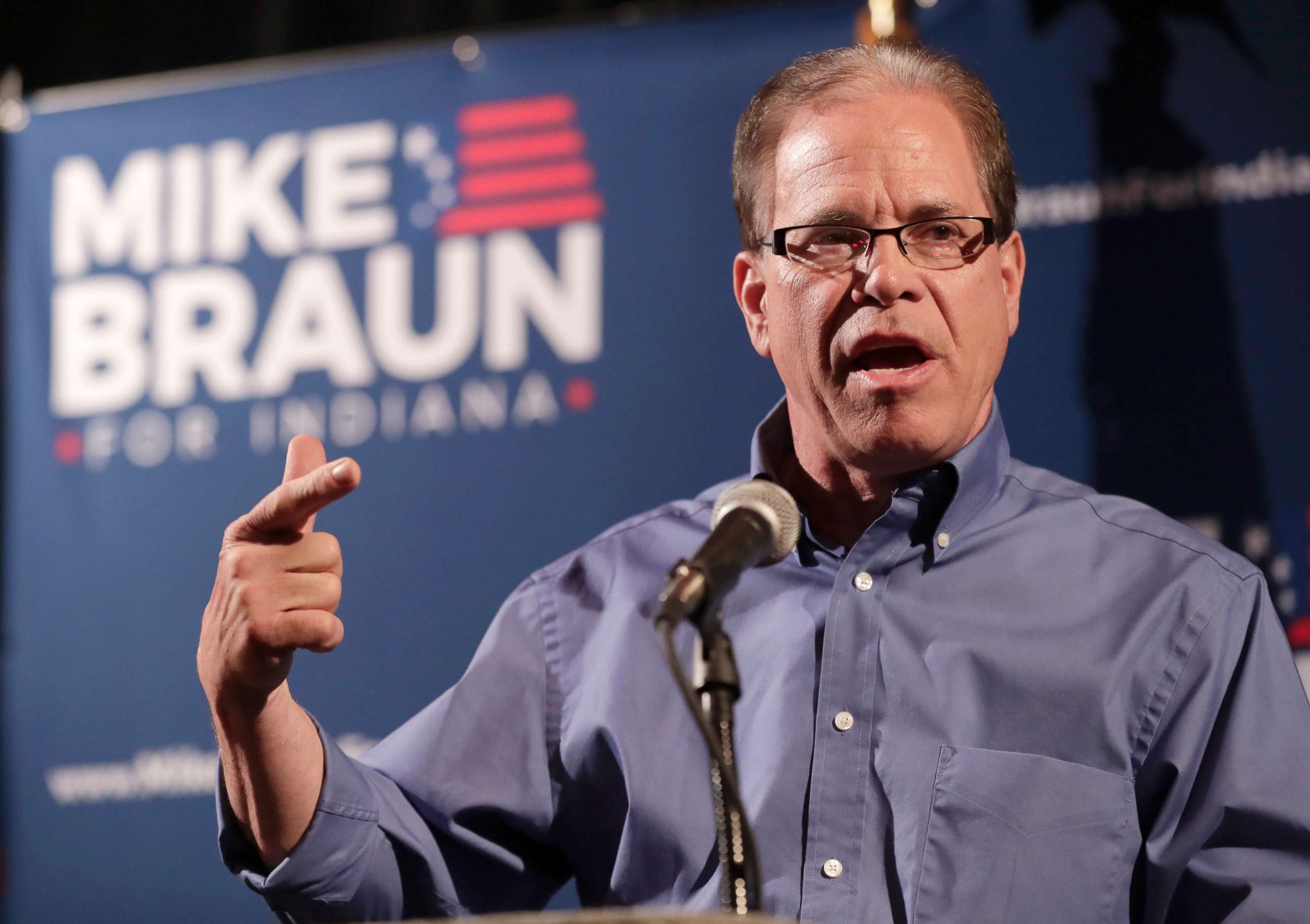 Republican candidate

Mike Braun: Business owner; former state representative






Democratic candidate

Sen. Joe Donnelly: Incumbent senator representing Indiana




This year's Indiana Senate race is sure to feature showdowns in the primary and general election cycles, putting Vice President Mike Pence's home state in the spotlight for battles within his own party, as well as across the aisle.

The matchup is set in a state Trump won by nearly 20 points in 2016 -- meaning incumbent Sen. Joe Donnelly is looking at a tough race against a slew of Republicans eager to take his seat.

In May, Indiana businessman Mike Braun won the GOP primary election, edging out House Reps. Todd Rokita and Luke Messer. The primary was filled with personal jabs and created an intra-party divide between sitting lawmakers and a political outsider. That difference in approach to politics spoke to a larger theme facing the Republican party heading into November's election.

As for the incumbent, Donnelly will have to fight a bitter battle to defend his seat at home and on a national level. While Donnelly aligns with Republicans on an issue like abortion, he has a target on his back for voting against tax reform that was painted on by the president himself during a tax event last fall in Indianapolis.

"If Senator Donnelly doesn't approve it, because you know, he's on the other side, we will come here. We will campaign against him like you wouldn't believe," Trump said at the time. - ABC News' ALISA WIERSEMA reports

Why it matters: Republican voters flocked to a Washington outsider during the 2016 presidential campaign, but after taking down a pair of congressmen in the primary, it remains to be seen if Braun's statehouse experience is enough to carry him the moderate Donnelly.
Missouri Senate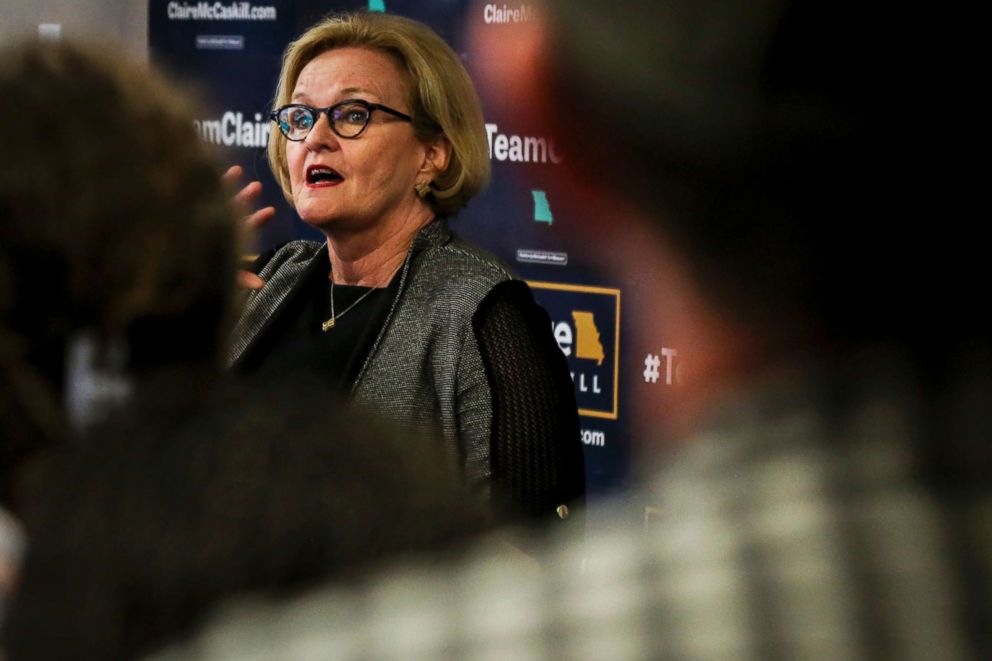 Republican candidate

Josh Hawley: Current Missouri state attorney general






Democratic candidate

Sen. Claire McCaskill: Incumbent senator representing Missouri




2018 marks Sen. Claire McCaskill's third Senate election, but the 65-year-old Democrat has never had it easy. After narrowly upsetting Sen. Jim Talent to earn the first term in 2006, McCaskill was specifically targeted by Republicans in 2012 who fell short after controversy engulfed candidate Todd Akin's campaign due to his "legitimate rape" comment.

Six years later, and after a presidential election in which President Trump won the "Show Me" State by over 18 points, the GOP has McCaskill's seat in its crosshairs again, this time with up-and-coming state attorney general Josh Hawley on the ballot.

At just 38 years old, Hawley would be the youngest member of the current Senate, and he has only served in public office since 2016, but despite his short record, he defeated 10 others in the state's Republican Senate primary in August with his next-closest competitor falling nearly 50 points behind.

Though representing a red state, McCaskill has been a fairly reliable vote for Democrats, coming through most recently with a "no" vote in the ultimately successful Republican effort to confirm Brett Kavanaugh to the Supreme Court. - ABC News' ADAM KELSEY reports

Why it matters: McCaskill long looked to be the Democratic senator in the most danger in 2018, but her experience in close races could be what sends her back to Washington for a third term.
North Dakota Senate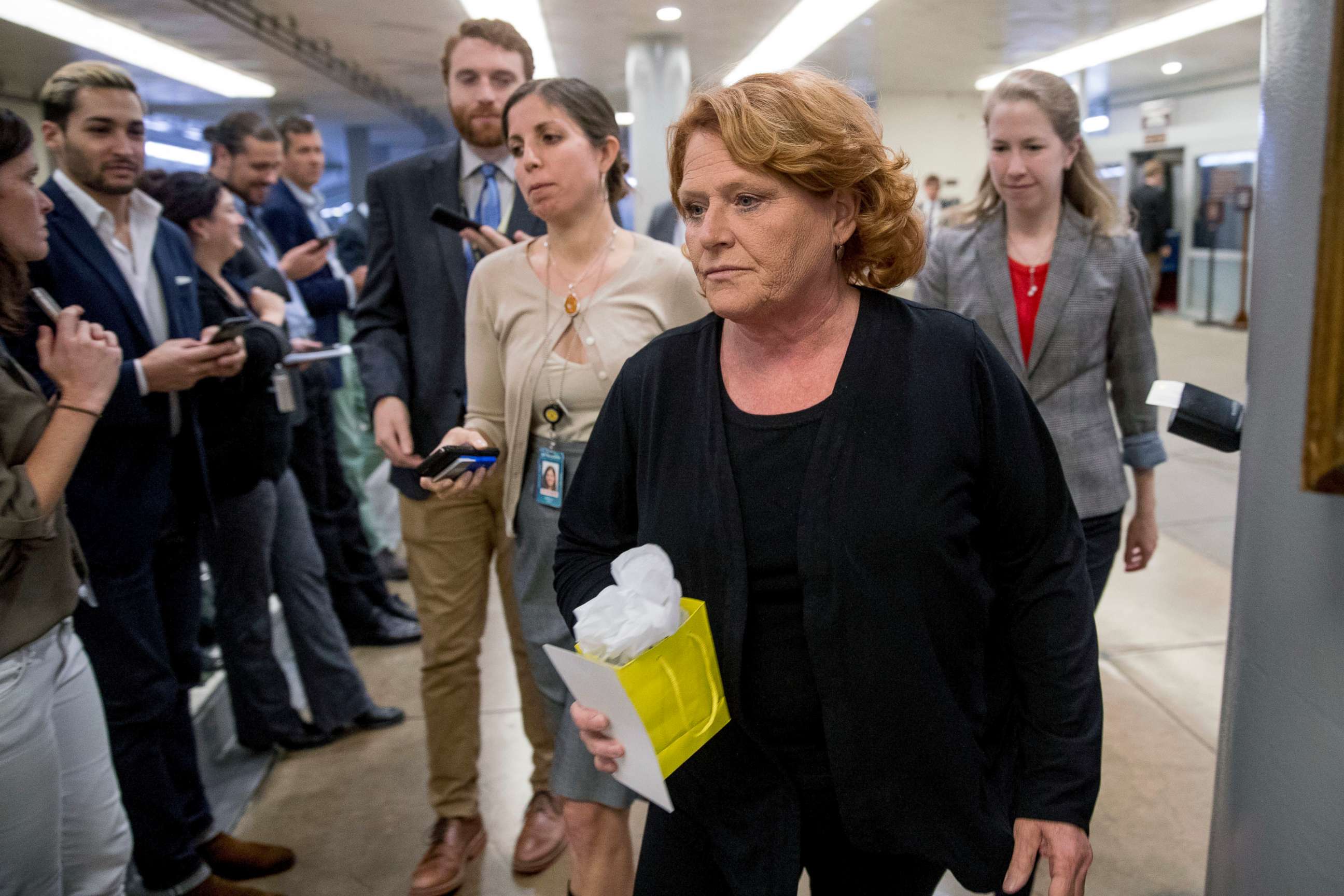 Republican candidate

Kevin Cramer: Current congressman from North Dakota's At-Large Congressional District






Democratic candidate

Sen. Heidi Heitkamp: Incumbent senator representing North Dakota




The Senate race in North Dakota between incumbent Democrat Heidi Heitkamp and at-large Republican Rep. Kevin Cramer is a toss-up.

Heitkamp is among the most vulnerable senators up for re-election in November. Trump won North Dakota in the 2016 presidential election by roughly 36 percentage points over Democratic nominee Hillary Clinton.

This puts Heitkamp in a uniquely challenging place. She'll have to peel off Republicans and Independent voters and keep her liberal, Democratic base happy at the same time.

She's also running in a state where Trump remains fairly popular, and thus it works to her benefit to stay on friendly terms with the president.

She has voted in favor of almost all of Trump's cabinet nominees. Last month she snagged a prime spot at the White House for a bill-signing event. And last year, she hitched a ride with the president on Air Force One to an event in North Dakota.

At one point, Trump told the crowd Heitkamp was a "good woman."

But Heitkamp has her work cut out for her. She's running against a highly popular candidate who has just as much name recognition as she does. - ABC News' MARIAM KHAN reports

Why it matters: Republicans attacked Heitkamp's bipartisan reputation over her decision to side with her party and oppose Brett Kavanaugh's Supreme Court nomination. A Cramer victory could show the weight the court holds in elections.
Texas Senate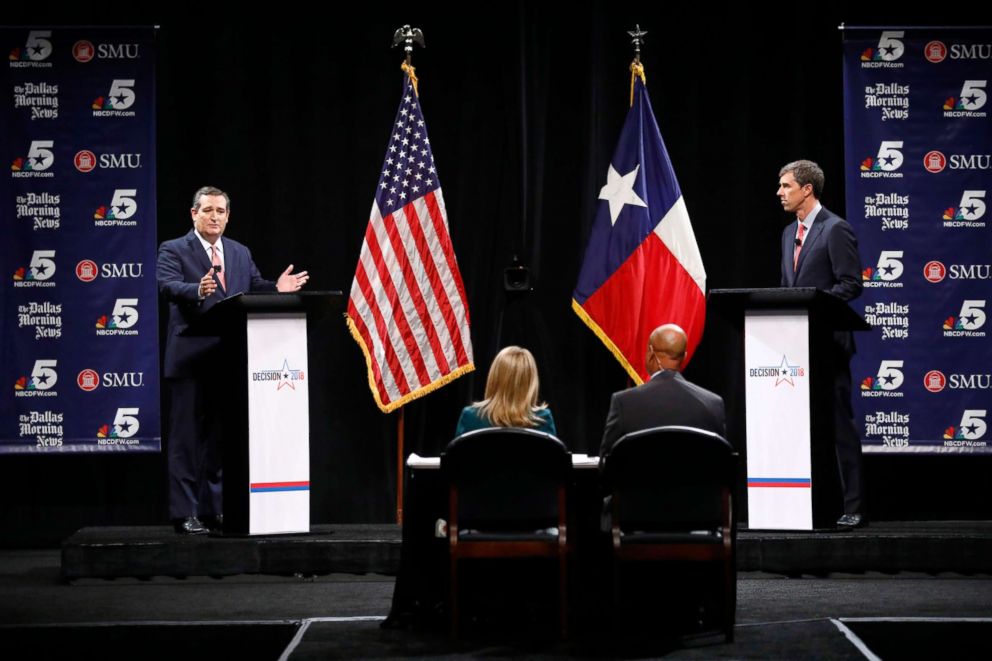 Republican candidate

Sen. Ted Cruz: Currently representing Texas in the U.S. Senate; former Texas solicitor general






Democratic candidate

Rep. Beto O'Rourke: Currently representing Texas' 16th Congressional District in the U.S. House




The closely-watched Senate race between Sen. Ted Cruz and three-term Democratic Rep. Beto O'Rourke is one of the highest-stakes contests for both sides previewing local and national storylines dominating the midterms.

For Democrats, turning Texas blue appears to be within reach after a political drought lasting over two decades. For Republicans, defending the seat in the Trump era is becoming far more difficult as shifting demographics, a crisis at the southern border, and it's most populous city still recovering from a devastating hurricane seep into the campaign battlefield. President Trump's campaign visit in October will also provide one of the midterms' most politically intriguing (and awkward given the two men's political history) moments.

After his failed 2016 presidential bid, Cruz is contending with his own ambition -- his status as one of the most visible and polarizing figures in American politics remains firmly intact. It's also a key part of O'Rourke's aggressive campaign that has cautiously embraced the progressive platform adopted by a growing group of Democratic candidates nationwide. The El Paso Democrat, who has posted impressive fundraising numbers, is garnering national attention for his hyper-local campaign that is traveling to every county in the state more than once – targeting not just Democratic strongholds, but the reddest parts of a deep red state that has not elected a Democrat to statewide office since 1994.

Cruz is trying frantically to paint O'Rourke as a member of the liberal, Nancy Pelosi-aligned faction of the Democratic Party. The incumbent is testing the limits of the progressive energy sweeping other parts of the country, and banking on a majority of Texas' conservative-leaning electorate rejecting the young challenger.

Both parties turned out in record numbers during the state's March primaries and a recent poll from Quinnipiac University had O'Rourke within six points of Cruz, with the two men tied with Independents. The two men have yet to step onto the debate stage together but expect the campaign to only become more contentious in the closing months. - ABC News' JOHN VERHOVEK reports

Why it matters: A blue Texas could change the electoral map for a generation, but early Democratic excitement and a massive fundraising haul still might not be enough to carry O'Rourke over Cruz.
Georgia governor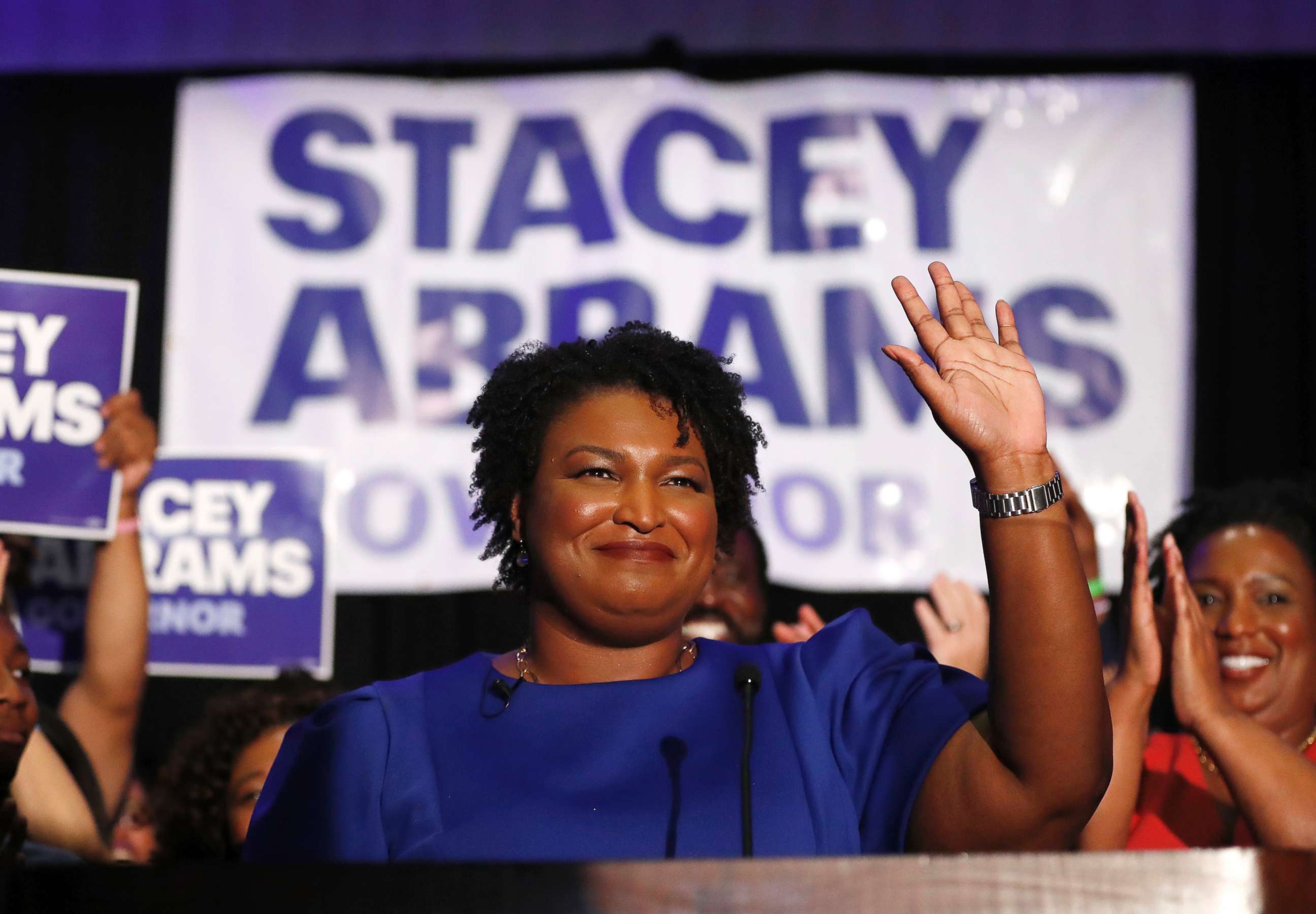 Republican candidate

Brian Kemp: Georgia secretary of state






Democratic candidate

Stacey Abrams: Former minority leader of the Georgia House of Representatives




After leapfrogging his opponent and capturing the party's nomination in the Republican runoff, Georgia's Secretary of State Brian Kemp is facing Democrat Stacey Abrams in a November gubernatorial general election that will test Georgia's political identity.

Kemp, who is a white, small business owner, frames himself as the "politically incorrect" candidate who often caps off his eyebrow-raising comments with "Yep, I just said that." The weight of the White House was behind Kemp, who more than made up the 13 points he trailed Lt. Gov. Casey Cagle in the first round of voting.

Abrams, an Ivy League-educated progressive black woman, attacked her primary opponents, who adjusted their message to appeal to the state's conservative traditions.

If elected, she would be the first black female governor in the country; a remarkable feat in a state that typically runs deeply red. She's drawn the outspoken support of Democratic heavyweights such as Sens. Cory Booker, Kamala Harris and Bernie Sanders.

Democrats hope that Georgia, where the president defeated Hillary Clinton by 5 percentage points in 2016, can be propelled into a swing state by 2020. Republicans hope Abrams, who clings to down-the-line liberal policies, will prove unable to attract a growing swath of moderates. - ABC News' JEFFREY COOK reports

Why it matters: Abrams is on the cusp of making history in a changing state that, for several weeks in 2016, pundits felt could swing to Hillary Clinton. Kemp is testing voters' appetite for a general election pivot back to the middle after he went far right during the primary.
Kentucky 6th Congressional District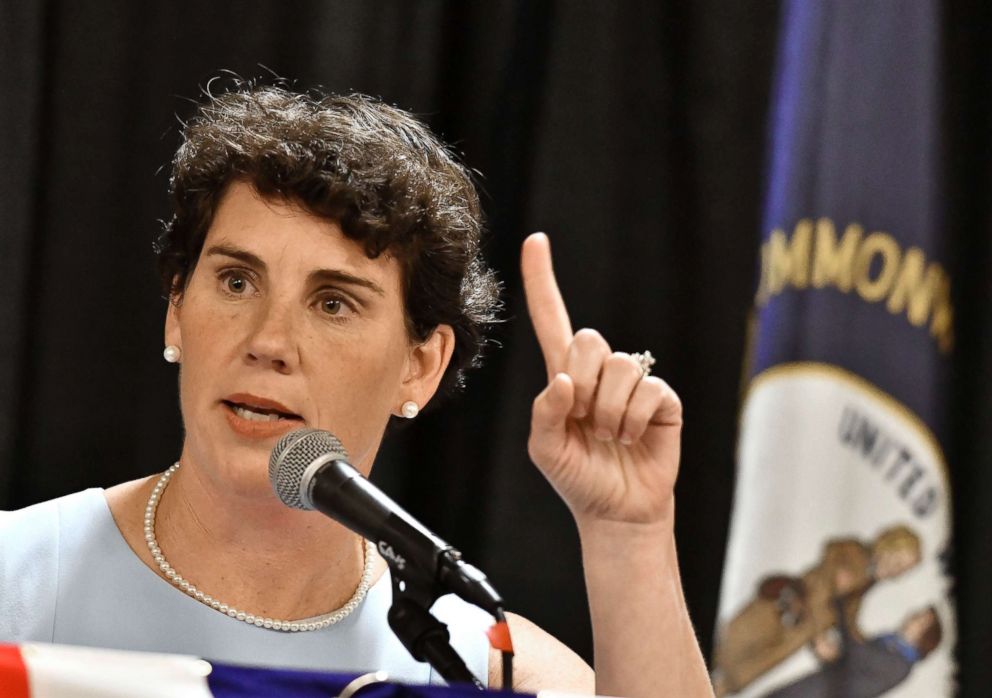 Republican candidate

Rep. Andy Barr: Incumbent U.S. representative






Democratic candidate

Amy McGrath: Former Marine fighter pilot




This fall, Republican incumbent Rep. Andy Barr is facing Democrat Amy McGrath, a former U.S. Air Force fighter pilot, creating perhaps his most challenging defense of his seat since he took office in 2013 as Democrats search for a path to the House majority.

McGrath, who has never held political office, is the first female Marine to fly in an F/A-18 in combat, conducting 89 bombing runs over al Qaeda and the Taliban. She graduated from the U.S. Naval Academy and served 20 years in the Marine Corps, rising to the rank of lieutenant colonel.

McGrath rallied from a 47-point deficit to win her primary over Lexington Mayor Jim Gray and state Sen. Reggie Thomas. She gained national prominence after a biographical ad she ran last summer went viral.

Barr is a former congressional staffer and a lawyer by trade. He is currently serving in his third term in the House. - ABC News' JOHN PARKINSON reports

Why it matters: The Kentucky race embodies many of 2018's storylines in one race: Republicans never imagined Democrats could compete in this Trump +15 district, but McGrath, whose military experience has been a centerpiece of her campaign, could ride the "pink wave" into office.