In a surprise appearance on a campaign livestream, Vermont Sen. Bernie Sanders endorsed former Vice President Joe Biden for the Democratic presidential nomination.
"Today, I am asking all Americans, I'm asking every Democrat, I'm asking every Independent, I'm asking a lot of Republicans, to come together in this campaign to support your candidacy, which I endorse -- to make certain that we defeat somebody who I believe -- and I'm speaking just for myself now -- is the most dangerous president in the modern history of this country," Sanders said, joining Biden.
The significant endorsement and show of party unity came far earlier in this cycle than in 2016, when Sanders was criticized for his late exit from the Democratic primary. The Vermont senator also faced criticism for not immediately offering an explicit endorsement of Biden after suspending his own presidential campaign less than a week ago to unify the party ahead of the November election against President Donald Trump.
The Vermont senator's endorsement of his former rival comes nearly three months earlier than his endorsement of former Secretary of State Hillary Clinton in the 2016 cycle, and far earlier than Clinton's backing of former President Barack Obama eight years before that.
Sanders is now the 17th former Democratic candidate to endorse Biden, joining fellow Sens. Kamala Harris, Amy Klobuchar and Cory Booker, along with former South Bend, Indiana, Mayor Pete Buttigieg and others in supporting the former vice president.
On the livestream -- which Biden has been making use of in place of in-person campaign events during the coronavirus pandemic -- Biden thanked Sanders and called his endorsement "a big deal." He also joked that the senator's endorsement may have officially made him the Democratic Party's presidential nominee.
"I think that your endorsement means a great deal. It means a great deal to me," Biden said. "I think people are going to be surprised that we are apart on some issues, but we're awfully close on a whole bunch of others."
The two former rivals also announced that they are working together to create six working groups focusing on education, criminal justice, climate change, immigration, the economy, and health care policy during the 2020 race.
However, despite their agreement to work together on these policy areas, Sanders said the two candidates still have significant differences on their view of health care, the policy they most often sparred over on the debate stage.
"It's no great secret out there, Joe, that you and I have our differences. We're not going to paper them over -- that's real. But I hope that these task forces will come together, utilizing the best minds and people in your campaign and in my campaign to work out real solutions to these very, very important problems," Sanders said during the livestream.
Sanders suspended his own presidential campaign last week, a day after Wisconsin voted in a controversially held election, results of which have not yet been announced. He had been the last remaining Democrat campaigning for the nomination aside from Biden.
Tune into ABC at 1 p.m. ET and ABC News Live at 4 p.m. ET every weekday for special coverage of the novel coronavirus with the full ABC News team, including the latest news, context and analysis.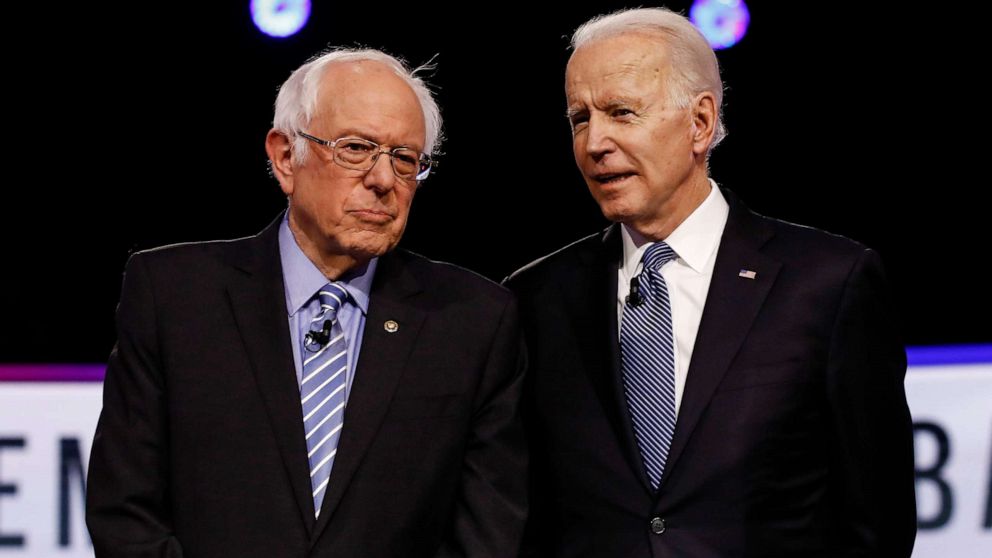 A senior source who served on Sanders' campaign told ABC News that there's no sense yet for whether the senator would hit the road to campaign for Biden because they don't know what campaigning is going to look like as the novel coronavirus pandemic continues to freeze American society.
Since Sanders' departure from the race, Biden and his campaign have put a major focus on trying to win over Sanders' supporters who have been critical of Biden's more moderate policy positions compared to the Vermont senator. Biden recently adopted two left-leaning policies on student debt and Medicare qualification -- demonstrating his expanding outlook.
"We can transform this nation. We can transform it so that it goes down in history -- with your help, Bernie -- as one of the most progressive administrations since Roosevelt, and I really believe that -- I think -- is doable, because the whole world has changed," Biden said.
While Sanders' endorsement represents a boost to Biden's campaign, the former vice president still faces resistance from some of the Vermont senator's more ardent supporters, whose support he will likely need to defeat Trump in November.
"With the utmost respect for Bernie Sanders, who is an incredible human being & a genuine inspiration, I don't endorse Joe Biden," Sanders former national press secretary Briahna Joy Gray, tweeted Monday after the announcement was made.
Biden's campaign, minutes after the endorsement, sent a fundraising email utilizing Sanders' "Not me. Us." slogan, telling supporters of his former rival's campaign that he understands the "urgency," of their priorities.
"I'm excited to continue the work Bernie started in the months and years ahead. As he says: Not me. Us," Biden wrote. "And to Bernie's supporters, I make the same commitment: I see you, I hear you, and I understand the urgency of what it is we have to get done in this country."
ABC News' Adam Kelsey contributed to this report.
What to know about coronavirus: