Reports last week that the federal government is attempting to establish a narrow legal definition of gender has prompted swift outrage from psychology, civil liberty and transgender rights organizations.
The upheaval stems from a memo that The New York Times obtained that alleges that the Department of Health and Human Services is working to legally define gender as either male or female.
In doing so, gender would be qualified as "unchangeable, and determined by the genitals that a person is born with," according to The Times. The memo also reportedly stipulates that any dispute about an individual's sex would have to be clarified using genetic testing.
ABC News has not been able to independently verify the contents of the memo.
Defining gender as a binary and based on one's genitalia at birth removes the legal ability for transgender individuals to self-identify as who they really are. The existing medical practices, as implemented and supported by groups like the American Medical Association, acknowledges that an individual's gender identity does not always a binary choice.
The issue made national headlines when there was widespread debate over various "bathroom bills" that would restrict what facilities transgender individuals could use. When that debate was going on in 2017, Jesse M. Ehrenfeld, a member of the AMA Board of Trustees, released a statement saying that laws "based on biological gender can have immediate and lingering physical consequences, as well as severe mental health repercussions."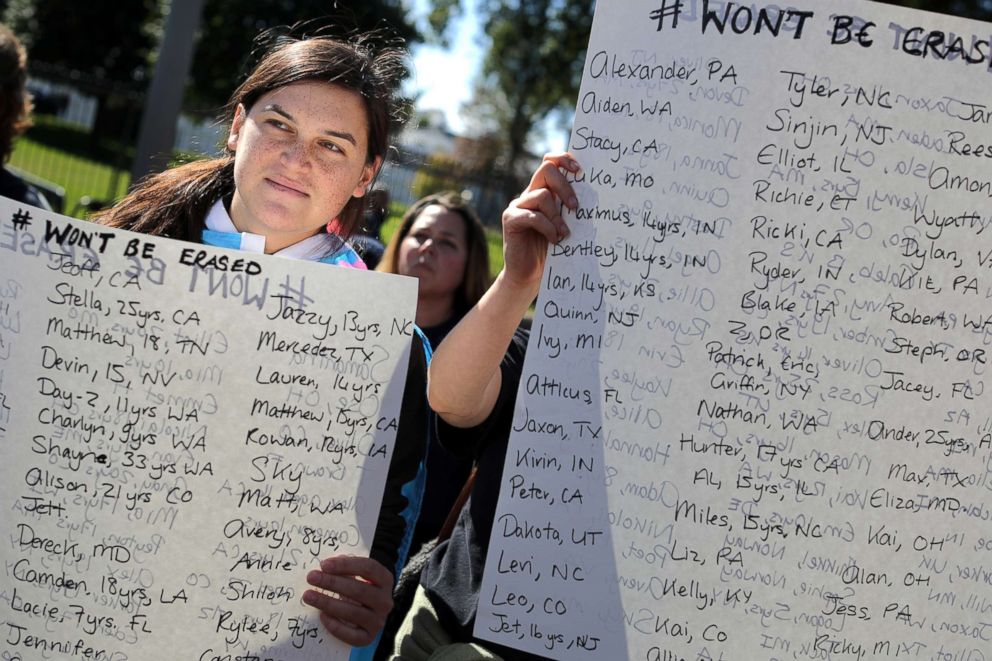 Transgender rights activists were immediate with their pushback against the alleged proposals reported in The New York Times article.
"This administration is willing to disregard the established medical and legal view of our rights and ourselves to solidify an archaic, dogmatic, and frightening view of the world," said Mara Keisling, executive director of the National Center for Transgender Equality, in a statement. "This transparent political attack will not succeed administratively, legally, or morally."
The White House initially referred all questions about the Times report to the HHS, but President Trump weighed in Monday saying that his administration was "looking at it."
"We have a lot of different concepts right now and we have a lot of different things happening with respect to transgender right now," said Trump. "You know that as well as I do and we are looking at it very seriously."
An HHS spokesperson said that the department does not comment on alleged leaked documents, but said that the Obama administration extended the margins of earlier legal precedent in their administration's handling of issues relating to gender.
Oakley added that HHS will continue to review the issue and "vigorously enforce all laws as written and passed by Congress, prohibiting discrimination in healthcare on the basis of race, color, religion, national origin, sex, age, and disability."
Transgender rights advocates and other medical professionals however, remain deeply alarmed.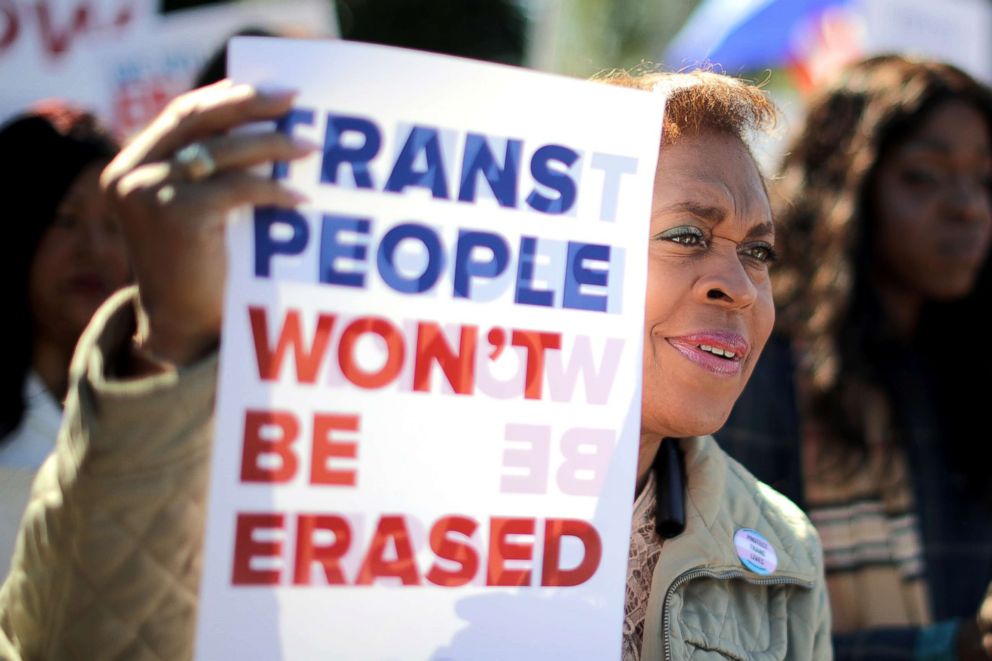 Jessica Henderson Daniel, the president of the American Psychological Association, said that she is "appalled" by the report.
"For decades, researchers have recognized that gender is not necessarily determined by a person's biological sex assigned at birth, which can be physiologically uncertain in some cases," Daniel said in a statement. "Purposely ignoring this body of evidence is indefensible and certain to add to the stress and discrimination already experienced by transgender people."
Similar sentiments were expressed by Diana Flynn, the litigation director of Lambda Legal, a civil rights group that advocates for LGBTQ individuals.
"If the New York Times story is accurate, the sheer breadth of what HHS is proposing is jaw-dropping," Flynn said in a statement. "This is clearly another ideologically-driven attempt by the Trump administration to marginalize transgender people and force them into the shadows."
The American Civil Liberties Union called the proposals "hateful and hurtful policies" and wrote in a tweet that if the administration moves forward with such plans, "we'll see them in the courts and in the streets."
The hashtag #WontBeErased circulated widely on social media over the weekend, and outrage extended into the real world as well.
The National Center for Transgender Equality organized a protest in front of the White House Monday afternoon and several transgender rights groups organized a rally in front of the Los Angeles City Hall Monday evening.