President Donald Trump on Tuesday faced questions about his reasons for posting a late-night tweet announcing he will sign an executive order temporarily suspending legal immigration to the U.S. -- as some parts of the country start opening up and others continue to fight a worsening battle against the novel coronavirus and its unprecedented health and economic impacts.
He said at Tuesday's White House briefing that he would probably sign the order Wednesday and that the 60-day "pause" would apply to those seeking green cards but not apply to farm workers.
After weeks of back and forth on a national stage, criticizing and complimenting each other's response to the pandemic, Democratic Gov. Andrew Cuomo of New York, the state hit hardest by the COVID-19, visited President Trump at the White House Tuesday just before the daily coronavirus task force briefing.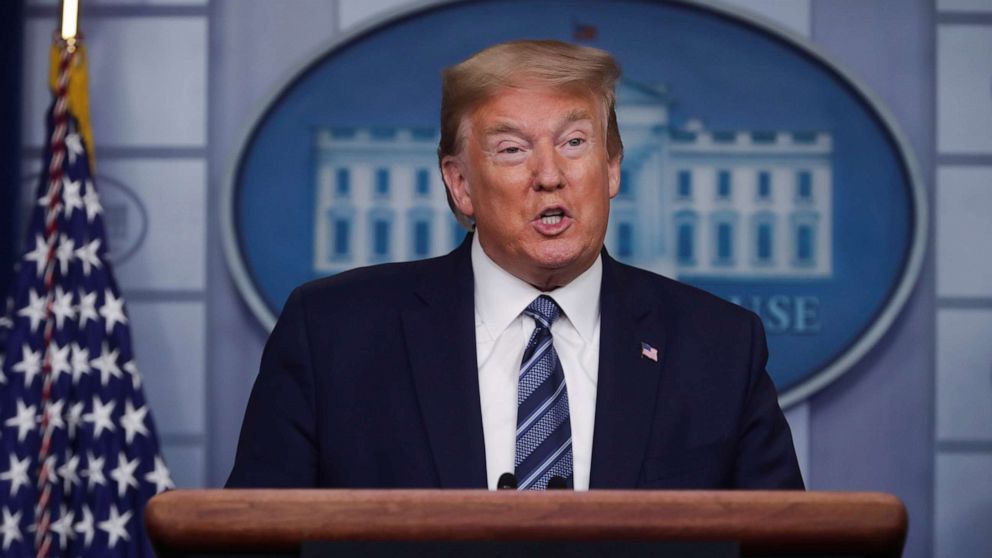 States looking to reopen may not necessarily be meeting the White House guidelines, said coronavirus response coordinator Deborah Birx, but it's up to governors to makes those decisions, and many Republican-led southern states are leading the way on reopening.
Tune into ABC at 1 p.m. ET and ABC News Live at 4 p.m. ET every weekday for special coverage of the novel coronavirus with the full ABC News team, including the latest news, context and analysis.
Here are Tuesday's most significant developments in Washington:
Trump says he will sign an executive order temporarily suspending legal immigration to the U.S., probably on Wednesday
Senate passes deal on replenishing small business loan fund, includes national testing plan
Trump says he'll ask big companies who received small business loans to give money back
Trump discusses testing strategy with New York Gov. Andrew Cuomo at White House
President dismisses concerns that easing restrictions could backfire, but said he would talk to Georgia's governor
Here are the latest developments in the government response: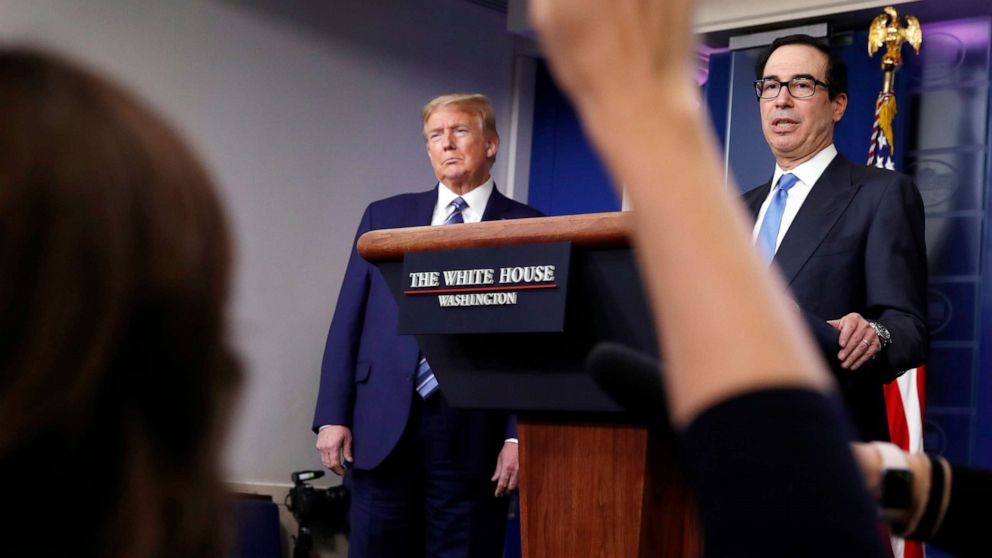 Trump repeats new slogan to 'open up America again,' dismisses concerns that easing restrictions could backfire
Trump began Tuesday's White House briefing by repeating what's become like a new campaign slogan for him: that he is reopening the country despite a tremendous war underway with an "invisible enemy" -- the novel coronavirus.
"We are opening up America again. Twenty states, representing 40 percent of the population have announced that they are making plans and preparations to safely restart their economies in the very near future," the president said, without providing specifics. "They're moving along pretty quickly. Three announced today, as you know. And they are going to be doing it safely."
Several governors have started to ease stay-at-home restrictions, or have announced plans to do as early as next week, despite some of those states reporting an increase of COVID-19 cases.
The "gating criteria" part of the White House guidance recommends states demonstrate a two-week downward trend in new cases, ensure that hospitals have enough beds for patients and have adequate testing measures for health care workers in place.
Several experts, including the task force's own Dr. Anthony Fauci, have expressed concern that loosening social distancing restrictions too soon could backfire and lead to a new spike in cases and deaths.
Trump said he would speak to Georgia GOP Gov. Brian Kemp after the briefing to ask him whether people entering businesses being allowed to reopen, such as nail salons, would be tested. Kemp has come under fire for saying some businesses such as bowling alleys, tattoo parlors and barber shops could reopen on Friday.
While Trump has said he's leaving the decisions on easing restrictions and reopening businesses to governors, he continued to defend protests against stay-at-home orders and claimed the protesters he's seen have been social distancing.
"People want to get back to work. I've watched some of the protests, not in great detail, but I've seen that. They are separated. There's a lot of space in between," Trump said, while images from across the country show the opposite. "The groups I've seen have been very much spread out."
The president went on to say that he would intervene if he sees governors "doing something we don't like," although some states already lifting restrictions are doing so against the recommendation of the White House reopening "gating criteria" -- such as a decrease in cases.
White House coronavirus response coordinator Dr. Deborah Birx backed the president, saying the information has been given to governors, and it is up to them to make the decisions they feel are right for their states.
"I'm not going to second judge anyone about their decision-making," Birx said, before pointing to White House guidance. "What I'm going to say is we were very clear in what we really believe protects the safety of Americans. And that is clearly laid out in the 'Opening Up American Again.'"
Trump says he'll ask big companies that received small business loans to give money back
ABC News' Chief White House Correspondent Jonathan Karl asked Treasury Secretary Steven Mnuchin, who appeared at the briefing to praise an interim deal between the White House and congressional leaders, if the administration would ask larger companies like Shake Shack that successfully received a loan from the program to give the money back.
"I'm going to request it," Trump injected, claiming he will ask some reported recipients like Harvard University to return the money intended for small businesses.
"Harvard's gonna pay back the money. And they shouldn't be taking it," Trump said, after the institution received a loan reportedly to help fund its student newspaper. "You have a number of -- I'm not gonna mention any other names, but when I saw Harvard -- they have one of the largest endowments anywhere in the country, maybe in the world, I guess. And they are going to pay back that money."
In a statement posted to Facebook later, the university indicated it did not apply for or receive any money through the program for small businesses.
"Reports saying otherwise are inaccurate. President Trump is right that it would not have been appropriate for our institution to receive funds that were designated for struggling small businesses," according to the university statement. "Like most colleges and universities, Harvard has been allocated funds as part of the CARES Act Higher Education Emergency Relief Fund. Harvard has committed that 100% of these emergency higher education funds will be used to provide direct assistance to students facing urgent financial needs due to the COVID-19 pandemic."
Harvard's statement went on to explain that the financial assistance is on top of the support it has provided to students for things such as travel, living expenses and the transition to online education.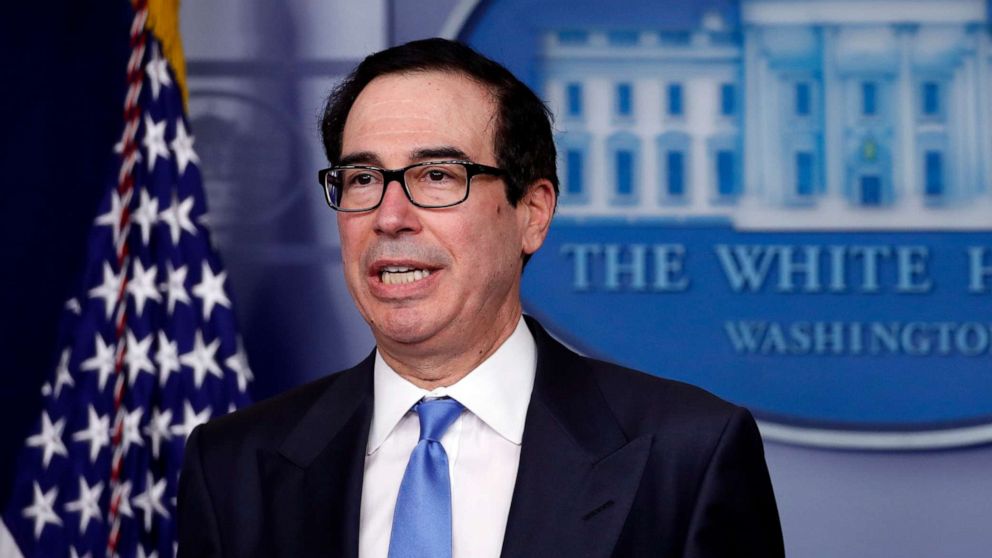 "I ask people to just make sure the intent of this was for business that needed the money. We'll put out an FAQ. But, again, the intent of this money was not for big public companies that have access to capital," Mnuchin added.
Asked by Karl if he has an estimate of how many jobs have been saved with the program, Mnuchin put the number at "far over 30 million jobs."
"Again, that doesn't account for other money that we sent out," he added, pointing to direct deposits and paper relief checks starting to go out.
The interim deal to replenish the Paycheck Protection Program for small businesses adds funding for testing and hospitals, and comes on top of a record $2 trillion coronavirus relief law passed by Congress last month.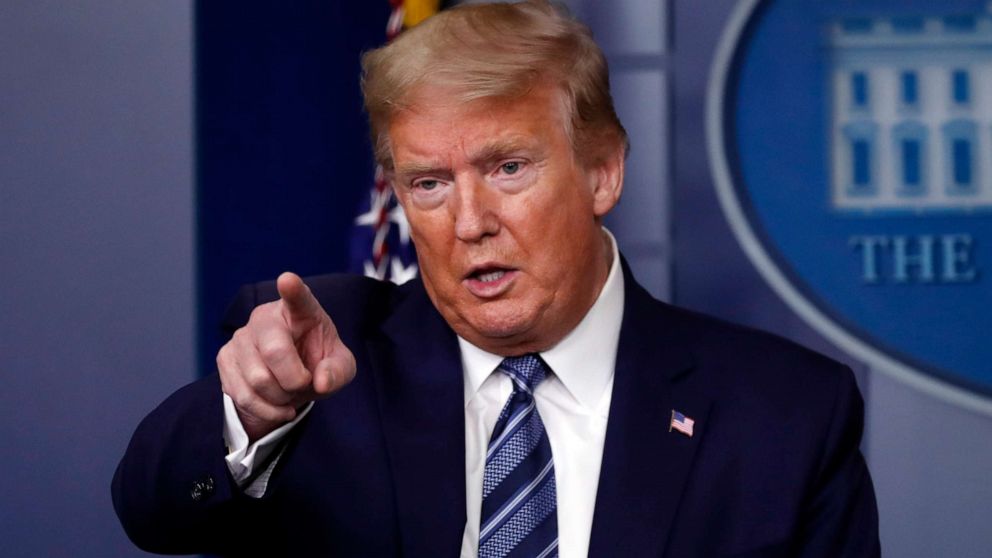 Trump clarifies immigration halt would be for 60 days, only for people applying for green cards
President Trump also provided some clarity for his announcement on Twitter late Monday that his administration would temporarily stop immigration into the U.S. amid the pandemic. In an apparent appeal to his political base, the president said, "We must first take care of the American worker."
"This pause will be in effect for 60 days," Trump clarified. "This order will only apply to individuals seeking a permanent residency. In other words, those receiving green cards, big factor, will not apply to those entering on a temporary basis."
It also would not apply to farm workers, he said.
He said he would probably sign the order, which he said is still being drafted, on Wednesday.
The president also barred asylum seekers from the U.S. last month, citing a drain on the country's medical resources.
Oval Office meeting with Cuomo sparks questions on expanded testing
Trump met with New York Gov. Andrew Cuomo in the Oval Office before Tuesday's briefing, to talk about testing, after weeks of the two trading New York-style shots and compliments over each other's response to the pandemic.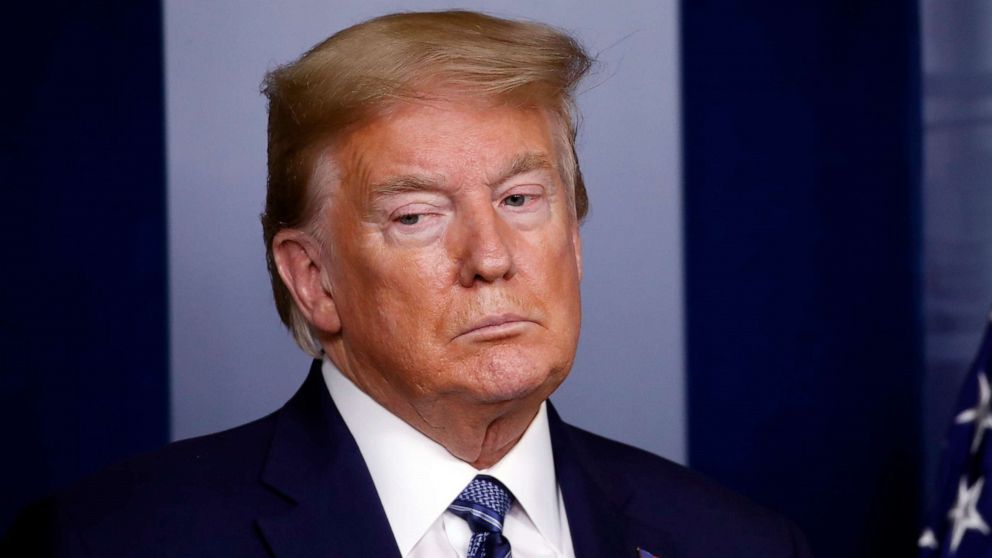 Asked if Cuomo convinced Trump of a need for expanded testing, as several governors are pushing, the president said he and the governor "have an understanding" and that some governors don't want the federal government's oversight on testing.
"We have a very good understanding. We are going to do very significant testing. You know, not everyone wants to do testing. Testing is good in some cases. And in some cases it's not. They think they can do it in a different manner and do it better," Trump said, before bringing it back to Cuomo. "We had a great meeting today. The governor and I had a really great meeting."
Trump has resisted taking a bigger federal role on testing saying it's a job for the states.
Meanwhile, some governors have reported major problems with the testing supply-chain in their states, as Senate Minority Leader Chuck Schumer says new legislation which passed the Senate this afternoon includes a plan for national testing.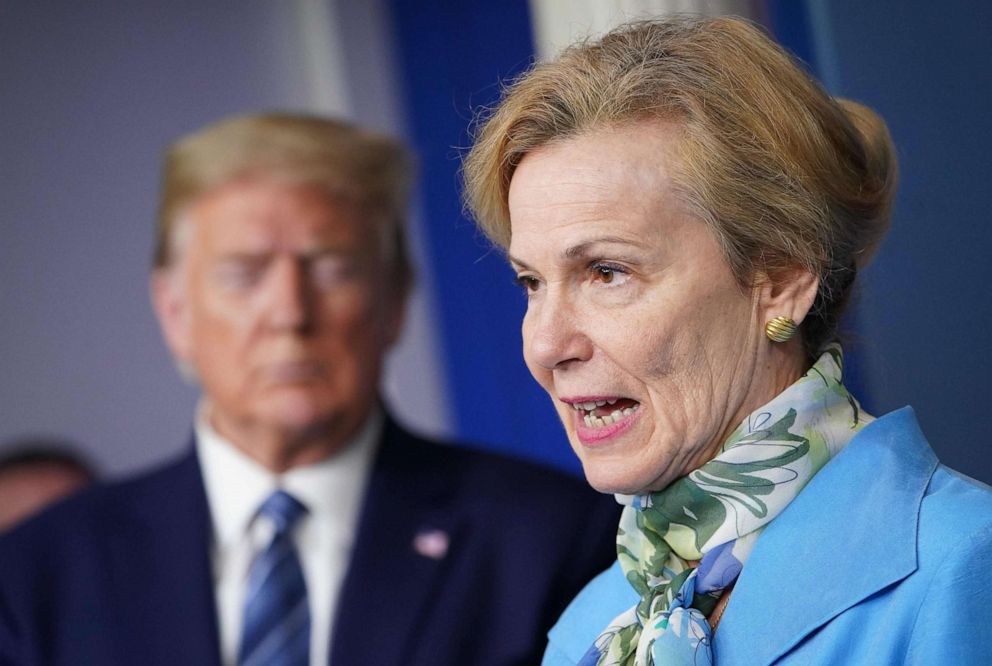 Asked about CDC Director Robert Redfield's prediction there would be a worse wave of COVID-19 next winter, Birx said she wasn't sure if that was true but that, in any case, it important to prepare by having ways to monitor communities and react to infection spikes. She also said she hoped there would be more treatment options in place by then.
"I don't know if it will be worse," Birx said. "We are going to continue that surveillance from now all the way through the fall to be able to give us that early warning signal."
Later, President Trump said that people needed to continue to socially distance until the virus was gone. People need to "keep away until this thing is gone" and that people needed to socially distance until it's gone, he added.
From earlier today:
Senate approves $484B relief package for small business, hospitals, testing
The Senate unanimously approved a bipartisan deal with a voice vote Tuesday afternoon that will pump another $310 billion into the Paycheck Protection Program, a federal program designed to extend loans to small business owners to help retain their employees for two months and keep their companies afloat amid the coronavirus pandemic.
The overall deal lawmakers and the White House agreed to tops $484 billion and also adds funding for hospitals and a national testing plan, measures pushed for by Democrats.
It comes just weeks after Congress approved a $2 trillion stimulus package, the largest relief measure in American history.
Sen. Rand Paul, R-Ky., spoke in opposition to the bill, calling for the economy to be re-opened as soon as possible.
"No amount of money -- not all the money in China -- will save us from ourselves," Paul said. "Our only hope of rescuing this great country is to reopen the economy."
The House is expected to vote on the legislation Thursday, and the president has indicated he would promptly sign it.
-- ABC News' Trish Turner, Mariam Khan, Sarah Kolinovsky and Benjamin Siegel
Largest nurses union in US protests in front of White House for personal protective equipment
Donning masks and practicing social distancing, roughly 20 members of the largest nurses union in the U.S. protested at the White House on Tuesday to demand additional funding for mass production of personal protective equipment in the next coronavirus relief package.
"We have a federal government that is failing nurses," said one protester, citing the tens of thousands of health care workers who have become infected with COVID-19.
Representatives of National Nurses United, or NNU, held photos and read aloud the names of 48 registered nurses who have died from COVID-19 as hospitals across the country struggle to provide masks, gowns, gloves, shoe coverings and other equipment for staffers.
The union is calling on Congress to include a mandatory emergency temporary standard for health care workers -- mandating they're provided with PPE -- in its next COVID-19 legislative package, and on President Trump to fully exercise use of the Defense Production Act to produce PPE as he's done with ventilators.
"There have been three COVID-19 packages passed in Congress and not one has earmarked any COVID funds for healthcare workers' PPE in any of those packages," the protester added. "The president has not fully exercised the Defense Production Act to produce badly needed PPE -- and the CDC continues to weaken its COVID-19 guidance for facilities."
The CDC has issued guidance for asymptomatic health care workers deemed essential to return to work and for the reuse of cloth gowns and masks after sanitation.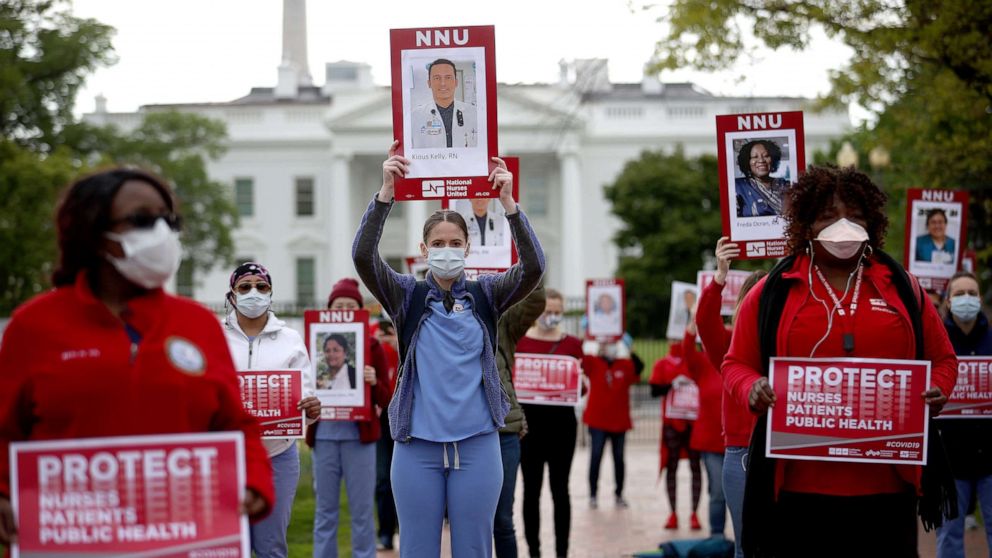 White House and Capitol Hill leaders near deal on small business fund
The Senate is expected to approve a deal as early as Tuesday afternoon that would pump $310 billion into the Paycheck Protection Program, a fund meant to help small businesses that ran out of money within 13 days of its launch.
Senate Minority Leader Chuck Schumer told CNN Tuesday morning, "I think we will be able to pass this today."
"There are still some more i's to dot and t's to cross, but we have a deal," he added.
He appeared to declare a victory in saying that Democrats achieved their goal of adding a national testing plan as part of the package, but it's unclear how that would pan out.
"To get the kinds of testing that is done, to get the contract tracing, to make the tests free, you need a significant federal involvement, you need a national strategy, and the President and Mnuchin and Meadows agreed to that, to their credit," Schumer said.
The New York senator said he was on a call with House Speaker Nancy Pelosi, Treasury Secretary Steve Mnuchin and Trump Chief of Staff Mark Meadows were on a call "well past midnight" to lock down the final details, and staff worked through the night to bang these out into legislative text.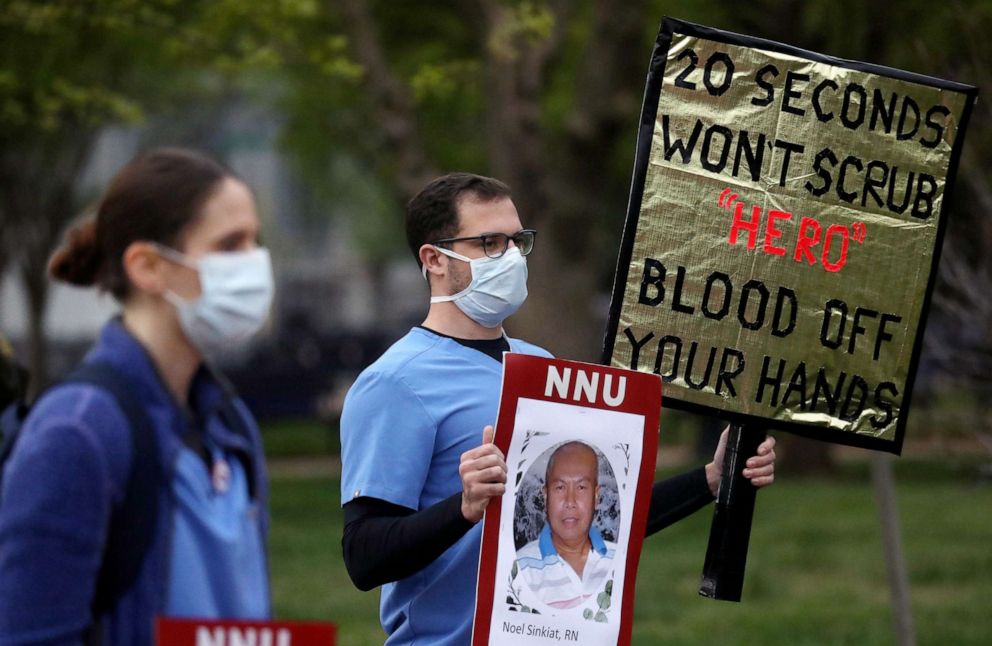 If the legislation passes the Senate Tuesday, the House is expected to consider it as early as Thursday.
Schumer said Democrats pushed for and got a $25 billion national testing plan, $125 billion walled off in PPP for underbanked communities, $75 billion for hospitals, and commitment that states and local officials can use federal money for "lost revenues," something he said was needed by this group.
The president tweeted his endorsement of the latest economic package later Tuesday.
-- ABC News' Trish Turner, Mariam Khan and Ben Gittleson
WH national security adviser defends potential immigration executive order
White House National Security Adviser Robert O'Brien defended President Trump's potential immigration executive order in an appearance on "Fox and Friends" this morning.
O'Brien said the potential action is part of Trump's effort to "do everything he can to put the health of the American people first during this crisis."
"It's one step. It's not dissimilar to the restrictions on travel from China he implemented back on January 29th," he said. "We think those restrictions saved thousands or tens of thousands of lives."
"The president is not going to be guided by politics, he's going to be guided by doing what's best for the health of the American people," he said, adding that it's also meant to protect the American economy as well.
Asked if he thinks Trump regrets being so complimentary to Chinese President Xi Jinping given China's handling of the initial coronavirus outbreak, O'Brien said Trump is "always complementary" with foreign leaders and a "real gentleman" on the phone with world leaders.
"We want to get along with China, we have a trade deal," he said, "but China needs to behave in a fashion that makes them a responsible player in the world."
-- ABC News' Benjamin Siegel
What to know about the coronavirus: