DeSantis says he would seek to end birthright citizenship for children of undocumented immigrants
The Republican presidential candidate introduced border policies on Monday.
EAGLE PASS, Texas -- Florida GOP Gov. Ron DeSantis announced Monday that he would seek to eliminate the constitutional guarantee of citizenship for children of undocumented immigrants born in the United States.
So-called "birthright citizenship" has long been considered protected under the 14th Amendment, which guarantees citizenship to all individuals "born or naturalized in the United States."
That language has largely kept conservatives who oppose it from challenging it in court, though former President Donald Trump in 2018 promised an executive order to eliminate it, a threat on which he never followed through.
Trump, the current front-runner in the Republican primary, has again promised to try to strike the protection if elected.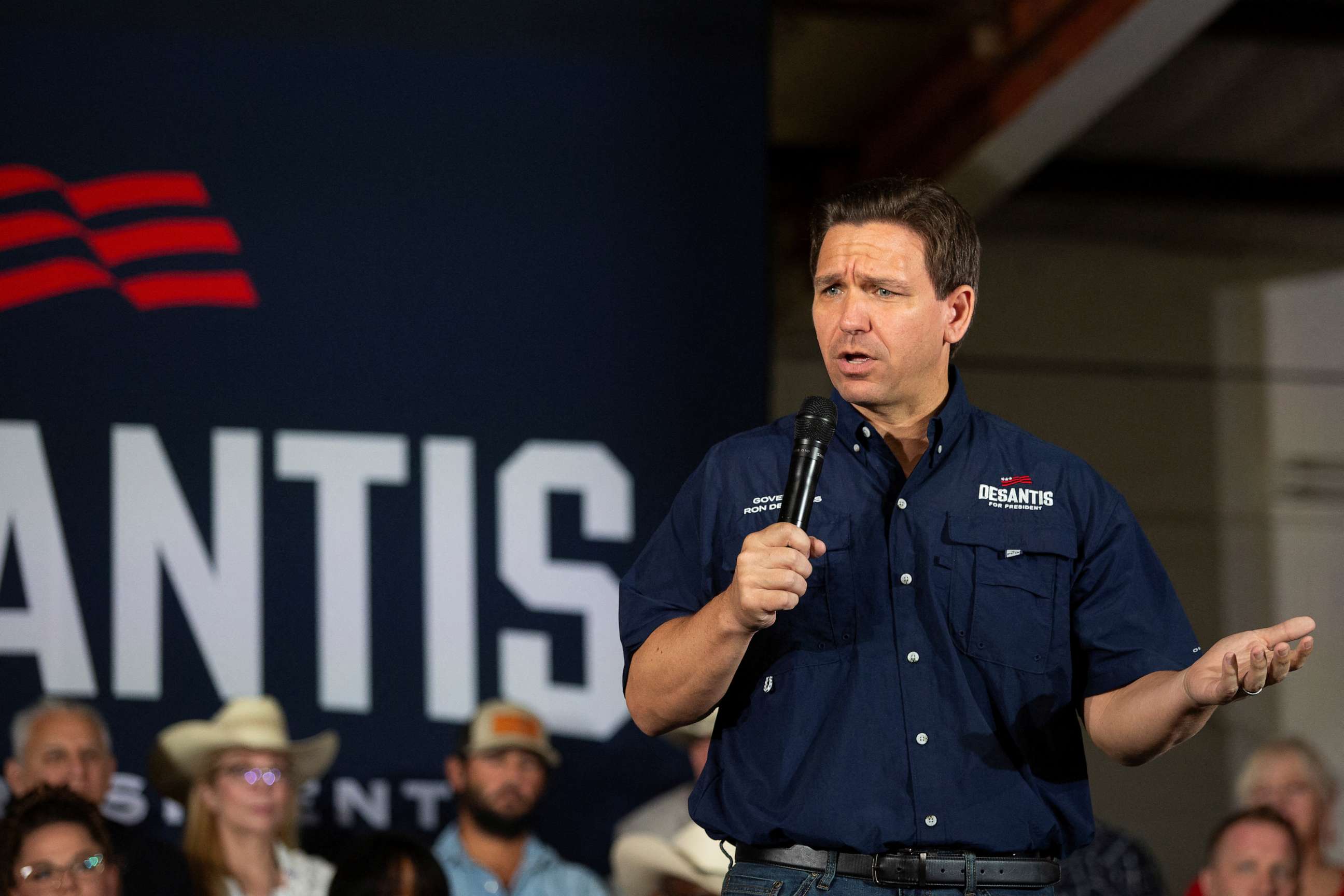 In a detailed list of immigration objectives he released on Monday, DeSantis, who also spoke to supporters and reporters in the Texas border town of Eagle Pass, pledged to "take action to end the idea that the children of illegal aliens are entitled to birthright citizenship if they are born in the United States."
"Dangling the prize of citizenship to the future offspring of illegal immigrants is a major driver of illegal migration. It is also inconsistent with the original understanding of 14th Amendment, and we will force the courts and Congress to finally address this failed policy," he added.
"This idea that you can come across the border, two days later have a child, and somehow that's an American citizen -- that was not the original understanding of the 14th Amendment and so we'll take action to force a clarification of that," he told reporters at a news conference.
DeSantis has expressed opposition to birthright citizenship before, saying in a Fox News interview during his 2018 run for Florida governor, "I don't think that that's a good policy."
However, DeSantis seemed skeptical then that courts would uphold an executive order banning the policy.
"The way the courts have ruled on it, I think there's a question about, can you do an executive order? Can you do legislation? Do you need an amendment?" he said on Fox.
In a different interview in 2018, he told a Florida CBS station, "I think it would be good to have the courts finally resolve it."
"It has never been finally determined whether someone who is transiently in the country -- whether as a tourist or here illegally -- whether that 14th Amendment would apply to that," he said then. "I tend to think the original interpretation of that would not apply. But I think most of the court decisions lean toward if you're born here, you do it."
The language in DeSantis' immigration policy rollout seemed delicately framed to leave open how he would attempt to challenge the policy.
A spokesman for his campaign did not respond to a question about whether the governor would seek an executive order.
DeSantis introduced more than 30 other policy proposals on Monday, including several geared toward building a wall along the southern border and others aimed at holding drug cartels accountable.
DeSantis pledged to deport people who overstay their visas, tax remittances from undocumented immigrants, and end the policy of catch-and-release.
He also vowed to increase the salaries of Border Patrol agents and strengthen the penalties for people who traffic fentanyl into the United States.
DeSantis has involved himself in border issues as Florida governor, drawing scrutiny from Democrats last year for organizing flights to Martha's Vineyard for migrants who critics allege were lured under false pretenses.His office organized similar flights this month to Sacramento.
"No more excuses, right? I think that's what you're going to hear from Governor DeSantis," Rep. Chip Roy, a Republican representing a San Antonio-area district, told reporters before DeSantis spoke in Eagle Pass.
"No excuses, enforce the law. No excuses, knock the knees out from under cartels who are targeting Americans, endangering us with fentanyl, empowering China. He's a no-nonsense guy and America needs a no-nonsense president who can restore this country to sanity," Roy added.