The Department of Justice has informed lawyers representing witnesses that it will not bring charges against Republican Rep. Matt Gaetz after a multiple-year sex-trafficking probe into the Florida congressman, multiple sources tell ABC News.
A lawyer representing the one-time minor at the center of the sex trafficking investigation into Gaetz and others told ABC News exclusively that the Justice Department informed them on Wednesday that they would not be moving forward with charges.
The attorney called the years-long investigation a "difficult experience" for his client.
"Our client was recently notified by the Department of Justice of their decision not to prosecute this matter. She understands the decision and is grateful for the Department's hard work and support during this difficult experience. Neither she nor her counsel will have any further comment at this time," attorney John Clune said in a statement to ABC News. ABC News is withholding the name of the woman.
When news first broke that Gaetz was reportedly under federal investigation for having sex with a minor, the congressman told Fox News' Tucker Carlson that the then-17-year-old at the center of the probe "doesn't exist."
A source familiar with the investigation told ABC News that part of the decision not to bring charges -- in addition to having to prove that Gaetz had sex with the 17-year-old -- included prosecutors' fears that a jury wouldn't convict due to the difficulty of proving that Gaetz and others knew that the minor was underage at the time.
A representative for the Department of Justice declined to comment.
Gaetz maintained his innocence throughout the investigation and repeatedly denied any wrongdoing.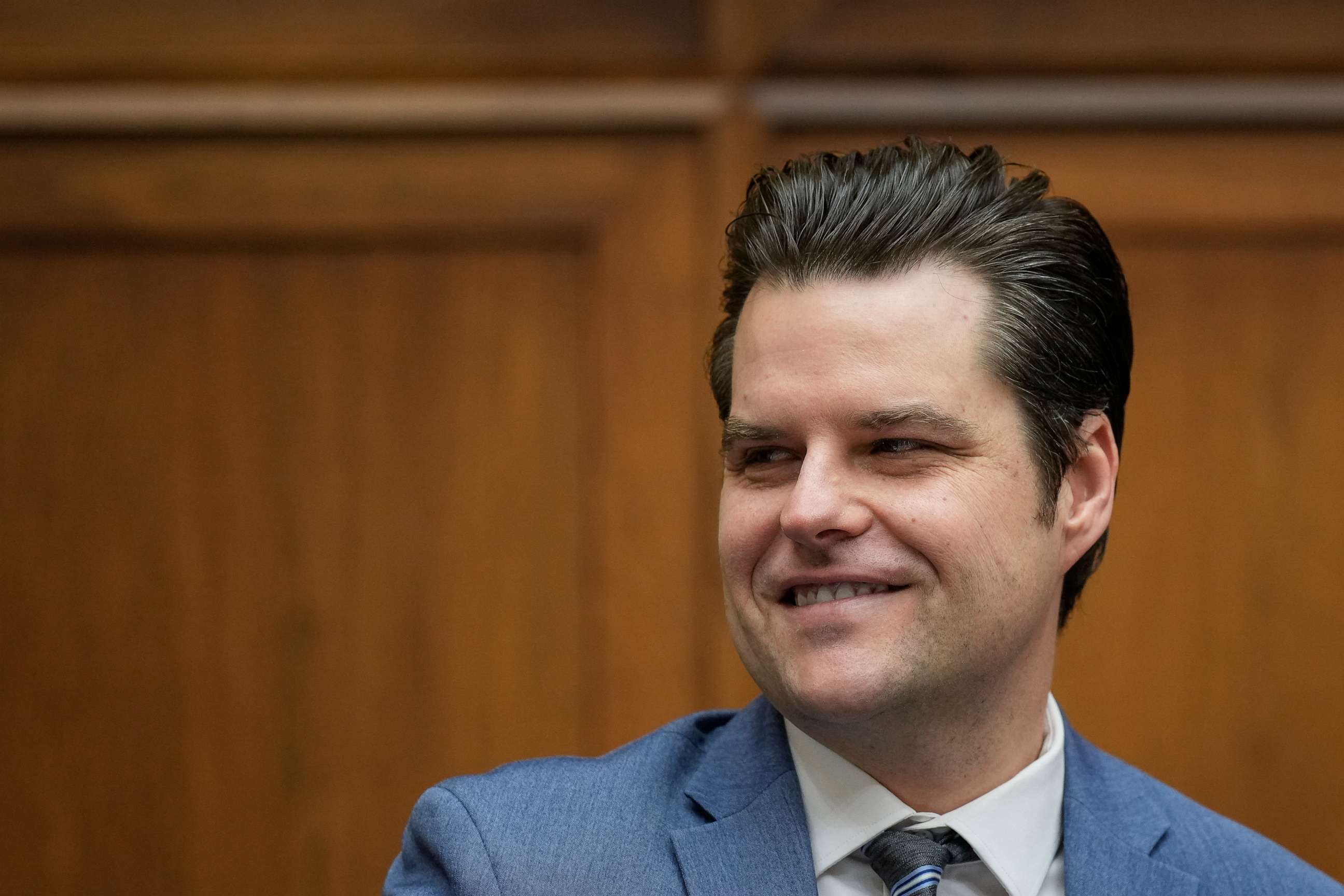 Attorneys representing Gaetz, Marc Mukasey and Isabelle Kirshner confirmed the decision in a statement to ABC News, saying, "We have just spoken with the DOJ and have been informed that they have concluded their investigation into Congressman Gaetz and allegations related to sex trafficking and obstruction of justice and they have determined not to bring any charges against him."
The news comes weeks after Gaetz's former close friend Joel Greenberg, who sources said agreed to cooperate in the federal probe into Gaetz, was sentenced to 11 years in prison after pleading guilty to crimes including sex trafficking of a minor and introducing her to other "adult men" who also had sex with her when she was underage. Greenberg agreed to provide "substantial assistance" to prosecutors as part of their ongoing investigation.
Last May, Greenberg pleaded guilty to six of the 33 federal charges he was facing, including charges of stalking, identity theft, wire fraud, and conspiracy to bribe a public official, as well as one charge of sex trafficking.
In a statement to ABC News, Greenberg's attorney called the decision not to charge Gaetz "troubling."
"While the decision is troubling, it's not surprising. After so many years of defense practice, I have slowly and reluctantly come to the realization that our country has two systems of justice," the attorney said. "In such a realm, the tenet that no one is above the law is a mere platitude, if not an inanity."
Over the course the investigation into Gaetz and others, Greenberg provided investigators with years of Venmo and Cash App transactions and thousands of photos and videos, as well as access to personal social media accounts, sources said.
The case grabbed national attention in the spring of 2021 after news broke that the investigation into Greenberg, a Seminole County tax collector, had, according to multiple sources, erupted into a sprawling federal probe that included whether Gaetz, his close friend, had had sex with a minor who he allegedly met through Greenberg.
ABC News' Alexander Mallin contributed to this report.