Energy Secretary Rick Perry took a dozen premium-class flights during his first seven months in office, spending extra on airfare for what he argued were security concerns, according to travel logs obtained by ABC News.
The Energy Department records tracking premium travel for the 2017 fiscal year show that coach fares were available for the 12 flights disclosed but that the department approved the premium or first-class fares, adding approximately $51,000 to the cost, as compared to the listed coach prices.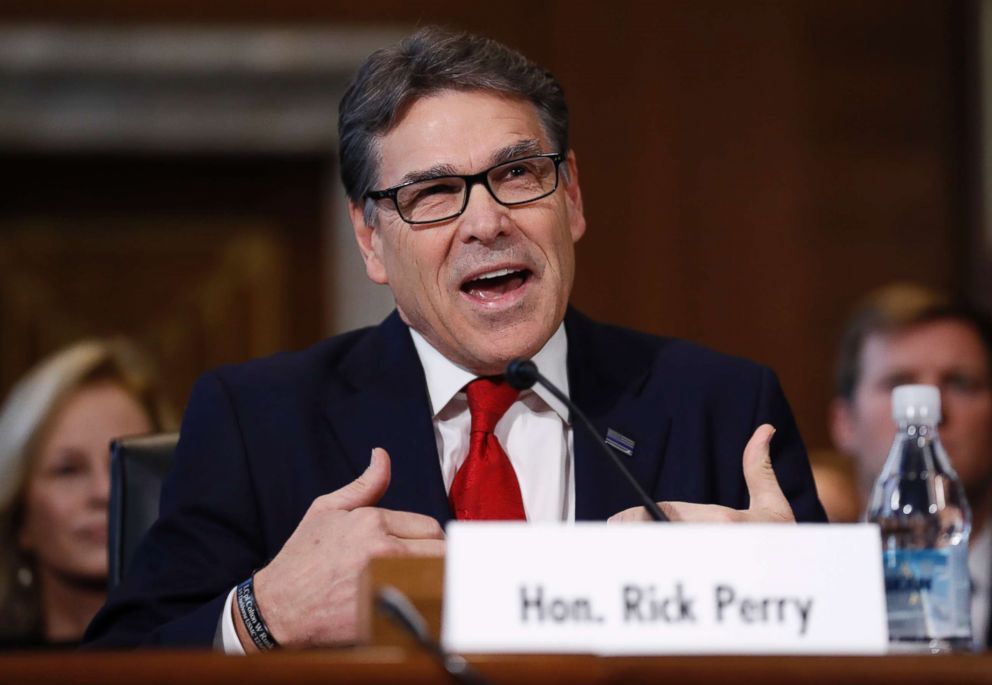 Perry's first or business class flights were all listed as part of official agency business and cost the agency at least $63,560. The documents, which include travel for former Energy Secretary Ernest Moniz and other agency officials, did not include the dates or destinations of any of those trips.
Moniz, who was an Energy Secretary under the Obama administration, also flew an upgraded class for what was approved by the department as "exceptional security circumstances" in his final months as secretary, spending more than $42,500 on premium flights during the last three months of 2016 before he departed the agency in January. The documents obtained by ABC did not include information on Moniz's flights prior to the 2017 fiscal year.
The Secretary of Energy is traditionally part of the National Security Council.
Moniz did not immediately respond to ABC News' request for comment. A department spokesman did not provide more detail on the security situation.
Perry went on various official trips during the first few months of his tenure as secretary, including Japan, China, and multiple trips around the U.S.
Federal rules say that federal officials should use the cheapest option when they travel but that first or business class tickets can be approved in "exceptional security circumstances" or trips longer than 14 hours. Agency officials determine exactly what qualifies as a situation where an official needs to fly business or first class.
The document also shows that Perry's wife, Anita Perry, also flew business class on two official trips that cost the department about $20,000. Agency spokeswoman Shaylyn Hynes said the department was reimbursed for all of Anita Perry's travel.
Multiple members of President Trump's cabinet have faced inquiries into the cost of their upgraded travel. Concerns about costly travel – at times including the use of private jets – led to the resignation of former Health and Human Services Secretary Tom Price in 2017. The trend has also led to increased scrutiny of Treasury Secretary Steve Mnuchin and Interior Secretary Ryan Zinke — both of whom were cleared of violating agency rules by internal investigations.
Environmental Protection Agency Administrator Scott Pruitt continues to face questions about first class flights he took, which the EPA says were also for security reasons.
Last week, the Energy Department's internal watchdog said the department should improve procedures Perry and other officials used to gain approval for trips on non-commercial aircraft. The Energy Department previously said that the department spent $56,000 for six flights on government or private planes for Perry.
Ultimately, the inspector general said flights on chartered and government jets did not violate any agency rules.
ABC News' Matt Mosk contributed to this report.