Trump expresses confidence in Pruitt despite criticism over living arrangements
Trump expresses confidence in Pruitt despite criticism over living arrangement.
WASHINGTON, D.C. -- President Donald Trump told reporters Thursday that he continues to have confidence in embattled EPA Administrator Scott Pruitt.
"I do," the president said in response to a reporter's shouted question about whether he has confidence in Pruitt as he boarded Air Force One early Thursday afternoon as he headed to West Virginia.
But even as the president continues to say he has confidence in Pruitt – and even as the White House investigates ethical concerns about Pruitt that have come to light in recent days – a senior White House official tells ABC News that Pruitt's interview with Fox News that aired Wednesday did not help matters and is viewed internally at the White House as having been a mistake.
The official said that Pruitt was advised by the White House against doing the interview with Fox but that he went ahead with it anyway. This official said they couldn't recall the last time a Cabinet secretary has ignored the White House when advised against doing an interview.
In the interview, Pruitt continued to push back in his public response to ethical questions raised about his living arrangements in Washington D.C., saying living in a Capitol Hill condo owned by a lobbyist did not violate any rules.
When Pruitt was asked if it was "draining the swamp" to live in a house connected to a lobbyist, he responded, "I don't think that that's even remotely fair to ask that question."
Pruitt repeated comments he's made to other outlets in the interview, saying that he only rented a room and did not have access to the entire condo and that the agreement was reviewed by agency ethics officials who determined it did not violate gift rules because he paid a market rent.
"It was like an Airbnb situation when I was not there the landlord they had access to the entirety of the facility," Pruitt said in the Fox interview, denying the characterization that it was a "sweetheart deal."
"Craigslist today shows rentals for one bedroom for less than $1,000 on Capitol Hill, near the area. That is something that again has been reviewed by ethics officials here, they've said that it's market rate, these are career ethics officials," Pruitt said.
His comparison to the nightly rental service Airbnb touches on a concern already raised publicly by ethics experts.
Ethics experts outside of the EPA have said that it is unusual to have an arrangement where a tenant only has to pay for nights they stay in the unit and that the owner agrees to hold that room open when the tenant is not there.
Walter Schaub, former director of the Office of Government Ethics under the Obama administration, said that part of the agreement could violate gift rules even if the EPA determined that it did not. He started working for that office as a lawyer in 2006.
"The idea that it's perfectly normal in this town to get a prime location and this house really is that, its right next to the House, Senate office building on Capitol Hill, for $50-a-night and the owner will hold the house open for you for any night that you don't use it, he won't rent it to anyone else but you only pay for the night's you actually stay there at well below market rate. There's no doubt that this is a gift and that this is below market rate and so the EPA's justification doesn't wash," Schaub said Sunday on CNN.
Pruitt also did in-person interviews with conservative news sites this week: The Daily Signal, which is connected to the Heritage Foundation — a conservative think tank — and the Washington Examiner on Tuesday and an interview with a Washington Times podcast that broadcast live on Facebook on Wednesday.
He declined to take questions from other outlets, including ABC News' Mary Bruce, at an event to announce a review of the fuel efficiency standard on Tuesday.
In the wake of reporting about Pruitt's living arrangements, spending on security and questions about his travel, multiple members of Congress — including two Republicans — have called for Pruitt to resign.
And on Wednesday four House and Senate Democrats have joined together with a new request for information from the EPA on Pruitt's living arrangement - with questions about the ethics review process and Pruitt's relationship with the lobbyists that owned the condo, among other questions.
"The American public must be able to trust that you are carrying out your duties in a manner that avoids any financial conflicts of interest, inappropriate favoritism or partisan political influence," the lawmakers wrote to Pruitt.
The White House has launched a formal inquiry into Pruitt's living situation. Press secretary Sarah Sanders confirmed that President Trump and White House chief of staff John Kelly spoke to Pruitt earlier this week.
Sanders also said the White House is reviewing the situation during the White House briefing on Wednesday. When asked if the president still has confidence in Pruitt she said "The president thinks he has done a good job, particularly on the deregulation front. But again we take this seriously and we're looking into it."
In the Daily Signal interview, Pruitt described the other news outlets' reporting on his living arrangements as "intermittent," "very sporadic and not terribly complete with respect to what the truth is."
ABC News first reported last week that Pruitt rented a room in a Capitol Hill townhouse co-owned by a lobbyist, Vicki Hart. Pruitt paid $50 a night only for nights that he stayed in the room. The housing recommendation came from Vicki Hart's husband, J. Steven Hart, who, like Pruitt, is an Oklahoma native. He is also the chairman of the powerhouse lobbying firm Williams & Jensen, which represents several clients with energy and environmental interests that fall under EPA's jurisdiction.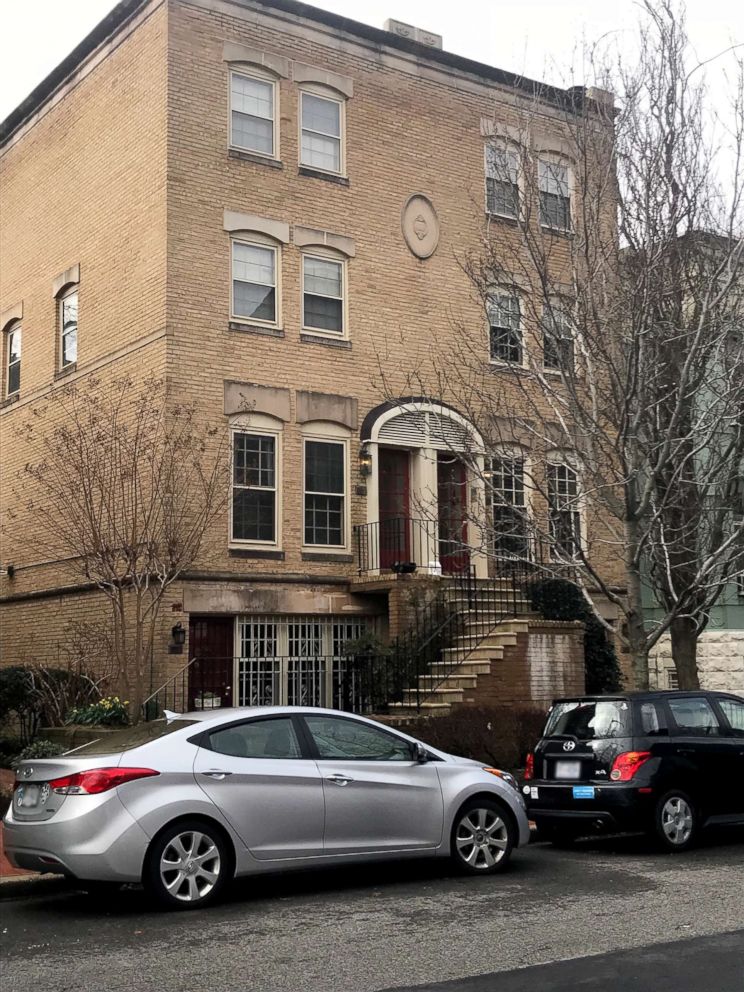 In the article, Pruitt cites a memo from an EPA ethics officer that found the arrangement didn't violate the agency's gift rules because the administrator paid fair market rent. That memo says that "Under the terms of the lease, if the space was utilized for one 30-day month, then the rental cost would be $1,500, which is a reasonable fair market value."
"And I think what's missed in this: I didn't rent a unit. I didn't rent an apartment. This was an Airbnb-type situation where I rented literally one room that was used in a temporary status until I found more permanent residence," Pruitt told the Daily Signal.
Pruitt told the Daily Signal that he was living out of a suitcase at that point and that his family was still in Oklahoma at the time. He stayed in the Capitol Hill townhouse last year from his early days as administrator through the end of July.
"My wife wasn't here yet. My children were back in Oklahoma," Pruitt said in the interview. "The needs were different. As soon as my wife came up, we moved to a different location where I couldn't just be living out of a suitcase."
But sources told ABC News that Pruitt's daughter, McKenna, stayed in the second bedroom during an internship at the White House. The EPA's ethics statement says that Pruitt had use of other parts of the unit, even though Vicki Hart told ABC News that she did not know or authorize him to use more than the bedroom or allow family members to stay there with him.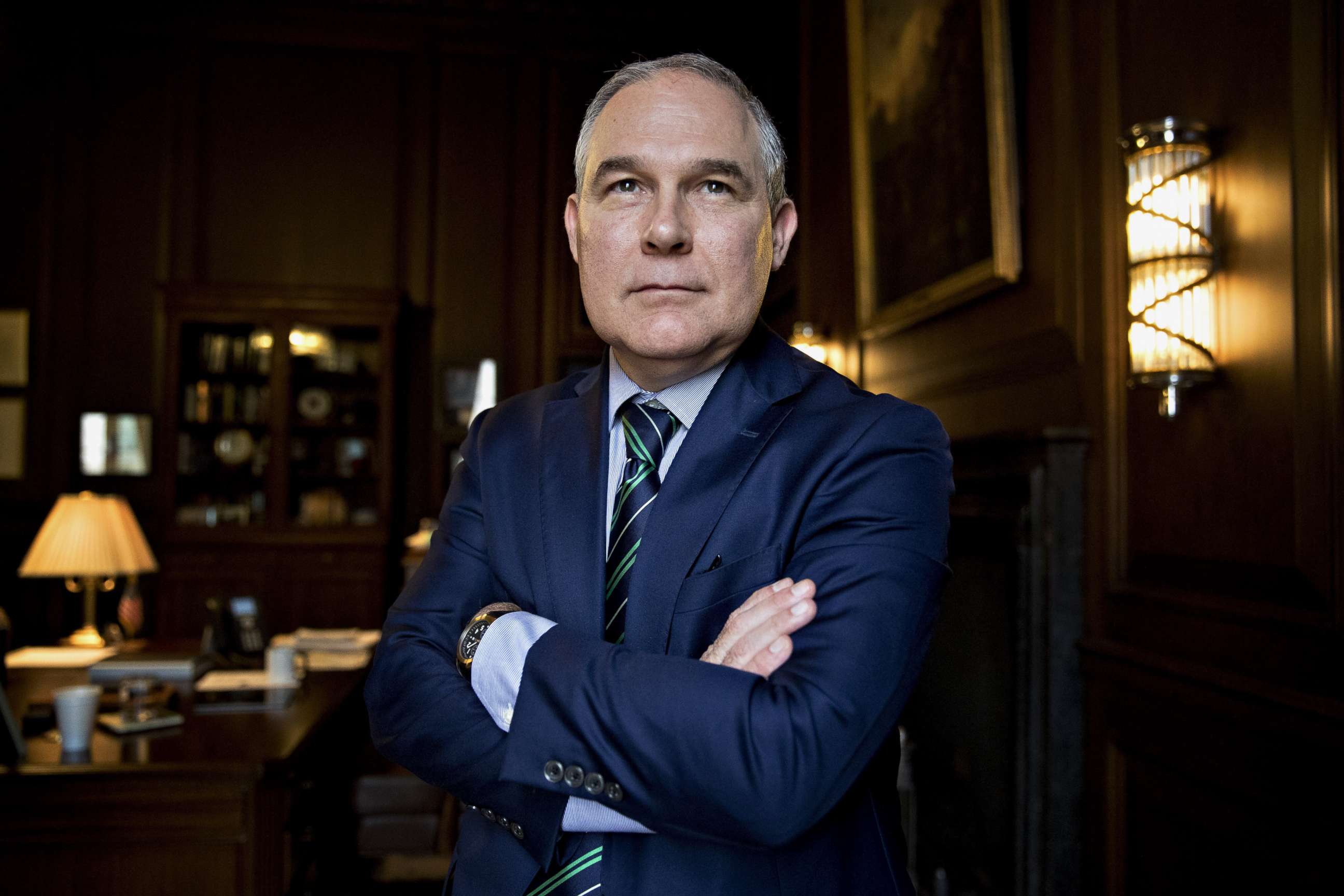 In the article, Pruitt also defended allegations that living with Hart represents a conflict of interest. He is quoted as saying he has known Steven Hart for years and that he is not an energy lobbyist.
"His firm represents these clients, not him. There has been no connection whatsoever in that regard," Pruitt said in the interview.
In 2017, Hart was registered as a lobbyist for Cheniere Energy, according to public filings. Specific lobbying duties listed include "Issues related to the export of liquefied natural gas (LNG), approval of LNG exports and export facilities." Pruitt championed LNG exports while traveling in Morocco in December.
Cheniere Energy spokeswoman Rachel Carmichel told ABC News the company ended its relationship with Hart's firm in December 2017. The spokeswoman went on to say Cheniere was unaware of the relationship between Pruitt and the lobbyist and had not used Hart's firm to have conversations with the EPA. Hart said in a statement that he did not directly lobby the EPA in 2017.
Ethics rules regarding gifts for government employees say that they should consider rejecting a gift that may not violate the rules even if it could raise questions about their integrity or impartiality, according to the Office of Government Ethics website.
Lawmakers and outside watchdog groups have asked the EPA to provide more information on how the arrangement came about and for the EPA's inspector general to investigate.
Pruitt did not comment on calls for him to resign in the Daily Signal interview but told the Washington Examiner that the criticism over the housing arrangement is just an attempt to stop the Trump administration's agenda.
"There are people that have long in this town done business a different way and this agency has been the poster child of it. And so do I think that because we are leading on this agenda that there are some who want to keep that from happening? Absolutely. And do I think that they will resort to anything to achieve that? Yes," Pruitt told the Examiner.
He said Washington is "toxic in that regard" but that he is leaning in at the agency and focused on getting results.
In the interview with Fox News that aired Wednesday, Pruitt also pushed back on reports that he went around the White House to grant raises to two of his close aides using a provision of the Safe Drinking Water Act, which was first reported by The Atlantic. Pruitt said he was not aware of the decision and that he will reverse it.
"I did not. My staff did. I found out about that yesterday and changed it. The process should have been respected and I issued a statement walking back those pay raises that should not have been given," he said, adding that "those staffers who were involved in that process should not have done what they did."
When asked if the staff who made that decision will be fired Pruitt said: "there will be some accountability."
A provision of the Safe Drinking Water Act gives the EPA administrator the authority to appoint up to 30 people outside of federal hiring procedures if it is seen as necessary to carry out the agency's responsibilities to protect drinking water.
Sens. Tom Carper, D-Del., and Sheldon Whitehouse, D-R.I., asked the GAO to investigate appointments under this rule last August after they said the EPA did not respond to requests for information. The senators wrote in a letter to GAO that they were concerned that the authority was being abused and appointees did not follow ethical requirements.