Cambridge Analytica accused of violating US election laws in new legal action
The company has been embroiled in controversy for weeks.
Amid mounting accusations that data firm Cambridge Analytica misused the Facebook data of up to 50 million user profiles, the U.K.-based firm and its top executives are now also under fire for alleged violations of U.S. election laws.
Government watchdog group Common Cause Monday filed a pair of legal complaints with the Federal Election Commission (FEC) and the Department of Justice accusing Cambridge Analytica LTD, its parent company SCL Group Limited, CEO Alexander Nix, SCL co-founder Nigel Oakes, data scientist Alexander Tayler, and former employee-turned-whistleblower Christopher Wylie of violating federal election laws that prohibit foreigners from participating directly or indirectly in the decision-making process of U.S. political campaigns.
The defendants are all non-U.S. citizens, according to the complaints.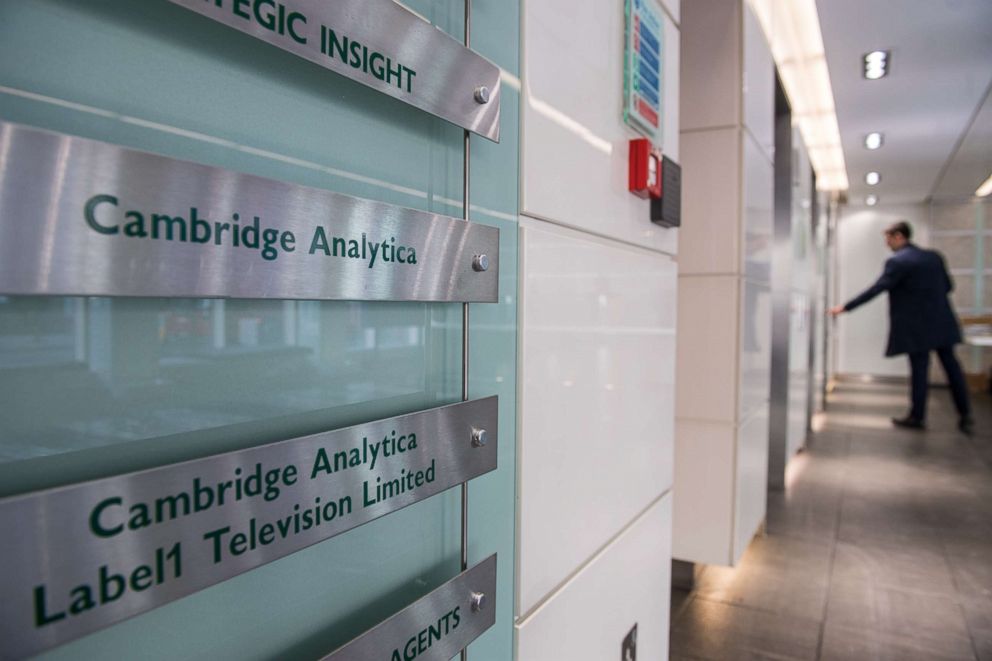 The Trump campaign paid Cambridge Analytica nearly $6 million for services during the 2016 election cycle, according to data from the FEC.
Seventeen other Republican political organizations, including Ted Cruz's presidential campaign and a super PAC headed by incoming National Security Adviser John Bolton, also paid the firm a combined $16 million for services that included research and micro-targeting of voters, government records show.
The complaints cite a New York Times report of an alleged memo dated July 22, 2014 from lawyer Laurence Levy, then at the firm Bracewell & Giuliani, to GOP megadonor Rebekah Mercer, former Trump adviser Steve Bannon and the now-suspended Nix. The memo warns them that foreign nationals "may not play strategic roles" in U.S. political campaigns, including giving "strategic advice," but that foreigners can still "act as functionaries that collect and process data" as long as the final analysis of that data is conducted by U.S. citizens.
The chief executive of Cambridge Analytica was caught on camera apparently admitting it targeted political candidates with dirty tricks.
Levy suggested at the time that as a foreign national, Nix should recuse himself "from substantive management" of clients involved in U.S. elections, according to the complaints.
The legal filings allege that Cambridge Analytica and its executives ignored Levy's advice and allowed foreigners to be involved in "management decisions of U.S. political committee clients concerning expenditures and disbursements during the 2014 and 2016 elections."
Common Cause is calling for both the FEC and the Justice Department to investigate any potential election law violations and impose appropriate sanctions and restraints.
"It defies belief that even after their own attorney warned them that they would be violating the prohibition on performing certain election-related activities in U.S. elections that they did so anyway," said Paul S. Ryan, Common Cause vice president for policy and litigation. "A full investigation must be conducted, and if Cambridge Analytica and its staff did in fact repeatedly violate our laws, then there must be punishment levied sufficient to deter similar lawbreaking in future."
Cambridge Analytica has repeatedly denied any wrongdoing involving accusations of collecting data from millions of Facebook profiles without knowledge and issued a statement to that effect last week.
"We take the disturbing recent allegations of unethical practices in our non-US political business very seriously," acting CEO Alexander Taylor said in a statement. "As anyone who is familiar with our staff and work can testify, we in no way resemble the politically-motivated and unethical company that some have sought to portray."
The company did not immediately reply to requests for comment from ABC News about the newest claims of alleged violations of U.S. election laws.