What to know about the defectors against Kevin McCarthy
Who are the Republicans leading the revolt against the GOP leader?
The battle between a small but influential group of Republican hardliners and Rep. Kevin McCarthy heated up Tuesday night when Rep. Matt Gaetz accused the House GOP leader of squatting in the speaker's office.
McCarthy had his belongings moved into the space on Monday, before he failed multiple times to get enough votes to clinch the speaker's gavel.
"What is the basis in law, House rule, or precedent to allow someone who has placed second in three successive speaker elections to occupy the Speaker of the House Office?" Gaetz wrote in a letter to the Architect of the Capitol.
Gaetz wrote to that "after three undeciding votes, no member can lay claim to this office."
"How long will he remain there before he is considered a squatter?" Gaetz wrote.
Gaetz stood up twice on Tuesday to offer an alternative to McCarthy, arguing there are others with a better vision to successfully lead the conference.
Other Republicans appeared to agree with him, with the opposition to McCarthy's bid for speaker growing to 20 lawmakers total by the third round of voting.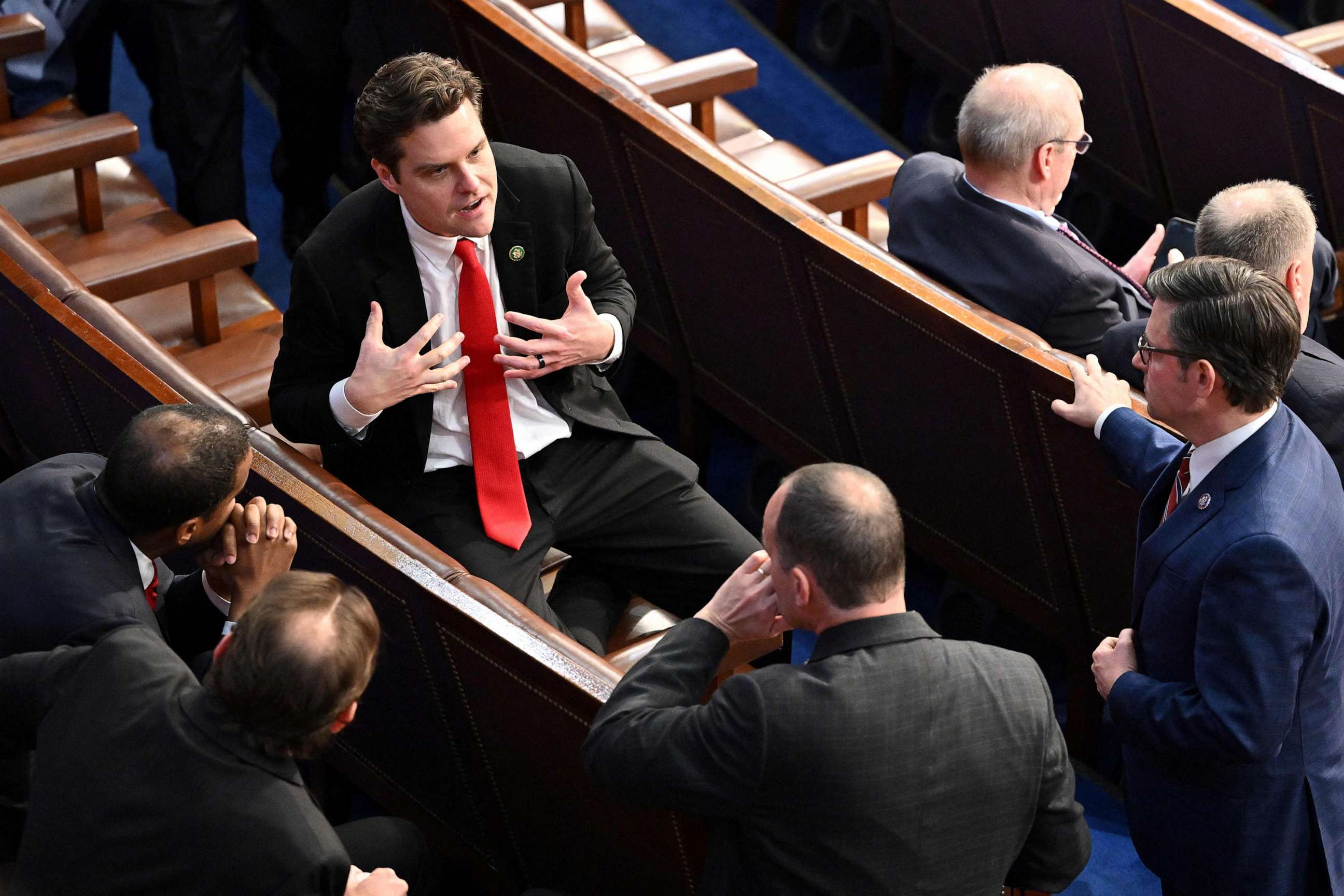 McCarthy, who has the support of the majority of the caucus, has countered that those opposing him are doing so for their own self-interest rather than the good of the party.
"I will always fight to put the American people first, not a few individuals that want something for themselves," McCarthy said on Tuesday. "So, we may have a battle on the floor but the battle is for the conference and the country, and that's fine with me."
The drama has left the chamber in limbo as lawmakers are unable to conduct any official business until a speaker is chosen.
Who is leading the revolt?
Primarily leading the campaign against McCarthy are members of the House Freedom Caucus, a group of hard-line conservatives that includes Gaetz, Rep. Lauren Boebert of Colorado and Rep. Scott Perry of Pennsylvania.
That trio appeared before reporters on Tuesday to air their grievances with McCarthy after the California congressman tried to shore up support in a last-ditch, closed-door meeting with his Republican colleagues.
"Even the guy that wants to be speaker agrees that Washington is broken," Perry said. "Interestingly enough, over the 14 years that he's been in leadership, he's done almost virtually nothing to change it."
The 20 Republicans who voted against McCarthy in the third round of voting Tuesday were Reps. Boebert, Gaetz, Perry, Andy Biggs of Arizona, Dan Bishop of North Carolina, Josh Brecheen of Oklahoma, Michael Cloud of Texas, Andrew Clyde of Georgia, Eli Crane of Arizona, Bob Good of Virginia, Paul Gosar of Arizona, Andy Harris of Maryland, Mary Miller of Illinois, Ralph Norman of South Carolina, Andrew Ogles of Tennessee, Anna Paulina Luna of Florida, Matt Rosendale of Montana, Chip Roy of Texas, Keith Self of Texas and Byron Donalds of Florida.
Donalds, who defected after voting for McCarthy twice, said "the reality is Rep. Kevin McCarthy doesn't have the vote."
Of the 20 Republican lawmakers who opposed McCarthy, 19 of them are election deniers, according to FiveThirtyEight. Only one of them has fully accepted the results of the 2020 election: Roy of Texas.
The 20 Republican dissenters are on average more conservative and more anti-establishment than most of the previous Congress, according to an analysis from FiveThirtyEight.
What are they demanding?
McCarthy agreed to some of the demands from members of the House Freedom Caucus, including their request for a rule to allow a vote on ousting the speaker at any time. But McCarthy proposed to set the threshold at five lawmakers to force such a vote, known as a motion to vacate, not just at one as some had wanted.
But he's refused to give in to other demands on matters involving taxes and immigration.
Perry said that the group of Republicans opposed to McCarthy are seeking "firm commitments" on several policies they want to be brought up for a vote: a balanced budget, passage of the Fair Tax Act, passage of a proposal crafted by Texas Republicans that aims to crack down on illegal immigration and the imposition of term limits for members of Congress.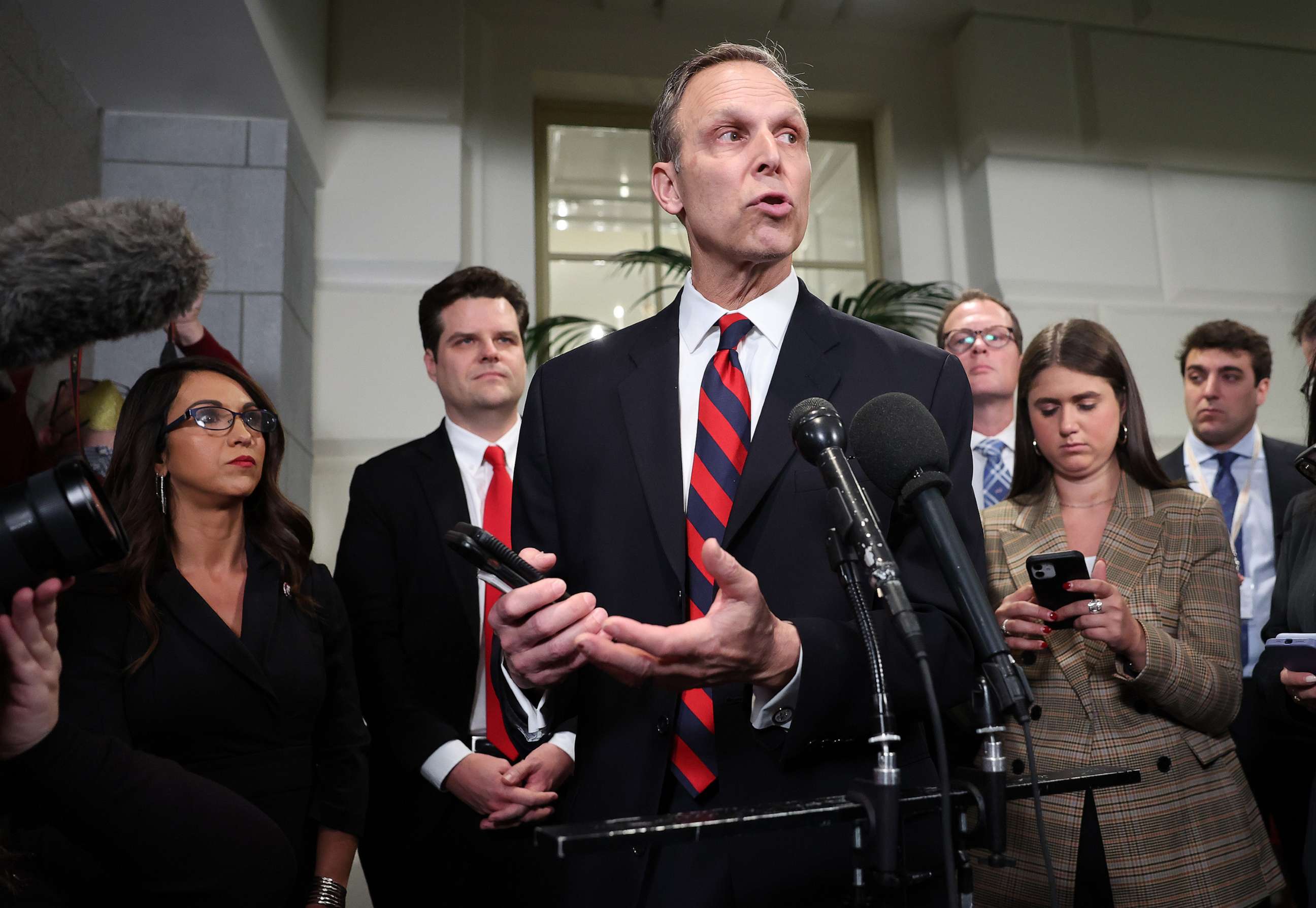 McCarthy countered that his opponents want specific committee assignments that he's unwilling to give to them.
But some criticism of McCarthy has centered more on his leadership style and record.
"Maybe the right person for the job of speaker of the House isn't someone who wants it so bad," Gaetz said on the House floor Tuesday as he nominated Rep. Jim Jordan of Ohio for speaker. "Maybe the right person for the job of speaker of the House isn't someone who has sold shares of themselves for more than a decade to get it."