The 118th Congress will see a number of historic "firsts" -- the first woman and LGBTQ representative from Vermont, the first Latina representatives from Oregon and the first member of Generation Z, those born from 1997 to 2012.
That 25-year-old, Maxwell Frost, will be the youngest member of a legislative body where the average lawmaker is more than twice his age when he's sworn in on Jan. 3 as a Democratic member representing Florida's 10th Congressional District.
Frost's first order of business may be finding a place to live in Washington.
While he'll be going from driving Ubers to making $174,000 a year as a member of Congress, Frost said he's struggled to find an apartment because of bad credit -- and sat down with ABC News Chief Washington Correspondent and "This Week" co-anchor Jonathan Karl just after learning one of his applications had been rejected.
"It's not cheap," Frost told Karl in an exclusive interview at Capitol Hill institution Bullfeathers. "I'm dealing with it right now, getting denied from apartments, trying to figure out where to live because I have bad credit. I'm probably just going to have to, like, couch surf for a little bit."
MORE: First Gen Zer elected to Congress details his trouble getting an apartment in DC
Frost is a newcomer to elected office but is no stranger to politics. He's worked for 10 years as an advocate for increased gun regulation, including with March for Our Lives -- the group formed by Marjorie Stoneman Douglas students following the Parkland, Florida, school mass shooting in 2018.
He credits the Sandy Hook Elementary School massacre as the catalyst for his political activism. He said he remembers exactly where he was when he heard the news about that shooting in 2012 -- with his friends at a restaurant before a high school jazz band concert.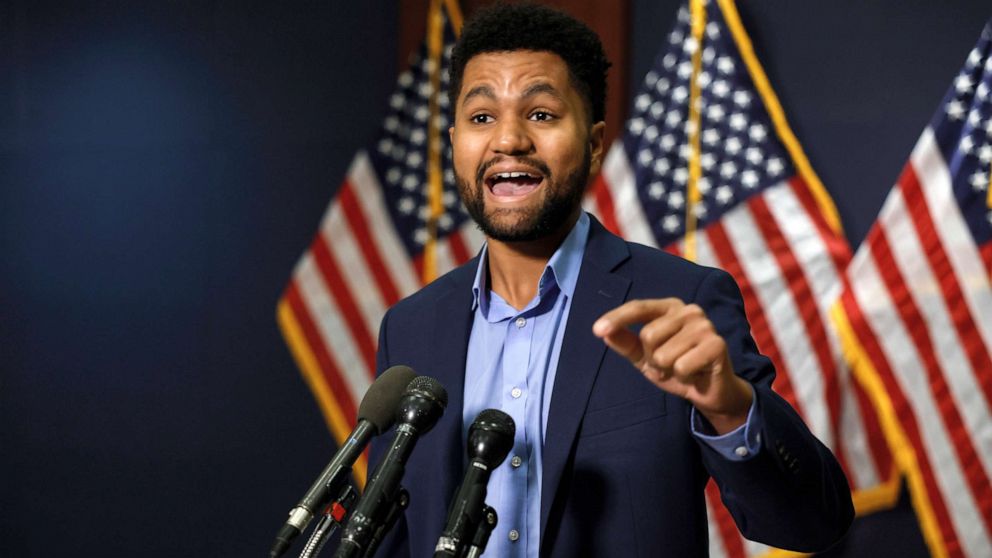 "We looked up at the television screens and saw that somebody walked into an elementary school in Newtown, Connecticut, and murdered 20 children and six teachers and I remember at the show that night I was playing, [I] couldn't think straight, kept looking at the exits," Frost recalled to Karl. "I was very anxious. And it's really what propelled me to come up here to the vigil and dedicate my life to fighting for a world where there's no gun violence."
In June, Frost confronted Gov. Ron Desantis, R-Fla., to act on gun violence during an event of his. Frost was escorted out by security and DeSantis told him, "Nobody wants to hear from you." After the moment went viral, Frost featured the interaction in a campaign ad.
Frost told Karl he decided to show up to the event "in the spirit of direct action and protest."
"This was about a week and a half after the Uvalde shooting [in Texas]. He hadn't said a single word about ending gun violence," Frost said. "And so, we came to him more with a plea and what I got in return was 'nobody wants to hear from you' -- getting dragged out by security, having popcorn thrown at me and people yelling curse words and racial slurs."
While he identifies as a progressive, Frost said would support President Joe Biden if Biden seeks reelection in 2024. Pressed by Karl if he would encourage the president to run again, Frost said he would.
"Joe Biden wasn't my first choice in the primaries," said Frost, who previously worked on Sen. Bernie Sanders' 2020 presidential campaign.
"I've been pleasantly surprised by the work that the president's done," Frost added and pointed to the Inflation Reduction Act. "The whole package didn't get passed but it sets a standard that a U.S. president said, 'This is what the American people deserve,' and now we can go out as progressives and moderates and as Democrats and say, 'This is the president's agenda, let's get it passed,' and I think that's important."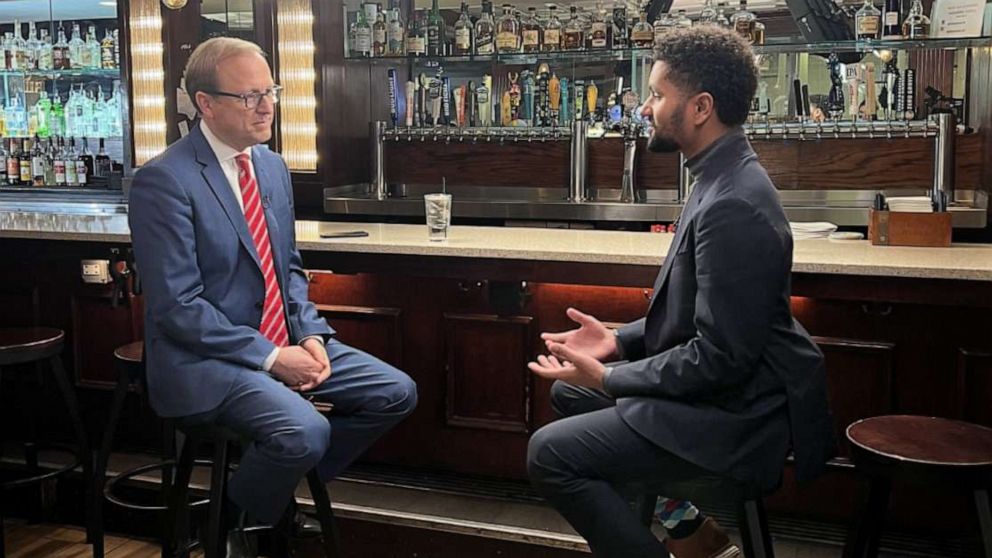 Frost said that while he understands the importance of compromise, he hopes to never lose sight of his "North Star."
"I think we're in this politics now where people are scared to talk about their North Star," Frost said. "And I think it's important that we not lose sight of that -- health care for everybody, ending gun violence, combating the climate crisis. These things are really important. And even though we're not going to get it next year, you can't take a first step in a journey if you don't know where you're going."
But Karl noted that "with Democrats you have a debate between those that want to take the incremental win and those that say, 'No, we've got to hold out for something bigger.'"
"I think it's less of an ideological battle and more of a battle of figuring out what are we talking about and what are we doing in this moment," Frost responded. "It's not that progressives and -- it's not that me, that I don't believe in incremental change, right? I've been working in gun violence for 10 years. We just got some incremental change with the bipartisan gun safety package that was passed. It wasn't everything that we need, but it's a good first step to ensuring that we end gun violence."
"I think it's important to realize that it's OK to ask for a lot. In fact, that's why people have sent us here," Frost added. "It doesn't mean we're not going to compromise for something else, but it means we shouldn't show up at the debate already at the compromise."