President Donald Trump announced Friday that he was closing the border with Mexico and barring asylum seekers to stop what he claimed was the danger of "viral spread" from undocumented immigrants as reported U.S. cases of the of the novel coronavirus surpassed 16,000.
"Our nation's top healthcare officials are concerned about the great public health consequences of mass, uncontrolled cross-border movement," Trump said, as he again appeared at the daily White House briefing on how the government is responding to the coronavirus crisis.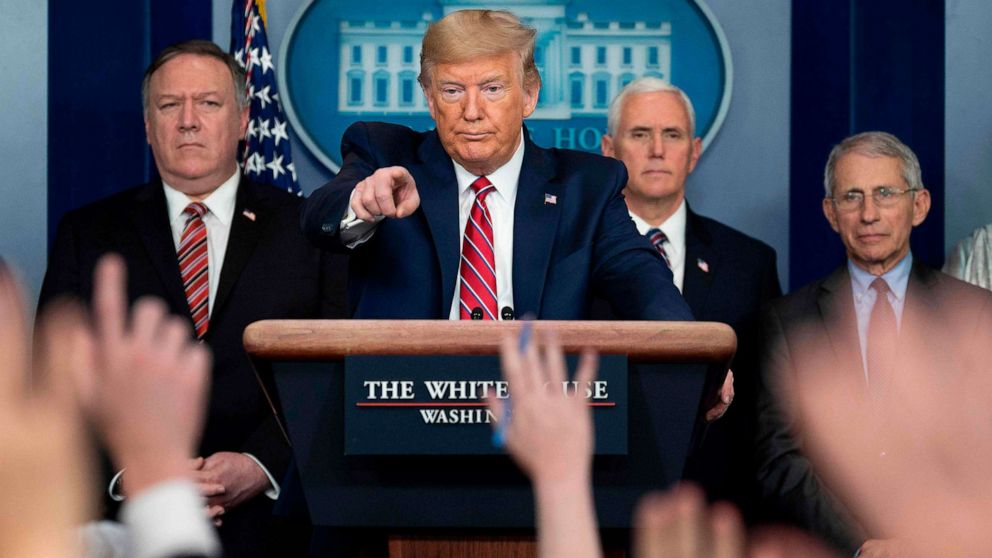 "The Centers for Disease Control and Prevention is exercising its authority under Title 42 of the U.S. Code to give Customs and Border Protection the tools it needs to prevent the virus coming through the northern and southern borders," the president said.
Calling it a "joint comprehensive effort," Trump said the measure will "reduce the incentive for a mass global migration that would deplete the health care resources needed for our people."
The restrictions will go into effect at midnight, said Secretary of State Mike Pompeo.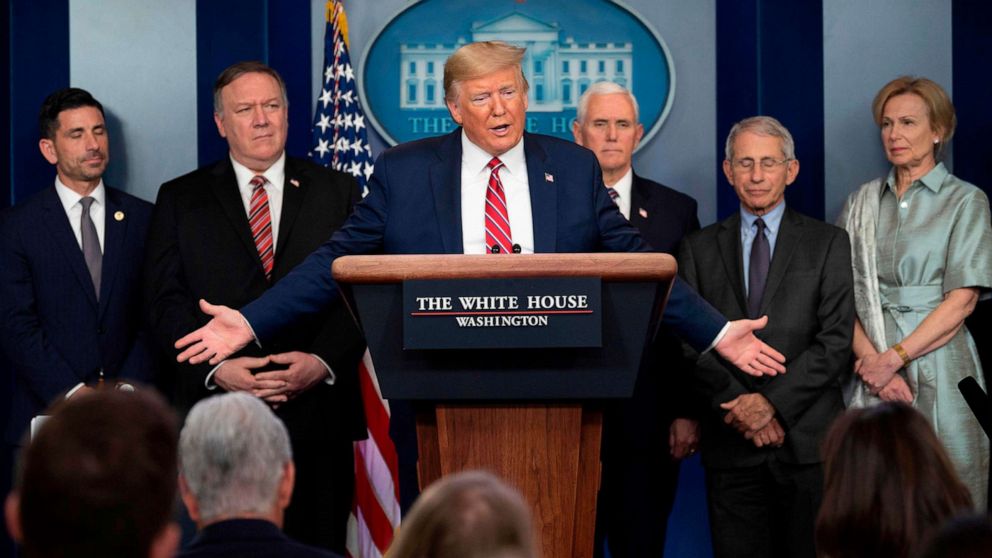 After a couple days of confusion on the Defense Production Act -- first saying he invoked it, then saying he would only invoke in a worst case scenario -- President Trump said he "put it into gear" Thursday night.
Trump has shifted his approach and tone this week to the coronavirus response, giving daily briefings since Saturday and proposing new economic and public health measures to combat the virus, after he initially downplayed the threat of COVID-19 on American life for weeks.
Here are Friday's most significant developments in Washington:
Trump closes southern border to nonessential travel, invokes Defense Production Act
Dr. Anthony Fauci returned to a tense White House coronavirus task force briefing
Negotiations underway for economic stimulus package which includes a proposal to send relief checks directly to Americans
At least two senators' stock trades questioned amid COVID-19
State Department tells Americans "Do Not Travel" abroad, suspends visa services for foreigners at all U.S. embassies and consulates
Here is how developments unfolded on Friday.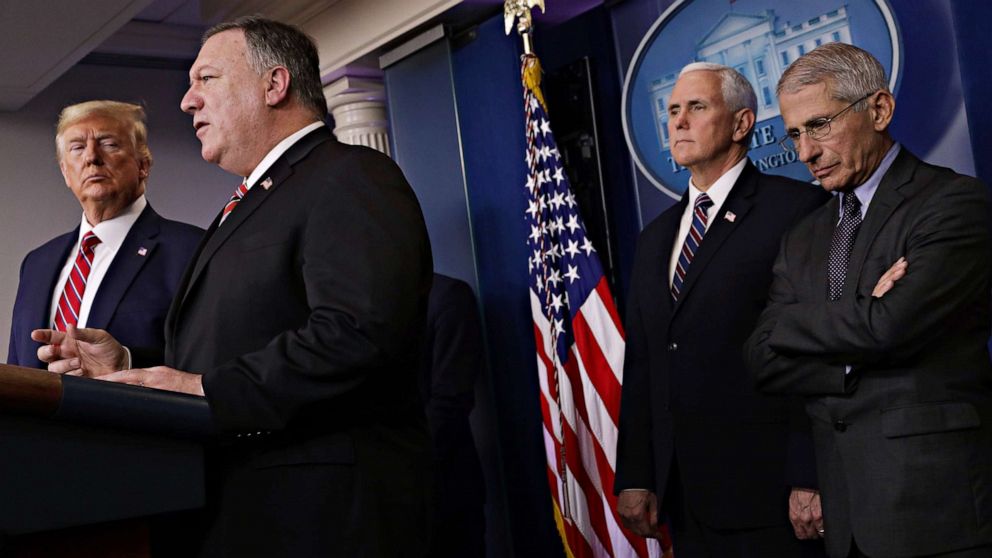 Trump closes southern border to nonessential traffic
After Trump announced that he was closing the border with Mexico and barring asylum seekers, he insisted that he was "treating the borders equally."
"We are treating the borders equally," the president said. "A lot of people say they are not treated equally. Well, they are. As we did with Canada, we are working with Mexico to implement new rules at ports of entry to suspend non-essential travel."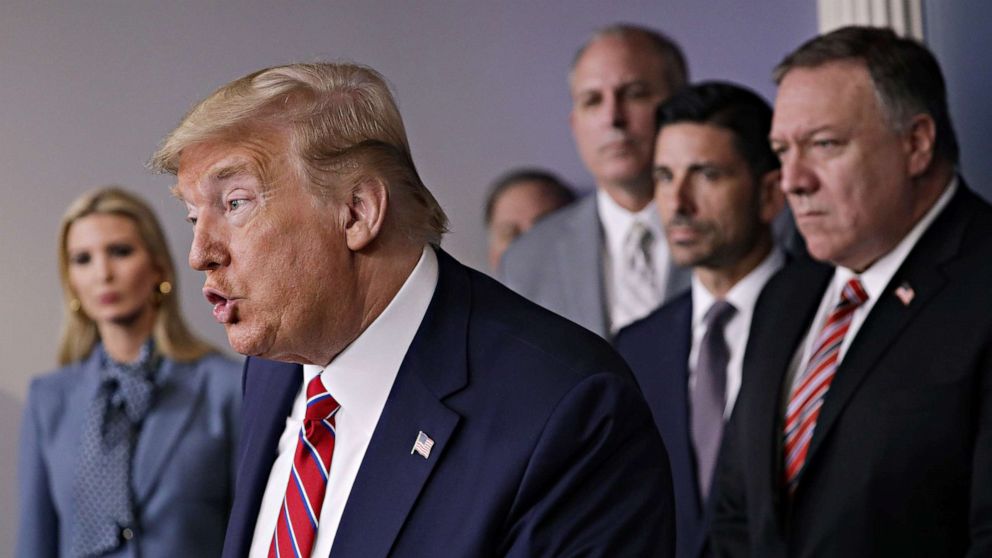 "Every week, our border agents encounter thousands of unscreened, unvetted, and unauthorized entries from dozens of countries. And we've had this problem for decades -- for decades," Trump added. "You know the story."
"We have learned a lot about relying on other countries. Some good things came out of it, and some not so good things came out of it," the president said, before inviting the rest of the task force "to provide information on the new measures of the viral spread of our borders."
Secretary of State Mike Pompeo, referring to the disease, as Trump did, as the "Chinese virus," said that Mexico agreed to the measure as both countries "know the importance of working together to limit the strength of the virus."
Health and Human Services Secretary Alex Azar confirmed that the order would apply to asylum-seekers who normally are held in a congregate setting under Custom and Border Protection.
"Under section 362 of the Public Health Service Act, the CDC is suspending the entry of certain persons into the United States because of the public health threat that their entry in the United States represents," he said. "We are talking about significant numbers of illegal immigrants."
Significantly, Dr. Anthony Fauci, the nation's leading expert on pandemics, noted that "there's a fundamental health reason" for the travel restrictions.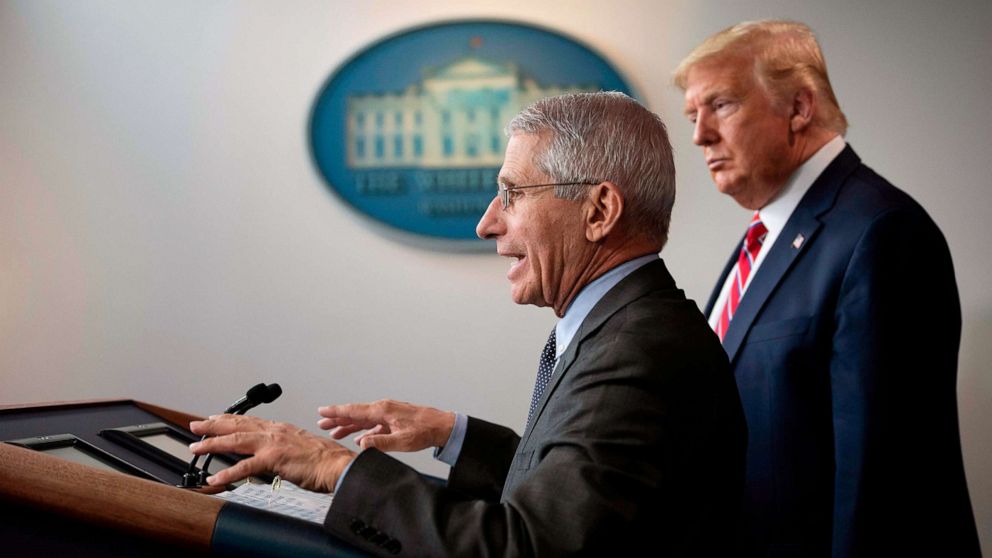 Fauci also applauded New York Gov. Andrew Cuomo's move to shut down 100% of the workforce, excluding nonessential services, saying, "I strongly support what he's doing."
"I was in New York City on September 11th, 2001, and I know what New Yorkers can do. So, please, cooperate with your governor, cooperate with your neighbor," Fauci said. "It is very important."
Trump says no nationwide lockdown, invokes Defense Production Act
Asked if there will be a nationwide lockdown to keep people at home, Trump said he doesn't think so.
"California and New York have done that," Trump said, but as for other states, "I don't think so. You go out to the Midwest and other locations, and they're watching their television but they don't have the same problem."
After Trump signed the Defense Production Act Wednesday, then said he would only invoke it in a worst case scenario -- President Trump made clear that he has in fact activated the law.
"I did it yesterday. We signed it the evening of the day before and invoked yesterday," Trump said.
After earlier in the week calling on states to work to get ventilators and respirators on their own, the president appeared to acknowledge that the federal government needs to fill the gap.
"The Act is very good for things like this. We have millions of masks that we've ordered. They will be here soon. We're having them shipped directly to states," Trump said.
Senate Minority Leader Chuck Schumer and House Speaker Nancy Pelosi urged the president to use its power on Thursday.
Trump said General Motors will be working with the federal government to supplement production amid equipment shortages -- and though he said more companies had signed on, he refused to say which ones at the time.
Fauci says not everybody who wants a test can get one
Fauci acknowledged -- point blank -- that the government is "not there yet" in meeting the demand for COVID-19 tests, breaking with the government line which has sought to focus on ramped up efforts.
"The answer is, yes, we are not there yet because otherwise people would be never calling up saying they can't get a test," Fauci said when pressed by a reporter on the issue.
Vice President Mike Pence then redirected focus to the progress that's been made in improving testing following a slow start by the U.S. government.
"I just can't emphasize enough about the incredible progress that we have made on testing," Pence said. "All of you are reporting and media outlets around the country are as well that many, many more tests are being performed every day, literally by the tens of thousands."
The president then stepped forward and continued to shift blame for the current shortages on the system that he inherited.
"Just so you know, I, this administration, inherited an obsolete broken old system that wasn't meant for this. We discarded that system and we now have a new system that can do millions of people as you need them. We had to get rid of a broken old system that didn't work," Trump said.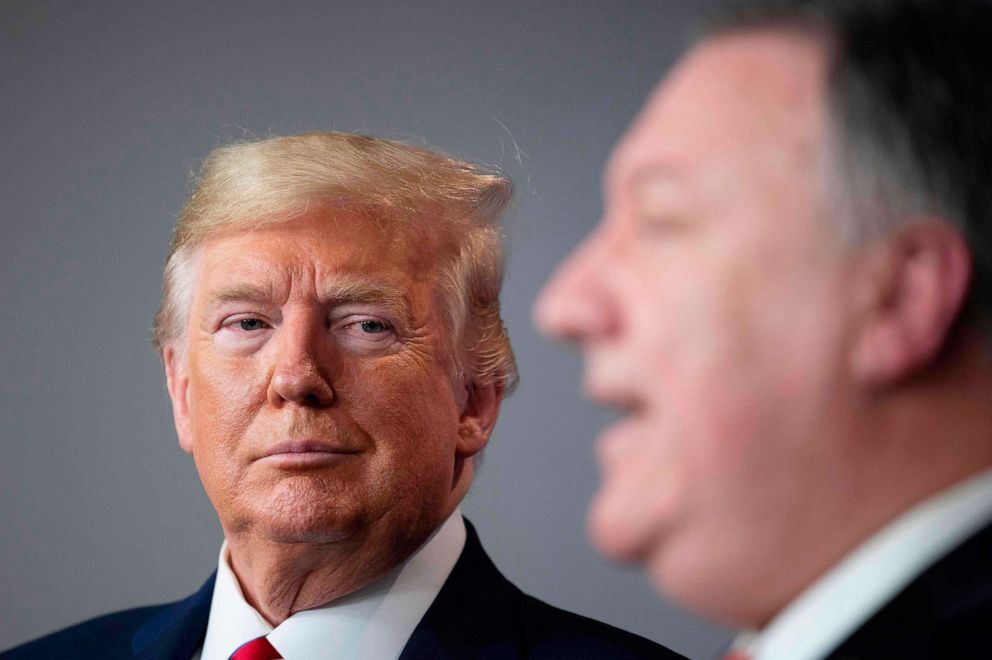 Birx issues warning that no age group is immune
White House Coronavirus Task Force coordinator Dr. Deborah Birx said that there's a concerning trend coming out of Italy showing that the mortality rate among men is twice as high among men as women.
She continued to urge people that no one – not any age group -- is immune from the virus and reiterated the message that mild symptoms does not equal immunity.
Fauci emphasizes there is no "magic drug"
After the FDA walked back Trump's comments Thursday that hydroxychloroquine was already approved to treat COVID-19, Fauci was asked if there has been some promise with the drug.
"The answer is no," Fauci said. "The evidence you are talking about is anecdotal evidence. We are trying to strike a balance between making something of a potential of the effect to the American people available and at the same time we do it under the protocol that'll give us the information that's truly safe and effective."
Trump, asked if he agrees with Fauci, said, "It may work and it may not work. I agree with doc. It may work or may not be good. I feel good about it," Trump said. "Just a feeling."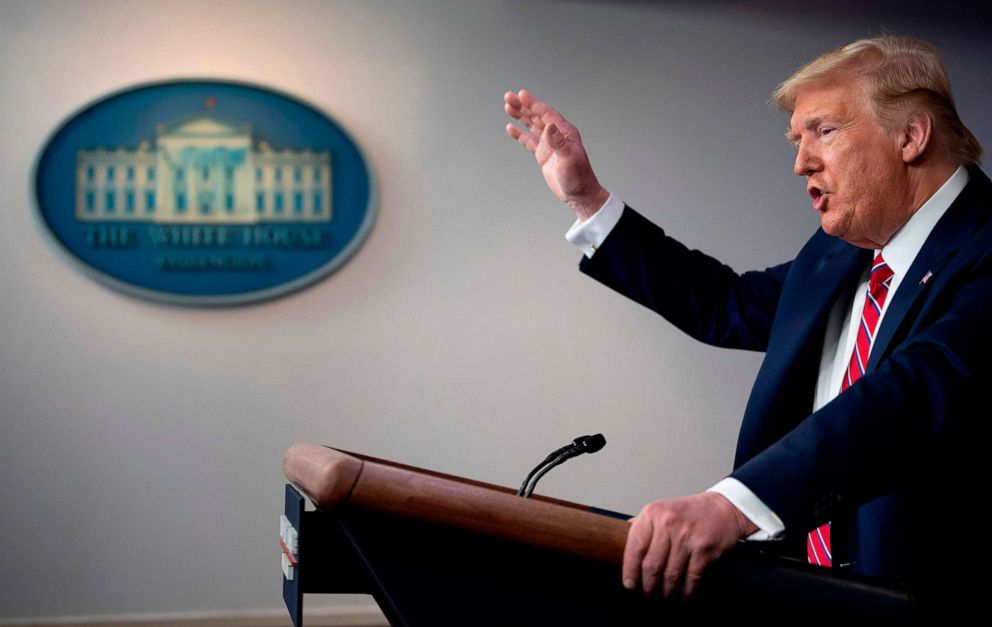 Fauci, who has said there is no "magic drug" to treat coronavirus, was pressed if Americans should feel hopeful, following the president's comments.
"The president is feeling optimistic," Fauci said. "I am saying it may be effective. As a scientist, and as we are getting it out there, we need to do it in a way, while we are making it available for people who may want the hope that it may work, you are also collecting data that ultimately will show it is truly effective and safe under the conditions of COVID-19."
Trump says Dept. of Education won't enforce standardized testing, suspends student loans payments for 60 days
Trump announced the Department of Education will not enforce standardized testing for the remainder of the school year and has temporarily suspended certain student loan payments for the next sixty days.
"Due to the virus, the Department of Education will not enforce standardized testing requirements, very importantly, for elementary school through high school for the current year," Trump said. "A lot of the students will be happy. Some probably not."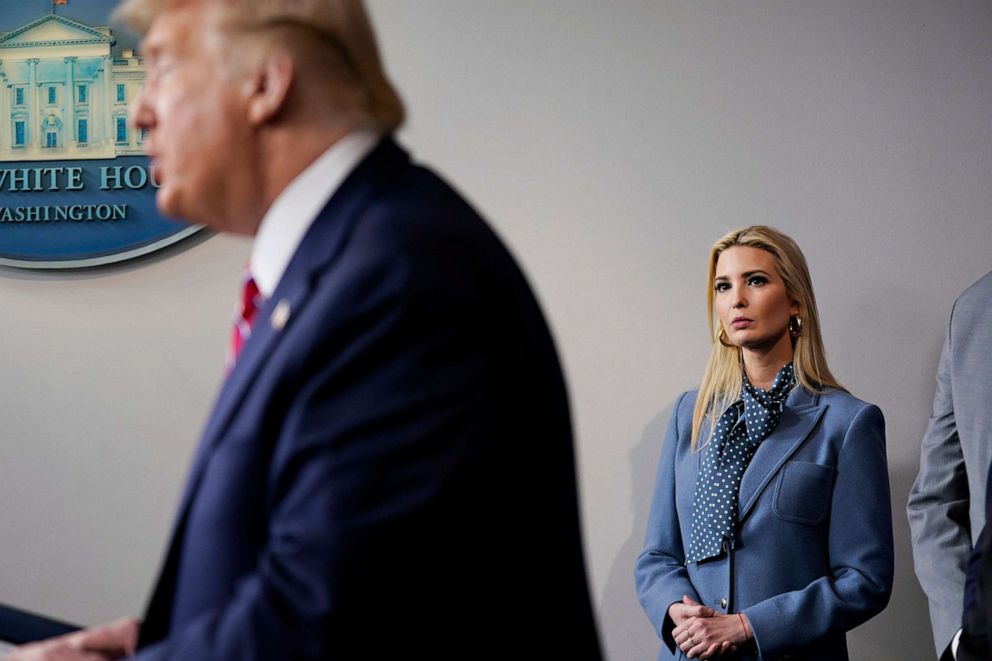 "Phase three" negotiations underway in Congress including measure to send checks directly to Americans
Negotiations between Republicans and Democrats on that $1 trillion stimulus package began on Capitol Hill -- the measure includes a provision that would send money directly to American households. The current GOP plan says that Americans who made up to $75,000 last year would receive a $1200 check, with the check amount scaling down until capping off at $99,000 and with an additional $500 per child.
Democrats, however, are not yet on board. House Speaker Nancy Pelosi and Senate Minority Leader Chuck Schumer say the current package tilts too much toward helping big businesses without focusing enough on people who have lost work. It would also scale back a paid sick leave measure Congress passed just this week.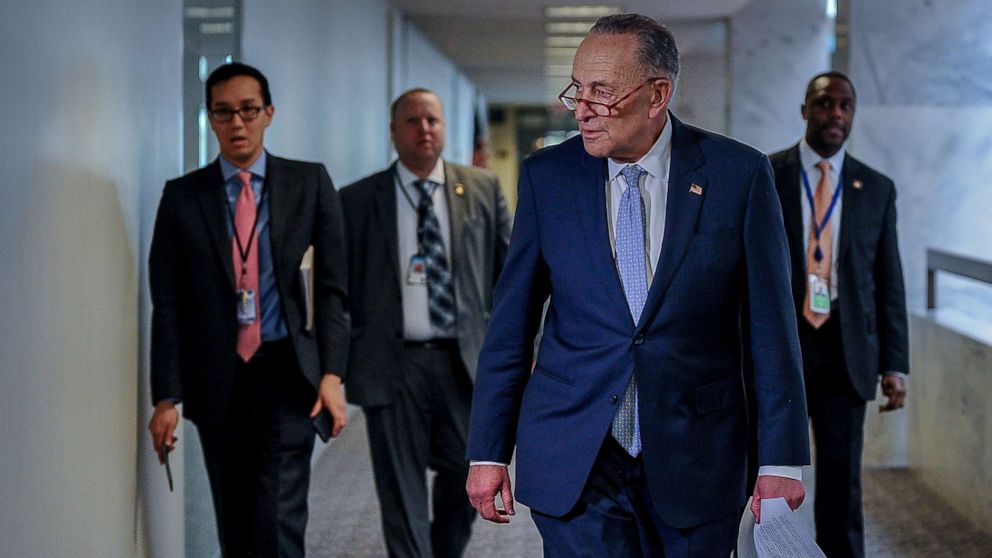 "We are beginning to review Sen. McConnell's proposal and on first reading, it is not at all pro-worker and instead puts corporations way ahead of workers," Pelosi and Schumer said in a joint statement Thursday night, hours after the GOP plan was introduced on the Senate floor.
Trump said he is optimistic after he and Schumer spoke this morning.
Mnuchin says Tax Day moving to July 15
Treasury Secretary Steve Mnuchin tweeted Friday morning that the federal government is moving Tax Day from April 15 to July 15 as the COVID-19 rocks the U.S. economy.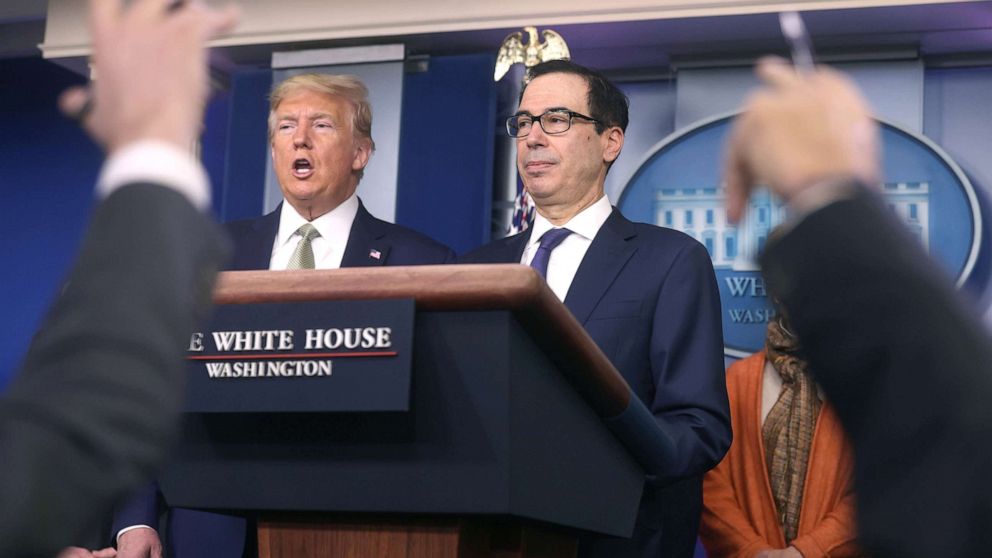 "At @realDonaldTrump's direction, we are moving Tax Day from April 15 to July 15," Mnuchin said on Twitter. "All taxpayers and businesses will have this additional time to file and make payments without interest or penalties."
EPA working to approve more disinfectants against COVID-19, monitor supply chain
The Environmental Protection Agency is working to speed up approvals of disinfectants to combat COVID-19 in homes and schools during the pandemic response, pulling scientists from other parts of the agency to make more products available.
This is not hand sanitizers but products like Clorox wipes or Lysol spray approved to kill viruses on surfaces. Wheeler said the agency is looking at data the agency already has about products' effectiveness against stronger pathogens to help speed up the approval process, which normally takes 3-4 months.
"As of March 3, we had roughly 80 products that were approved for the product virus. Since then, We've added an additional 185. So we're up to almost 300 products that people can use," EPA administrator Wheeler told ABC News. "Typically, it takes three to five months to approve a new disinfectant, and we're getting it down to two to three weeks."
Senators' stock trades questioned
At least two Republican senators -- North Carolina Sen. Richard Burr and Georgia Sen. Kelly Loeffler -- were under fire after reports show they each sold off more than $1 million in stocks of businesses negatively impacted by COVID-19 just before the market plunged but after they had received briefings on the virus.
What to know about coronavirus:
ABC News' Ben Gittleson, Jordyn Phelps, Stephanie Ebbs, Matthew Mosk, Kendall Karson, Conor Finnegan and Michelle Stoddart contributed to this report.