The historic first public impeachment hearing ended Wednesday with Democrats hoping to have made their case to millions of Americans watching on television that President Donald Trump's conduct has been so serious he deserves to be removed from office.
They called two star witnesses to testify in open session: Ambassador William Taylor, the United States' top diplomat in Ukraine, and Deputy Assistant Secretary of State George Kent, the State Department's top career official focused on Ukraine.
Democrats are striving to prove that Trump betrayed his oath of office by withholding military aid to Ukraine unless Ukrainian President Volodymyr Zelenskiy initiated investigations to benefit Trump's "personal political interests in the United States" -- primarily through a corruption investigation into the Biden family. Republicans argue there was "no conditionality or evidence of pressure" in the rough White House transcript of Trump's July 25 call with Zelenskiy.
In the most significant development, Taylor on Wednesday revealed new details about comments Trump allegedly made about the status of "investigations" and the Bidens on a July 26 call with Gordon Sondland, the U.S. ambassador to the European Union, just after he met with Ukrainian officials.
Here is how the hearing unfolded.
3:36 p.m.
Chairman Schiff dismissed the witnesses, announcing that the testimony portion of the hearing had concluded.
In his closing remarks, he praised members who he said had acted in a civil matter, despite what he said were the "strong feelings" in the room.
"That is as it should be," Schiff said.
3:10 p.m.
After Rep. Jim Jordan, R-Ohio, spent his five-minutes defending Trump's actions and accusing Democrats of denying them the ability to question the whistleblower -- "the guy who started it all" Jordan said -- Rep. Peter Welch, D-Vt., quickly responded.
"I say to my colleague, I've be glad to have the person who started it all come in and testify. President Trump is welcome to take a seat right there," he said, motioning to the witness table.
After that, Welch, like Jordan, did not spend his time questioning the witnesses, but began laying out Democrats' closing argument on today's hearing.
"The question here is not a dispute about the enormous power that a president has. The question is whether in this case there was an abuse of that power," Welch said.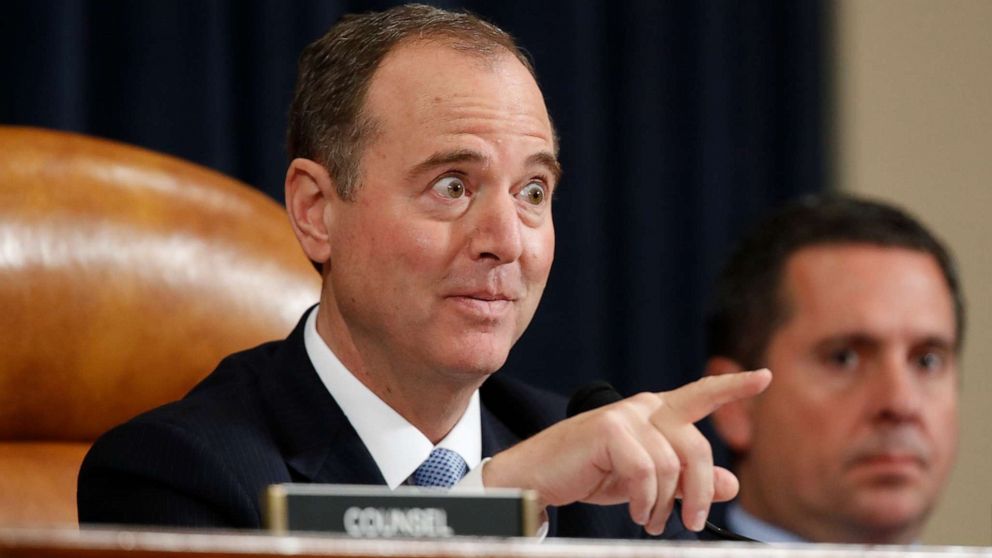 2:59 p.m.
Democratic Rep. Joaquin Castro attempted to strike at a GOP oft-repeated talking point that there was no quid pro quo because Ukraine ultimately received the military and there was no investigation of the Bidens, ABC's Trish Turner reports from the hearing room.
"So, ambassadors, is attempted murder a crime?" Castro asked Kent and Taylor.
"Attempted murder is a crime," Taylor answered
"Is attempted robbery a crime?" Castro then asked.
"Neither of us is a lawyer. But ..." Taylor started to answer.
"I think anybody in this room could answer that question," Castro said.
"I think that's right. I will go out on a limb and say yes, it is," Taylor said.
2:40 p.m.
There was about 50 minutes of questioning left in the hearing, with 10 members remaining with five minutes each. Schiff is free to question witnesses again after all the members finish, even if he doesn't formally hold a second round of questions, ABC News' Benjamin Siegel reports from the hearing room.
Apparently, there will not be an additional round of questioning after this current five-minute round. After the members finish, Schiff and Nunes will have an opportunity to ask additional questions, and give closing statements.
2:10 p.m.
Under questioning from Democratic Rep. Jim Himes, Kent says any comparison of what Joe Biden did to what President Trump was asking of Zelenskiy is not appropriate – not the same thing, reports ABC News' Trish Turner from the hearing room.
When Himes followed up to ask if Kent saw President Trump engaging in focused policy to counter corruption in Ukraine, Kent responded "I do not."
"I don't think President Trump was trying to end corruption in Ukraine," Himes said at the end of his questioning. "I think he was trying to aim corruption in Ukraine at Vice President Biden and at the 2020 election."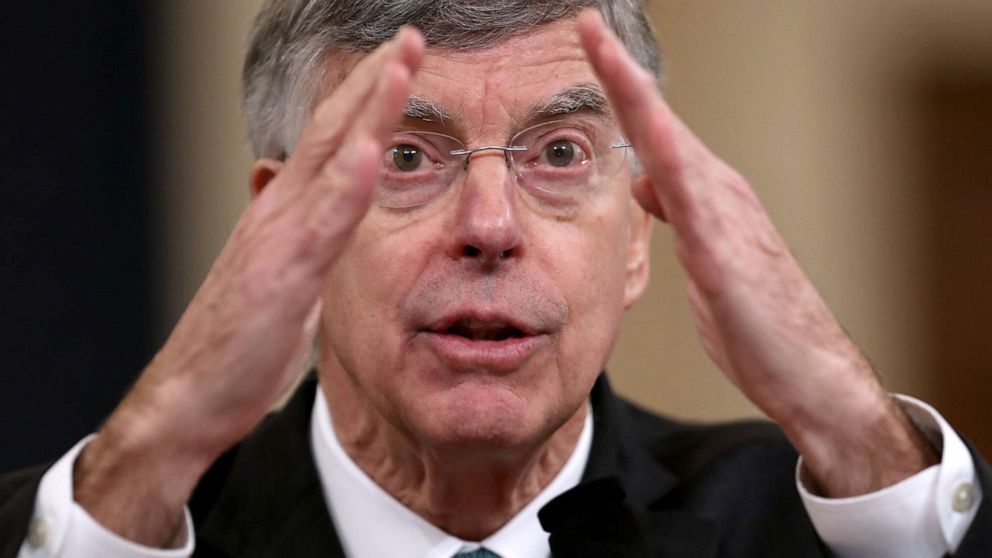 2:01 p.m.
Republican Rep. John Ratcliffe cited multiple statements from Ukrainian President Zelenskiy to reporters saying he did not think there was blackmail in the conversation with President Trump.
"The Ukrainian president sitting in front of the world press and repeatedly, consistently over and over again, no military aid being withheld, no knowledge, no quid pro quo, no pressure, no demands, no threats or corruption and unlike we've heard from the Democrats today that's not secondhand information, not hearsay what someone overhear and Sondland say, that was his direct testimony," Ratcliffe said.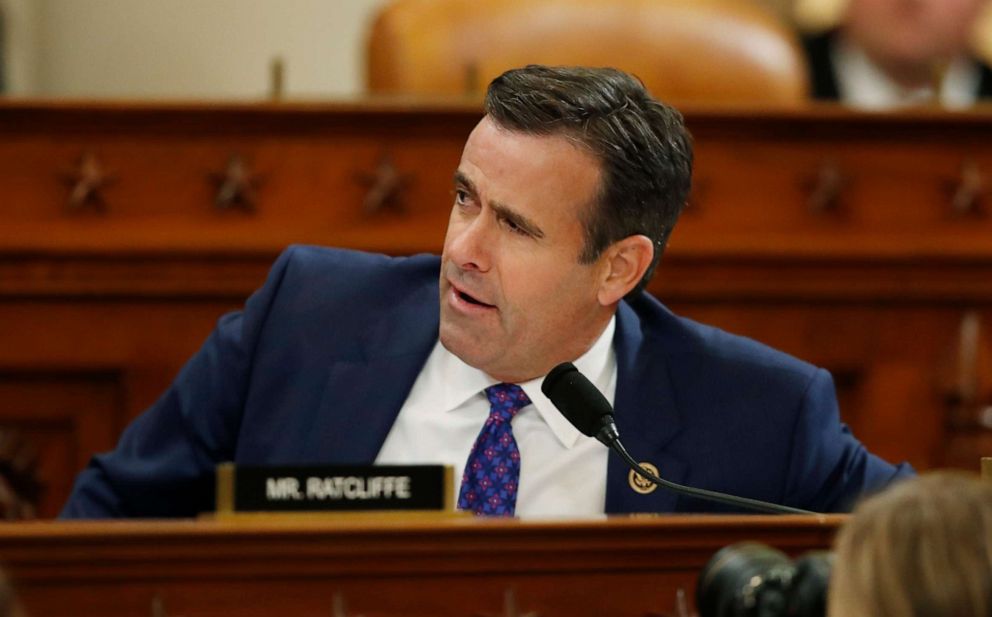 "In this impeachment hearing today where we impeach presidents for treason, bribery or other high crimes where is the impeachable offense in that call? Are either of you here to say there was an impeachable offense in that call. Shout it out. Anyone?" he said to no immediate response from Taylor or Kent.
Ratcliffe withdrew the question after Taylor began to respond, but Taylor responded by repeating his comments that he is not testifying to what the conclusion of the impeachment inquiry should be.
"I would like to say I'm not here to do anything having to do with decide about impeachment. That is not what either of us are here for. This is your job," Taylor said.
1:49 p.m.
Republican Rep. Jim Jordan noted that Taylor's testimony on the July 25 call was based on secondhand knowledge, commenting that Taylor is a weak "star witness" for Democrats, since he never spoke with President Trump, a key part of the GOP defense reports ABC's Benjamin Siegel from the hearing room.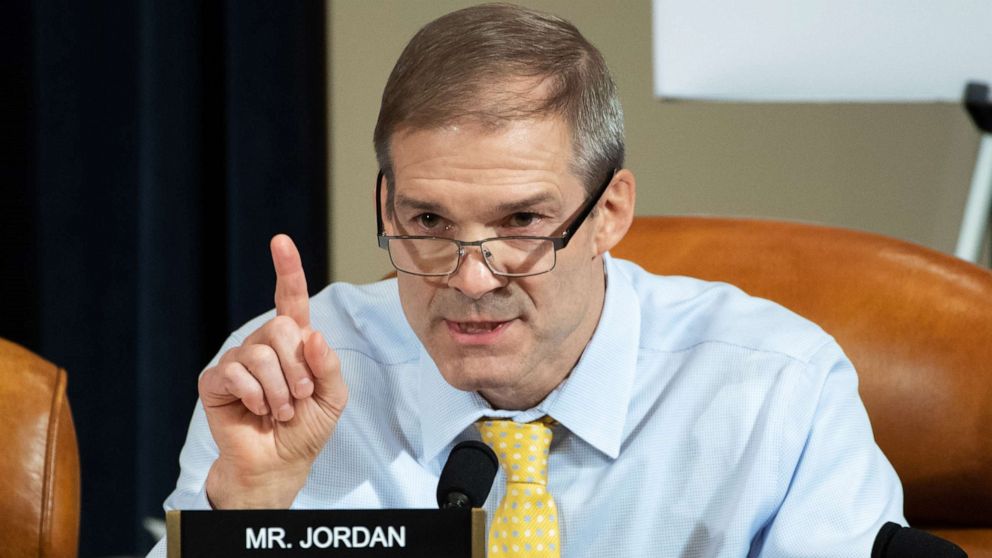 "We've got six people having four conversations in one sentence and you told me this is where you got your clear understanding," Jordan said, speaking of text messages Taylor and others exchanged about whether aid was conditioned on Ukraine agreeing to investigations. "Based on this I've seen church prayer chains that are easier to understand than this," he added later.
Taylor agreed that he was not on the president's call in question himself and that he didn't claim any firsthand knowledge, saying he doesn't consider himself a "star witness" for anyone.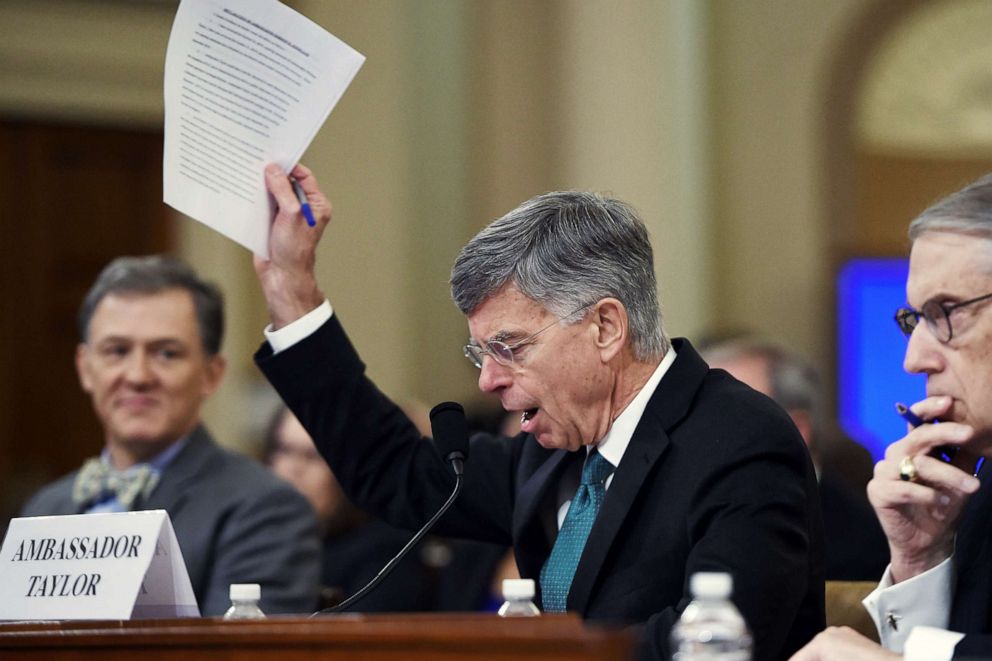 "I think I was clear about, I'm not here to take one side or the other or to advocate any particular outcome. So let me just restate that. Second thing is that my understanding is only coming from people that I talked to," he said.
1:24 p.m.
In analysis, ABC News' MaryAlice Parks notes the Republican staff counsel, Steve Castor, has generally taken an aggressive and even accusatory stance toward the witnesses. That style, she says, might underline the notion that Republicans see the hearing as nothing but partisan, but it could backfire, too, if Republicans just look as if they are not playing ball.
Republicans seem to be arguing through these questions that the president or the White House was justified in having concerns about corruption. Parks says It's worth remembering that Republicans, even more than Democrats, supported and voted for the aid package to Ukraine. Their public votes and statements at the time did not suggest they were looking for the aid to have more conditions.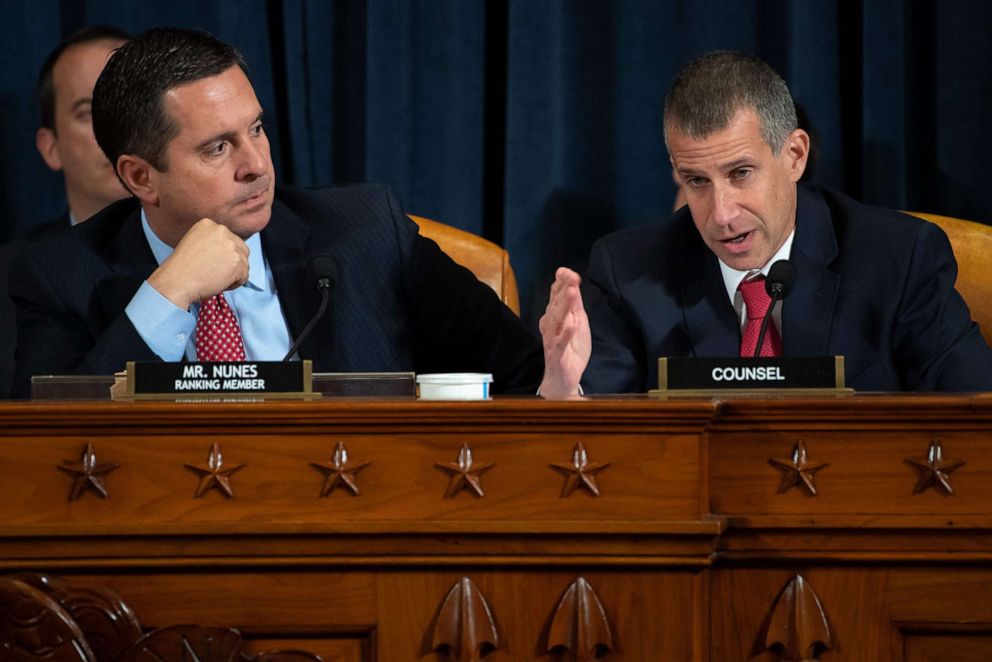 In one exchange between the Republican investigator Castor and Taylor, he got Taylor to agree the backchannel for foreign policy involving the president's lawyer, Rudy Giuliani, wasn't "as outlandish as it could be."
"Now, Ambassador Taylor, I want to turn to the discussion of the irregular channel you described. In fairness, this irregular channel of diplomacy, it's not as outlandish as it could be, is that correct?," Castor asked.
"It's not as outlandish as it could be. I agree Mr. Castor," Taylor responded.
12:42 p.m.
The committee returned starting with questions from Ranking Member Devin Nunes who continued to attack Democrats' handling of the inquiry.
ABC's Ben Siegel in the hearing room reports Nunes kicked off Republican questioning by railing against Democrats and accusing them of mischaracterizing the Trump-Zelenskiy July 25 call.
"What it actually shows is a pleasant exchange between two leaders," he said of the rough transcript. "Democrats aren't trying to find facts, they're trying to invent a narrative," Nunes said.
He briefly questioned Ambassador Taylor, after saying he would "skip" Kent given his comments in the last round (he said there was "no factual basis" for allegations that Ukraine interfered in the 2016 election.)
ABC News' Political Director Rick Klein notes that Nunes ended his questioning by restating a key to the GOP defense of Trump.
"I just want to be clear that some government officials opposed President Trump's approach to Ukraine, but many had no idea what concerned him. In this case, it was numerous indications of Ukrainian interference in the 2016 election to oppose his campaign and support Hillary Clinton," Nunes said. "Once you know that, it's easy to understand the president's desire to get to the bottom of this corruption and to discover exactly what happened in the 2016 election."
After 10 minutes, he kicked over questioning to Steve Castor, the chief GOP investigative counsel for the House Oversight Committee on loan to the Intelligence Committee for the impeachment hearings.
Castor is a veteran of numerous GOP investigations during the Obama years, from the IRS targeting of tea party groups, to Fast-and-Furious and Benghazi.
ABC News' legal analyst Kate Shaw says the GOP argument that there was "no quid pro quo" continues to fall apart in Wednesday's hearing.
"Today you see, the fact that you just speak the words 'no quid pro quo' but then everybody involved, really on both the U.S. side and even eventually on the Ukrainian side, understand that there is this linkage between the aid and the White House meetings and these investigations," she said.