Sen. Amy Klobuchar, who tangled with Kavanaugh at hearing, says judge's behavior wasn't 'dignified'
Sen. Klobuchar said Kavanaugh's behavior wasn't "dignified" during the hearing.
Sen. Amy Klobuchar, who was at the center of one of the tensest moments of Brett Kavanaugh's Senate confirmation hearing, said the judge's behavior wouldn't have been allowed in court.
The Minnesota senator, who was a prosecutor before becoming a politician, squared off with Kavanaugh over whether he had ever blacked out from drinking. Kavanaugh had been accused by Christine Blasey Ford, a California professor, of being drunk and trying to rape her when they were teenagers in the 1980s.
In response, Kavanaugh, who denied the allegations, flipped the question on Klobuchar and asked her if she ever blacked out from drinking. He later apologized for the question, but it didn't go unnoticed.
"My first thought was if I was appearing before him in court, he would have thrown me out of the courtroom, but I did appreciate that he apologized. But at the same time, this is supposed to be a dignified proceeding and that's not how he was acting," Klobuchar said on "The View" Thursday morning.
Klobuchar went on to vote against Kavanaugh's nomination, like all of her fellow Democrats on the Senate Judiciary Committee. She said her vote wasn't political.
"I just think we could have had someone who was more independent," she said.

The discussion Thursday turned to the prevalence –- or lack of –- bipartisanship in Washington. Klobuchar said that despite Republican Sen. Lindsey Graham's calls for her to apologize to Kavanaugh -- she did not -- she spoke with the South Carolina Republican and they continue to work together.
"If you just go in your opposite corners of the boxing rings, you never get anything done," she told the co-hosts.
"Courage is if you're willing to stand next to someone you don't always agree with for the betterment of the country," she said.
Another Republican she crossed the aisle to work with was the late Sen. John McCain, the father of "The View" co-host Meghan McCain.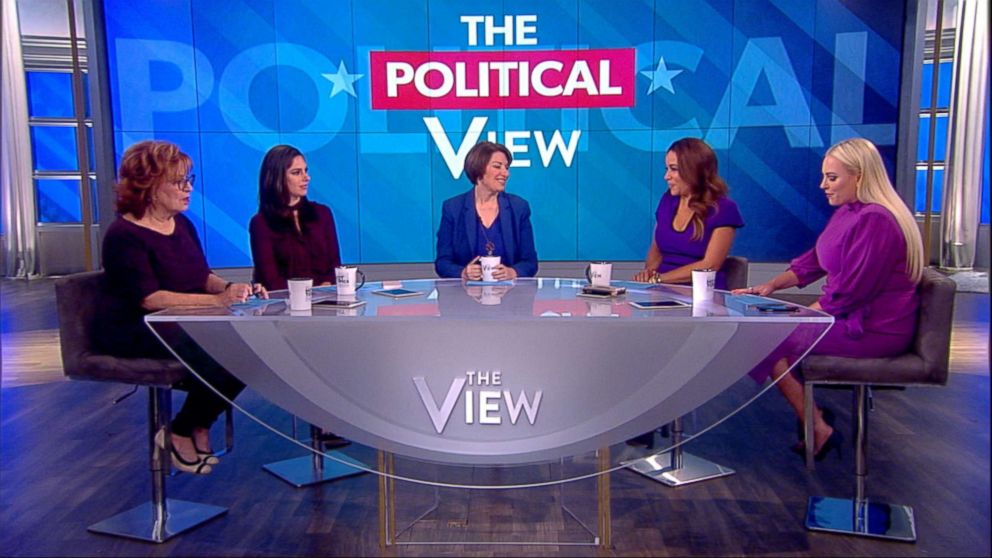 Klobuchar remembered how during international trips McCain would always insist that foreign leaders with reputations for treating women unequally showed her the respect she deserved.
"He was such a mentor," Klobuchar said.
She also recalled how he was both supportive and willing to tease her. After she made appearances on news programs, she said McCain would call her to take digs at her political opinions.
"Okay, you did a really good job -- for a communist!" Klobuchar said McCain would say in a message.
"He just had this joy and zest and fun," she said.
When asked if she's thinking of throwing her hat in the ring as a possible Democratic presidential nominee in 2020, Klobuchar refused to take the bait.
"I am focused on Minnesota. We've got a lot of big races there and it matters," she said.