National protests against Supreme Court nominee Brett Kavanaugh escalated on Monday with more than 120 people arrested on Capitol Hill, celebrities weighing in on social media, and nationwide walkouts.
Capitol Hill police said 128 people were arrested for "unlawfully demonstrating" outside of senators' offices and in the main rotunda of the Russell Senate Building. About half as many protesters were arrested for protesting Kavanaugh on Thursday.
The protests were organized by various groups, including the Women's March, Planned Parenthood, NARAL and others who strongly oppose Kavanaugh's nomination.
The surge in opposition to Trump's pick for the high court comes one day after a second woman came forward with a new sexual misconduct allegation.
Deborah Ramirez, 53, told The New Yorker Kavanaugh exposed himself to her at a dorm room party at Yale University when she was 18. Her story comes on the heels of allegations by Christine Blasey Ford, a Northern California professor, who plans to testify Thursday before Congress that Kavanaugh sexually assaulted her when she was 15 at a party in Maryland, where they grew up.
Around the same time as the majority of the arrests, walkouts were also taking place in workplaces and schools around the country – including at Yale – by women and men wearing black.
Their message? Believe the accounts of the two women who have shared stories of sexual misconduct with Kavanaugh and stop his nomination.
Kavanaugh, who has repeatedly denied the accusations, again called them "false" on Monday and said he would not withdraw from the process.
"I'm not going to let false accusations drive us out of this process and we're looking for a fair process where I can be heard and defend my integrity my lifelong record. My lifelong record of promoting dignity and equality for women starting with the women who knew me when I was 14 years old. I'm not going anywhere," he said in an interview with FOX News.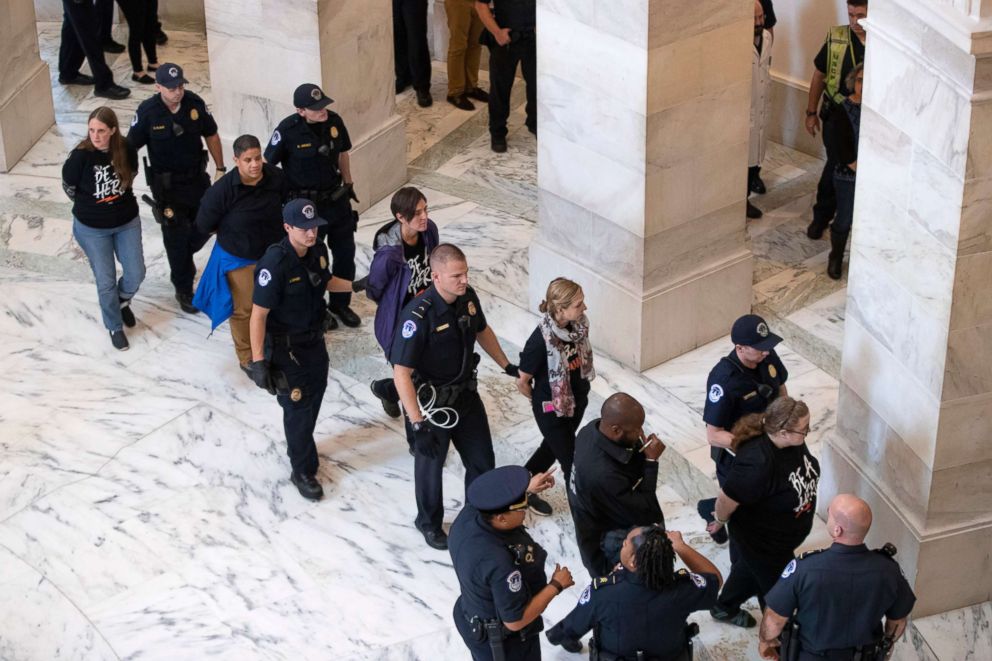 Protesters largely targeted senators who are key to Kavanaugh's potential confirmation to the Supreme Court. Republican Sen. Susan Collins, who said Friday she remained undecided, had protesters outside her office Monday morning, as did another undecided Republican, Sen. Jeff Flake of Arizona.
Many protesters also crowded the office of Senate Judiciary Committee Chairman Chuck Grassley, the Republican senator from Iowa.
They shared their own stories of sexual assault and called on senators to stand with survivors.
One woman said she took a train from Boston on Sunday night to join protests on the Hill. Standing in a Senate building hallway surrounded by fellow protesters and Capitol Hill police, she told the crowd her own story as a rape survivor.
"He raped me as he choked me," she said in a video that later circulated Twitter with thousands of retweets. "And when I heard Professor Ford say that Kavanaugh had his hand over her mouth, I believed her. You do not forget someone choking you, you do not forget someone putting their hand over their mouth and you thinking they're going to die," she said, her voice quaking.
"For God sake, for all the boys and girls who have been assaulted over the years, for God sake, when will you stand up for the American people, for democracy?" the woman said, a plea to the senators on the Judiciary Committee, as a fellow protester put a hand on her shoulder.
High-profile celebrities also chimed in on social media, posting photos in all-black and cataloging walkouts on television sets.
Many referenced Time's Up, a group that formed after a New York Times story about Harvey Weinstein unveiled the culture of sexual assault in Hollywood.
Girls for Gender Equity, a non-profit based in Brooklyn, New York, that aims to create more opportunities for women and girls, arranged protests at the Supreme Court and a walkout at City Hall in New York City.
"We hear you, we see you, we believe you," protesters chanted at the walkout in New York.
It was meant to "create an environment where survivors are heard and listened to," said a long-time member of the organization and sexual assault survivor named Emily, who spoke to ABC News at the protest but asked that her last name not be used. "The expectation should be, 'when I come forward I will be supported. When I come forward people will say what do you need, how can I help you,' not have that person be attacked."
She had a message for Ramirez and Ford.
"I would say thank you, a million times thank you," Carpenter said. "We know it's not easy and I wouldn't fault you for not coming forward because I know that it's difficult, but the fact that you did encourages so many other people," she said.