Melania Trump calls Brett Kavanaugh 'highly qualified,' says glad his accuser 'was heard'
The first lady did not say directly whether she believed Christine Blasey Ford.
First lady Melania Trump weighed in publicly for the first time on Supreme Court nominee Brett Kavanaugh since sexual assault allegations were made against him, saying he is "highly qualified."
She also said she is glad accuser Christine Blasey Ford was heard.
"I think he's highly qualified for the Supreme Court," the first lady told reporters while in Egypt on her first solo overseas trip. "I'm glad that Dr. Ford was heard, I'm glad that Judge Kavanaugh was heard, FBI investigation was done, is completed and the Senate voted."
Asked if she believed Ford, who alleges that Kavanaugh sexually assaulted her when they were both in high school, Melania Trump didn't directly answer, but said, "We need to help all the victims, no matter what kind of abuse they had."
"I'm against any kind of abuse or violence," she added.
The first lady, who is wrapping up a four-country tour of Africa and spoke to reporters while standing in front of the Great Sphinx in Egypt, said her trip was "incredible" and "unforgettable" and that she hopes it sends a message that the United States cares about the welfare of other countries.
"We care, and we want to show the world that we care, and I've partnered and am working with USAID," Trump said, referring to the U.S. Agency for International Development. "And that's what I want to share, that we care."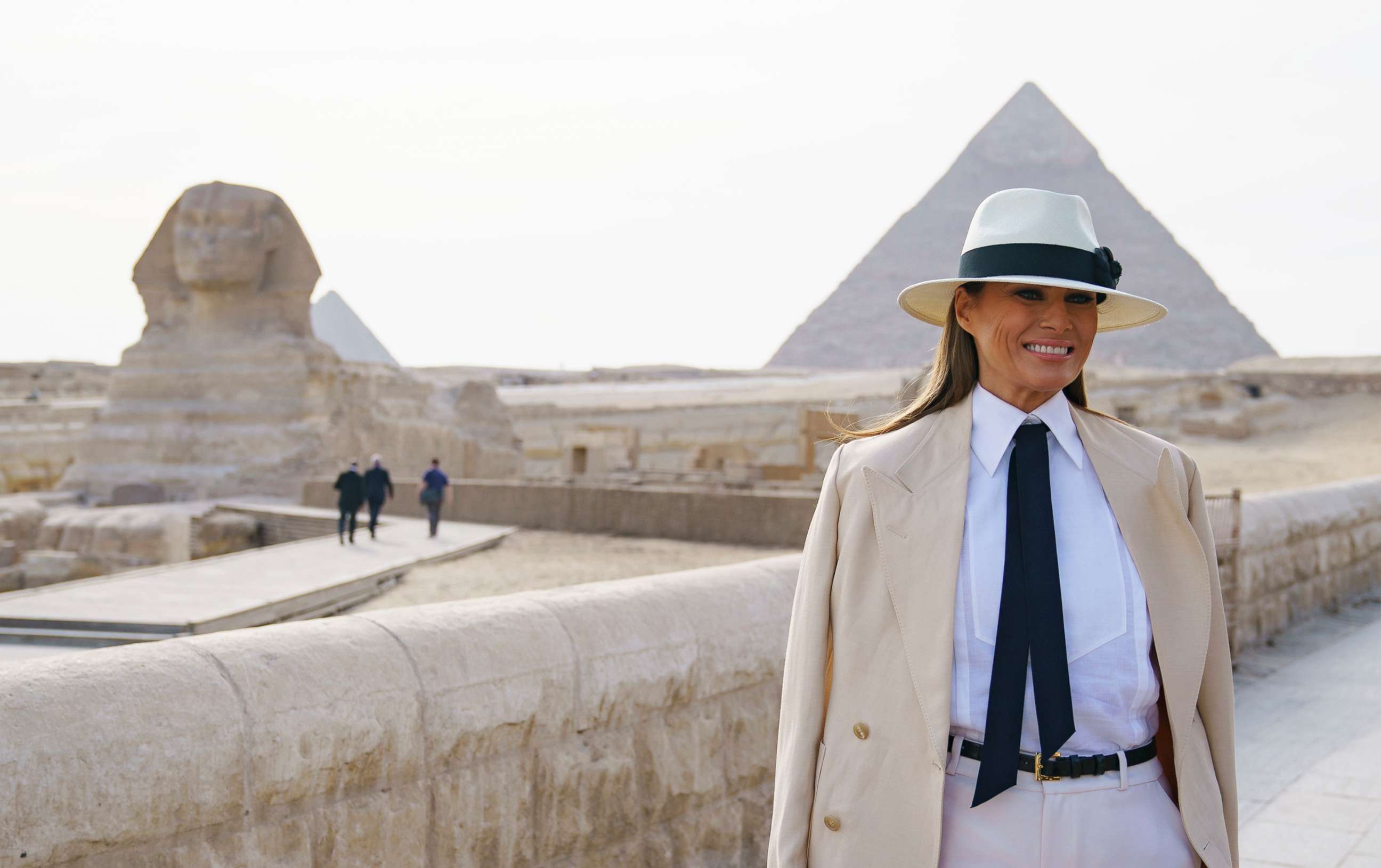 Asked about her husband's previous derogatory comments about African nations, Mrs. Trump said she didn't hear the president make the remarks and that none of her hosts during the trip brought up the topic.
"Nobody discussed that with me, and I never heard him saying those comments, and that was anonymous source and I will leave that at that," she said.
President Trump in an Oval Office meeting in January grew frustrated at a proposed bipartisan immigration plan and asked those in the room why they would want people from Haiti, Africa and other "s---hole countries" coming into the United States, according to multiple sources either briefed on or familiar with the discussion.
While the first lady on her trip highlighted successful programs of USAID, she indicated she would not press the president to increase funding to the foreign aid agency.
"We are having funding, so we are helping the countries, and we are working hard for helping them, and we will continue to help," she said.
President Trump has previously sought to slash funding to USAID by as much as 30 percent. Congress rejected the proposal.
Melania Trump was also asked about any role she has advising her husband and the contrast between her words and actions and those of the president. She said they don't always see eye to eye and that she voices her opinions.
"I don't always agree with his tweets, and I tell him that and give him my honest opinion and honest advice," she said. "Sometimes he listens and sometimes he doesn't, but I have my own voice and my own opinions and it's very important that I express what I feel," she said, adding that it is her husband, not her, in elective office.
The first lady's wardrobe choices – including a tie she donned in Egypt today – have been dissected for what message she might be trying to send. But when asked about the topic, Trump said she wished to discuss her trip and not her fashion choices.
Melania Trump through the years
First lady Melania Trump speaks on the second night of the Republican National Convention from the Rose Garden of the White House as seen from the roof of the West Wing in Washington, D.C., Aug. 25, 2020.<br><br> Melania headlined the program with remarks from the historic and freshly renovated White House Rose Garden -- four years after her first big GOP speech was criticized for striking similarities to Michelle Obama's 2008 convention address.<br><br> Melania expressed sympathy for COVID victims, called for "violence and looting" to end and for her husband's reelection.
"You know what, we just completed an amazing trip, I want to talk about my trip and not what I wear, and that's very important, what I do, what we're doing with USAID, what I'm doing with my initiatives and I wish people would focus on what I do, not what I wear," she said.