Melania Trump, on 4-nation Africa tour, gives ABC News exclusive interview
The first lady's trip stands out in the Trump White House's Africa relationship.
Melania Trump sat down with "World News Tonight" Weekend Anchor and Chief National Affairs Correspondent Tom Llamas for an ABC News exclusive interview set to air next week.
The famously private first lady has sought to find her footing in the global spotlight while escaping the media glare of the White House. She is currently on a solo four-nation tour of Africa.
She is highlighting her "Be Best" initiative and what the administration sees as the positive impact of U.S. aid on the African continent -- assistance President Donald Trump has proposed cutting by 30 percent.
Melania Trump visited with mothers and children in an African hospital, engaged with school children in Malawi and laid a wreath at the "door of no return" in Cape Coast Castle -- the last point many kidnapped Africans saw before they were crammed onto ships and sent to the Americas to become slaves.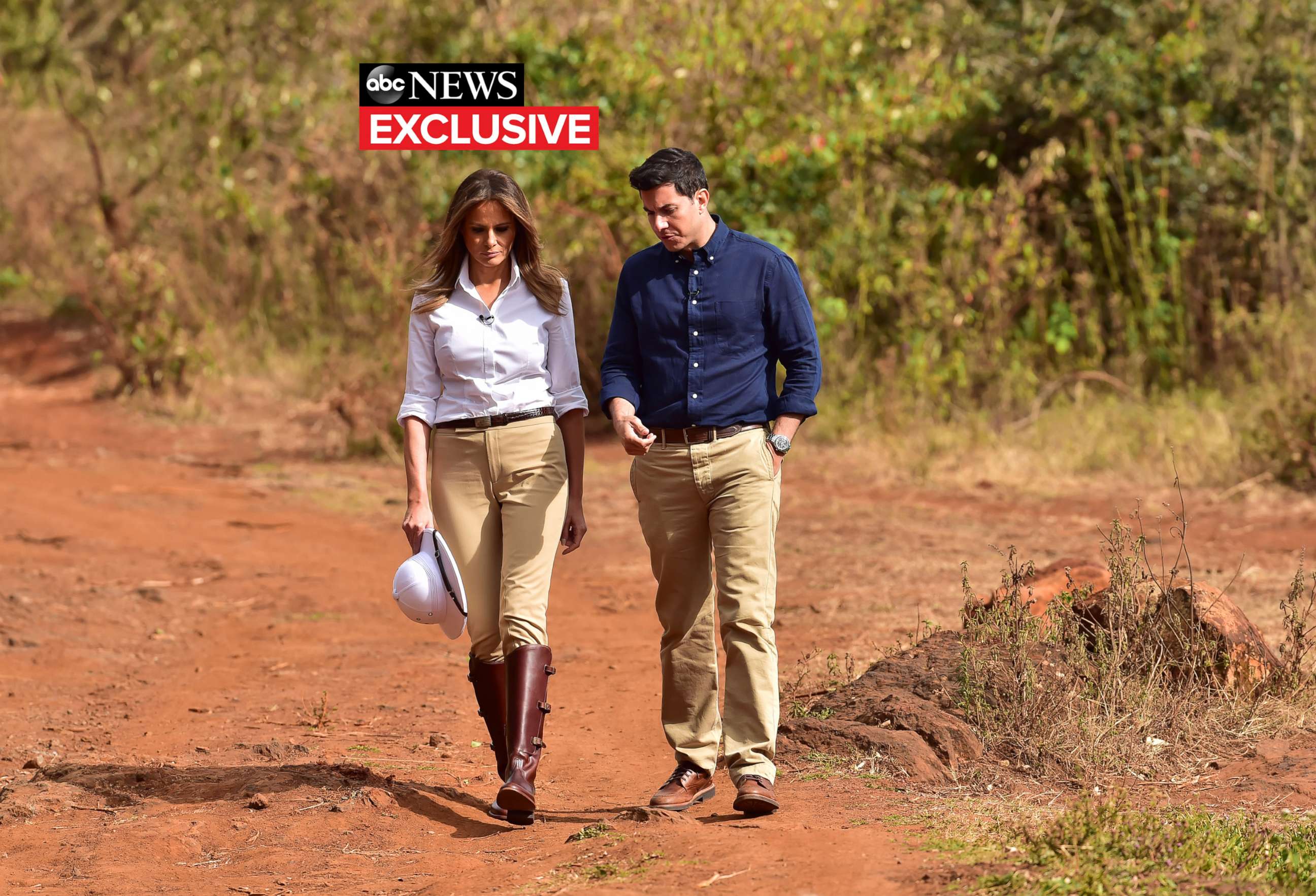 In Ghana on Tuesday, she visited "Obama Hall," which was named after the 44th president, who visited the continent in 2009.
Melania Trump through the years
First lady Melania Trump speaks on the second night of the Republican National Convention from the Rose Garden of the White House as seen from the roof of the West Wing in Washington, D.C., Aug. 25, 2020.<br><br> Melania headlined the program with remarks from the historic and freshly renovated White House Rose Garden -- four years after her first big GOP speech was criticized for striking similarities to Michelle Obama's 2008 convention address.<br><br> Melania expressed sympathy for COVID victims, called for "violence and looting" to end and for her husband's reelection.
At a primary school in Lilongwe, Malawi, Melania Trump donated school supplies and interacted with students. A student choir sang to her, "Welcome, welcome, welcome. We are happy today, we are happy to see you."
She also had a private meeting with Gertrude Maseko, the first lady of Malawi.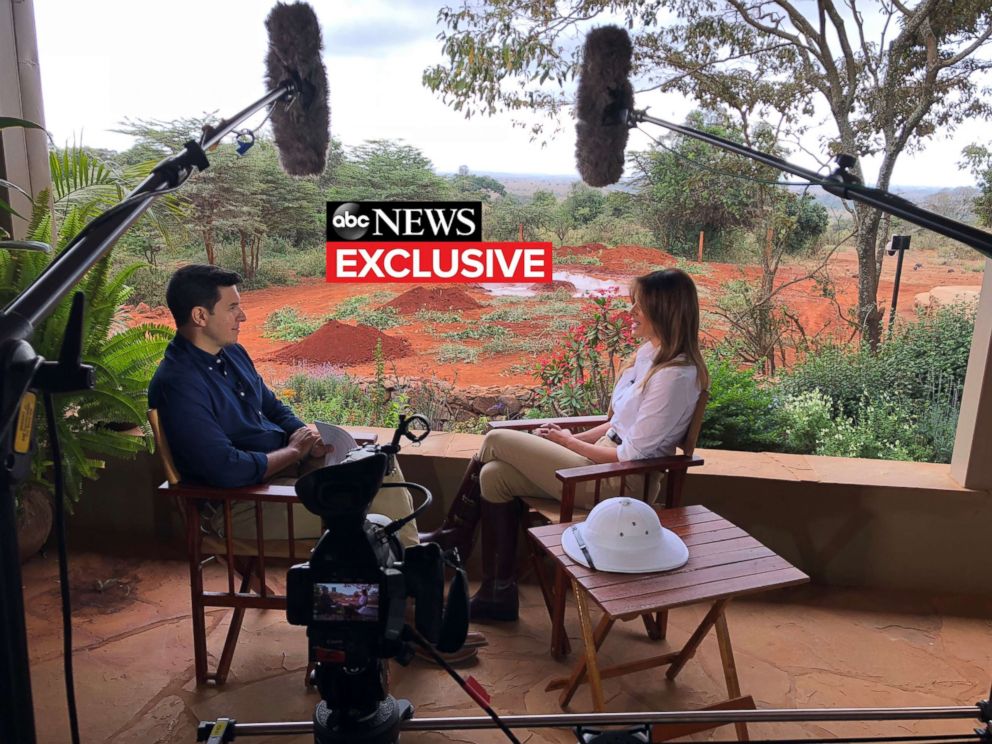 "Thank you for having me here, and thank you for a beautiful warm welcome," Melania Trump said at the school in Malawi. "I wanted to be here to see the successful programs that the United States is providing to the children. And thank you for educating them to 'Be Best' -- be their best and to grow up into educated adults for generations to come."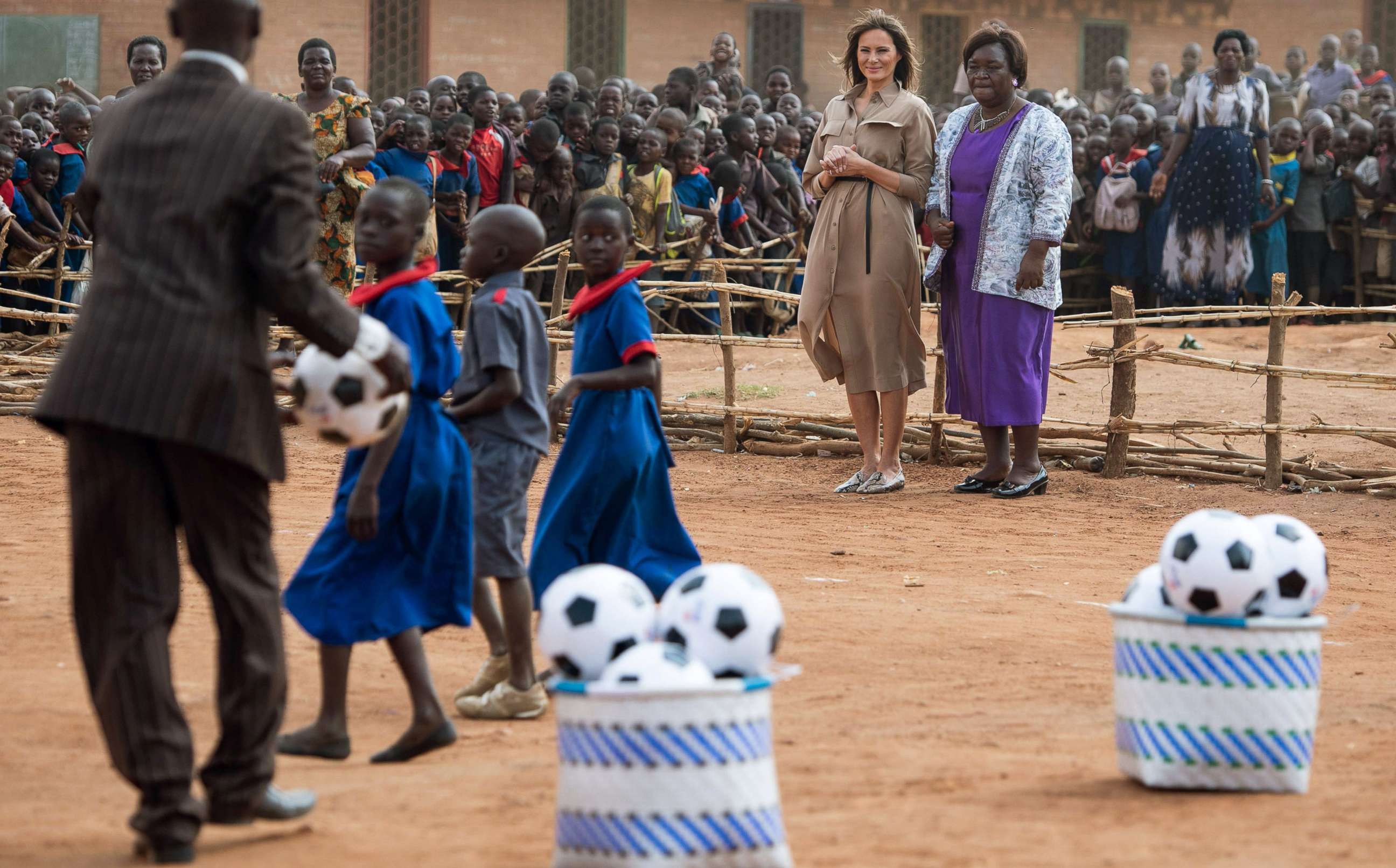 Donald Trump has yet to visit the continent of Africa as president. The White House has not said whether he intends to.
He offered a positive review of his wife's trip so far.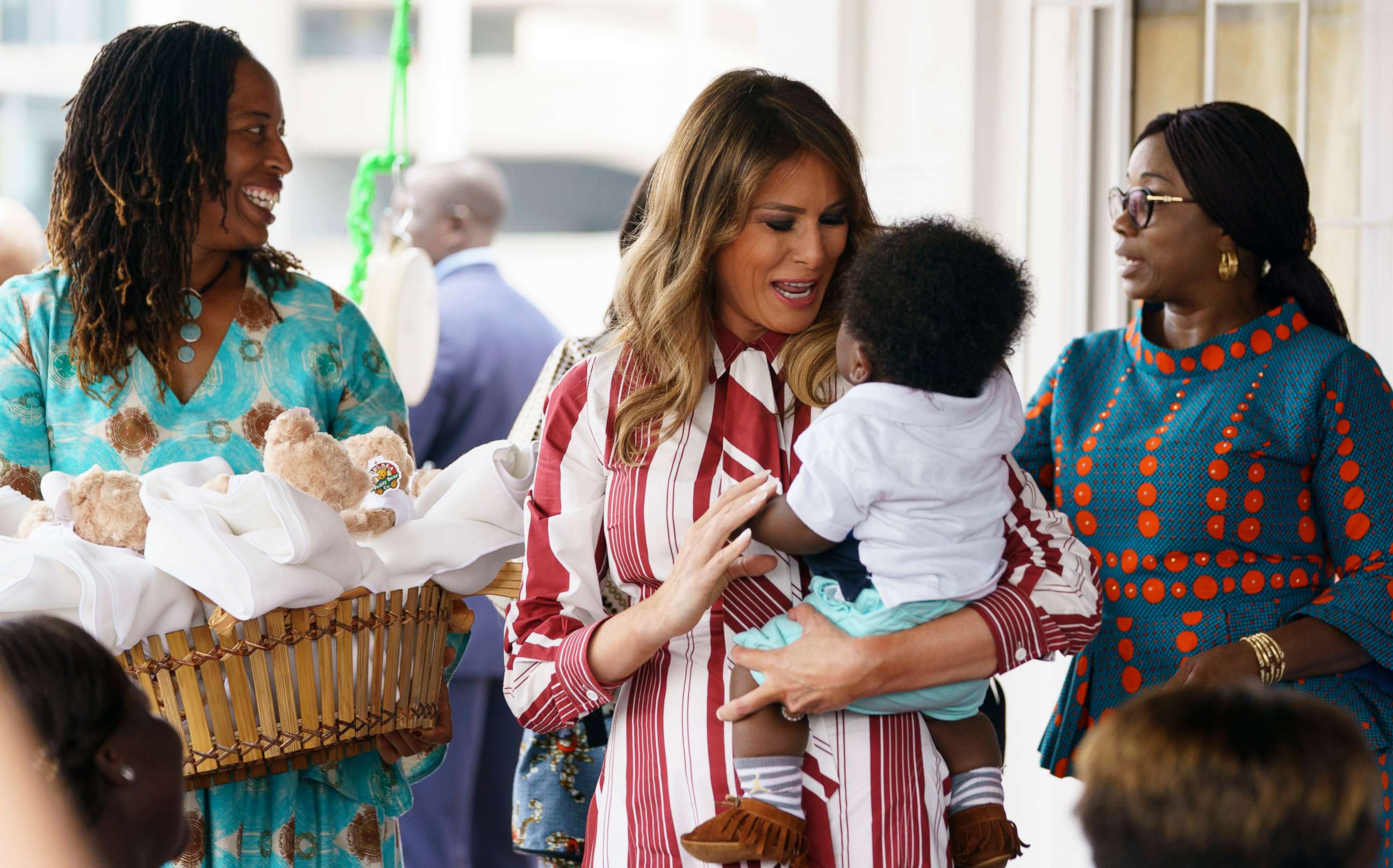 "She's doing a great job as first lady, I will tell you -- really great," the president said Tuesday. "And you think that's an easy job? That's not an easy job. That's a tough job. She's fantastic."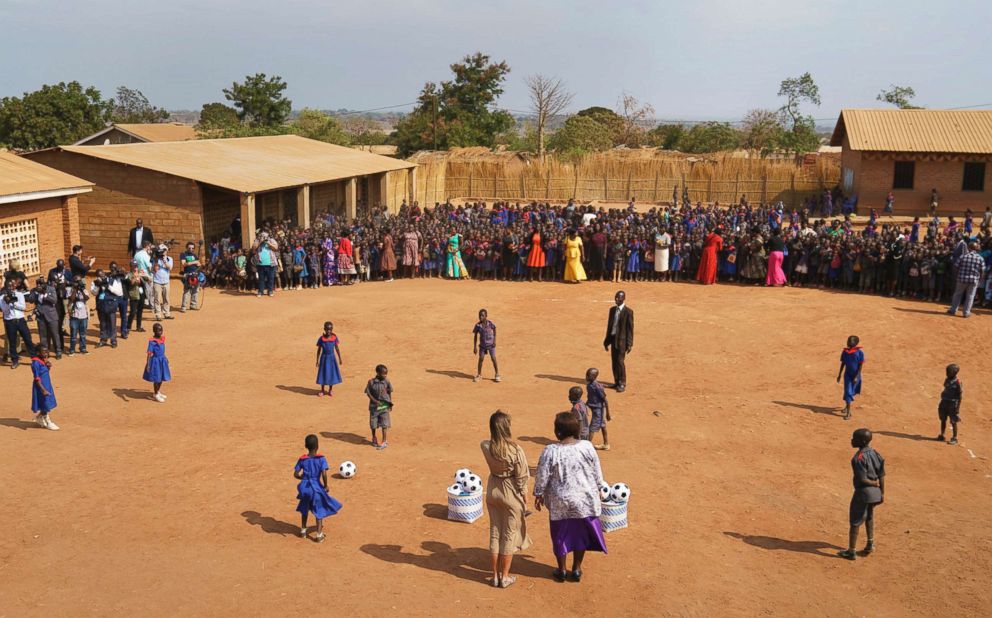 Donald Trump earlier this year offered a much different opinion when asked about immigrants from Haiti or nations in Africa, to which he referred as "s---hole countries."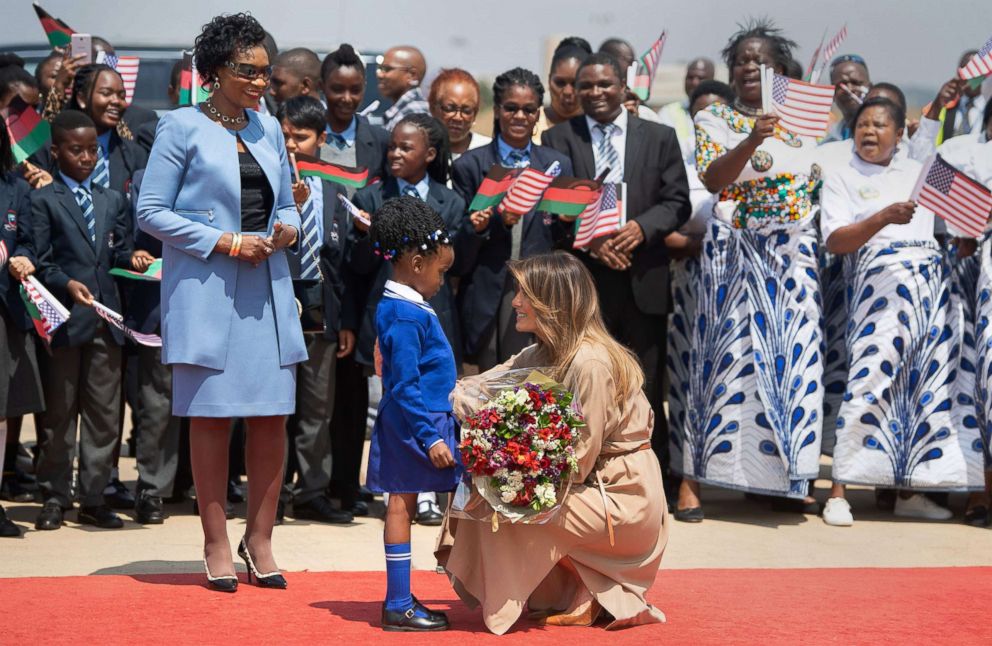 Tune in Friday, Oct. 12, at 10 p.m. EST for a one-hour prime-time special, "Being Melania -- The First Lady," on ABC.