Mitch McConnell returns to Senate after concussion, rib injury
It's been six weeks since the 81-year-old Republican leader was hurt in a fall.
Republican Leader Mitch McConnell returned to the Senate floor on Monday, nearly six weeks after suffering a concussion and a fractured rib from a fall at a Washington hotel.
The Kentucky senator, who's 81, has been recovering at home upon release from a rehabilitation facility March 25, following a five-day in the hospital after falling at the ​​Waldorf Astoria while attending a private dinner on March 8.
"It's good to be back," McConnell said, before joking, "Suffice to say, this wasn't the first time being hard-headed has served me very well."
"We're truly lucky and blessed to get to serve in this remarkable institution, represent our home states and serve our country. And needless to say, I'm very happy to be back. There's important business for Congress to tackle," he said.
Showing no outward signs of injury as a result of the accident, McConnell pivoted back to legislative business, chastising President Joe Biden for not yet returning to the debt ceiling bargaining table with Speaker Kevin McCarthy.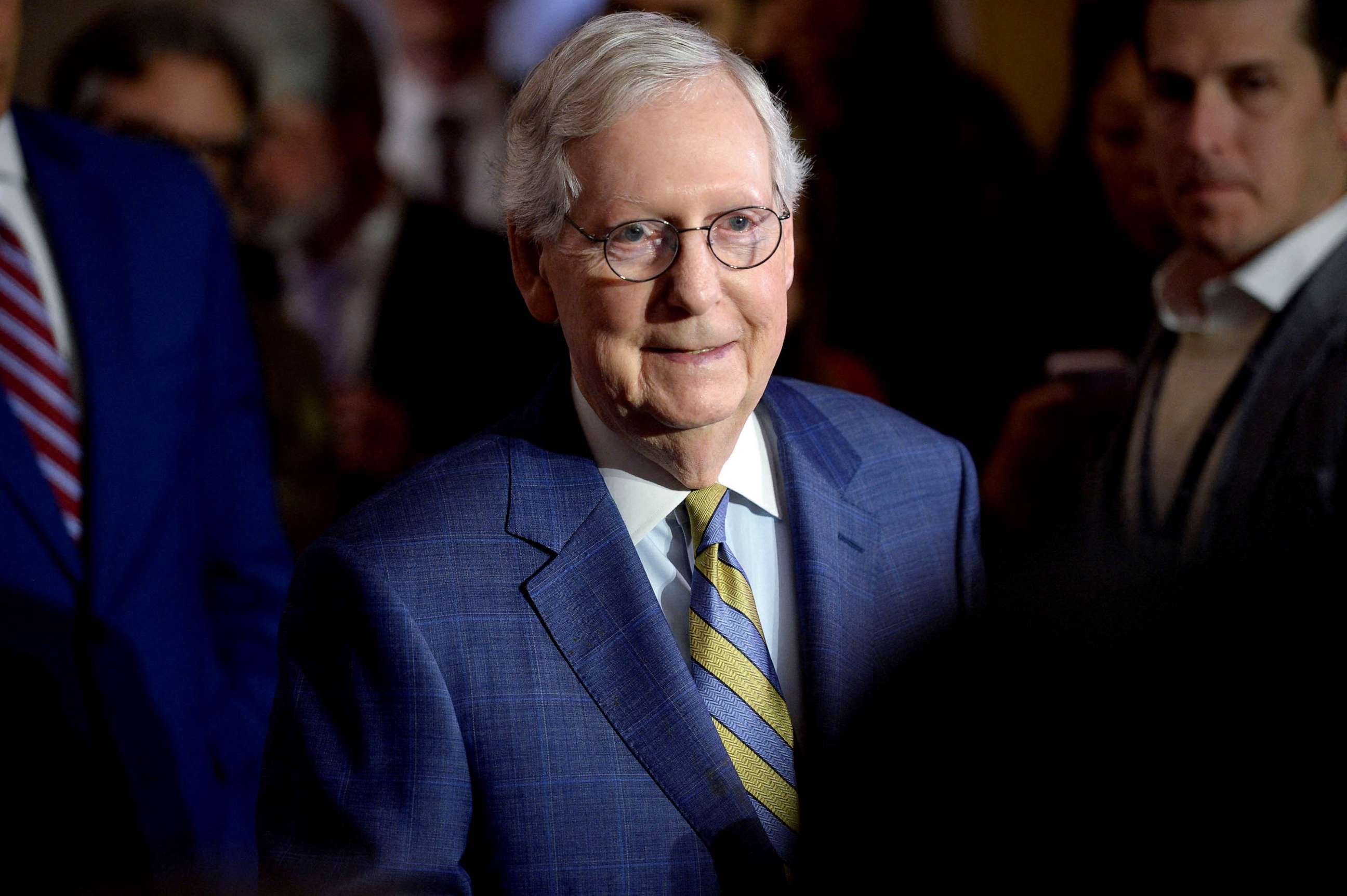 The lawmaker was welcomed back to the Senate by Senate Majority Leader Chuck Schumer and Judiciary Chair Dick Durbin on Monday.
McConnell will also likely field questions about his political future at a time when another senior senator, Dianne Feinstein of California, remains at home recovering from shingles.
Feinstein's absence from the Senate Judiciary Committee is something Democrats are attempting to temporarily backfill in order to push forward some of President Joe Biden's judicial nominations despite Republican opposition.
McConnell has made clear he has no intention to leave his role.
"I'm not going anywhere," McConnell said in November, after he faced a leadership challenge from Sen. Rick Scott of Florida.
McConnell's return will also come with another colleague's long-awaited return following a medical pause: Freshman Sen. John Fetterman, who two months ago checked himself into Walter Reed National Military Medical Center to receive treatment for clinical depression.
The Pennsylvania senator returned to Congress on Monday, clad in gym shorts and a dark hoodie.
"It's great to be back," the senator told reporters before turning and walking into the Capitol.
Schumer and Durbin also welcomed Fetterman back to the Senate in their speeches on the floor, applauding their colleague for publicly seeking depression treatment, acting as an example for other Americans struggling with mental illnesses.

"I spoke to him by Zoom several weeks ago, and I was really heartened by his his message. He had the courage to step up and ask for help when he faced depression, to seek professional medical advice, and I can tell by his responses and the tone of his voice, that that decision had already made a difference in his life for the better," Durbin said on Monday.
"I believe people will be inspired to follow his example and seek help," he said, a sentiment that Schumer echoed:
"We're all glad he got the support immediately sending an important message to millions of Americans that asking for and getting help works," Schumer said.
ABC News' Trish Turner contributed to this report.