The TAKE with Rick Klein
President Donald Trump is trying to look toward November —turning his attention to enemies, real and imagined, and tending to his base with intriguing strategic shifts.
But some folks inside his inner circle threaten, again, to draw his attention backwards.
Campaign Trump spent the week poking the media and firing up his supporters. He took a strategic step back from tariff talk, in an acknowledgment of the pressures and voices he's hearing from Republicans on Capitol Hill.
Yet the week ends as it began on other fronts. News is pouring out from the Trump business empire's inner sanctum, with the potential game—changing revelation that veteran Trump executive Allen Weisselberg has been served with a grand—jury subpoena.
Trump exerts exceptional control over his party's messaging. But events outside of his control are finding ways to intervene.
The RUNDOWN with MaryAlice Parks
The House is leaving town for the summer next week, which means fall is around the corner.
Fittingly in last few days, the contours of the midterms campaigns have come into focus.
Despite hearing the president's voice on tapes about hush money ahead of the last election, his most ardent supporters on Capitol Hill doubled-down on their attacks of the Justice Department and filed articles of impeachment against Deputy Attorney General Rod Rosenstein.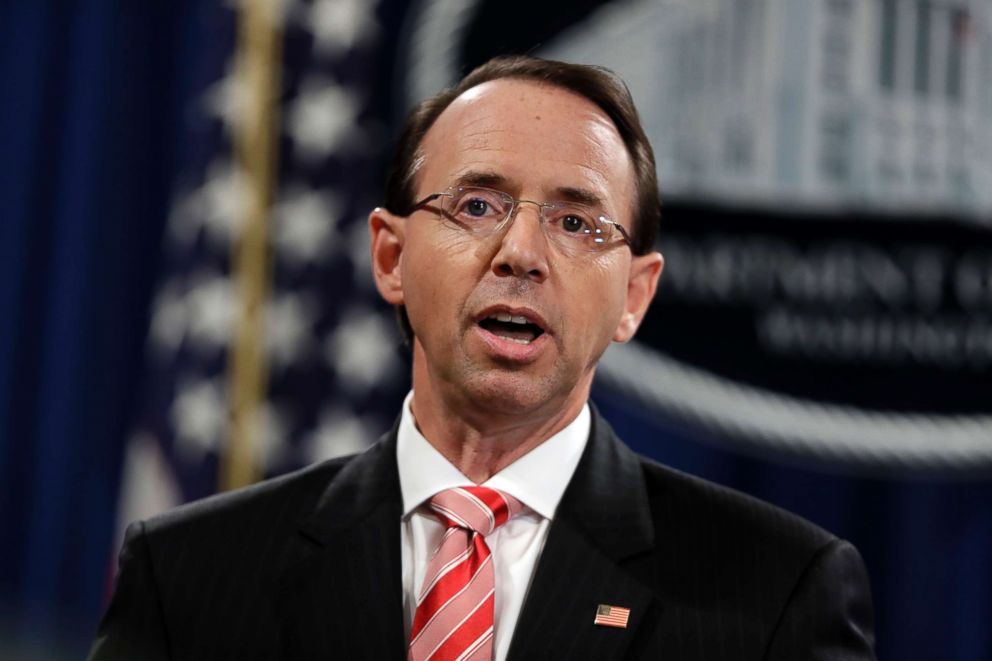 In a run-off election in Georgia a few days earlier, the Trumpier of the GOPs picks prevailed. As did an African-American mom and gun safety activist on the other side of the aisle.
The president's about—face on tariffs spoke to the political realities of a trade fight. What's clearer than the president's position or agenda on the issue is that he needs farmers and the farmers are worried about tariffs.
The TIP with Molly Nagle
President Donald Trump visited Illinois Wednesday to tout the success of his steel and aluminum tariffs, but one person not in attendance was Illinois Republican Gov. Bruce Rauner.
Rauner told reporters Monday he did not plan to attend the event, saying he "was just in Granite City in the past week," and had other events on his schedule. When pressed why he would not go to greet President Trump on his first visit while in office, Rauner said he is in touch with the White House. "I go to the White House. I talk with the staff. I talk to the vice president all the time."
Rauner is currently seeking a second term as governor of Illinois, which voted for Hillary Clinton in 2016. He's engaged in what could be the most expensive gubernatorial race in history with Democrat J.B. Pritzker, who took aim at the president during his visit.
"I want to make one thing very clear to Donald Trump: Your hate, division and fear are not welcome in Illinois," Pritzker said in a statement Thursday.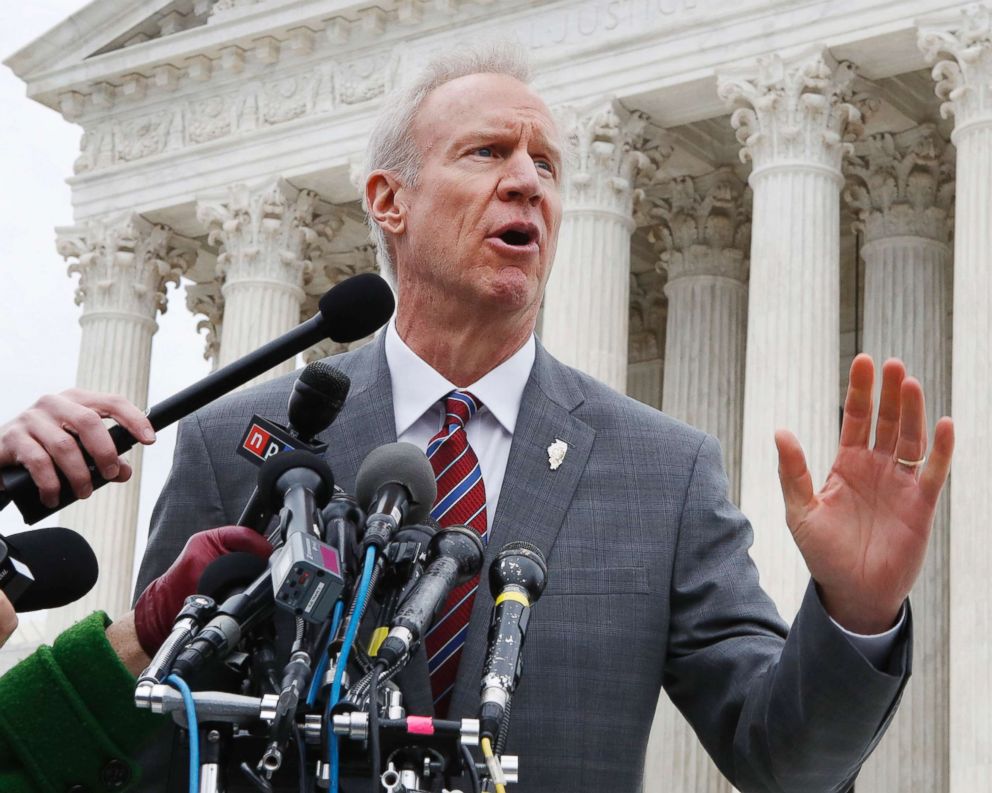 WHAT YOU NEED TO KNOW TODAY
The President meets with Secretary of State Mike Pompeo behind closed doors in the Oval Office at 2:15 p.m. He then meets with the National Security Council behind closed doors on election security at 3 p.m.
Trump and first lady Melania Trump head to Bedminster, New Jersey, at 4:15 p.m.
The Bipartisan Policy Center holds a discussion with Customs and Border Protection comissioner Kevin McAleenan at 9:30 a.m.
On Sunday, ABC News will publish an update to its "18 for 18" project, with new races and fresh analysis 100 days out from the midterm elections.
This Week on 'This Week': This Sunday, with just 100 days until Election Day, "This Week" Co-Anchor Martha Raddatz speaks with Democratic Congressional Campaign Committee Chair Rep. Ben Ray Luján, D-N.M., and National Republican Congressional Committee Chair Steve Stivers R-Ohio, only on "This Week." Plus, the Powerhouse Roundtable debates the week in politics, with ABC News Political Director Rick Klein, Washington Post Chief Correspondent Dan Balz, New York Times Editorial Board Member Mara Gay, and Washington Post National Correspondent Mary Jordan.
QUOTE OF THE DAY
"I don't think we should be cavalier with this process or this term. I don't think this rises to the level of high crimes and misdemeanors." – House Speaker Paul Ryan said at a press conference about calls for impeachment for Deputy Attorney General Rod Rosenstein.
THE PLAYLIST
ABC News Podcast "Start Here." The episode looks into Immigration, Facebook, Pakistan elections, Iowa trade reactions, and the North Korea remains.
In a special "18 for 18" edition of "Powerhouse Politics," Rick Klein and MaryAlice Parks interview the main candidates in the Democratic primary for Massachusetts' 7th congressional district: Rep. Michael Capuano, and Boston City Councilor Ayanna Pressley. https://bit.ly/2LujrSo
NEED TO READ
Tangling with Mueller, Trump's lawyer may have to face his past words. When Ronald Reagan was in the White House, one of the nation's top law enforcement officials advised Congress that if serious allegations were ever lodged against a president, the Justice Department would have no choice but to call upon a special investigator to look into the matter. (Mike Levine) https://abcn.ws/2LSESIV
As Trump visits Iowa, farmers warn 'patience is wearing thin' on tariff fight. Pig prices are plunging – so, too, are those of American soybeans. (Alexander Mallin) https://abcn.ws/2AbeWXn
President Trump assures farmers, steel mill workers amid uncertainty over future of trade war. President Donald Trump spoke to two groups of Americans on Thursday on opposite sides of the tariff debate. (Alexander Mallin and Stephanie Ebbs) https://abcn.ws/2AbeWXn
Remains of fallen US soldiers transferred out of North Korea. The remains of American service members from the Korean War were transferred out of North Korea on Friday, according to a White House statement, fulfilling a key agreement President Trump and Chairman Kim reached during last month's summit in Singapore. (Elizabeth McLaughlin and Conor Finnegan) https://abcn.ws/2LRXo44
White House disputes that CNN's Kaitlan Collins was 'banned.' The White House took issue with the characterization that they banned CNN's Kaitlan Collins from covering a White House event Wednesday after the White House informed her that she was not welcome to attend. (Jordyn Phelps) https://abcn.ws/2LSAfyv
House races offer Democrats best shot at claiming a chamber in Congress. Democrats want to take back at least one chamber of Congress this year, and the House of Representatives may be their best shot. https://abcn.ws/2Ie5mli
2018 gubernatorial races could provide 2020 snapshots. There are 36 states and U.S. territories holding gubernatorial elections this year and these races could be the biggest referendum of all on President Donald Trump's presidency. https://abcn.ws/2yxWUxX
Lawmakers begin 5-week congressional recess without forcing vote to impeach deputy attorney general. The House of Representatives wrapped up legislative business today without considering articles of impeachment against Deputy Attorney General Rod Rosenstein, punting the potential showdown until September and affording the Department of Justice five more weeks to comply with a congressional subpoena. (John Parkinson) https://abcn.ws/2LOLSGI
Betsy DeVos' Department of Education to curb college loan forgiveness, cutting estimated $13 billion in relief for defrauded students. New rules proposed by Secretary of Education Betsy DeVos would impose stricter standards for students defrauded by for-profit colleges to qualify for relief on federal loans. (Lee Harris) https://abcn.ws/2LCN0jD
From Russia to Bistro Bis: The Calif. congressman who dined with alleged Russian agent. When FBI counterintelligence agents plowed through the emails of alleged Russian agent Maria Butina's networking around Washington, they discovered her plan to arrange "friendship and dialogue dinners" with influential Americans. (Ali Dukais) https://abcn.ws/2Aav0bT
Senate Democrats probe NRA donors' contacts with Russians in Moscow. Senate Democrats are pushing for information about a 2015 meeting in Moscow between top NRA donors and a number of Russian nationals who have since fallen under scrutiny from law enforcement. (Pete Madden and Matthew Mosk) https://abcn.ws/2LOVq4h
Government watchdog: Dept. of Energy violated federal law when with anti-Obamacare tweet. The U.S. Government Accountability Office says the Department of Energy stepped outside its congressionally mandated duties and violated federal law when an official DOE Twitter account tweeted shared Sec. Rick Perry's column on Cleveland.com calling for the repeal of Obamacare. (Sydney Brandt and Jeff Cook) https://abcn.ws/2vaYmRG
Michael Cohen wants gag order against Stormy Daniels' attorney for alleged smear campaign. Michael Cohen's efforts to muzzle one of his chief antagonists will be before a federal judge in Los Angeles on Friday, as President Donald Trump's long-time fixer seeks a gag order against Michael Avenatti, the outspoken attorney for adult-film star, Stormy Daniels. (James Hill) https://abcn.ws/2vaZqoH
Mueller Examining Trump's Tweets in Wide-Ranging Obstruction Inquiry. The New York Times reports: https://nyti.ms/2uRjFbI
The Washington Post reports: Trump uses taxpayer-funded trip to campaign for GOP candidates. https://wapo.st/2LBqYxX
The Note is a daily ABC News feature that highlights the key political moments of the day ahead. Please check back Monday for the latest.