— -- Major outdoor retailers have come out in opposition to President Trump's announcement this week that he will shrink two national monuments in Utah.
Outdoor gear company Patagonia made its website go black after Trump's announcement Monday, with only large text reading: "The President Stole Your Land."
Patagonia's founder, Yvon Choinard, and a "broad coalition" of groups opposed to the announcement moved forward Wednesday by filing a lawsuit against the administration to protect Bears Ears National Monument's status.
"I think the only thing this administration understands is lawsuits," Choinard told CNN on Monday.
The coalition, which includes Native American, conservation and historic preservation groups, as well as the outdoor industry, scientists and recreationists, filed the complaint in federal court in Washington, D.C. The lawsuit attempts to "declare unlawful President Trump's December 4, 2017 proclamation that revoked the Bear Ears National Monument and replaced it with two new 'units.'" The filing claims the act exceeds a president's authority under the Antiquities Act of 1906 and wants the original configuration of the monument restored.
"Americans have overwhelmingly spoken out against the Trump Administration's unprecedented attempt to shut down our national monuments," Patagonia President and CEO Rose Marcario said in a statement Wednesday after the filing. "The Administration's unlawful actions betray our shared responsibility to protect iconic places for future generations and represent the largest elimination of protected land in American history. We've fought to protect these places since we were founded and now we'll continue that fight in the courts."
Interior Secretary Ryan Zinke said Tuesday the threat of lawsuits wouldn't change the administration's decision and that special interest groups are using the issue to raise money. Zinke specifically said that Patagonia was lying when it said that the president "stole land," saying that no land that was part of the monument will be removed from federal jurisdiction.
"The argument that somehow President Trump stole land is nefarious, false and a lie," Zinke said on a call with reporters Tuesday.
The lawsuit's defendants include Trump, Zinke, Secretary of Agriculture Sonny Perdue, Deputy Director of the Bureau of Land Management Brian Steed, and Chief of the U.S. Forest Service Tony Tooke.
Businesses that rely on travel to the monuments are worried about what this decision will mean for them, Outdoor Industry Association Executive Director Amy Roberts told ABC News. The association represents more than 1,200 businesses in the outdoor industry around the country, and Roberts said Utah has benefited greatly from having national monuments and parks. Business owners are worried that changing the monuments' status will lead to fewer people traveling to the area or opening new businesses there, she added.
"People are attracted to areas that have a special status," Roberts said.
Roberts said members of the Outdoor Industry Association asked for their major trade show to be moved out of Utah after state lawmakers passed resolutions asking for the monument status for Bears Ears and Grand Staircase-Escalante National Monuments to be changed. That event, scheduled for January, will be now be held in Colorado.
Marcario wrote in a TIME column Wednesday that they are suing in part because the changes will hurt the company's business.
"Patagonia's business relies directly on public lands, like Indian Creek in Bears Ears, which hosts world-class climbing," Marcario wrote.
She added that the company has an obligation to confront environmental threats and stand with partner organizations in the area around Bears Ears. Marcario wrote that Patagonia's lawsuit will argue that only Congress has the authority to undo national monuments designated under the Antiquities Act, not the president.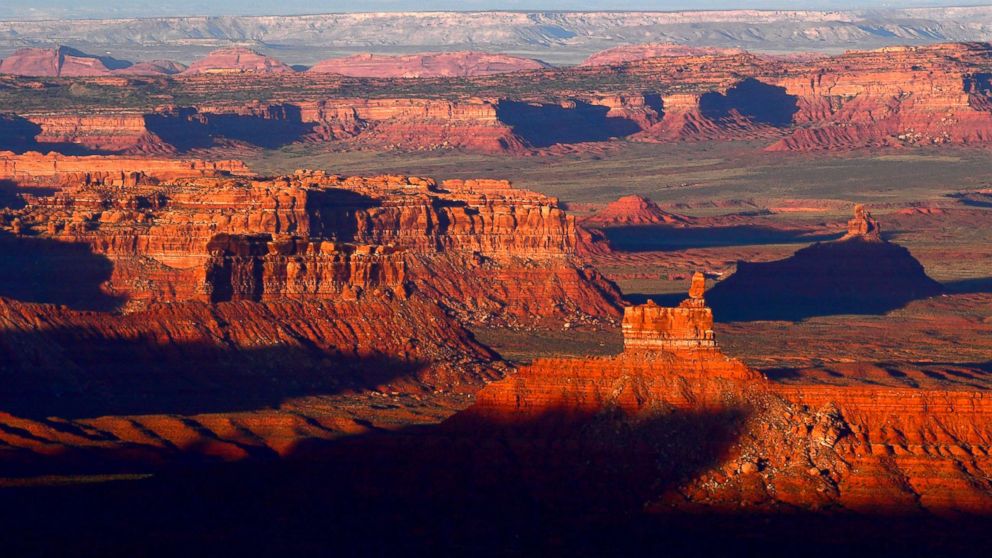 Elected officials in Utah were against the monument designation for Bears Ears and have said they thought the monument was too big. When Bears Ears was designated a monument by then-President Barack Obama, Utah Gov. Gary Herbert said in a statement it was an abuse of power to create such a big monument against the opposition of state elected officials. Republicans from Utah have proposed legislation they say will create a co-management plan for areas that are no longer part of the monument and that will protect the land by restricting mining activity and requiring protection for antiquities.
Trump is facing multiple lawsuits attempting to block the effort to shrink the boundaries of the national monuments.
A coalition of five tribes from the area filed a lawsuit Monday to block any changes to the Bears Ears National Monument.
The same day, multiple environmental groups filed a lawsuit aimed at protecting Grand Staircase-Escalante.
A group of paleontologists also filed a lawsuit to keep Grand Staircase's monument status, saying that removing it would endanger funding for research and that potential mining or ranching could damage archeological sites, according to the group's press release.
The administration says the president is within his authority to reduce the size of monuments under the Antiquities Act by limiting the monuments to the smallest area.
Americans spend an estimated $887 billion on outdoor recreation every year, according to a report by the Outdoor Industry Association earlier this year, and national parks and public lands represent an estimated $45 billion in economic output.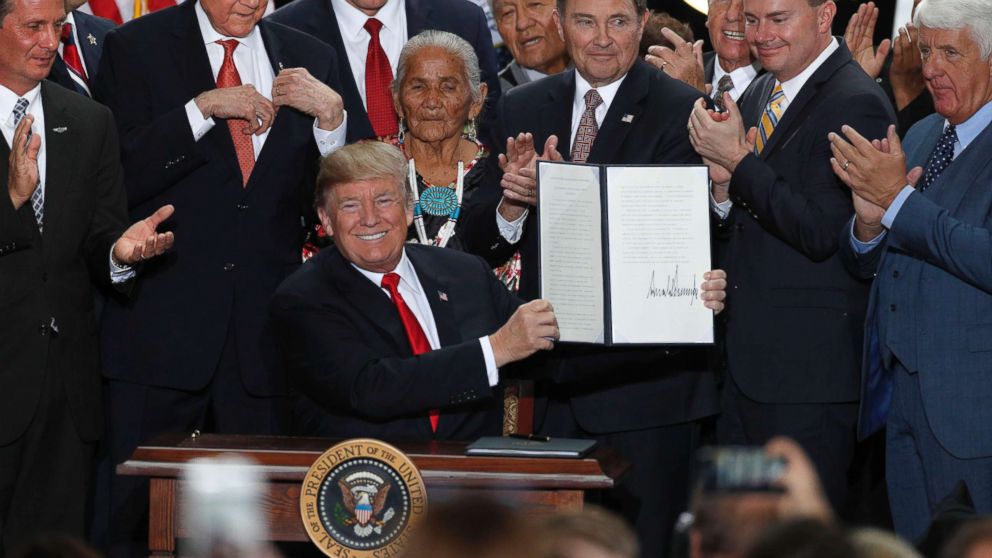 In Utah specifically, the recreation industry generated $2.28 billion for the state's economy and was responsible for more than 24,000 jobs in the 2016 fiscal year, according to the Department of Interior.
The group that represents the outdoor industry sent a letter to the president earlier this year signed by more than 360 business leaders, including the CEOs of big-name companies like LL Bean, The North Face, and REI.
REI said in a statement Monday the company will "continue to pursue bipartisan support" to protect public lands.
The North Face announced it will donate $100,000 to create an educational center at Bears Ears and had a link to a fundraising page for the non-profit group Friends of Cedar Mesa on its homepage Wednesday morning. The group has been raising money to buy and renovate a former bar in Bluff, Utah, according to its Kickstarter page.