Former South Bend, Indiana mayor Pete Buttigieg joined ABC's "The View" on Thursday, still riding on the momentum of the results from the Iowa caucuses -- which are still trickling in.
When pressed by the hosts on recent criticism from his rival, former Vice President Joe Biden, who said his lack of experience would be a "risk" if he were to clinch the Democratic nomination, Buttigieg brushed it off.
"Well if that argument is about electability, and the ability to win, we just had the first election of the 2020 process," he said. "And I think that's my answer."
Biden said he had "great respect" for the mayor on Wednesday night, but said "I do believe it's a risk -- to be just straight up with you -- for this party and to nominate someone who's never held an office higher than mayor of a town of 100,000 people in Indiana."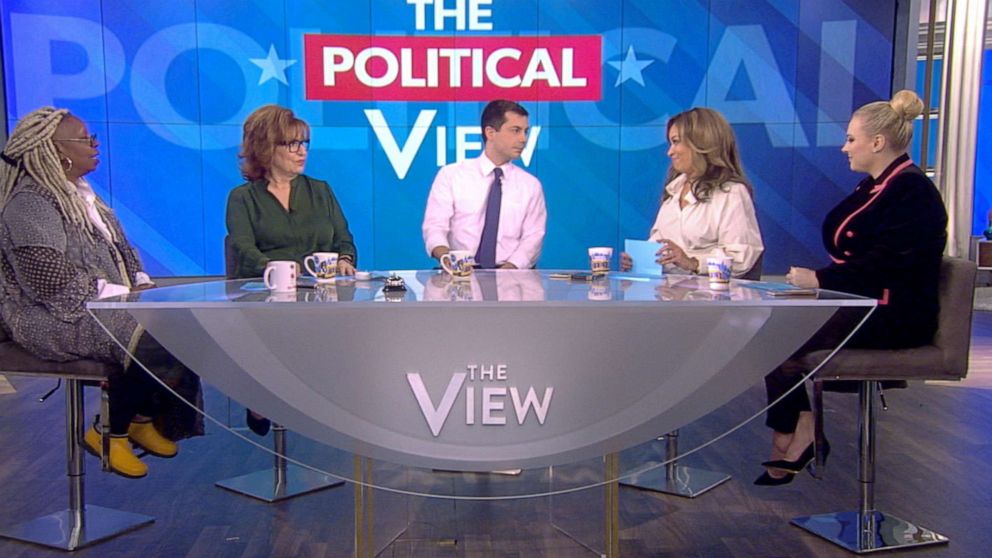 In response, Buttigieg pointed to what currently looks like a win in Iowa -- as he runs neck-in-neck with Vermont Sen. Bernie Sanders -- as an example of what voters are looking for.
He also brought up the electability argument he's been reciting on the campaign trail, warning voters that the Democratic party has never favored from nominating a familiar face.
"Think about the lessons of history. Every time that the my party's won the White House in the last 50 years, every time we've won, it's been with a candidate who was new in national politics, hadn't run for president before and was opening the door to a new generation. So I guess my question on the subject of risk is at a moment like this and re election we cannot afford to lose, do we want to take the risk of falling back on the familiar when that generally it does not work for us in presidential elections."
With around 97% of the Iowa precincts reporting, Buttigieg has 26.2% and Sanders has 26.1% of state delegate equivalents (SDEs), according to an analysis of the data from the Iowa Democratic Party.
As the battle for the top spot in Iowa narrows, he said he's focused on widening his tent not only to earn the nomination, but "to beat Donald Trump."
"If you look at the numbers, even as they're getting through that muddle of finalizing it, we already can see that we were able to succeed in rural areas, urban areas, suburban areas. We did well with older voters, younger voters ..." Buttigieg, among the top two, told the hosts. "I'm especially proud that we lead with women."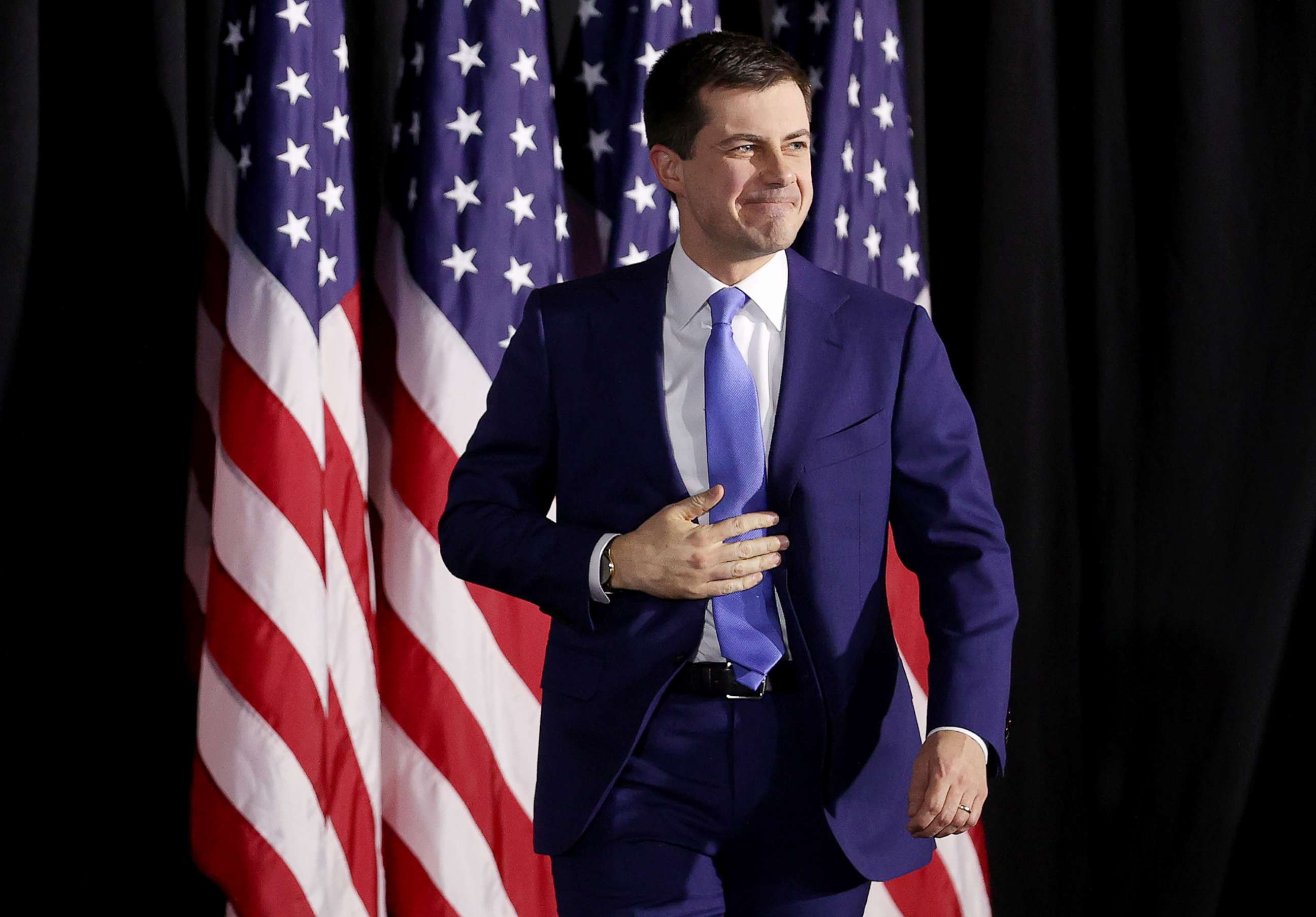 He said its momentum that will help push him forward as he continues to campaign in New Hampshire.
"Well its momentum, you know, it brings us into the next contest in New Hampshire with with just a tremendous amount of momentum because we were able to show, not just in the fact that we reached this position, but how we did it, that we're putting together a kind of politics," Buttigieg told the hosts. "It's about addition, it's about welcoming people in."
Even as the Iowa Democratic party failed to deliver a final outcome Monday night after they found "inconsistencies" and "coding issues" in the reporting of results, Buttigieg didn't wait for the results.
Instead, he leaned on the campaign's internal data that he says showed them ahead of everyone else.
"This is the coalition that no pundit saw coming," Buttigieg said at his Monday night rally. "And it's the coalition the president won't see coming either... Iowa you have shocked the nation. Because by all indications, we are going onto New Hampshire victorious."
The 38-year-old, openly-gay former Midwestern mayor from South Bend, Indiana, was largely unknown when he first launched his presidential exploratory committee last January -- but his sexuality still seems to be an issue for some voters.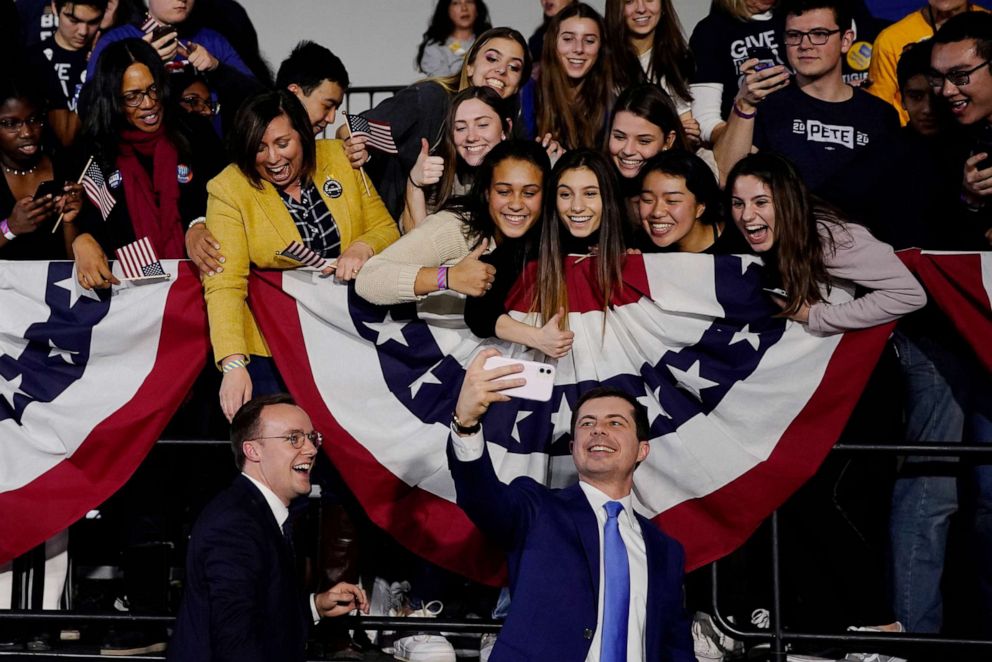 In a viral video from Iowa, a woman who had caucused for Buttigieg, changed her mind after learning that he was openly gay and had married his husband, Chasten, in 2018.
"I don't want anybody like that in the White House," the woman said. "So can I have my card back?"
When co-host Sunny Hostin asked Buttigieg for his response, he said "I want her to know that I am running to be her president too."
"I am still, if I'm elected president, going to get up in the morning and try to make the best decisions for her and the people that she loves as I will work to serve every American, whether they supported me or not," he said.
While discussing former New York mayor Michael Bloomberg's campaign, Buttigieg dismissed the way Bloomberg conducts his self-funded campaign, which has him skipping early voting states like Iowa, and beginning with Super Tuesday contests.
"Part of the idea of the role of the early states ... is to force candidates to actually have human contact," Buttigieg said. "And that's so important precisely so that you can't just purchase the presidency by throwing money on to the airwaves,"
Buttigieg told the hosts that Bloomberg should "have to look people in the eye" and take their questions on policy so they can "kick the tires" on his ideas.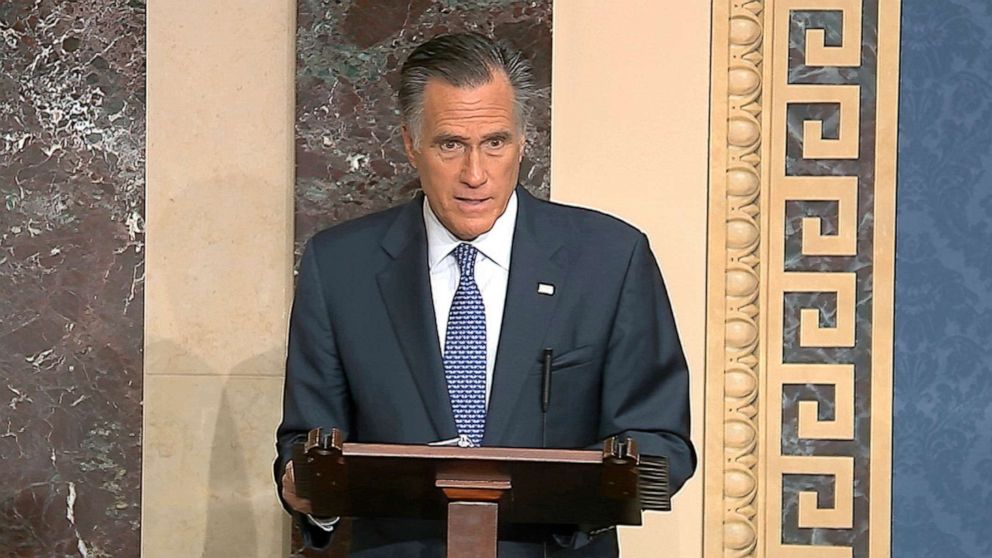 On Wednesday, Sen. Mitt Romney deflected from his party and voted to convict President Donald Trump for abuse of power in his impeachment trial and delivered an emotional speech from the Senate floor.
Buttigieg told the hosts that he too would have gone against his party, if that's where his conscious lead him.
"You have to follow your conscience at the end of the day," Buttigieg said. "Look, I disagree with Mitt Romney on a lot of things. I think he was on the wrong side of a lot of issues, but here I think it's very clear that he cares about his place in history, he cares about his relationship with God, and for him, that adds up to having to stand up to his own party."
He added, "And the fact that he was the only one to do it, I think that not only says something about him, it says an awful lot about what the Republican party has become, especially in the Senate."
Buttigieg also said Romney has now deprived Republicans from being able to call this a partisan impeachment.
"That's going to matter because in the end," he said, adding "The judgment of history is waiting for them."