On the eve of his all-but-certain impeachment acquittal in the Senate, President Donald Trump delivered his third State of the Union address, but the division between the parties was visually evident.
While the lingering impeachment trial cast an unavoidable cloud over the high-profile moment for the president, the address also provided the newly emboldened Trump the ultimate platform to steal the spotlight and project an air of victory directly to the American people.
Upon his introduction, there were Republican chants of "four more years." Reactions to his talking points were mixed. And as soon as he was finished, House Speaker Nancy Pelosi ripped up her copy of his speech.
Here's how the night unfolded.
10:36 p.m. Pelosi seen ripping up Trump's speech
Standing behind Trump, who had just completed his address, Pelosi ripped up a copy of his State of the Union address.
Reporters asked Pelosi on her way out of the chamber why she ripped up the speech.
"Because it was a courteous thing to do considering the alternative," she said. "It was such a dirty speech."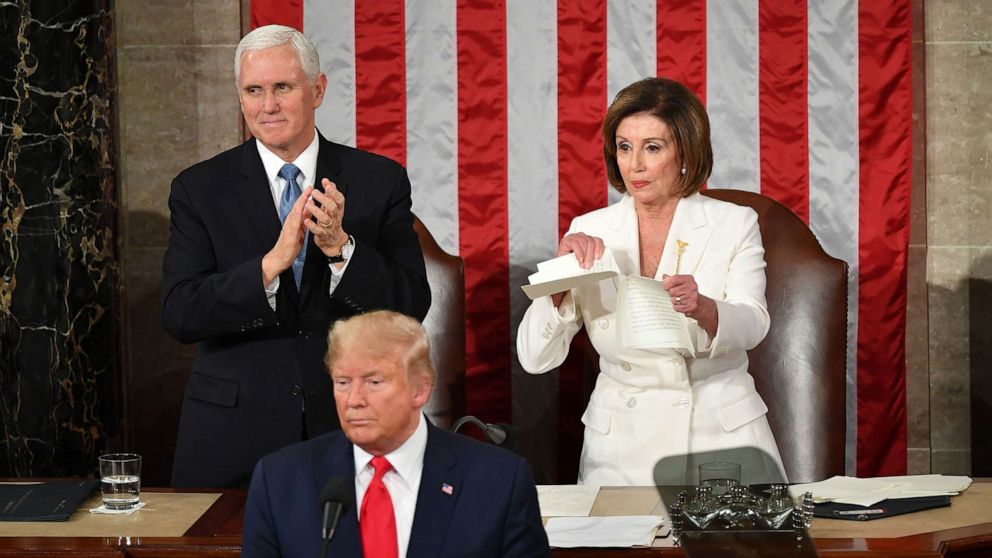 --ABC News' Sarah Kolinovsky
10:22 Trump surprises military wife
As Trump promised to "end America's wars in the Middle East," he paid homage to Amy Williams, who was seated in the chamber as one of his guests with her young son.
"For the past seven months, she has done it all while her husband, Sgt. 1st Class Townsend Williams, is in Afghanistan on his fourth deployment to the Middle East. Amy's kids have not seen their father's face in many months. Amy, your family's sacrifice makes it possible for all of our families to live in safety and peace -- we thank you," he said.
Trump then introduced her husband who was waiting in the wings to surprise his family.
As the couple greeted one another in tears, loud chants of "USA" broke out among the crowd.
--ABC News' Mariam Khan
10:21 p.m. Parkland shooting victim's father pulled out of gallery
Fred Guttenberg, the father of 14-year-old Jaime who was killed in the shooting at Marjory Stoneman Douglas High School in Florida, was Speaker Pelosi's guest at the address, but after the president said he would protect gun rights.
Trump said he was committed to "always protect your second amendment right to keep and bear arms," saying it was "under siege all across the country."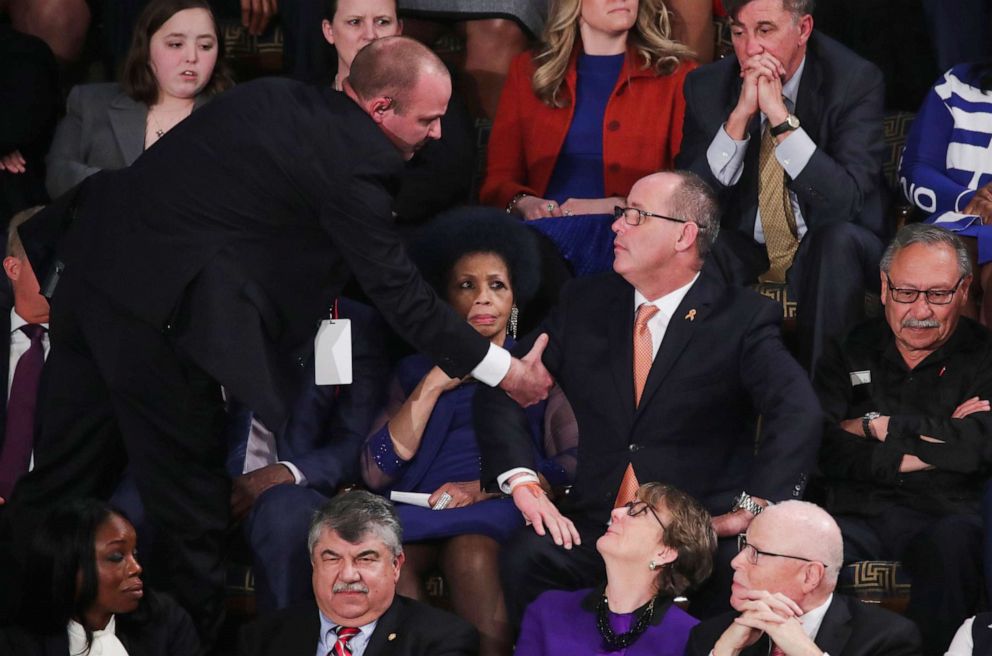 Guttenberg was seen shouting from the speaker's box, "What about my daughter?"
A plain-clothed officer came and removed him.
Guttenberg had thanked Pelosi on Twitter earlier in the day for inviting him as her guest.
"I cannot thank you enough for your commitment to issues important to Americans and to the issue most important to me on dealing with gun violence," he tweeted.
ABC News' John Parkinson and Shoshana Dubnow
10:09 pm Trump says ISIS has been 100% destroyed'
"Three years ago, the barbarians of ISIS held over 20,000 square miles of territory in Iraq and Syria. Today, the ISIS territorial caliphate has been 100 percent destroyed, and the founder and leader of ISIS -- the bloodthirsty killer al-Baghdadi -- is dead," Trump declared.
However, earlier Tuesday the Pentagon released a report that said the death of al-Baghdadi has not had much of an impact on ISIS's operations. The IG says the DIA assessed that al Baghdadi's death would have little effect on ISIS's ability "to maintain continuity of operations, global cohesion, and at least it's current trajectory."
Trump gave his thanks to the family of Kayla Mueller, a humanitarian aid worker who was held hostage in Syria by al-Baghdadi before she was killed. She was 26 years old. Her family was in the chamber for the president's address.
"On the night that United States Special Forces Operators ended Al Baghdadi's miserable life, the Chairman of the Joint Chiefs of Staff, General Mark Milley, received a call in the Situation Room. He was told that the brave men of the elite Special Forces team, that so perfectly carried out the operation, had given their mission a name -- "Task Force 8-14." It was a reference to a special day: August 14th -- Kayla's birthday. Carl and Marsha, America's warriors never forgot Kayla -- and neither will we," Trump said.
--ABC News' Mariam Khan
10:05 p.m. Trump hails McConnell for his work in confirming federal judges
Trump gave a hat tip to Republican Senate Leader Mitch McConnell for his work in confirming a record number of federal judges in the Senate. McConnell has long said that confirming federal judges is his top priority.
"With every action, my administration is restoring the rule of law and re-asserting the culture of American freedom. Working with Senate Majority Leader Mitch McConnell -- thank you Mitch -- and his colleagues in the Senate, we have confirmed a record number of 187 new federal judges to uphold our Constitution as written. This includes two brilliant new Supreme Court Justices, Neil Gorsuch and Brett Kavanaugh," Trump said to loud cheers in the chamber.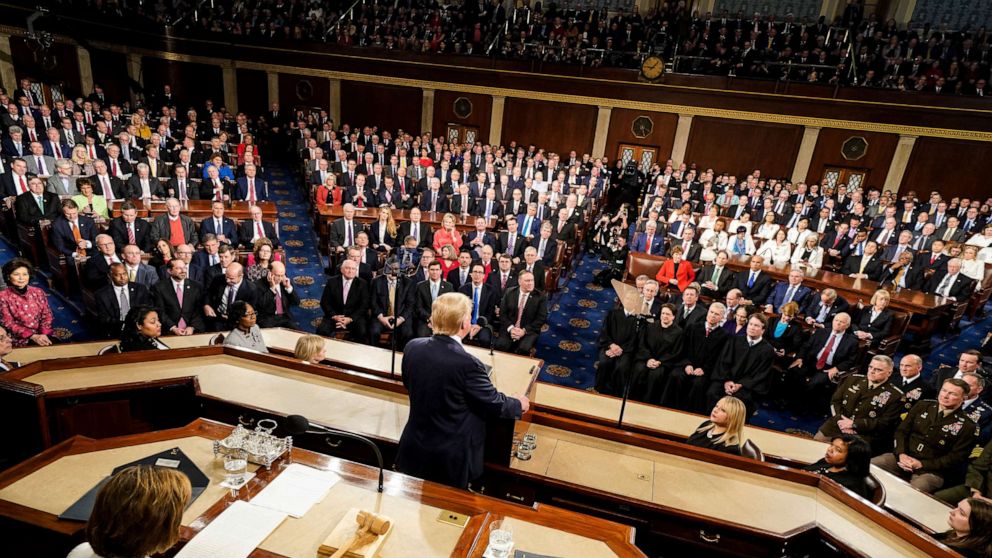 "And we have many in the pipeline," Trump quipped.
He added, "My administration is also defending religious liberty, and that includes the Constitutional right to pray in public schools. In America, we do not punish prayer. We do not tear down crosses. We do not ban symbols of faith. We do not muzzle preachers and pastors. In America, we celebrate faith. We cherish religion. We lift our voices in prayer, and we raise our sights to the Glory of God!"
--ABC News' Mariam Khan
10:01 p.m. Prescription drug costs
Trump said that his administration has been working to lower prescription drug costs -- a signature campaign promise of the president and one area where bi-partisan efforts seemed possible.
In October, the House of Representatives passed a bill that would allow the government to bargain with drug companies on some prescription drug prices. The Senate also has a bi-partisan bill its working on, though that bill has not moved out of committee.
Though the House bill, HR3, passed, it is unlikely that the Senate will take up the bill, leaving many legislative efforts to lower drug costs stymied.
In response to his remarks, a group of Democrats held up three fingers and chanted "HR3."
ABC News' Allison Pecorin and John Parkinson
9:52 p.m. Limbaugh surprised with Medal of Freedom
As the president announced the radio personality would receive the medal, Limbaugh's jaw dropped.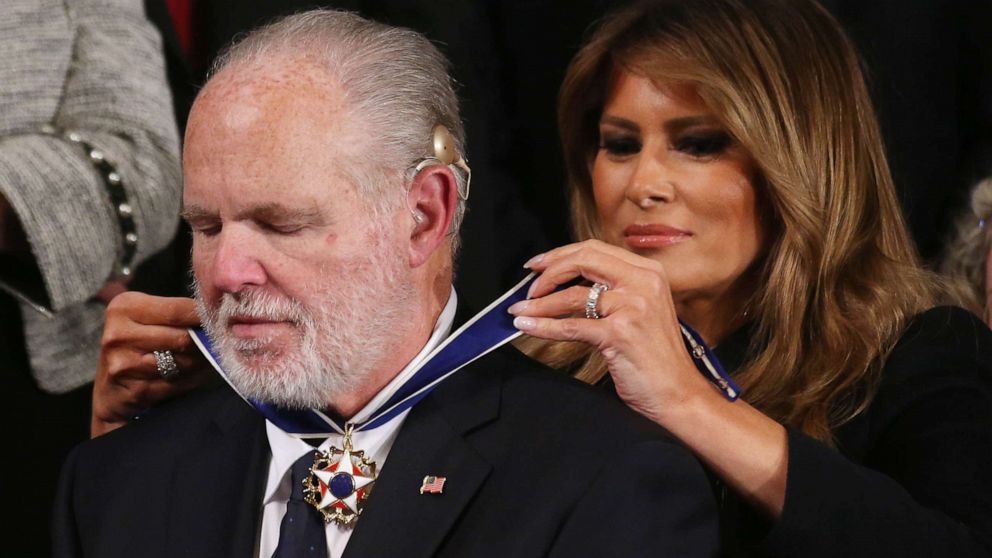 "Rush, in recognition of all that you have done for our nation, the millions of people a day that you speak to and that you inspire, and all of the incredible work that you have done for charity, I am proud to announce tonight that you will be receiving our country's highest civilian honor, the presidential Medal of Freedom," Trump said. "I will now ask the First Lady of the United States to present you with the honor."
First lady Melania Trump fastened the medal of honor around his neck in the middle of the speech. Limbaugh appeared emotional.
Limbaugh, a conservative political commentator, was just recently diagnosed with stage 4 lung cancer.
--ABC News' Allison Pecorin and Lauren King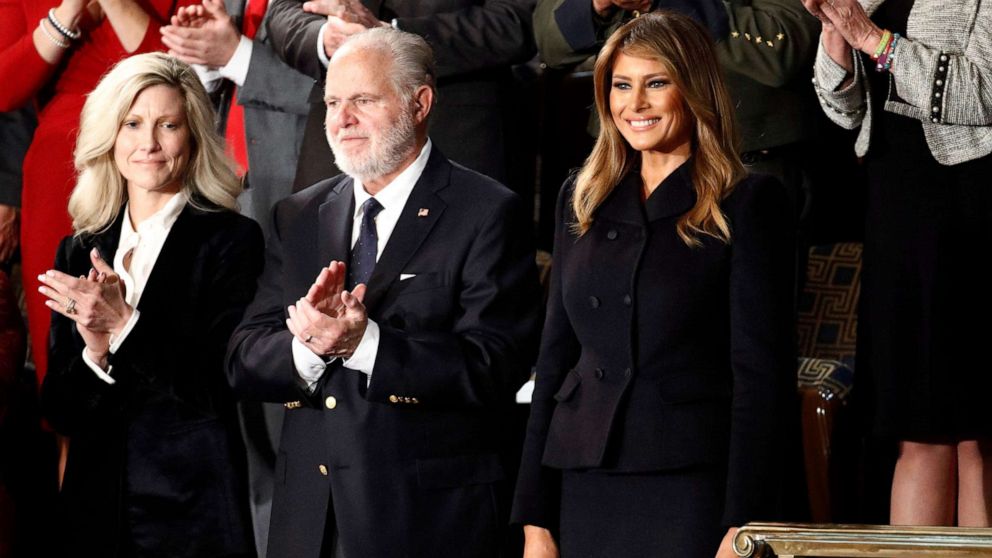 9:49 p.m. Trump introduced 4th grader
Trump introduced a fourth grader who has been waiting to attend a school of her choosing under an opportunity scholarship. It was an opportunity for Trump could discuss "school choice" initiatives, which allow federal funding for specific students to follow those students to schools of their choosing, allowing government money to support charter schools, private schools and other types of learning institutions.
"The next step forward in building an inclusive society is making sure that every young American gets a great education and the opportunity to achieve the American dream," Trump said. "Yet, for too long, countless American children have been trapped in failing government schools."
School choice has been criticized by Democrats, who say that this mechanism removes critical funding from vulnerable public schools, creating greater opportunity gaps for students in struggling school districts.
--ABC News' Allison Pecorin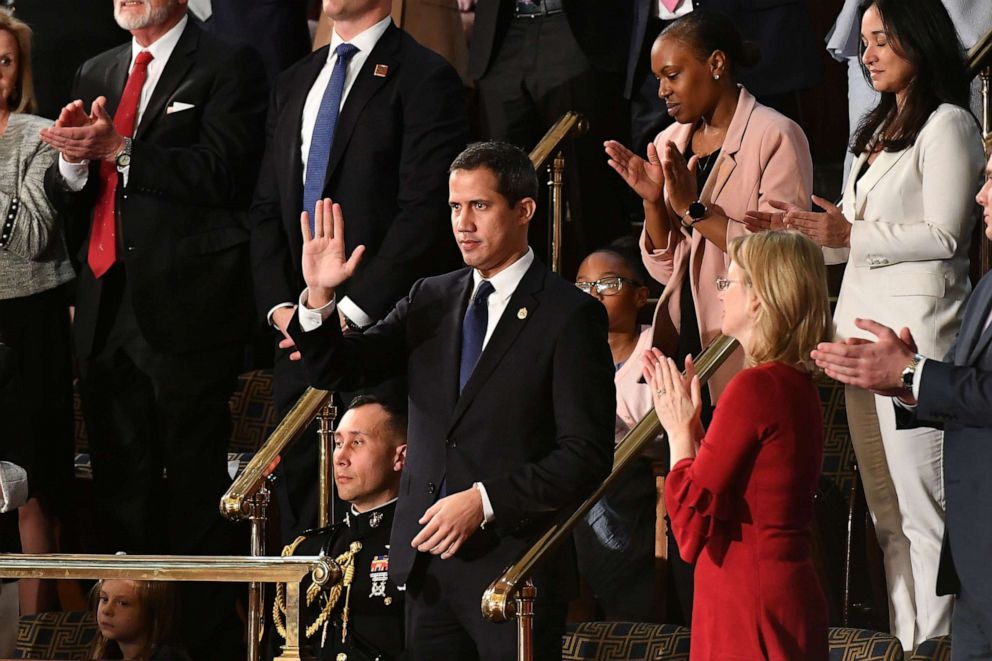 9:47 p.m. Guaido introduced during the address
"Here this evening is a man who carries with him the hopes, dreams, and aspirations of all Venezuelans. Joining us in the gallery is the true and legitimate President of Venezuela, Juan Guaidó," Trump said.