House Republicans, who have made one of their top priorities this session probing Hunter Biden and the Biden family's business dealings, still say they plan to continue their investigations despite Hunter Biden's plea deal with prosecutors.
"This does nothing to our investigation," Speaker Kevin McCarthy said outside his office Tuesday morning following news of the plea deal. "It actually should enhance our investigation because the DOJ should not be able to withhold any information now, saying there's a pending investigation. They should be able to provide [House Oversight] Chairman [James] Comer with any information that he requires."
While a Tuesday morning statement from U.S. Attorney David Weiss indicates that "the investigation is ongoing," that statement appears at odds with a statement from Hunter Biden's attorney that said, "It is my understanding that the five-year investigation into Hunter is resolved."
It is standard for federal prosecutors to say criminal investigations are ongoing even when they appear to be near a resolution. The resolution agreed to by Weiss and Hunter Biden still needs the approval of a federal judge.
Though Tuesday's deal may end probes into Hunter Biden on the legal front, Republican-controlled committees like House Oversight claim their investigations are far from over.
Since clinching the majority, House Republicans have held numerous hearings looking into Hunter Biden's business dealings. Congressional investigators haven't yielded much new information throughout the course of their investigation, but it will remain a significant talking point given the chairs of the largest congressional committees have already vowed to continue investigating.
Rep. James Comer, chairman of the House Oversight Committee, slammed what he termed the "sweetheart" plea deal and vowed it will have no impact on the Oversight Committee.
"These charges against Hunter Biden and sweetheart plea deal have no impact on the Oversight Committee's investigation," Comer said in a statement Tuesday.
Comer also alluded to allegations against what the GOP has termed the "Biden crime family." Republicans have produced no​​ evidence to back up their claims.
"We will not rest until the full extent of President Biden's involvement in the family's schemes are revealed," Comer's statement continued.
The White House has maintained that President Joe Biden and Hunter Biden have never discussed the latter's business dealings.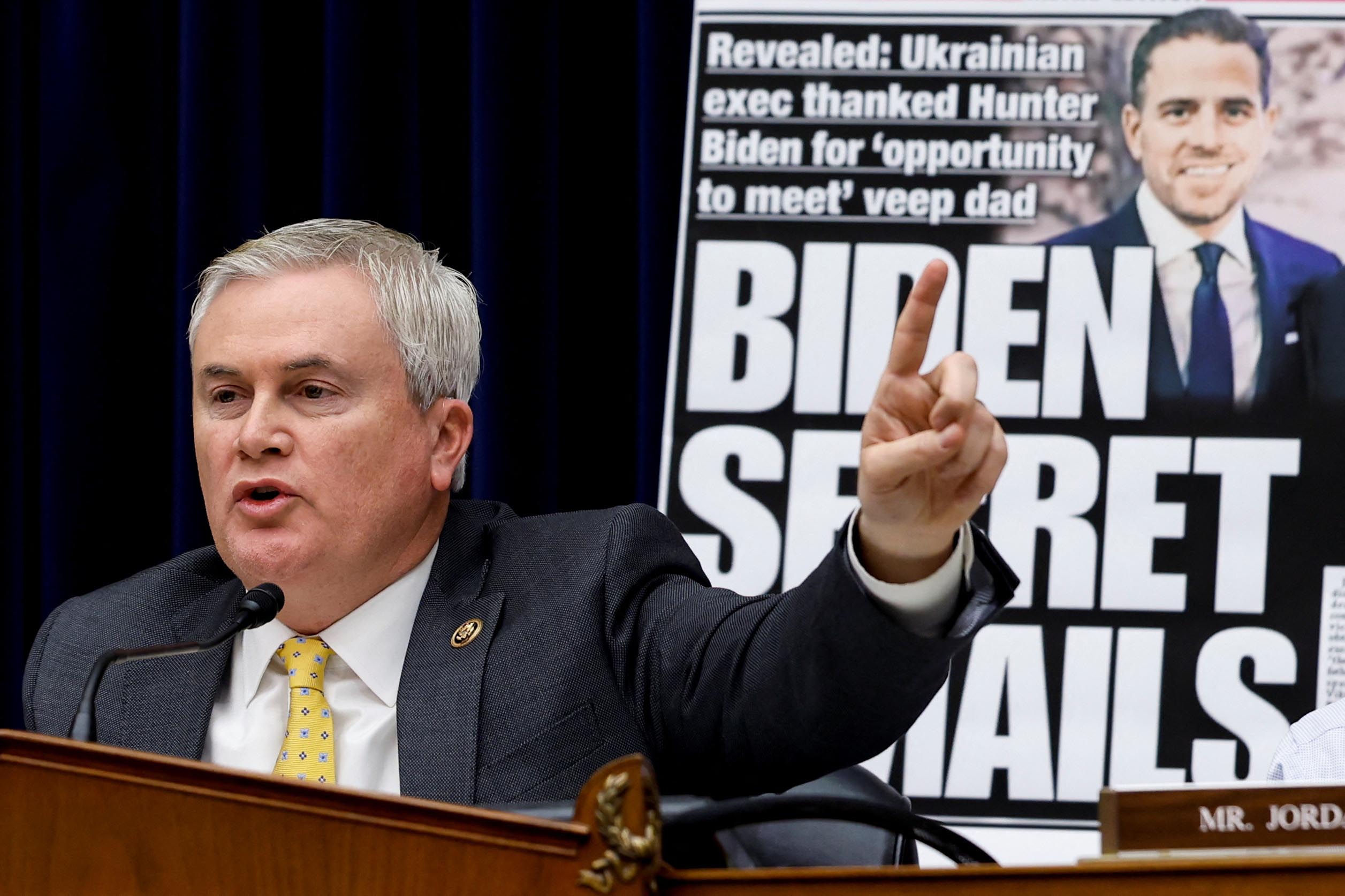 Comer's team has collected suspicious activity reports, or SARs, on Hunter Biden and other members of the Biden family from the Treasury Department. SARs are reports filed by financial institutions to flag questionable banking transactions, but they do not amount to allegations of crimes.
And just last week, the committee subpoenaed former Hunter Biden associate Devon Archer to appear for a deposition because he "played a significant role in the Biden family's business deals abroad, including but not limited to China, Russia, and Ukraine," according to the subpoena.
Republicans' continued efforts to investigate Hunter Biden are not without some pushback.
The Oversight Committee's top Democrat, Rep. Jamie Raskin of Maryland, called out the House GOP for politicizing the Department of Justice's investigation into the president's son.
"Oversight Committee Republicans have advanced debunked conspiracy theories about President Biden and are now, again, wailing about the work of a Trump-appointed U.S. Attorney," Raskin said in a statement.
Hunter Biden has agreed to plead guilty to two tax-related misdemeanor charges and enter a pretrial diversion program that would enable him to avoid prosecution for one felony county related to the illegal possession of a firearm, according to court documents filed Tuesday. Federal authorities with the U.S. attorney's office in Delaware, led by Weiss, had been investigating Hunter Biden since 2018, but the probe was paused for several months ahead of the 2020 presidential election.
McCarthy ignored questions from ABC News about whether Congress wants to hear directly from Weiss, who is a Trump appointee.
ABC News' Lucien Bruggeman, Pierre Thomas, Aaron Katersky and Alexandra Hutzler contributed to this report.